Rush hour car bombing in Baghdad kills 10
updated 6:55 AM EDT, Tue August 26, 2014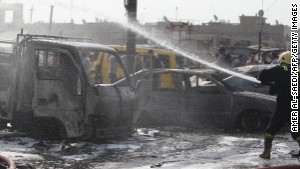 A member of the Iraqi emergency services extinguishes smoke at the site of a car bomb explosion in a commercial district of new Baghdad on August 26, 2014.
(CNN) -- A car bomb exploded in eastern Baghdad on Tuesday, killing 10 people and wounding 34 others, police said.
The blast took place in the capital's New Baghdad neighborhood during the morning rush hour.
Over the weekend, a series of three car bombs and a roadside bomb killed at least 20 people in Kirkuk, about 265 Kilometers (165 miles) north of Baghdad.
CNN's Jomana Kardsheh in Baghdad contributed to this report.