STORY HIGHLIGHTS
President awards Medal of Honor, says it's "never too late to do the right thing"
1st Lt. Alonzo Cushing commanded a Union artillery battery at Gettysburg
He helped rebuff giant Confederate attack known as Pickett's Charge
Despite wounds, he kept firing until he was shot in the head
(CNN) -- "Faithful unto death."
Those words on the West Point headstone of 1st Lt. Alonzo H. Cushing succinctly enshrine the determination of the man who helped turn the tide at Gettysburg during the Civil War.
Despite two severe wounds, Cushing, 22, stayed at his post and directed artillery fire upon hordes of Confederate soldiers charging the center of the Union line at Cemetery Ridge -- a doomed assault known as Pickett's Charge. A bullet to the head finally felled the young officer.
More than 151 years after his stand, Cushing posthumously received the Medal of Honor in a White House ceremony on Thursday.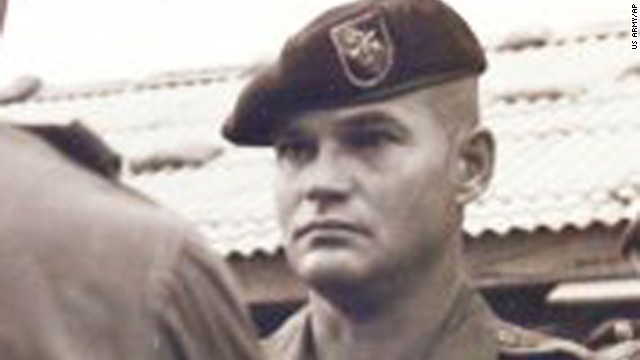 Army Command Sgt. Maj. Bennie G. Adkins is pictured in an undated U.S. Army photo. He is cited for his action at Camp A Shau in Vietnam in 1966, where the Army says he killed 135 to 175 enemy troops during a battle.
The Army says Spec. Donald Paul Sloat shielded his comrades from a grenade blast at the cost of his own life near Danang, Vietnam, in 1970.
Lt. Alonzo Cushing (center, back row) is shown with others at Antietam, Maryland, in 1862. He died at Gettysburg in July 1863 and is cited for defending Union positions against Pickett's Charge. He was killed during the action.
President Barack Obama awarded 24 U.S. Army veterans, including Spc. Santiago J. Erevia, pictured, with the Medal of Honor on March 18. The soldiers, only three of whom are still alive, received the country's highest military award for their courageous actions during Vietnam, Korea and World War II. Erevia was honored for his actions while serving as a radiotelephone operator in Vietnam on May 21, 1969. He is credited with tending to injured comrades when his position came under attack. He then charged the enemy before returning to care for the injured troops he left behind.
Sgt. 1st Class Melvin Morris was recognized for his heroic actions on September 17, 1969, near Chi Lang, Vietnam, where the Army Green Beret ignored his safety on no less than three occasions, charging into a hail of gunfire to save his injured comrades and retrieve the bodies of the fallen. He was wounded three times as he ran back toward friendly lines with casualties, but he did not stop until he reached safety.
Sgt. 1st Class Jose Rodela was recognized for his heroic actions on September 1, 1969, in Phuoc Long Province, Vietnam, while commanding a mobile strike force. He was wounded in the back and head while trying to save a comrade. He then single-handedly assaulted a rocket position before returning to lead his men. Of the 24 recipients Tuesday, only Rodela, Morris and Erevia are still alive.
Sgt. Candelario Garcia distinguished himself on December 8, 1968, while serving as a team leader during a company-size reconnaissance-in-force mission near Lai Khe, Vietnam. When his company came under intense fire, leaving several men wounded and trapped in the open, he single-handedly took out two machine gun bunkers. He then joined his company in an assault, which overran the remaining enemy positions.
Spc. Leonard L. Alvarado was recognized for his actions as a rifleman on August 12, 1969, when he disrupted an enemy attack that targeted an American platoon pinned down in Vietnam's Phuoc Long province. He crawled through a fusillade of fire to save several comrades and advanced on the enemy, laying down suppressive fire before dying from his wounds.
Staff Sgt. Felix M. Conde-Falcon is credited with leading soldiers in an advance on an extensive enemy bunker complex, later identified as a battalion command, on April 4, 1969, in Ap Tan Hoa, Vietnam. When they came under fire, Conde-Falcon single-handedly assaulted a fortification until he ran out of ammunition. While taking up another position, he was mortally wounded by an unseen assailant.
Spc. Ardie R. Copas was recognized for his actions in the early morning hours of May 12, 1970, while he served as a machine gunner near Ph Romeas Hek, Cambodia. Copas took to the machine gun on a burning vehicle, laying down fire so four of his wounded comrades could be saved. He continued firing at the enemy troops until he was mortally wounded.
Spc. Jesus S. Duran was honored for his selflessness on April 10, 1969, while he served as a machine gunner during a search-and-destroy mission during the Vietnam War. When his platoon was ambushed during the mission, he put himself in the direct line of fire to save a number of comrades.
Cpl. Joe R. Baldonado, a machine gunner, is credited with repelling an enemy attack at Hill 171 in Kandong, Korea, on November 25, 1950 -- an act that was chronicled in the book "Disaster in Korea: The Chinese Confront MacArthur." With most of the platoon out of ammunition, Baldonado laid down withering fire in an exposed position, forcing the enemy to retreat. As they fled, a grenade was thrown that killed Baldonado. His body was never found.
Cpl. Victor H. Espinoza was awarded the Medal of Honor for his actions on August 1, 1952, during what became known as the third Battle of Old Baldy in Chorwon, Korea. With his unit pinned down by enemy forces, Espinoza single-handedly took out a machine gunner and his crew, discovered and destroyed an enemy tunnel, and wiped out two bunkers.
Sgt. Eduardo C. Gomez was recognized for heroic actions on September 3, 1950, at Tabu-dong, Korea, where his company was attacked while readying defensive positions. He maneuvered across open ground to take out a tank. Wounded, he refused medical care and manned his post where his weapon overheated and burned his hands. He stayed at his post, providing protective fire as the troops were ordered to withdraw.
Pfc. Leonard M. Kravitz was recognized for his actions on March 6-7, 1951, in Yangpyeong, Korea, when his unit was overrun by enemy forces and forced to withdraw. He voluntarily remained at his position to provide suppressive fire for retreating troops, which forced the enemy to concentrate their attack on his position and saved his platoon. He was fatally wounded.
Master Sgt. Juan E. Negron distinguished himself on April 28, 1951, near Kalmaeri, Korea, where he refused to leave his post after learning enemy forces had broken through a roadblock and were advancing. He held his post throughout the night, hurling grenades and laying down fire to halt the enemy attack. He held the position until an allied counterattack was organized and launched.
Master Sgt. Mike C. Pena was posthumously honored for his actions on September 4, 1950, near Waegwan, Korea, where he led a counterattack after his unit was attacked. When his troops began to run out of ammunition, he ordered his unit to retreat and then manned a machine gun to cover their withdrawal. Single-handedly, he held back the enemy troops until the early hours the following morning when he his position was overrun and he was killed.
Pvt. Demensio Rivera was recognized for his actions on May 22-23, 1951, in Changyongi, Korea, where he held his forward position during an enemy attack. When his rifle became inoperable, he used a handgun and grenades. He then turned to hand-to-hand combat, using his last grenade as the enemy troops closed in. When his position was retaken, he was found wounded, lying among the bodies of four dead or dying enemy soldiers.
Pvt. Miguel A. Vera was posthumously honored for his actions on September 21, 1952, while volunteering for an assault in the Battle of Mount Baldy in Chorwon, Korea. He and others climbed a bare, rocky slope and got within 20 yards of enemy forces before they were forced to pull back because of intense fire. He remained behind to cover his comrades as they withdrew before being mortally wounded.
Sgt. Jack Weinstein was recognized for his actions on October 19, 1951, near Kumsong, Korea, where he is credited with single-handedly holding his position during an enemy counterattack to allow his men to withdraw. Wounded in the leg, he held the position until a platoon relieved him and pushed the enemy back.
Pvt. Pedro Cano was honored for his action in the Battle of Hurtgen Forest near Schevenhutte, Germany, in December 1944. During a two-day period, he eliminated 30 enemy troops, according to the Army. Sometime later, when his platoon was attacked, he laid motionless on the ground until enemy soldiers closed in. Then he tossed a grenade, wounding or killing all of them.
Pvt. Joe Gandara was recognized for heroic actions on June 9, 1944, in Amfreville, France, where his detachment came under enemy fire from German forces. The men were trapped for hours until Gandara advanced voluntarily and alone toward the German position, where he destroyed three machine gun positions before being fatally wounded.
Pfc. Salvador J. Lara was honored for his extraordinary heroism in action on May 27-28, 1944, near Aprilia, Italy, during the Battle of Anzio when his unit came under fire by German forces. He is credited with leading his rifle company to inflict a large number of enemy casualties. He was wounded during the fighting but did not stop to receive medical attention. As the fighting continued, he was credited with saving a number of U.S. troops after he crawled alone to a machine gun pit where he killed three German soldiers.
Sgt. William F. Leonard was honored for his actions while serving as a squad leader on November 7, 1944, near St. Die, France, where he led the eight survivors of his platoon, which had been decimated by enemy fire, in assault over a hill. Killing two snipers at ranges of 50 and 75 yards, he continued to fight even after being shot in the back. He knocked out a machine gun pit. After being stunned by a bazooka shell, he continued his advance and took out another machine gun pit and captured their objective -- a roadblock.
Staff Sgt. Manuel V. Mendoza was recognized for his action on October 4, 1944, in Mount Battaglia, Italy, where he is credited with single-handedly breaking up a German counterattack. Mendoza, already wounded in the arm and the leg in the attack, grabbed a submachine gun and opened fire on German troops advancing up a hill. When the German soldiers retreated, he grabbed a number of weapons dropped in the retreat. He also captured a wounded enemy soldier.
Sgt. Alfred B. Nietzel distinguished himself on November 18, 1944, in Heistern, Germany, where he is credited with holding his position long enough during a German assault to allow for reinforcements to arrive and stop the advance. As the enemy closed in on his position, he ordered the three remaining members of his squad to retreat and get reinforcements while he continued firing. He was killed by enemy grenade.
First Lt. Donald K. Schwab distinguished himself with his actions on September 7, 1944, when led his company over 400 yards of open ground near Lure, France, in an assault that was credited with leaving German troops so disorganized that it broke their line. As part of it, he attacked a machine gun nest, hit the German gunner with the butt of his rifle and dragged him back through a hail of fire to friendly lines.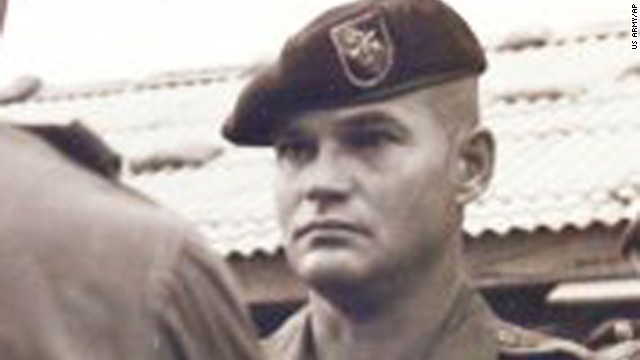 Medal of Honor recipients 2014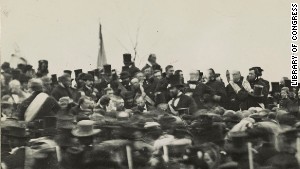 2013: The Gettysburg Address, 150 years later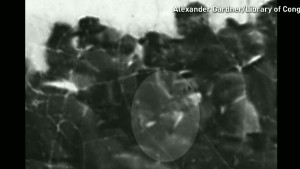 Spotted: Abraham Lincoln at Gettysburg?
"As our country struggled for its survival, President Lincoln dedicated the battlefield at Gettysburg as a final resting place for those who died here that the nation might live," President Barack Obama said. "Today, the nation that lived pauses to pay tribute to one of those who died there."
The Medal of Honor is the country's highest military award, given to American soldiers who display conspicuous "gallantry above and beyond the call of duty."
The recognition for the West Point graduate marks the longest span of time between the event that merited the award and the bestowal of the medal, said the Congressional Medal of Honor Society.
Obama acknowledged Thursday that this recognition usually is given out within years of the event, "but sometimes even the most extraordinary stories can get lost in the passage of time."
"This Medal of Honor is a reminder that no matter how long it takes, it is never too late to do the right thing," the President said.
Helen Loring Ensign, 86, of Palm Desert, California, received the medal from Obama on behalf of Cushing's descendants, many of whom were in the White House Roosevelt Room for the ceremony.
Ensign is Cushing's first cousin, two generations removed, the closest surviving blood relative and primary next of kin, as confirmed by the U.S. Army. The soldier had no children.
Descendants told reporters before the ceremony that they plan to loan out the medal to West Point, where Cushing graduated; Gettysburg, Delafield, Wisconsin, where he was born; Fredonia, New York, where the young man grew up; and the McClurg Museum, in Westfield, New York.
John Heiser, historian at Gettysburg National Military Park, is among those who thinks the honor is well overdue.
"He does deserve it without a doubt," said Heiser earlier this year. "The tragedy is ... that it should have been awarded long, long ago."
Continued to fire, lead while wounded
The Civil War hero commanded the six-gun Battery A, 4th U.S. Artillery, at the momentous Pennsylvania battle.
Cushing's battery took a pounding from Confederate artillery preceding the attack and he had only two serviceable guns when the charge began on the hot afternoon of July 3, 1863. The estimated 13,000 attackers had what is known as "The Angle" as their objective, and some were able to briefly breach the stone wall.
Artillery shell fragments left Cushing with injuries to his shoulder and abdomen.
"Refusing to evacuate to the rear despite his severe wounds, he directed the operation of his lone field piece continuing to fire in the face of the enemy," the White House said in a statement when the decision to bestow the medal was announced. "With the rebels within 100 yards of his position, Cushing was shot and killed during this heroic stand. His actions made it possible for the Union Army to successfully repulse the Confederate assault."
Heiser said that the battery -- which included 126 officers and enlisted men -- had the misfortune of being in the center of the maelstrom on the third day of the pivotal battle.
"His battery was under fire for an hour and a half," Heiser said. "It was left in shambles and destroyed." Six men were killed and 32 were wounded.
Given the status of his wounds and his battery, Cushing had every reason to withdraw, said Heiser.
"He is going to show those Rebels one way or the other that his battery will be in action to the end," said Heiser. "It is upholding the highest level of what the Army says is honorable service."
Katie Lawhon, management assistant at Gettysburg, said visitors today can see where Cushing's battery served.
"The story of his valor and sacrifice at the center of the Union battle line ... is a very inspiring story to a lot of people who study Gettysburg," said Lawhon.
The lieutenant and his brothers all served in the Civil War. One sibling, Lt. William B. Cushing, is best known for sinking a Confederate ironclad during an October 1864 raid.
Honor for Cushing is a long time coming
Thursday's presentation culminates years of lobbying for the honor. Cushing was recommended in 2010, but Congress did not give formal approval until late last year.
Cushing received a waiver of a requirement that the Medal of Honor must be recommended within two years of the event and presented within three years, according to Laura Jowdy, archivist with the Congressional Medal of Honor Society.
The recommendation then had to go through the Defense Department and to the White House, where Obama gave his approval.
Margaret E. Zerwekh, 94, of Delafield, has been an integral part of the campaign, writing to Wisconsin congressmen and assisting with paperwork for Cushing's nomination. She's conducted research, and lives in a house on property formerly owned by the Cushing family.
"He saved the Union and he needs to have recognition for it," Zerwekh said this summer. "It is about time."
Obama acknowledged Zerwekh, who attended the ceremony.
"She managed to bring Republicans and Democrats together to make this happen. Margaret, we may call on you again," he said to laughs.
Heiser said the heroism of Cushing was "kind of forgotten, shoved to the background." A first sergeant in the battery years later received the Medal of Honor, while several surviving comrades kept alive Cushing's bravery.
The President paid tribute to others who fought and sacrificed all at Gettysburg.
"I might not be standing here today as president if not for the courageous sacrifices of these men," he said.
Marine who took grenade blast for comrade receives Medal of Honor
Medal of Honor recipient says award is for his fallen brothers
CNN's Greg Botelho contributed to this report.