STORY HIGHLIGHTS
"Weird Al" parodies TV theme songs
Gwen Stefani butchers "The Colbert Report"
Billy Crystal bids adieu to friend Robin Williams
(CNN) -- The Emmy Awards will never be confused for the MTV Video Music Awards -- especially when they air on consecutive nights.
It's status quo versus cutting-edge cool. Even when Hollywood lets its hair down, it's on the tame side.
Still, host Seth Meyers did his best to liven up the proceedings. And the 66th Primetime Emmy Awards that aired Monday night did offer up some memorable moments.
1. Seth and Billy's crazy quiz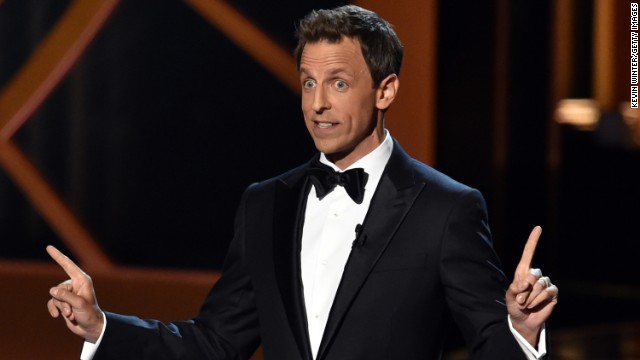 The winners at the 66th Primetime Emmy Awards gave us déjà vu, but at least the show itself was fresh. Host Seth Meyers opened with well-aimed jokes, including some about the Emmys show itself. "This year we're doing the Emmys on a Monday night in August, which if I understand television means the Emmys are about to get canceled," the "Late Night" host quipped. Here are a few other memorable moments:
"Modern Family's" Ty Burrell won the first award of the night, and accepted his Emmy for outstanding supporting actor in a comedy with a speech supposedly written by his kid co-stars. "I also want to thank my two children that I bring to set sometimes," Burrell read from his mock (or so we assume) speech. "They are definitely cute. They are just not 'I can support my whole family' cute."
Having someone else do the acceptance speech legwork was a theme this year, as Stephen Colbert had Jimmy Fallon take the stage and act as his mouthpiece for the outstanding variety series Emmy win. "I want to thank his wife and his children," Fallon said, playing along as Colbert whispered in his ear. "They're just fantastic. And everyone who's worked on the show for the last nine years. ... If you always wanted to work on the show and you don't have a chance now because it's ending, just put your name on IMDb and I'll back you up. Just call yourself like a creative consultant or some bull***t like that."
For Julia Louis-Dreyfus' third consecutive win for outstanding lead actress in a comedy series, the "Veep" actress didn't just receive an Emmy. She was also awarded an impromptu passionate kiss from Bryan Cranston as she took the stage to accept the award. "It was pretty good," Louis-Dreyfus later said backstage. "He went for it. He goes for it in everything he does."
If you're going to be a sore loser, be a funny one, like Ricky Gervais. "Well done to Jim Parsons," Gervais said after losing the outstanding actor in a comedy Emmy to the "Big Bang Theory" star. "I've come a long ways, he's probably local. It's like, four years in a row seems unfair, doesn't it?"
The only thing better than having Amy Poehler present an award? Having her initially introduced to the audience as Meyers' "friend Beyonce." Later, Poehler helped Meyer introduce Matthew McConaughey and Woody Harrelson as "two men who also have no idea what happened at the end of 'True Detective.'"
The magical duo of Harrelson and McConaughey was one of the best parts of the 2014 Emmys, as evidenced by how often host Meyers pulled them out for jokes. When the "True Detective" co-stars took the stage, we all got a glimpse of their Southern-accented bromance. "You won an Oscar, Sexiest Man Alive, and now you want an Emmy too," Harrelson said to McConaughey who retorted, "I think that you should have gratitude for what you have, and not envy what I do."
Aaron Paul was so thrilled with his best supporting actor in a drama win that he almost made himself sick. "Oh, wow, I feel like I'm going to throw up," the "Breaking Bad" star said. And because no Aaron Paul acceptance speech is complete without a shout-out to his spouse, Lauren Parsekian, the actor concluded, "to my wife, my God, thank you for marrying me."
Jim Parsons' best lead actor in a comedy win took a bittersweet turn during his acceptance speech. The actor thanked his dad, "somebody that I've never thanked before, largely because he passed away shortly before this craziness started." But his father, Parsons went on, "always encouraged me to be an actor. He never discouraged me to be an actor. And in a career that hinges so much on confidence a lot of the time, that was a really great gift."
When Kathy Bates snagged the outstanding supporting actress in a miniseries or movie Emmy, she seemed genuinely surprised as she had spotted the accountants who handle the results earlier. "(T)he first place I went when I got here was the green room and there were guys in there with the little silver suitcase and they had it open. ... they caught my eye when I walked in and they both kind of tilted their heads in that sort of social worker, 'I'm sorry' way."
Allison Janney's outstanding supporting actress in a comedy Emmy was presented by Jimmy Kimmel, who spent most of his time ribbing Matthew McConaughey. The laughter continued when Janney took the stage, who joked of her Emmy-winning role on "Mom," "Listen, I play a mom ... I play a grandmother and, as of last season, I play a grea-grandmother. I'm just crossing my fingers (that) this season I'll be incontinent."
You know how most TV theme songs today are just instrumentals without lyrics? Andy Samberg and Emmys host Seth MacFarlane tried to fix that during the show with help from Weird Al Yankovic. The king of parody supplied lyrics for "Mad Men," "Scandal" and "Game of Thrones," the latter of which included the lines, "don't get too attached to a certain guy ... he might drink some poison wine (that's a spoiler)."
Sarah Silverman was predictably unpredictable when she accepted her Emmy for outstanding writing for a variety special. The "We Are Miracles" scribe stepped behind the mic and announced, "Thank you to my Jews at CAA." She concluded with, "We're all just made of molecules, and we're all hurtling through space right now. Thank you!"
In one of the more somber moments of the night, Billy Crystal gave heartfelt tribute to Robin Williams. "He made us laugh. Hard. Every time you saw him," Crystal said. "The brilliance was astounding ... It's very hard to talk about him in the past because he was so present in all of our lives. For almost 40 years, he was the brightest star in the comedy galaxy."
As the CEO of the Television Academy, Bruce Rosenblum, took the stage, he got some help from "Modern Family's" Sofia Vergara. After encouraging Vergara to stand up on a rotating platform like a model at a car show, Rosenblum claimed that "what truly matters" is that the Academy "never (forgets) that our success is based on always giving viewers something compelling to watch." Some viewed the bit as sexist, but Vergara disagreed with that interpretation while talking with press backstage.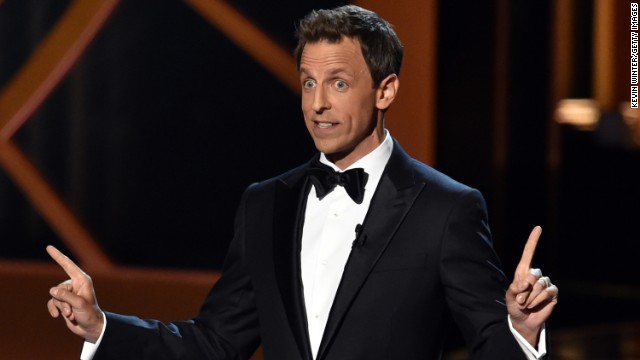 Emmy moments 2014
Meyers teamed up with "Billy on the Street star" Billy Eichner to dash around the streets of New York and bombard pedestrians with random pop culture questions.
During a frenetic five minutes, the twosome tackled Emmy snubs, challenged people to name an Emmy nominee and generally terrorized unsuspecting New Yorkers. Then there's the collection they took up for the cast of the "Big Bang Theory."
"Why is the Emmys not just @billyeichner doing that for three hours?" tweeted actress Anna Kendrick.
2. 'Weird Al''s plot parody parade
Remember when TV theme songs meant something? "The Brady Bunch." "Gilligan's Island." You got a catchy tune and the plot, all in 30 seconds.
Nobody does that anymore. Nobody, except "Weird Al" Yankovic, who skewered everything from "Mad Men" to "Game of Thrones" in a medley with choice lines like, "Jon Hamm's never won an Emmy/ Oh who cares? He's still Jon freaking Hamm."
3. Gwen's 'Adele Dazeem' moment
Remember when John Travolta, for some inexplicable reason, mangled Idina Menzel's name as 'Adele Dazeem'? Gwen Stefani had one of those while presenting the Emmy for Outstanding Variety/Music/Comedy Series to "The Colbert Report." Or, as she put it, "The Colbort Report." Fortunately, Maroon 5's Adam Levine was there to quickly correct her.
4. Crystal's fond remembrance
Your heart had to break for Billy Crystal, the sometimes Oscar host who delivered a heartfelt tribute to his buddy, Robin Williams. "It is very hard to talk about him in the past because he was so present in our lives," he said of the actor, who was found dead of an apparent suicide earlier this month. Crystal spoke fondly, touchingly for nearly five minutes. The night before, the VMAs paused to remember Williams ... for a mere 23 seconds.
5. Bryan breaking bad with the Veep
The gag that paid off big time last night was when "Breaking Bad" star Bryan Cranston planted a long, wet one on Julia Louis-Dreyfus as she headed to the stage to accept her Emmy award.
When the stars were presenting an earlier award, they had a running gag that Louis-Dreyfus couldn't remember that Cranston was a guest star on "Seinfeld," and that the pair even made out on camera.
Not to be brushed aside, Cranston blocked her as she walked toward the stage to accept her trophy for best actress in a comedy series for "Veep." He swept Louis-Dreyfus into a passionate embrace until Jimmy Fallon forced them to separate.
"Yeah, yeah, he was on 'Seinfeld,'" she quipped, while the camera panned to Cranston wiping the lipstick off his lips.
CNN's Saeed Ahmed and Dorrine Mendoza contributed to this report.