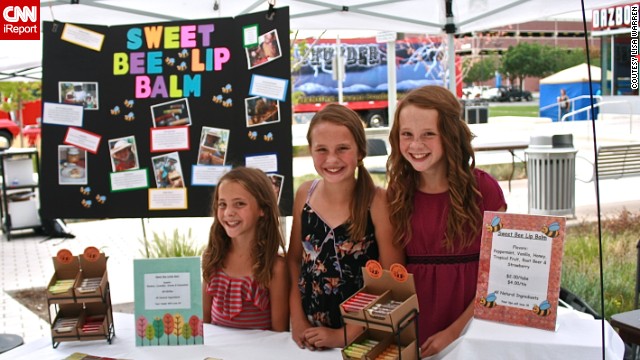 Lily Warren, right, and her two younger sisters, Chloe and Sophie, have been in the beeswax business since 2009. The Littleton, Colorado, sisters make lip balm and lotion bars using the beeswax left over from their parents' hives. They call themselves the Sweet Bee Sisters.
Beekeeping is a hobby for the Warren family. "We're not very good at it," said Lisa Warren, the girls' mom. But once the girls discovered they could make lip balm and lotion bars from beeswax they collected, they researched recipes and got to work. They are currently working on adding soap to their product line.
Each sister has a role within the company, Lily Warren said. Lily, 13, takes charge of answering e-mails and filling orders, but she also helps with production.
Chloe, 12, is the recipe-keeper in the company and handles most of the manufacturing.
The littlest Sweet Bee Sister, 9-year-old Sophie, helps out whenever she can, Lily says. Sophie often handles labels and packaging.
The Sweet Bee Sisters currently offer five different flavors of lip balm, including strawberry and root beer.
Leila Kaufman, 9, started posting video reviews of tech toys for kids on her website, RethinkToys, and YouTube in 2012. Frustrated that all the toys she wanted were being reviewed by adults, she decided she would create a platform where she could voice her opinion about the toys available to kids.
Leila Kaufman visited the "Skylanders SWAP Force" launch event outside a toy store in Times Square, and interviewed Guha Bala, the president of Vicarious Visions, which developed the game. Bala was a young entrepreneur himself; he started Vicarious Visions with his brother while in high school.
In one of her RethinkToys videos, Leila Kaufman spoke with Gauri Nanda, the founder of Toymail, which allows kids to send and receive message via toy mailboxes.
Seven-year-old Scout Kingsley founded Happy Wear with her mom, Ashley, in 2013. Since then, the company has profited more than $1,500 in Etsy and marketplace sales, Ashley Kingsley said.
Happy Wear is a girls' accessory line with products that are bright, colorful and "exude happy."
"Scout is definitely the artistic director, telling me what looks good and what will sell," Ashley Kingsley said of her daughter.
Scout Kingsley says she's learned a lot about marketing and packaging. "I get better every time people order something," she said.
The De Armas sisters -- Leila, 13, Julia, 12, and Sophia, 3 -- started baking cupcakes in 2012 after they saw their father baking his "special cookies." They took 11 months to test the quality of their recipe, and the girls officially formed TresMarias Cupcakes this year.
The De Armas sisters usually sell their cupcakes online, through Instagram and Facebook, to friends and family. "We encouraged them to have a business like this simply because we saw that baking is truly a desire and a passion inside of them," said Leigh Cecilia F. De Armas, their mom. "The business became a tool for them to exercise their gifts and talents and work as a team for a purpose."
Small entrepreneurs with big ideas
Small entrepreneurs with big ideas
Small entrepreneurs with big ideas
Small entrepreneurs with big ideas
Small entrepreneurs with big ideas
Small entrepreneurs with big ideas
Small entrepreneurs with big ideas
Small entrepreneurs with big ideas
Small entrepreneurs with big ideas
Small entrepreneurs with big ideas
Small entrepreneurs with big ideas
Small entrepreneurs with big ideas
Small entrepreneurs with big ideas
Small entrepreneurs with big ideas
Small entrepreneurs with big ideas