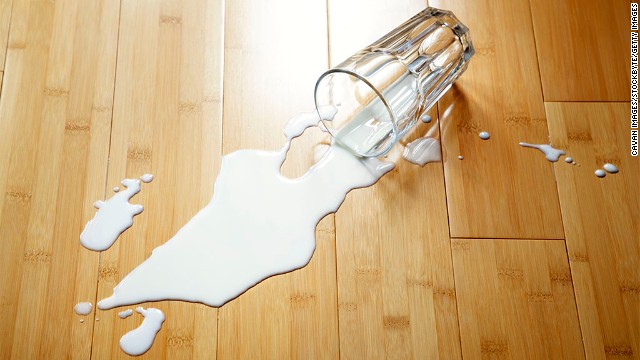 Each year one out of every six Americans is sickened by a foodborne illness, according to the Centers for Disease Control and Prevention. Here are some of the biggest foodborne illness outbreaks since 2001.
Click here
for tips on how to keep your food safe.
CDC
. Of the 634 cases, 38% involved hospitalization.
In 2013, Foster Farms chicken infected 634 people in 29 states with a multidrug-resistant strain of Salmonella, according to the
631 people
with the parasite Cyclospora cayetanensis in summer 2013. The parasite triggers watery diarrhea, nausea, bloating and cramping.
A salad mix and fresh cilantro from Mexico ended up infecting
162 cases
were reported, and 71 people were hospitalized, according to the CDC. Severe hepatitis cases can cause liver damage. The blend's pomegranate seeds came from a company in Turkey, which was the source of contamination.
A hepatitis A outbreak was attributed to Townsend Farms Organic Antioxidant Blend frozen berries in September 2013. A total of
Cantaloupes tainted with salmonella infected more than 260 people across 24 states in October 2012. Three people in Kentucky died and 94 were hospitalized. Investigators determined Chamberlain Farms Produce Inc. of Owensville, Indiana, was the source of this outbreak.
Salmonella in a frozen raw yellowfin tuna product, known as Nakaochi Scrape, sickened 425 people and hospitalized 55 in the spring and summer of 2012. The product was used most often to make "spicy tuna" sushi, according to the CDC.
Twenty-two cases were reported of a Listeria monocytogenes infection from the Frescolina Marte brand of ricotta salata cheese in 2012, but 90% of those people were hospitalized, and four people died, according to the
In September 2011, listeria in cantaloupes left 30 people dead in what was the deadliest U.S. outbreak of a food borne illness since the CDC started keeping track of listeria cases in 1973, according to the agency.
more than 36 million pounds of ground turkey
after tests revealed a strain of salmonella. The outbreak killed one person and sickened more than 130.
Between February and August 2011, the Cargill Meat Solutions Corp. recalled
were reportedly sickened by salmonella found in eggs produced by
Iowa's Hillandale Farms
, which voluntarily recalled about a half-billion eggs nationwide.
In summer 2010, more than 1,900 people
SanGar Fresh Cut Produce
to recall all products shipped from its San Antonio plant.
Authorities shut down a processing plant in Texas in October 2010 after four deaths were tied to listeria-infected celery produced at the site. The Texas Department of State Health Services ordered
infected with salmonella from Mexico-grown jalapeño and serrano peppers
. At least 300 people were hospitalized, and the infection may have contributed to two deaths, according to the CDC. Walmart stores in four states recalled jars of serrano peppers as a result.
Between April and August 2008, 1,442 people in 43 states were
Nine people died from salmonella-infected peanut butter between September 2008 and April 2009. The Peanut Corp. of America had sold the tainted peanut butter in bulk to King Nut, which recalled its products. More than 700 people were infected and 166 hospitalized.
more than 200 people
became infected with E. coli from spinach grown on a single California field. Investigators traced the prepackaged spinach back to Natural Selection Foods and baby spinach
sold under the Dole brand name
. Five deaths were linked to the outbreak.
In the summer of 2006,
four large outbreaks of salmonella
infections hit 21 states in the United States. Tainted tomatoes being served in restaurants were found to be the cause. Investigators linked the produce to fields in Florida, Ohio and Virginia.
During 2005 and 2006,
Sheetz gas stations
infected
more than 400 people
in the summer of 2004. Two other smaller outbreaks in the United States and Canada also occurred that summer and were linked back to a tomato-packing house in Florida.
Pre-sliced Roma tomatoes purchased at deli counters in
Listeria-infected sliced turkey
killed eight and infected 46 others in 2002. Three pregnant women had fetal deaths. Two processing plants recalled 30 million pounds of meat following the outbreak.
again the culprit
. Salmonella tainted the fruit that killed two, hospitalized nine and infected 50 in an outbreak that started in Mexico.
In 2001, cantaloupe was
Worst foodborne illness outbreaks
Chicken
Salad mix
Frozen berries
Cantaloupe
Tuna
Ricotta cheese
Cantaloupe
Ground turkey
Eggs
Celery
Peppers
Peanut butter
Spinach
Tomatoes
Roma tomatoes
Deli meats
Cantaloupe
STORY HIGHLIGHTS
1 in 6 Americans will get food poisoning this year
According to the federal government, these illnesses are largely preventable
Recalls by federal agencies can help keep the public safe
Social media and newsfeeds can help you stay on top of food safety news
Editor's note: In cooking, the process of clarification entails straining out extraneous muck from liquids to make them pure, clear and ideal for consumption. With this series on food terminology and issues we're attempting to do the same.
(CNN) -- If it seems to you that there's a food safety crisis every other week, you're actually not paying close enough attention. Since the start of summer 2014 alone, the Food and Drug Administration has announced 37 different recalls, market alerts and safety withdrawals related to food, and the Food Safety and Inspection Service has issued 14.
Some recalls result from mislabeling (such as undeclared ingredients like shellfish, milk, nuts, eggs or wheat gluten) or improper processing, while other recalled foods were contaminated with listeria, E. coli, salmonella or botulism.
About 48 million people -- 1 in 6 Americans -- contract some form of food poisoning each year, according to the Centers for Disease Control and Prevention. That's 128,000 hospitalizations and 3,000 deaths that are, by the federal government's estimations, "largely preventable."
At any given time the FDA is responsible for watching over some 167,000 domestic food facilities or farms and another 421,000 facilities or farms outside the United States, according to FDA officials. But there are only about 1,100 inspectors to oversee these facilities, officials told CNN in 2012.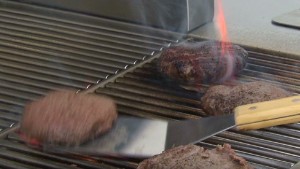 Hamburger nearly kills Michigan man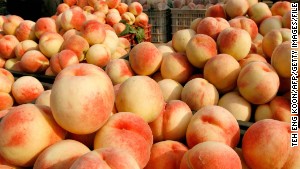 Recall impacts peaches, plums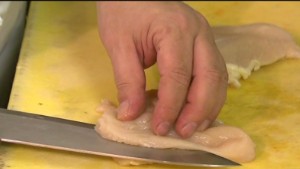 Tracking salmonella amid the shutdown
Tainted food and mislabeled food slip through the cracks all the time, and unwitting consumption can result in conditions ranging from stomach discomfort and fever to death from infection and allergic reactions. It's in a food producer's best interest to get a bad product off store shelves and alert consumers as swiftly as possible -- and it's the duty of the federal government to help minimize the risk to public safety.
Often, their best course of collective action is a recall, but what does that actually mean?
Who is looking out for your food safety?
Prior to the passage of the Food Safety Modernization Act, the FDA could strongly suggest action, but had no authority to issue a mandatory recall of potentially harmful food. (For example, in the summer of 2010, consumers had to rely on suppliers' voluntary removal of nearly 500 million eggs from the marketplace in order to make sure that store supplies were free of salmonella. Still, an estimated 1,600 people nationwide were sickened by the eggs.)
Since President Obama signed the law into effect in January 2011, there has only been one attempt by the FDA to enforce the mandatory recall of a food item: pet treats that were found to have been tainted with salmonella and allegedly caused several dogs to become ill. (In the end, the company was given a two-day notice to take corrective action -- which it did -- and enforcement wasn't needed.)
But in the interim, hundreds of food items -- including 9 million pounds of adulterated meat, massive quantities of stone fruit and several dozen varieties of peanut butter -- have been voluntarily recalled by their producers.
There are a few ways that can be set in motion. A producer may, through its own internal product testing or customer reports, find that there is an issue with its food and alert the FDA or FSIS. In other cases, testing by these agencies' inspectors may reveal an issue, which is communicated to the company. And in others, local and state health services will contact the CDC, which can identify patterns of foodborne illness using the FoodCORE system and in turn alert the FDA and FSIS.
If the product is meat, poultry or egg-based, FSIS can form a committee to determine if a recall is needed. If so, agents collaborate with producers to make sure that the product is no longer available to the public, and that consumers have received adequate warning via the media and the FSIS website about what products are affected and what course of action to take. If a risk is posed, but a recall is not needed, FSIS will issue a public health alert.
The FDA oversees all food that's not under FSIS jurisdiction and will evaluate each case to determine the threat it poses to public safety. In most cases, the agency will work with the producer to take corrective action at the facility level (cleaning machines and workrooms, safely removing contaminated ingredients and the like) and alert the public if needed. All cases are listed on the FDA website, but more severe ones will be communicated to the media via press release.
But if the risk to public safety is found to be particularly high, the Food Safety Modernization Act allows the agency to shut down manufacturing until the threat has been contained. This power was enacted for the first time in November 2012, when a multistate outbreak of Salmonella Bredeney was linked to peanut butter produced by Sunland Inc. The FDA suspended the company's food facility registration, effectively prohibiting it from distributing food. Sunland subsequently declared bankruptcy and shut down production for good.
Both FDA and FSIS use a three-tier classification for the threat posed by the food:
"Class I recall: a situation in which there is a reasonable probability that the use of or exposure to a violative product will cause serious adverse health consequences or death.
"Class II recall: a situation in which use of or exposure to a violative product may cause temporary or medically reversible adverse health consequences or where the probability of serious adverse health consequences is remote.
"Class III recall: a situation in which use of or exposure to a violative product is not likely to cause adverse health consequences."
So how does a reasonable consumer stay apprised of all these goings-on and avoid spending precious time making the rounds of governmental websites on a daily basis?
Follow @FDArecalls on Twitter. The account posts the most recent additions to the recall list, and its sister account, @USDAFoodSafety shares a mix of FSIS recall news and food safety tips.
If RSS is more your speed, the FDA and FSIS both offer newsfeeds, as well as e-mail blasts to keep you on top of your food safety game.