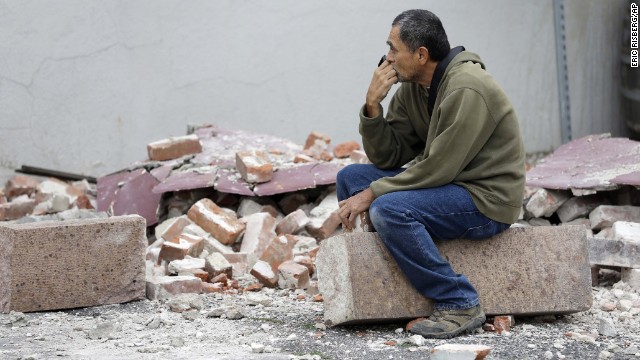 Ron Peralez sits on rubble and looks at damaged buildings on Monday, August 25, in Napa, California. The San Francisco Bay Area's strongest earthquake in 25 years struck the heart of California's wine country on August 24.
A corner of the historic Napa County courthouse sits exposed following the earthquake on Sunday, August 24.
Barrels are strewn about inside the storage room of Bouchaine Vineyards in Napa on August 24.
Pedestrians stop to examine a crumbling facade at the Vintner's Collective tasting room in Napa on August 24.
Karl Luchsinger attempts to disentangle his daughter's car on August 24 after the car port it was parked in collapsed in Napa.
Dan Kavarian, chief building official with the City of Napa, surveys a building on August 24 in Napa.
Nicholas George looks under a buckled highway just outside of Napa on August 24.
Winemaker Tom Montgomery walks through spilled wine to see the damage at the B.R. Cohn Winery barrel storage facility on August 24 in Napa.
Broken bottles from the library wines of the Saintsbury winery are tossed in a grape bin on August 24 after the earthquake.
Eddie Villa, left, and Jesus Villa clean up broken bottles at Van's Liquors August 24 in Napa.
Steve Brody inspects damage to the interior of his mobile home at the Napa Valley Mobile Home Park on August 24 in Napa.
A boy rides a scooter over a sidewalk buckled by the earthquake on August 24 in Napa.
Tyler Dahl looks over a $16,000 barrel of Pinot Noir wine that fell from a rack and broke open after the earthquake at Dahl Vineyards on August 24 in Yountville, California.
A Napa County firefighter sprays foam on hot spots from a fire at a mobile home park in Napa on August 24.
Nina Quidit cleans up the Dollar Plus and Party Supplies Store on August 24 in American Canyon, California, after the earthquake wreaked havoc on the store's shelves.
Debris litters the ground in front of a damaged building on August 24 in Napa.
Bottles of olive oil and vinegar lie on the floor of a damaged business on August 24 in Napa.
Bricks from a damaged building sit atop a car on August 24 in Napa.
Earthquake shakes Northern California
Earthquake shakes Northern California
Earthquake shakes Northern California
Earthquake shakes Northern California
Earthquake shakes Northern California
Earthquake shakes Northern California
Earthquake shakes Northern California
Earthquake shakes Northern California
Earthquake shakes Northern California
Earthquake shakes Northern California
Earthquake shakes Northern California
Earthquake shakes Northern California
Earthquake shakes Northern California
Earthquake shakes Northern California
Earthquake shakes Northern California
Earthquake shakes Northern California
Earthquake shakes Northern California
Earthquake shakes Northern California