STORY HIGHLIGHTS
White House: Obama, Merkel agree Russian convoy is "a provocation"
UK ambassador: Convoy "has nothing to do with humanitarianism"
Lithuania official: Consul kidnapped, killed by "terrorists"
Putin blames Ukraine, says it'd be "unacceptable" to delay sending convoy
Kiev, Ukraine (CNN) -- Is it an act of compassion or one of belligerence?
Both judgments were offered Friday on the dozens of Russian trucks that have rolled into eastern Ukraine, a move Russian leaders cast as necessary to address a humanitarian crisis and a Ukrainian official characterized as an "invasion" of his nation by its mighty neighbor to the east.
While getting agreement on the right answer is impossible at this moment, there's little doubt the actions have raised tensions to new levels -- and that's saying something, given the volatility over the past many months.
The latest row revolves around aid going from Russia to Ukraine. Kiev had stalled trucks on the Russian side of the border for days, before acknowledging Sunday that the convoy, in fact, had humanitarian aid.
That admission didn't end the discord and debate. As of 11:30 p.m. (4:30 p.m. ET) Friday, 227 Russian vehicles had crossed into Ukraine, according to the Organization for Security and Co-operation in Europe, which has an observer mission at the checkpoint the convoy went through.
All the vehicles were supposed to be monitored by members of the International Committee of the Red Cross. However, the Red Cross said it wasn't accompanying them due to the "volatile security situation" -- a reference to continued fighting between pro-Russian rebels and Ukrainian forces.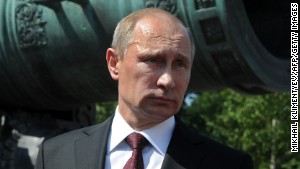 Does Putin want war in Ukraine?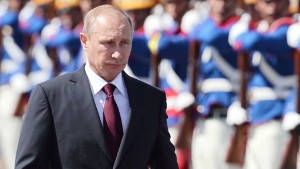 Russia's $730 billion war machine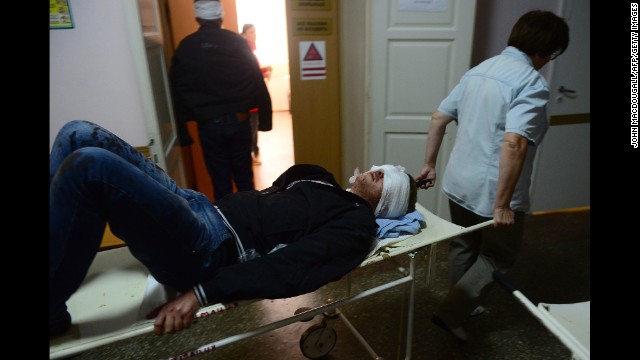 An injured man is transported at a hospital after shelling in Donetsk, Ukraine, on Wednesday, October 1. The shelling in the city of Donetsk, held for months by pro-Russian rebels, came despite a ceasefire that Ukraine's government reached with separatist leaders last month.
A woman injured at a bus station during shelling cries at a Donetsk hospital on October 1.
A pro-Russian rebel guards a damaged school in Donetsk on October 1.
Ukrainian servicemen patrol on armored personnel carriers in the Donetsk region on Friday, September 26.
A pro-Russian rebel guards a destroyed bridge in Nyzhnya Krynka, Ukraine, on Tuesday, September 23.
Residents clean up debris at a building damaged by rockets in Debaltseve, Ukraine, on Monday, September 22.
A firefighter checks out a damaged office building after bomb shelling in Donetsk, Ukraine, on Sunday, September 21.
A Ukrainian soldier guards pro-Russian forces during a prisoner exchange near Donetsk on September 21.
Members of the Ukrainian military held as prisoners of war sit in a bus waiting to be exchanged near Donetsk on Saturday, September 20.
Smoke rises after an explosion at a weapons factory controlled by pro-Russia rebels near Donetsk on September 20. The cause of the explosion was not immediately known.
A Ukrainian attack helicopter patrols an area near Donetsk on September 20.
A firefighter walks past the rubble of a building destroyed by shelling in Donetsk on Wednesday, September 17.
A protester holds a smoke bomb during a demonstration outside the Presidential Palace in Kiev, Ukraine, on September 17. Activists protested the adoption of legislation giving greater autonomy to rebel-held parts of eastern Ukraine's Donetsk and Luhansk regions.
A man covers the body of his mother, who was killed on a bus during a battle in Donetsk on Tuesday, September 16.
People walk through a market Monday, September 15, in the Kievsky district of Donetsk.
Smoke rises around the Donetsk International Airport on Saturday, September 13, as shelling continues between pro-Russian rebels and the Ukrainian army.
A Ukrainian soldier stands guard as residents rally in support of a united Ukraine in the southern Ukrainian city of Mariupol on September 13.
Russian trucks, flying Russian flags and carrying humanitarian aid for eastern Ukraine, line up at a border checkpoint in Donetsk on September 13.
Workers unload supplies from Russia in Luhansk, Ukraine, on September 13. More than 200 Russian trucks entered Ukraine with supplies for the city, which has been cut off from electricity and water for weeks.
Ukrainian soldiers ride on an armored vehicle near Kramatorsk, Ukraine, on September 13.
People look at a large crater from a reported missile strike that hit a bus station Friday, September 12, in Makiivka, Ukraine.
Workers clear rubble Thursday, September 11, after the bombing of a mine in Donetsk.
A column of Ukrainian forces is seen in Volnovakha, Ukraine, on September 11.
An elderly woman sits next to a Ukrainian soldier standing guard in Volnovakha on September 11.
Armed pro-Russian rebels walk September 11 in front of the destroyed Luhansk International Airport. The rebels took control of the airport on September 1 after heavy fighting with the Ukrainian army.
Residents of Lutuhyne, Ukraine, push containers in a wheelbarrow September 11 as they walk between destroyed armored vehicles left behind by the Ukrainian army.
Ukrainian troops protect themselves from a nearby shooting in Debaltseve, Ukraine, on Tuesday, September 9.
Young residents of Berdyansk, Ukraine, dig trenches September 9 to help Ukrainian forces protect the city from possible rebel attacks.
Ukrainian President Petro Poroshenko, left, inspects military personnel during a visit to Mariupol on Monday, September 8.
A pro-Russian rebel stands next to a truck with a heavy machine gun attached to it Sunday, September 7, in Donetsk.
Homes smolder after being hit by shelling in Donetsk on September 7.
A woman stands next to a road sign September 7 after an overnight bombing attack at an Ukrainian army checkpoint on the outskirts of Mariupol.
Ukrainian troops stand on a deserted road as they patrol the border area of the Donetsk and Luhansk regions Friday, September 5, near Debaltseve.
A man repairs damage to a building caused by shelling in Donetsk on September 5.
Smoke rises on the outskirts of Mariupol after pro-Russian rebels fired heavy artillery on September 5.
Ukrainian soldiers ride a tank on a road close to where pro-Russian rebels fired heavy artillery outside Mariupol on September 5.
A wounded Ukrainian soldier is helped by a medical team on the outskirts of Mariupol on September 5.
A pro-Russian rebel holds a destroyed weapon in the village of Novokaterynivka, Ukraine, on Thursday, September 4.
Unmarked military vehicles burn on a country road in Berezove, Ukraine, on September 4 after a clash between Ukrainian troops and pro-Russian rebels. For months, Ukrainian government forces have been fighting the rebels near Ukraine's eastern border with Russia.
People wait by their cars near Berezove on September 4 as rockets hit the road ahead.
A pro-Russian rebel holds a dog, which has a hand grenade attached to its leash, in Donetsk on Wednesday, September 3.
Pro-Russian rebels fire at Ukrainian army positions in Donetsk on September 3.
A Ukrainian military vehicle patrols in the Donetsk region on September 3.
Pro-Russian rebels hold a man near a column of destroyed Ukrainian military vehicles in Novokaterynivka on Tuesday, September 2.
A Ukrainian military truck passes by a serviceman resting in his military camp in Ukraine's Donetsk region on September 2.
A destroyed Ukrainian military vehicle sits abandoned on the side of the road near Novokaterynivka on September 2.
Men clear rubble in Ilovaisk, Ukraine, on Sunday, August 31.
Ukrainian troops leave the rebel-held town of Starobesheve on Saturday, August 30.
A Ukrainian loyalist fighter from the Azov Battalion stands guard on a hill on the outskirts of Mariupol on August 30.
A pro-Russian rebel listens to the news on a transistor radio in the town of Novoazovsk, Ukraine, on Friday, August 29.
Ukrainian soldiers stop on a roadside as they wait for the start of their march into Mariupol on Wednesday, August 27.
A man opens a box filled with rocket-propelled grenades left by the Ukrainian army in Starobesheve.
A pro-Russian rebel walks through a local market damaged by shelling in Donetsk on Tuesday, August 26.
Ukrainian servicemen of the volunteer battalion Azov leave for Novoazovsk on August 26.
Pro-Russian rebels escort captured Ukrainian soldiers in a central square in Donetsk on Sunday, August 24.
People yell as Ukrainian prisoners are paraded through Donetsk in eastern Ukraine on August 24.
A pro-Russian rebel delivers a speech atop a damaged Ukrainian armored personnel carrier in Donetsk on August 24.
People look at damaged Ukrainian military equipment in Donetsk on August 24.
The first trucks of a Russian aid convoy roll on the main road to Luhansk in eastern Ukraine on Friday, August 22. The head of Ukraine's security service called the convoy a "direct invasion" under the guise of humanitarian aid since it entered the country without Red Cross monitors.
A pro-Russian rebel holds shrapnel from a rocket after shelling in Donetsk on August 22.
Residents sit in a makeshift bomb shelter during a shelling in Makiivka on Wednesday, August 20.
Dogs play together as a Russian convoy carrying aid supplies stops at a border control point with Ukraine on August 20.
Ukrainian forces take their position not far from Luhansk on August 20.
Clouds of smoke are on the horizon as Ukrainian forces and pro-Russian rebels clash in Yasynuvata, Ukraine, on Tuesday, August 19.
An Ukrainian helicopter flies near Kramatorsk on August 19.
Ukrainian soldiers load a missile during fighting with pro-Russian rebels Monday, August 18, near Luhansk.
Boys play at a refugee camp, set up by the Russian Emergencies Ministry, near the Russian-Ukrainian border on August 18.
Ukrainian soldiers carry weapons at a checkpoint near Debaltseve on Saturday, August 16.
Pro-Russian rebels greet each other as they pass near Krasnodon, Ukraine, on August 16.
A fireman tries to extinguish a fire after shelling in Donetsk on August 16.
Ukrainian border guards patrol near Novoazovsk on Friday, August 15.
Trucks of a Russian humanitarian convoy are parked in a field outside the town of Kamensk-Shakhtinsky, in the Rostov region of Russia about 20 miles from the Ukraine border, on August 15. Ukrainian officials were preparing to inspect the convoy, which was bound for the conflict-torn east.
A truck driver from the convoy jumps out of a trailer on August 15. The Ukrainian government had expressed fears that the convoy was a large-scale effort to smuggle supplies or troops to pro-Russian rebels.
A tank belonging to pro-Russian rebels moves along a street in Donetsk on August 15.
A Ukrainian soldier walks past a line of self-propelled guns as a column of military vehicles prepares to head to the front line near Ilovaisk on Thursday, August 14.
A Ukrainian soldier prepares a mortar at a position near Ilovaisk on August 14.
A man inspects damage at his house after a shelling in Donetsk on August 14.
A convoy of trucks, which Moscow said was carrying relief goods for war-weary civilians, moves from Voronezh, Russia, toward Rostov-on-Don, Russia, on August 14.
Pro-Russian rebels on the outskirts of Donetsk stand at a checkpoint near a bullet-riddled bus on Wednesday, August 13.
A pro-Russian rebel inspects damage after shelling in Donetsk on Thursday, August 7.
Smoke billows from a Ukrainian fighter jet crash near the village of Zhdanivka, Ukraine, on August 7.
Residents of eastern Ukraine cry in a hospital basement being used as a bomb shelter August 7 in Donetsk.
Ordnance from a Ukrainian rocket launcher shoots toward a pro-Russian militant position in the Donetsk region on August 7.
Relatives of Ukrainian military member Kyril Andrienko, who died in combat in eastern Ukraine, gather during his funeral in Lviv, Ukraine, on August 7.
Refugees from southeastern Ukraine wait at a refugee camp in Donetsk on Wednesday, August 6.
A pro-Russian rebel adjusts his weapon in Donetsk on August 6.
Men walk past a bomb crater in Donetsk on August 6.
A man steps out of his car as Ukrainian soldiers inspect the vehicle at a checkpoint in Debaltseve on August 6.
Ukrainian servicemen sit on a bus near Slovyansk, Ukraine, on Tuesday, August 5.
A pro-Russian separatist guards a road as Australian, Malaysian and Dutch investigators prepare to examine the crash site of Malaysia Airlines Flight 17 near the village of Rossipne, Ukraine, on August 5. U.S. and Ukrainian officials allege that a Russian-made missile shot down the plane from rebel-held territory, killing all 298 people on board. Russia and the rebel fighters deny involvement.
Rescue workers carry the body of a woman who was killed during a bomb shelling in Donetsk on August 5.
A boy stands in a hallway of a refugee hostel run by pro-Russian rebels in Donetsk on Monday, August 4.
Ukrainian servicemen from the Donbass volunteer battalion clean their guns Sunday, August 3, in Popasna, Ukraine.
Ukrainian soldiers fire shells toward rebel positions near Pervomaysk, Ukraine, on Saturday, August 2.
Ukrainian troops patrol near the village of Novoselovka on Thursday, July 31.
A woman says goodbye to her mother as she flees her home in Shakhtersk, Ukraine, on Tuesday, July 29. See more photos of the crisis from earlier this year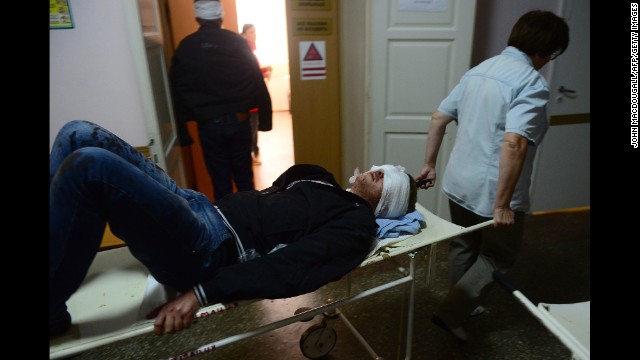 Photos: Crisis in Ukraine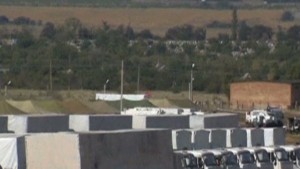 Russian aid convoy to enter Ukraine
Ukraine has repeatedly accused Russia of directly and indirectly bolstering the rebel movement. The Kiev-based government and its allies -- including the NATO alliance and its core member, the United States -- see this convoy as perhaps Moscow's most glaring, egregious move yet.
"We call this a direct invasion for the first time under cynical cover of the Red Cross," said Valentyn Nalyvaychenko, the head of Ukraine's security service.
Right now, Ukraine isn't planning to go after the convoy. Still, Nalyvaychenko thinks its main purpose is to supply rebels and its drivers are not even civilians.
To Russian President Vladimir Putin, it is Ukraine's government -- not his -- that's being irresponsible and fueling instability in eastern Ukraine.
Putin expressed "serious concern" to German Chancellor Angela Merkel about endangered civilians and other impacts from Ukraine's "continued (military) escalation," according to the Kremlin.
He further criticized what he characterized as "Kiev's blatant attempts to hinder the delivery of Russian humanitarian aid" into southeast Ukraine, implying he had no choice but to act.
"Further delay would have been unacceptable," a Kremlin statement said.
U.S. official warns Russia on convoys
The international community hardly embraced Putin's version of events.
The British ambassador to the United Nations said that Russia had no support at a U.N. Security Council meeting Friday on the topic. The diplomat, Mark Lyall Grant, made no doubt about his own country's views on the convoy's entrance into Ukraine.
"It is an undeniable and blatant violation of Ukrainian sovereignty and clear breach of international law and the U.N. charter," Lyall Grant told reporters. "It has nothing to do with humanitarianism."
NATO Secretary General Anders Fogh Rasmussen warned that the the "so-called humanitarian convoy ... can only deepen the crisis in the region, which Russia itself has created and has continued to fuel."
"The disregard of international humanitarian principles raises further questions about whether the true purpose of the aid convoy is to support civilians or to resupply armed separatists," Rasmussen said in a statement.
Merkel talked not only with Putin -- during which she voiced her "grave concern" -- but also with U.S. President Barack Obama.
The two leaders agreed that Ukraine "has continued to deteriorate since the tragic downing" of Malaysia Airlines Flight 17, purportedly by pro-Russian rebels, the White House said. The pair concurred, too, that the convoy "is a further provocation and a violation of Ukraine's sovereignty" and called for the stop "of Russian personnel, military equipment and armored vehicles into eastern Ukraine."
Other U.S. officials laid into Russia publicly.
Pentagon spokesman Rear Adm. John Kirby said that Moscow has been told in "very, very clear (terms) that they should not be doing this under the guise of a humanitarian convoy, to use that as an excuse to cross the border in a non-authorized way."
Russia must remove its vehicles and its personnel from the territory of Ukraine immediately.
Pentagon spokesman John Kirby

Army: Civilian convoy attacked in Ukraine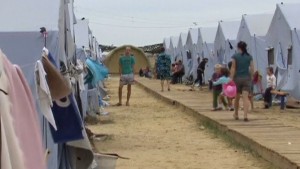 Ukrainian refugees flee to Russia
"Russia must remove its vehicles and its personnel from the territory of Ukraine immediately," Kirby told reporters. "Failure to do so will result in additional costs and isolation."
This view was seconded by Deputy National Security Adviser Ben Rhodes, who deemed the convoy -- which he said his nation and its allies are tracking closely -- "as part of a pattern of flagrant violation of Ukrainian sovereignty." The more Moscow does such things that stir instability in Ukraine, the more it will pay, according to Rhodes.
"If (Russia does) not remove the convoys, we will be making determinations with our international partners about how to ratchet up the costs and consequences on them," Rhodes said.
U.S. official: Up to 18,000 Russian troops on border
It's not just the Russian vehicles that crossed into Ukraine that are causing consternation. So, too, are the Russian troops massed at the border.
There were up to 18,000 such "combat-ready" troops on Friday, a significant increase from previous public estimates by the Pentagon, according to a U.S. defense official with direct access to the latest information.
The official described the units as being in a "fully combat-capable offensive posture."
A second U.S. official said that many of the units were positioned at "crossroads and towns" two to 10 miles from the border.
"They are definitely more overt, aggressive and out in the open," the official said. "They aren't even hiding it."
The second official said the United States has believed for weeks that some Russian troops have crossed the border as part of the convoys of military gear and weapons moving from Russia into Ukraine.
Of particular concern is the apparent transport of long-range and advanced systems including at least two SA-22 surface-to-air missile system and a number of pieces of longer-range artillery.
The fear is that any advance of any kind could make the ongoing fighting -- sparked last year by a political crisis over whether Ukraine would seek closer ties with Europe or Russia -- even worse. U.N. officials estimate that more than 2,000 people have died and nearly 5,000 have been wounded in eastern Ukraine since mid-April.
The dead include Mykola Zelenec, Lithuania's honor consul in the eastern Ukrainian city of Luhansk, who Lithuanian Foreign Minister Linas Linkevicius said had been "kidnapped and brutally killed by terrorists."
Ukraine has time and again accused Russia of effectively fomenting rebellion by supporting rebels -- including militarily -- in eastern Ukraine, some of whom continue to hold territory there despite a push by Ukraine's military.
Russia has denied any direct support for the rebels while voicing sympathy for their fight for self-determination, saying that Kiev is in the wrong for its actions that endanger civilians -- including many ethnic Russians.
Even if the Russian military doesn't explicitly march into Ukraine, there are concerns that it will find other ways to bolster the rebels.
Russia's ambassador to the United Nations, Vitaly Churkin, insisted Friday that the current humanitarian convoy won't be one of them.
He told reporters that Russia received "official acceptance by Kiev authorities" for the convoy, and that Moscow is staying in touch with Ukrainian officials to make sure there are no problems in the process of distribution of the aid.
Ukraine's secret weapon: Funding from the country's millionaires
Six questions: What's happening in Ukraine?
Which foods are off Russian menus?
CNN's Lindsay Isaac -- along with journalist Victoria Butenko -- reported from Kiev, and CNN's Greg Botelho reported and wrote from Atlanta. CNN's Laura Smith-Spark, Jason Hanna and Olga Pavlova contributed to this report.