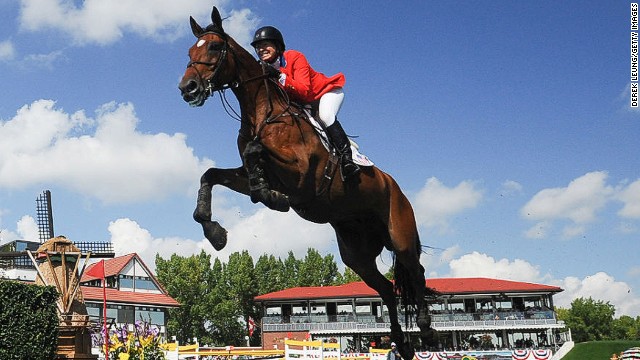 More than a thousand horses and riders hope to leap into the record books at the World Equestrian Games in Normandy. Click through the gallery for our guide to the highlights...
Firstly, you can expect a lavish French backdrop for this year's two-week event. Pictured is the Haras du Pin national stud, dubbed the "Versailles of horses," which will host the eventing competition.
There is always an opening ceremony. In Germany eight years ago, riders in historic costumes performed a quadrille -- a form of equestrian ballet.
The same year Zara Phillips, granddaughter of Britain's Queen Elizabeth, won the eventing world title. Here, she talks to her mother -- Princess Anne -- following the dressage section of the contest.
Phillips later found herself drenched when a storm rolled across the outdoor venue during her medal ceremony. She returns to the World Equestrian Games as a part of this year's British eventing squad.
Not all eventers have it so lucky -- expect more tumbles like this one endured by Colombian rider Manuel Torres. If you fall during the cross-country phase, you are eliminated from the tournament.
Cross-country courses are designed to test stamina, nerve and split-second decision-making as eventing riders negotiate a series of jumps and hazards spread across a four-mile track.
Dressage can be a mystery to many -- it involves a complex sequence of maneuvers designed to demonstrate a horse and rider in perfect sync. The first test, called the grand prix, also decides the team medals. Then follows the grand prix special, followed by the freestyle, which is set to music and determines the individual champion.
Double Olympic champion Charlotte Dujardin and her horse Valegro are widely regarded as the best dressage partnership in the world -- but must overcome a recent blip in form.
One of Dujardin's biggest rivals could have been Germany's Matthias Rath and stunning black stallion Totilas, one of the legends of dressage. However, Totilas has been ruled out of the event through injury.
The first World Equestrian Games was staged in Sweden in 1990. Pictured is Britain's John Whitaker in the showjumping contest -- he won silver that year, while his younger brother Michael is in the British team for 2014.
Paralympic champions Natasha Baker and Lee Pearson form part of an exceptionally strong British para-dressage team for the World Equestrian Games, looking to remain unbeaten at all major events since the 1996 Paralympics in Atlanta.
Vaulting is one of the World Equestrian Games' more flamboyant events, in which athletes perform gymnastics on the back of a horse. Here is Marion Graf of Switzerland in action.
Vaulters can compete individually, in pairs known as a pas-de-deux, or in teams of six. The French team, who will be competing on home soil this year, are pictured here.
Defending men's vaulting world champion Nicolas Andreani hopes to retain his title in his final appearance at this level, in front of his home fans.
In endurance riding, horses tackle a 100-mile route in the space of one day. Sheikh Mohammed, the ruler of Dubai pictured second-right here, is a past world silver medalist in the equestrian equivalent of a marathon.
Sheikh Mohammed's wife is Princess Haya, who serves as president of the FEI, horse sport's world governing body. The two are shown here in 2011. Princess Haya recently announced she will step down as FEI president -- an election to replace her will be held in December.
Carriage driving looks like a picture of calm in moments like this, during the dressage section of the event.
However, driving hots up when competitors are then asked to negotiate various hazards during the marathon segment, before tackling an obstacle course in the finale.
There is even a touch of the Wild West about the World Equestrian Games. The sport of reining has been compared to a cowboy's version of dressage, complete with a signature move: the sliding stop.
World Equestrian Games set to thrill in France
World Equestrian Games set to thrill in France
World Equestrian Games set to thrill in France
World Equestrian Games set to thrill in France
World Equestrian Games set to thrill in France
World Equestrian Games set to thrill in France
World Equestrian Games set to thrill in France
World Equestrian Games set to thrill in France
World Equestrian Games set to thrill in France
World Equestrian Games set to thrill in France
World Equestrian Games set to thrill in France
World Equestrian Games set to thrill in France
World Equestrian Games set to thrill in France
World Equestrian Games set to thrill in France
World Equestrian Games set to thrill in France
World Equestrian Games set to thrill in France
World Equestrian Games set to thrill in France
World Equestrian Games set to thrill in France
World Equestrian Games set to thrill in France
World Equestrian Games set to thrill in France
STORY HIGHLIGHTS
The World Equestrian Games begin on August 25 in Normandy, France
Held every four years, the world's biggest equestrian festival lasts for two weeks
Leading Olympic hopefuls mix with lesser-known sports like reining and driving
Events include gymnastics on horseback and a 100-mile endurance race
Follow us at @WorldSportCNN and like us on Facebook
(CNN) -- More than 70 nations, 1,000 athletes and as many horses. The World Equestrian Games are upon us.
The biggest equestrian event outside the Olympics comes to Normandy, France, on Monday for two weeks of drama, daring, dressage and ... "Don Johnson."
Normandy claims to be home to 93,000 horses and more than 400 equestrian centers, but France has never seen anything on the scale of the Alltech FEI World Equestrian Games (often shortened to "WEG").
You can win world titles in no fewer than eight types of horse sport at the four-yearly showpiece. All three Olympic equestrian disciplines are involved, alongside the Paralympic sport of para-dressage.
So what should you expect over the next two weeks? Where to look? Who to follow? CNN World Sport answers those questions and more.
1. Admire the 'Versailles of horses'
That's the French nickname for Haras du Pin, a magnificent estate built in the 18th century which will host the eventing competition -- a combination of dressage, cross-country riding and showjumping.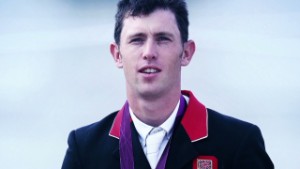 Scott Brash dominates showjumping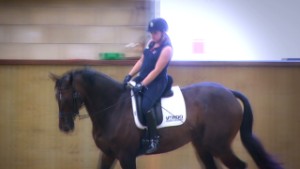 Britain: unbeatable in para-dressage
One of 22 National Studs across France, the Haras du Pin was founded on the orders of Louis XIV in 1715. The cross-country on August 30, in particular, should look spectacular against this backdrop.
However, with seven more events being held at WEG, this is not the only venue worth your time.
Dressage, where horses perform complex maneuvers -- sometimes to music -- across what looks like an oversized sandpit, takes place inside the Stade Michel D'Ornano in Caen -- usually the home of the city's soccer team.
Horseball, a fun, fast-paced mixture of rugby and basketball on horseback, appears as a demonstration sport in Saint Lo. Rich in history, the small town was inhabited for millennia before its almost total destruction during World War Two's Battle of Normandy in 1944.
Read: 'Horse Quidditch' seeks place in Olympics
2. Beware the Brits
This is the rule all other teams must follow at WEG, given the prominence of British riders in the world rankings right now.
This year, for the first time, Britain has number-one riders in all three Olympic equestrian sports: dressage, eventing and jumping.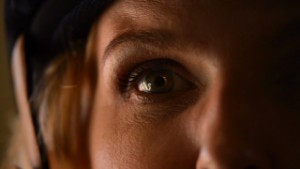 Blind dressage rider: 'Anything is possible'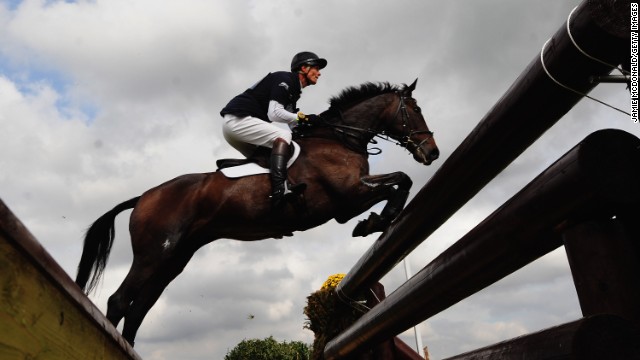 William Fox-Pitt is currently the world's No.1 ranked rider in the sport of three-day eventing.
It involves mastering three entire disciplines over three days of action, starting with the dressage.
Day two of each competition is the cross-country, the most demanding and dangerous of the challenges.
The action is then rounded off with the final day's show-jumping competition.
Among Fox-Pitt's career highs is winning Olympic silver in London 2012, but he is now targeting gold in Rio de Janeiro.
Among Fox-Pitt's many interesting back stories out of the saddle is the fact that he taught the singer Madonna how to ride.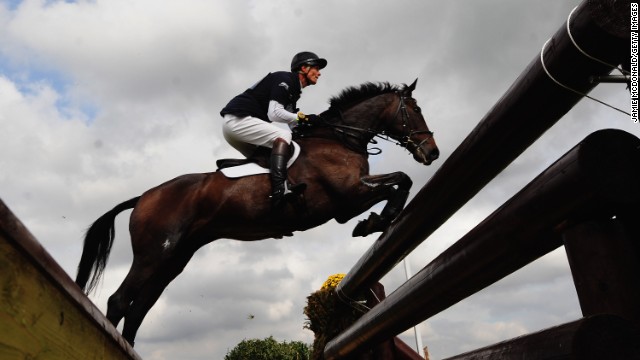 Three in one for Fox-Pitt
Scott Brash, from Peebles in Scotland, is the world's leading showjumper and comes to Caen off the back of a home victory in the London leg of the prestigious Global Champions Tour, while William Fox-Pitt is an eventing superstar and has already won one of his sport's biggest titles, in Lexington, Kentucky, this year.
Dressage rider Charlotte Dujardin won double gold for Britain at the London 2012 Olympics -- there are individual and team medals available in all of these disciplines -- and has dominated her sport since, but recently looked vulnerable when she finished a lowly sixth at a grand prix event in Aachen, Germany.
However, the 29-year-old immediately won Aachen's freestyle event (these routines are performed to music) and now dismisses that blip as "a wake-up call" that she and her horse, Valegro, needed.
Nowhere is Britain more dominant than in para-dressage, the Paralympic discipline, where it has won every major team title of the past two decades.
Competition to make the British team is so fierce that top rider Lee Pearson, the 40-year-old winner of 10 Paralympic titles, was dropped for last year's European championships but is now back in the lineup for WEG.
Read: Madonna teacher Fox-Pitt's equine quest
3. Root for Rio
The next Olympic Games will be held in the Brazilian city of Rio de Janeiro in 2016, and this year's WEG is the first chance for riders to earn places for their countries.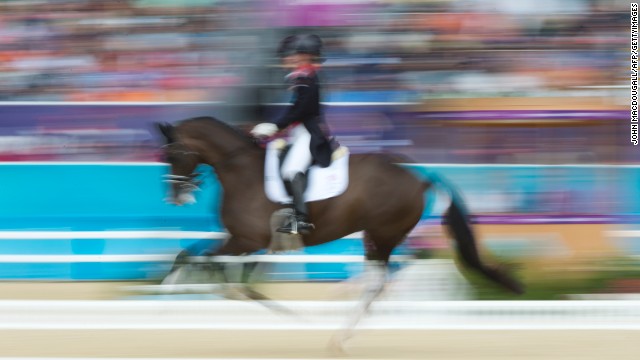 Life has been a blur for Charlotte Dujardin and Valegro since winning double Olympic gold in 2012 courtesy of a host of world records.
Dujardin describes the relationship between horse and rider as like a marriage, calling her mount Valegro "my best friend."
They have been unstoppable in the past two seasons, with the world championship the only title to elude them.
Dujardin broke her latest world record in Lyon in April but believes more milestones could tumble when she and Valegro compete.
There have been constant fears, though, that their partnership would be split as Valegro was put up for sale by owner Carl Hester.
But horse and rider look set to ride into the sunset, with Dujardin being told that Valegro will never be sold despite a possible $10 million price tag.
The pair will forever be remembered for winning double gold at the London 2012 Olympics.
Dujardin had claimed to be happy to have qualified, but dominated the competition with a series of faultless displays.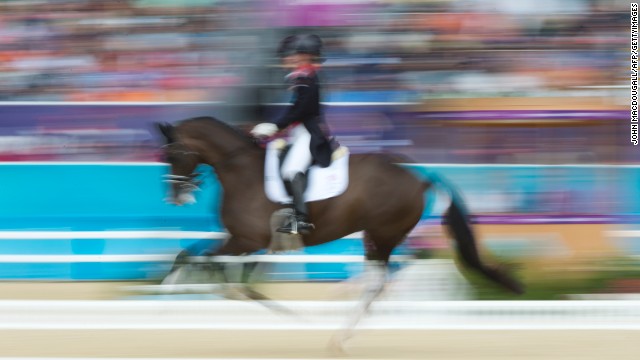 The perfect partnership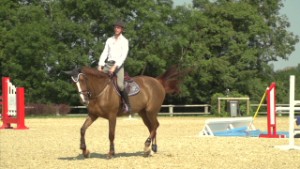 French show jumping star targets more success
Watch the team events to see who qualifies: the top three in dressage and para-dressage, plus the five best in jumping and eventing's six highest-ranked nations, will all be celebrating their tickets to the Olympics.
In dressage and para-dressage, look for Germany and the Netherlands to rival Britain and sew up Olympic berths -- though eye-catching black stallion Totilas, dubbed a "rock star" of dressage for his expressive style, has been ruled out of contention through injury for Germany.
New Zealand is a world power in eventing, and two legends of the sport -- Mark Todd and Andrew Nicholson -- will be competing in Normandy.
Nicholson and his horse Nereo finished third at the last WEG, held in the U.S. state of Kentucky in 2010, and are back to try for more. Two-time Olympic champion Todd, meanwhile, has spent time coaching members of the Brazilian team ahead of their home Games.
Also keep an eye on Germany's Michael Jung, too, who is the defending world champion.
Showjumping could be a chance for the host nation to shine, alongside near neighbor Germany. From the United States, watch out for Beezie Madden, twice an Olympic champion and winner of last season's World Cup title. The 50-year-old had surgery to repair a broken collarbone in May, but has won events since and is certainly a contender.
4. Relish the Royals
If royal-watching is your thing, this is the place to be.
Zara Phillips, the Queen's granddaughter, is one of the best-known -- and best, period -- eventers in her sport.
The 33-year-old is a multiple European champion, the 2006 world champion and a team silver medalist from London 2012. "This is a fantastic championship to be at and be involved in," she says of WEG.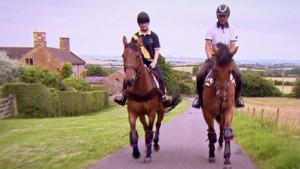 Bill Levett prepares for World Equestrian Games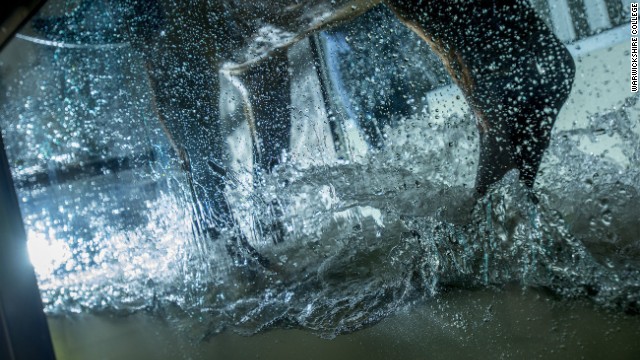 Leading riders keep their best horses in shape using all manner of contraptions. Among the most impressive is the equine water treadmill.
Zara Phillips, a member of British royalty preparing to compete at this year's World Equestrian Games, inspects an equine treadmill at Warwickshire College in the UK.
These facilities are part of Warwickshire College's equine therapy center. If your horse doesn't take to the treadmill, there is also an "equine hydrotherapy spa" available.
Nearby Hartpury College, a center of equestrian education, says its treadmill helps to "repair and strengthen muscles" in horses.
More than 600 students study at Hartpury. Here, they can learn how water resistance helps horses to recover and maintain their fitness.
This is an example of a solarium, used across the globe to keep horses comfortable in cold conditions. This one is located near the Russian Baltic outpost of Kaliningrad, where winter temperatures can drop below -20C (-4F).
This solarium is at the Spanish Riding School in Vienna, Austria. Many more complex variants are available, incorporating air-drying facilities and even soothing light shows for the horse.
Here, a horse receives tissue therapy with the help of a handheld laser. Lasers come in different strengths and work to stimulate the recovery of muscle tissue, affecting individual cells.
Some lasers are visible to the naked eye; others are not. Ultrasound is another common technique to treat damage to muscle tissue.
This is one example of a magnetic rug used in equine therapy. The latest blankets extend all the way up the horse's neck and even come with a set of four boots.
At major events like the Olympic Games, staff work behind the scenes to prepare and treat top horses on behalf of U.S. riders.
Janus Marquis has worked with the U.S. showjumping team as an equine physiotherapist at three Olympic Games -- Athens, Beijing and most recently London.
Racehorses use other methods to keep fit and recover, including the equine pool, which is much larger than a treadmill and demands that the horse swims, with no legs touching the floor.
This racehorse, at Jonjo O'Neill's Jackdaws Castle stables in Cheltenham, has just finished a session in the equine pool.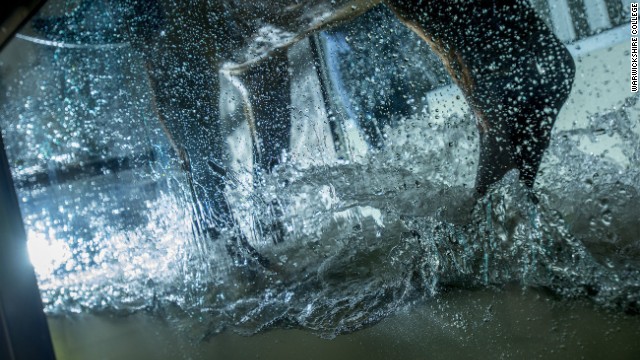 Keeping a 500 kg superstar in shape
Phillips gave birth to her first child, daughter Mia, in January but has returned so swiftly to form with her horse High Kingdom that Britain's selectors could not overlook her.
Speaking of royals, even the chief of world horse sport's governing body, the FEI, is a princess.
Princess Haya, the 40-year-old FEI president and one of few women currently leading global sports organizations, is married to Sheikh Mohammed of Dubai.
She recently turned down the chance to stand for a third term as president, which means the next World Equestrian Games will take place under a new leader. An election to replace her will be held in December.
5. Discover Damon Hill
You remember Damon Hill, right? Famed Formula One rival of Michael Schumacher and winner of the 1996 world championship?
Well, this isn't him. This is a 14-year-old horse from Germany.
Not only that, Damon Hill is really something at dressage. With Helen Langehanenberg in the saddle, Damon has serious moves: enough to be second in the world behind Britain's Charlotte Dujardin.
They won Olympic silver in 2012 and last season's World Cup title, so they could well prove a winning formula in Normandy.
The German team doesn't stop there. Don Johnson may have spent the '80s and '90s starring in TV cop shows "Miami Vice" and "Nash Bridges," but it turns out he's now moonlighting as the reserve horse of dressage rider Isabell Werth, which shares his name.
"Lord of the Rings" fans, meanwhile, may be shocked to hear that American dressage team member Steffen Peters will be riding Legolas.
6. Enjoy gymnastics on a horse
The World Equestrian Games are also an opportunity for lesser-known equestrian sports to shine -- none more so than vaulting, which is effectively gymnastics on horseback.
You can compete on your own, in a pair known as a pas-de-deux, or in a team of six as a vaulter. While your horse canters in circles, your job is to hop on and perform your most daring moves while judges score you -- and the horse.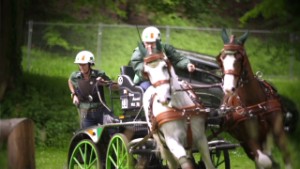 What is carriage driving?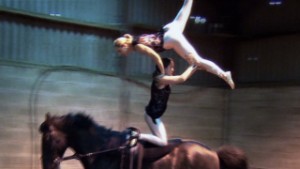 Scottish family masters vaulting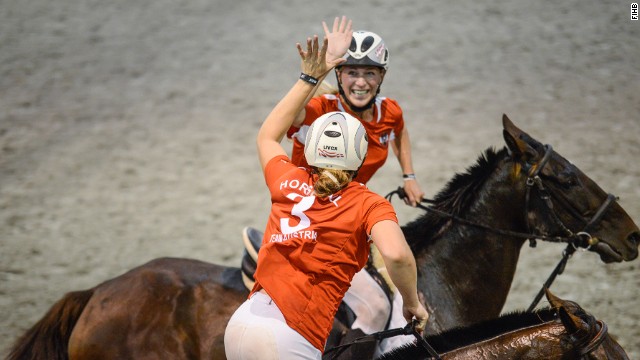 Horseball was invented in the 1970s, featuring men and women playing 20-minute matches in mixed teams of six. But who are the world's best teams?
Britain was introduced to horseball in the 1990s but, like the England football team, has not yet lived up to expectations on the international scene.
The French created the sport to build confidence in riders. Horseball players must master the art of swooping low to collect the ball from the floor.
As horseball's inventor, France has been dominant for decades, but Spain and Belgium are increasingly strong.
While 80% of current players are French, horseball is a growing sport. Algeria, China, Kyrgyzstan and Mexico are among its member nations.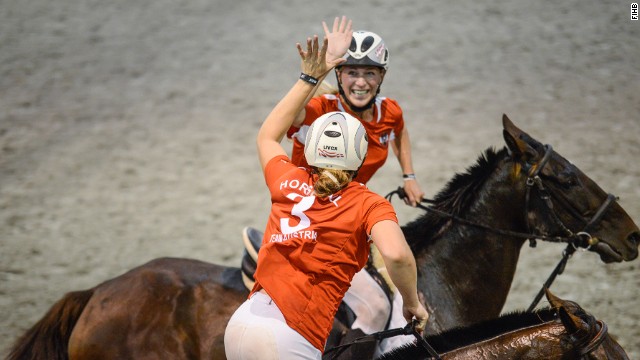 Horseball: 'Quidditch on a horse'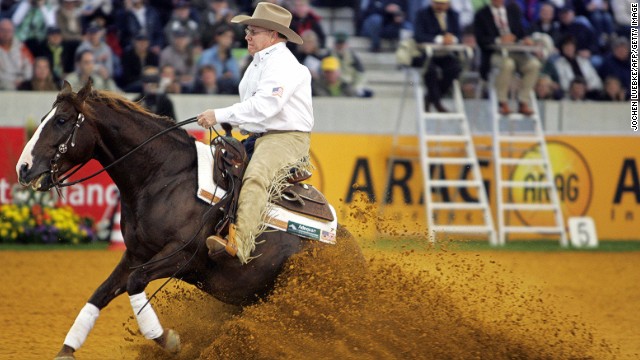 REINING: Originating from the moves that a cattle horse makes while performing its duties, reigning involves horses running approved patterns, divided into different maneuvers. The discipline is closely linked to the spirit of the Wild West and so sporting your cowboy hat and spurs are a must.
ENDURANCE: Endurance tests the speed and endurance of a horse as well as its ability to cross different kinds of terrain. Although a long-distance competition against the clock, the emphasis is on finishing in a good condition rather than finishing first, making it a real survival of the fittest.
VAULTING: Vaulting involves multiple athletes performing artistic moves on the back of a cantering horse, who is guided by a long rein to ensure it remains steady. As well as demanding an excellent physical condition from the vaulter, a harmonious relationship with the horse is needed, while an animal with a penchant for dance often helps.
DRESSAGE: A discipline where horse and rider perform at a walk, trot and canter delivering a routine from memory, it is considered the highest expression of horse training. It is also the only time in the world you will see a horse dancing to classical music. Not to be missed.
SHOW JUMPING: Probably the best known of all the disciplines, show jumping involves horses and their riders having to jump over a number of obstacles varying in difficulty, with penalties incurred for each one knocked down. Fences are often flanked by eye-catching decorations -- as seen here at the London 2012 Olympics.
EVENTING: Comprising of dressage, cross-country and show jumping, eventing really is the triathlon of the equestrian world. With horses required to dance, run and leap, the discipline determines which is the nag for all seasons.
DRIVING: Riders sit on a vehicle drawn by a single horse, a pair, or a team of four, which face three trials -- dressage, marathon and obstacle driving. Given that horses were driven long before they were ridden, they've had many years of practice for this event.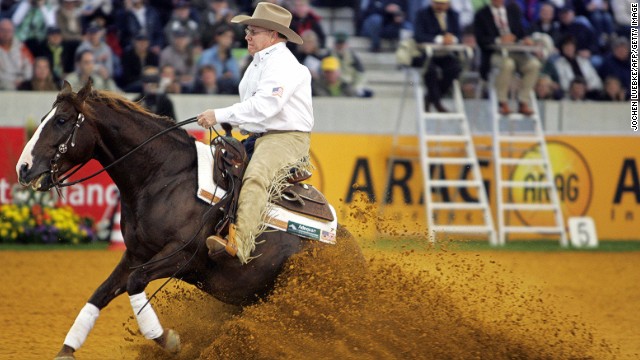 Guide to equestrian disciplines
One more thing: you need to be wearing head-to-toe spandex. Hopefully that's not a deal breaker.
Guess what? The British are world-beaters here, too. A Scottish dentist named Joanne Eccles beat two German rivals to the world title in 2010, and is back in (and on, and around) the saddle to defend her title this year. Her younger sister Hannah is on the team alongside her, and her dad John is the coach.
In the men's event, competitors include world champion Nicolas Andreani, a French vaulter who is hoping to win again on home soil in his last WEG appearance.
Read: Dentist by day, vaulting world champion by night
7. Go the distance
Maybe you're an Ironman triathlete or an open-water swimmer, and thoughts of spandex or "horse ballet" aren't your thing. You need to try the endurance race.
They should call this the horse marathon, except it's far, far longer than any marathon you've ever tried: horse and rider must complete a 160 km (100-mile) course.
In 2010, the Spanish winner -- Maria Mercedes Alvarez Ponton, riding a horse named Nobby -- needed just over seven and a half hours to complete the course. Remember Sheikh Mohammed of Dubai, husband of Princess Haya? He came second.
This year's course promises to look the business, taking in Mont Saint-Michel, the instantly recognizable monastery and tourist spot listed as a World Heritage Site. Riders from the United Arab Emirates, a global breeding and racing center for endurance horses, are expected to once again do well.
Endurance racing is not without controversy, given the distance involved and the resulting physical demands placed on a horse.
Middle Eastern riders, in particular, have in the past been accused by prominent vets and others of pushing horses too far in these events. In addition, endurance racing in the region accounts for a sizable percentage of equestrian doping tribunals each year.
The FEI has developed new measures to improve the welfare of endurance horses, but expect the discipline to remain under scrutiny in Normandy.
8. Cheer the chariots
Better known in the equestrian world as driving, this sport may strike you for its initial, passing similarity to the ancient Roman sport of chariot racing.
However, driving is much more intricate than a straightforward race to the finish. First, find yourself a carriage and attach your team of four horses to the front. Now, you are ready to go.
There are three parts to driving at the World Equestrian Games: a dressage test, a marathon and an obstacle course. The winner is whoever completes all three with the lowest total number of faults, which you try to avoid earning as the competition goes on.
The obstacle course is the final and involves trying to navigate your horses and carriage through 20 "gates," marked by cones. Yellow balls are placed on top of the cones: knock a ball off and that's three faults. But the longer you take, the more time penalties you will earn for coming home late at the end.
9. Reining men (and women)
Reining brings the ranch to the rest of the world. If you like your horse riding to involve stetsons and bravado, this is the event for you.
Imagine dressage being held in the Wild West and you can begin to picture reining, which rewards modern-day athletes for exhibiting the same control over their horse that cowboys would once have prized: speed, a light and nimble touch, and a horse happy to be guided through a precise series of instructions.
Unsurprisingly, the United States has a commendable record in reining and will defend both the individual and team titles in Normandy. Look out for 360-degree spins and the signature move of reining, the sliding stop.
10. Get to know the new names
This is the biggest global gathering of horses and riders, and the most important before Rio 2016, so take your chance to meet the Olympic heroes of the future.
Established riders will be appearing with new horses, new riders will be taking their first steps on the world stage, and some countries will be making their WEG debuts.
There are 12 teams appearing for the first time, including Peru, Palestine and Kazakhstan.
Look out, too, for Brazilian riders trying to impress their selectors ahead of their home Olympic Games. While Brazil is a hotbed of showjumping, riders in dressage and eventing face a steep learning curve at international level and are frantically bidding to justify their places on the team for Rio.
With up to half a million spectators expected in attendance and many more watching at home, this will be the sternest test of many competitors' lives.