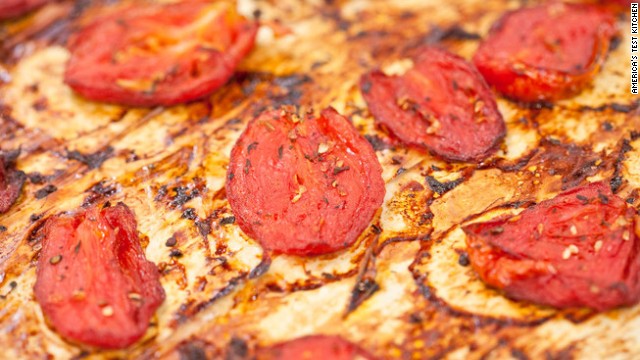 Extend the season of summer's greatest treat with this easy oven-roasting method.
Start by coring 4 pounds of tomatoes using a paring knife to cut a cone shape out of the top of each one.
Once the tomatoes are cored, halve them through the core with a chef's or serrated knife. Don't remove the seeds or jelly-like pulp, though, because they both contain a lot of flavor.
Slow-roast the tomatoes on rimmed baking sheets, which will contain any runaway liquid; for easy cleanup, line the baking sheets with parchment paper or aluminum foil. Distribute half of the tomatoes (cut-side up) on each sheet.
Season the tomatoes with Kosher salt, a lot of freshly cracked black pepper, and dried herbs de Provence. Thyme and oregano make good substitutions for the herbs de Provence (mint and rosemary do not); you can use fresh herbs, but dried work just fine.
Scatter the chopped garlic evenly over the tomatoes. Don't fret about being too exact—just look for a fairly even distribution.
Drizzle olive oil over the tomatoes with your thumb over the spout to direct the pour.
Flip the seasoned tomatoes over, cut-side down.
Place the tomatoes in a preheated 425-degree oven for 30 minutes (or until the skins wrinkle up a bit and start to get brown in places).
Carefully remove the tomatoes from the oven, and immediately turn the temperature down to 300 degrees. The tomatoes will have started giving up their liquid, which is why caution must be exercised when removing the trays.
Tilt the pans and let the liquid run into a bowl or measuring cup (you can also do this with a turkey baster). Take the tomatoes out of the oven to collect the liquid every 30 minutes until the tomatoes give out no more juice. You can use the seasoned tomato water as a poaching liquid for salmon, for vinaigrettes, and in sauces.
Use tongs to remove and discard the hot tomato skins, and then return the tomatoes to the oven. After 1 hour (be sure to keep siphoning off any remaining liquid), use a spatula to flip the tomato pieces cut-side up for the remainder of cooking.
After 3 or 4 hours (it all depends on the tomatoes), the tomatoes will be visibly dried with some dark edges. At this point, pull them from the oven (if you like them a little softer or juicier, pull them earlier).
Finally, let the tomatoes cool to room temperature on the sheets, and then transfer them to a bowl (or other storage container). Cover them completely with extra-virgin olive oil, then wrap the whole thing in plastic and refrigerate them for up to 2 months. Alternatively, you can leave out the oil and instead freeze the dried tomatoes in an airtight container—zipper-lock bags work great—for up to 3 months.
How to oven-roast tomatoes
Oven roasted tomatoes: Step 1
Oven roasted tomatoes: Step 2
Oven roasted tomatoes: Step 3
Oven roasted tomatoes: Step 4
Oven roasted tomatoes: Step 5
Oven roasted tomatoes: Step 6
Oven roasted tomatoes: Step 7
Oven roasted tomatoes: Step 8
Oven roasted tomatoes: Step 9
Oven roasted tomatoes: Step 10
Oven roasted tomatoes: Step 11
Oven roasted tomatoes: Step 12
Oven roasted tomatoes: Step 13