On the trail of the 'Blood Countess' in Slovakia
updated 11:10 AM EDT, Fri August 22, 2014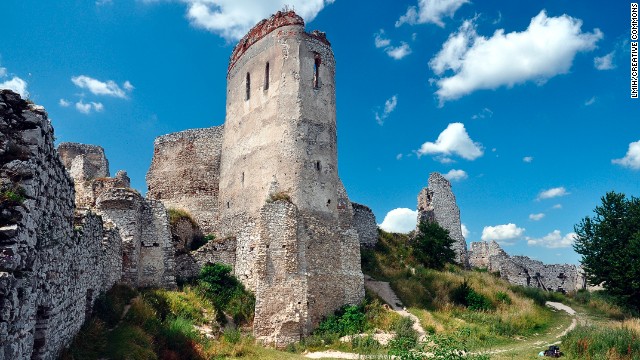 August 21, 2014, is the 400th anniversary of Elizabeth Bathory's death. She died at Cachtice Castle while under house arrest as history's most prolific murderess. Bathory's life is said by some to have influenced Bram Stoker's 1897 novel "Dracula."
The ruins of Cachtice Castle stand in the middle of a thickly forested nature reserve. The castle was restored then reopened in June 2014, allowing visitors to stroll through the Blood Countess' former living quarters.
Highborn and unaccountable, Elizabeth Bathory was the absolute ruler of a patch of what is now Slovakia. With the help of three of her servants, she sadistically tortured between 100 and 650 girls to death.
The Countess conducted most of her torture sessions in the cellar of the old Bathory manor house. Today it's put to better use: storing wine barrels.
The ruby red "Bathory Blood" label was discontinued in 2010. After some customer pressure, the surprisingly pleasant wine was reintroduced in 2014 along with a special vintage to mark the 400th anniversary of the Countess' death.
Older generations protested when the statue of Bathory was erected in the village square. The young ones don't seem to care. Barbecues and overnight camping in the ruins were common before the castle's restoration.
Next to the 14th-century church of St. Ladislav, the Cachtice Museum has a room dedicated to Bathory, with portraits of the Countess and other artifacts related to her life.
Despite the area's bloody past, the two-mile path under oak, beech and chestnut trees, and through mulberry bushes and wild strawberries, offers a pleasant walk (or run) away from the castle.
Cachtice Castle: Historic horror house
Cue horror film music
Portrait of Countess Elizabeth Bathory
Torture house turned wine cellar
Bottles of 'Bathory blood'
Commemorating a murderer?
A glimpse into Bathory's life
Bloody past, bucolic present
STORY HIGHLIGHTS
It's unknown exactly how many girls the Blood Countess tortured and killed. Reports range from 100 to 650 victims
She was never convicted of her crimes but was kept under house arrest in Cachtice Castle
The Bathory name is now a brand of surprisingly excellent wines called "Bathory Blood"
(CNN) -- With a ruined centuries-old castle looming up on the hill above, the Slovakian village of Cachtice could easily take a starring role in a Gothic horror film.
However, exactly 400 years ago, on August 21, the horror was all too real, as the life of the most prolific female mass murderer of all time -- a noblewoman by the name of Countess Elizabeth Bathory -- came to a grim end.
It's not an anniversary they're likely to celebrate in Cachtice, where Bathory's reign of terror still haunts locals, but for some -- me included -- there's a strange fascination.
In the lovely Slovakian town of Trencin, my friend Martin and I are joined by two guides, Ivan Kralik and Peter Pastier, who work in the local tourism office.
They drive us to the town of Cachtice, 30 kilometers away, recounting the story of the Blood Countess.
The macabre name came from her apparent tendency to bathe in the blood of her victims.
She's said to have believed the blood of virgin girls would maintain her youthful-looking skin.
Bathory's life has been the subject of films, books and online websites -- and is thought by some to have influenced Bram Stoker's 1897 novel "Dracula" -- but seems to have been forgotten west of Vienna.
Highborn and unaccountable, she was the absolute ruler of a patch of what is now Slovakia, and with the help of three of her servants sadistically tortured to death between 100 and 650 girls.
We'll never know the exact number.
MORE: Beyond Prague -- 8 undiscovered European cities
Missing daughters
She was married to a nobleman, Ferenc Nadasdy, a Hungarian national hero of the wars against the Turks.
Although there were reported killings before his death in 1604, afterward she seems to have become totally unhinged.
She settled in Cachtice and more and more girls started disappearing from the surrounding villages.
It was said she eventually ran low of girls to satiate her habit and she began to lure victims of higher born families, who began to notice their missing daughters.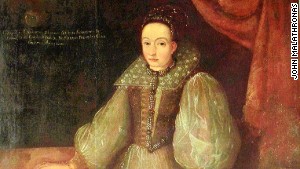 The face of a woman who killed more than 100 young girls.
By 1610, rumors of her horrible deeds had reached the Hungarian king, who sent his second in command, Palatine Georgy Thurzo, to investigate.
In December 1610, Bathory was arrested along with three of her servants, who were tortured and burned at the stake.
She wasn't put on trial but walled-in at Cachtice Castle, where she died on August 21, 1614.
Castle restora