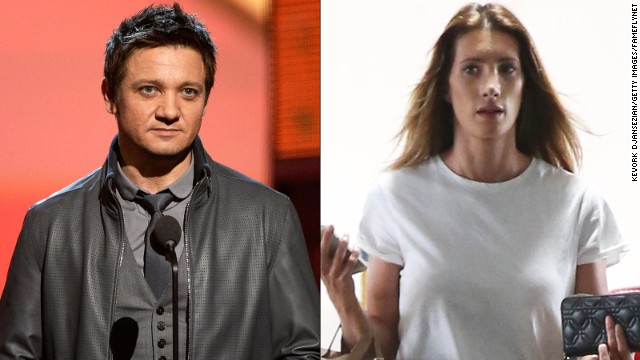 Jeremy Renner and wife Sonni Pacheco have reportedly called it quits after 10 months of marriage. E! reports that Pacheco cited irreconcilable differences as the reason for the split and is seeking physical custody of their young daughter.
TV chef Giada De Laurentiis announced Tuesday, December 30, that she and her husband, Todd Thompson, would be getting a divorce. They have one daughter.
Comedian and actor Chris Rock has filed for divorce from his wife, Malaak. They have been married 19 years and have two children. "Chris Rock has filed for divorce from his wife, Malaak," Rock's attorney, Robert S. Cohen, said in a statement. "This is a personal matter and Chris requests privacy as he and Malaak work through this process and focus on their family."
A longstanding personal and professional relationship has ended. People reports that actress Helena Bonham Carter and her husband, director Tim Burton, have called it quits after 13 years together. The pair, who worked together on films such as "Alice in Wonderland" and "Dark Shadows," "separated amicably earlier this year and have continued to be friends and co-parent their children," a rep told the magazine.
Chris Brown and model Karrueche Tran have called it quits very publicly. Brown took to social media to accuse Tran of cheating. He later apologized.
Well, that didn't last long. According to E! Online, Jennifer Lawrence's relationship with Coldplay's Chris Martin is over. The two allegedly started dating in June.
It seems the sweetness has run out of Mike "Sugar Bear" Thompson's relationship with June "Mama June" Shannon. The couple, who star in TLC's "Here Comes Honey Boo Boo," announced in September that they were separating. Now there are allegations that Mama June has moved on to a relationship with a man who's causing concern at TLC, leading to the show being canceled.
Actor Charlie Sheen said he called off his engagement to former adult film actor Brett Rossi so he can focus on his children. The couple had been engaged since February. "I've decided that my children deserve my focus more than a relationship does right now. I still have a tremendous fondness for Scotty and I wish her all the best."
Actress Paula Patton filed for divorce from her husband, singer Robin Thicke, in October. The couple, who mutually decided to separate in February, have one child together, Julian Fuego.
The couple that was Jordin Sparks and Jason Derulo are no more. In September, Derulo confirmed during a radio interview that the pair split after almost three years together.
"Irreconcilable differences" claimed another fairy-tale Hollywood marriage when Amber Rose filed for divorce from Wiz Khalifa on September 23. The model-actress-singer sought full custody of the baby boy she shares with her hip-hop husband, according to a Los Angeles County court spokeswoman.
Kris Jenner filed for divorce from Bruce Jenner on September 22. The couple acknowledged they separated in October. "We will always have much love and respect for each other. Even though we are separated, we will always remain best friends and, as always, our family will remain our No. 1 priority," they told E!.
Neil Young had more than a wife in Pegi Young; he also had a musical collaborator and a muse for some of his most classic love songs. But according to Rolling Stone, Young filed for divorce from his wife of 36 years in July.
Mariah Carey and Nick Cannon have been dodging breakup rumors for months. After multiple denials from Cannon, he finally admitted that he and his wife of six years have been "living apart." Carey's rep had no comment.
Tea Leoni and David Duchovny have reportedly made their breakup official. The couple separated in 2011, but they'd done that before and reconciled. However, according to TMZ and People magazine, Leoni and Duchovny quietly filed for divorce in June, bringing an end to their 17-year marriage.
It looks like Michael Strahan and model/TV personality Nicole Murphy aren't going to make it down the aisle. People magazine confirmed that the couple has ended their five-year engagement. "They love each other very much, but with the distance and work schedule it has been hard to maintain the relationship," Strahan's rep told the publication.
On July 2, Jewel announced that she and husband Ty Murray had split up. In a lengthy blog post, the folk singer/songwriter explained that she and her husband of six years had decided to get a divorce, choosing to "release each other" with love so that they "may take on our new form: dear friends and devoted co-parents of our beloved son Kase."
After five years of romance, Rick Fox and Eliza Dushku parted ways. It seems it was distance that came between the former basketball star and the "Buffy the Vampire Slayer" actress -- Dushku told The Boston Globe that "Rick's an L.A. guy and I'm a Boston girl." As a result, she has moved back to Beantown and plans to eventually enroll in college.
Actors Idina Menzel and Taye Diggs surprisingly decided to separate after 10 years of marriage, a rep for the couple confirmed to People magazine in December 2013. The couple's son, Walker, was born in 2009.
Melanie Griffith and Antonio Banderas "thoughtfully and consensually" brought an end to their 20-year marriage in June. The two actors released a statement announcing their breakup after reports indicated Griffith had filed for a divorce.
On June 6, the rumors about Jennifer Lopez and Casper Smart turned out to be true. A source close to Lopez told CNN that the infamously May-December couple had ended their romance after dating for three years.
Actors Evan Rachel Wood and Jamie Bell recently separated after nearly two years of marriage. The couple, who welcomed a son in July 2013, said in a statement that they plan to remain close friends.
Sofia Vergara recently announced via her WhoSay account that her engagement to producer Nick Loeb is off. The "Modern Family" star blamed the breakup on their busy schedules.
Sherri Shepherd's husband, Lamar "Sal" Sally, has reportedly filed for divorce from "The View" co-host after three years of marriage.
After 20 years of marriage, Cuba Gooding Jr. and his wife, Sara Kapfer, have split up. The actor's wife filed for legal separation on April 21. According to TMZ, the pair were high school sweethearts who went on to have three children together.
Rapper Big Sean and "Glee" actress Naya Rivera called off their engagement in April, six months after announcing their plans to wed. Rivera moved on from Big Sean to marry friend Ryan Dorsey in July.
On the April 4 episode of Katie Couric's talk show, "Katie," singer Richard Marx discussed being "back on the market" after a 25-year marriage to Cynthia Rhodes. The couple separated in July 2013 and announced their divorce in April.
"It is with hearts full of sadness that we have decided to separate," Gwyneth Paltrow and Chris Martin wrote on Paltrow's site Goop in a March 25 post titled "Conscious Uncoupling." The A-list pair, who have been married for 10 years, reportedly took a "breakup moon" in the Bahamas following their surprising announcement.
The "Big World" of TLC stars Matt and Amy Roloff has been split in half. The couple, who'd been together for 26 years and came to fame on the reality series "Little People, Big World," announced in March that they're embarking on a trial separation.
According to TMZ, Khloe Kardashian filed for divorce from Lamar Odom in December 2013. The couple met, got engaged and married within a month in 2009, and they were the subject of the E! reality series "Khloe & Lamar."
After a six-year relationship, Miranda Kerr and Orlando Bloom announced in October 2013 that they had decided to formally separate. TMZ indicated that the pair were planning to divorce. The couple, who share a son, said in a statement that they remain amicable.
In September 2013, Liam Hemsworth's rep confirmed rampant speculation that the actor and Miley Cyrus had ended their year-long engagement. The couple first met on the set of 2010's "The Last Song" and had been off and on since then.
Movie veteran Clint Eastwood and his wife of 17 years, Dina, separated over the summer of 2013, according to People. They have one daughter together.
George Clooney and Stacy Keibler were going strong -- and looking hot on the red carpet -- for two years. But in July 2013, their photogenic romance came to an end.
"Vampire Diaries" stars Nina Dobrev and Ian Somerhalder had a relationship that sizzled on and off the small screen. But the two shocked fans when anonymous sources confirmed to People in May 2013 that the co-stars were no longer a couple after dating for "several years."
Jane Seymour and James Keach announced the end of their 20-year union in April 2013. The couple are the parents of twin sons.
Julianne Hough and Ryan Seacrest decided to take a break in March 2013 after more than two years together, People reported. The duo's busy schedules were to blame, but they plan to stay friends, sources told the magazine.
In September 2012, Will Arnett and Amy Poehler separated after nine years of marriage. They have two sons.
Tom Cruise and Katie Holmes "amicably settled" their divorce in July 2012, just two weeks after Holmes filed for it, an attorney said. Holmes and Cruise, who were married for five years, have one daughter.
Former California Gov. Arnold Schwarzenegger and Maria Shriver separated in May 2011 after 25 years of marriage. The public has since learned of Schwarzenegger's affair with the family's housekeeper that resulted in the birth of his fifth child.
After almost seven years together, Kate Winslet and director Sam Mendes went their separate ways in March 2010. The couple said that the split was mutual and that they would continue raising their children together.
Tom Cruise and Nicole Kidman collaborated on four films together, including the controversial "Eyes Wide Shut," during their 11-year marriage. The couple split in 2001.
Susan Sarandon and Tim Robbins split in 2009 after 23 years together. The pair, who met on the set of "Bull Durham," have two sons but never married.
Mia Farrow appeared in several of Woody Allen's films before the couple went their separate ways in 1992. The pair reportedly split after Farrow found out about Allen's sexual relationship with one of her adopted daughters, whom Allen married in 1997.
MTV "Newlyweds" Jessica Simpson and Nick Lachey split in 2005 after their three-year marriage.
Reese Witherspoon and Ryan Phillippe were married for seven years before calling it quits in 2006. The pair, who have two children, finalized their divorce in 2008.
Brad Pitt and Jennifer Aniston's seven-year romance came to an end in 2005. Speculation over whether Angelina Jolie had anything to do with the breakup added a juicy angle to the split.
Perhaps Hollywood's happiest divorced couple, Bruce Willis and Demi Moore, split in 1998 after a 10-year relationship. They have three daughters.