STORY HIGHLIGHTS
NEW: Obama credits James Foley with "courageous reporting"
Foley had been reporting from war-torn countries for four years when he disappeared
He spent time as a teacher in the Teach for America program in 1996 in Phoenix
One friend described Foley as a "funny, warm, Big Lebowski-loving guy"
New York (CNN) -- When war reporter James Foley wasn't writing for GlobalPost or recording video for AFP or appearing on the PBS "NewsHour," he occasionally shared stories on his own blog, aptly titled "A World of Troubles."
For a subtitle, he chose the famous Carl von Clausewitz sentence "War is fought by human beings."
And that is exactly what Foley sought to show with his reporting: humanity amid the horror of war.
Foley was abducted while on a reporting trip in northern Syria in November 2012. He was never heard from again.
A video published Tuesday by the extremist group ISIS showed Foley being beheaded. It is not known when or where the video was recorded.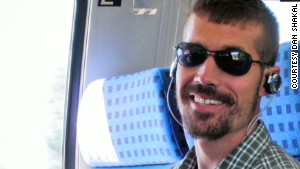 James Foley: In his words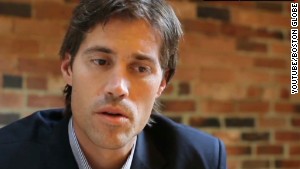 Foley: Frontline journalism is important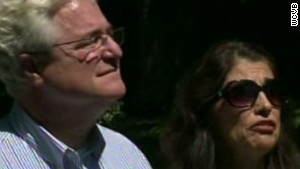 Parents: Foley 'had a big heart'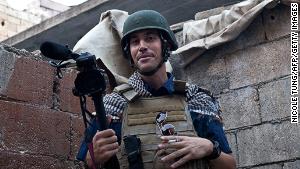 James Foley's work as war journalist
For Foley's family and friends, the recording was the answer they hoped they'd never hear to their questions about his disappearance.
"We have never been prouder of our son Jim. He gave his life trying to expose the world to the suffering of the Syrian people," his mother, Diane, said Tuesday night.
She called him "an extraordinary son, brother, journalist and person."
In a televised statement Wednesday afternoon, President Barack Obama credited Foley with "courageously reporting" from Syria and "bearing witness to the lives of people a world away."
"Jim was taken from us in an act of violence that shocks the conscience of the entire world," Obama said.
Shortly before he spoke, the president talked by phone with Foley's parents. At a subsequent news conference on their front lawn, the parents were asked why Foley decided to travel to dangerous locales. "Why do firemen go back into a blazing home? It was his job," John Foley answered.
Opinion: What should the U.S. do?
Courageous, generous
Foley was the oldest child of Diane and John Foley of Rochester, New Hampshire. He had four siblings.
Foley -- Jim to his friends -- had been reporting from war-torn countries for the better part of four years when he disappeared in Syria.
On Tuesday, fellow journalists remembered him for his courage and his generosity.
One of his friends, Alex Sherman of Bloomberg News, wrote on Twitter that he was a "funny, warm, Big Lebowski-loving guy."
Another friend, Max Fisher of Vox, praised his "dedication to truth and understanding."
Fisher also wrote that "Jim's faith was something we all agreed not to discuss publicly while he was held in Syria, but it was the wellspring of his generosity,"
He recalled how Foley helped to organize a memorial fund for a photographer, Anton Hammerl, who was killed in Libya in 2011.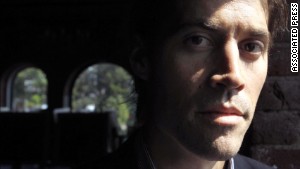 Reporting on a murdered reporter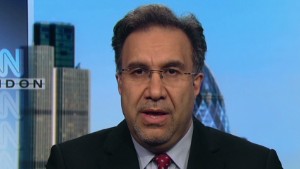 Obama: No faith teaches this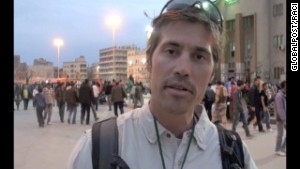 Friend: Foley was more than a journalist
Foley had been traveling with Hammerl and two other journalists at the time, and the three who survived wound up in a Libyan jail.
Beheading of American journalist James Foley recalls past horrors
Front-line journalist
Foley was freed six weeks later. Afterward, in a video interview with the Boston Globe, he hesitated to make the story about himself, remarking at one point that "you don't want to be defined as 'that guy who got captured in 2011.'"
"I believe that front-line journalism is important, you know -- without these photos and videos and first-hand experience, we can't really tell the world how bad it might be," he said.
"That changed him," GlobalPost co-founder Charlie Sennot said Wednesday of Foley's capture in Libya. "That changed his sense of the calculus of risk, but it didn't change his passion for what he wanted to do."
One of the journalists detained with Foley in Libya, Clare Morgana Gillis, said his fundraising for Hammerl's family was "the same impulse that compelled him to cut short his much-needed break from reporting in Syria when a colleague went missing last summer, and to raise money for an ambulance for Aleppo's Dar al-Shifa field hospital, where he spent weeks filming the plight of doctors who struggled to save lives with minimal space equipment."
His time as a teacher
For Foley, these were acts of service, not entirely unlike his time spent in the Teach for America program. He began teaching in Phoenix in 1996.
"He'd promise students that he'd take them to the Castles and Coasters amusement park if they would come to class everyday," a fellow Teach for America alum, Sarah Fang, recalled in an essay in 2013.
Foley later "taught reading and writing to inmates at the Cook County Sheriff's Boot Camp in Chicago," according to a Columbia Journalism Review feature about him.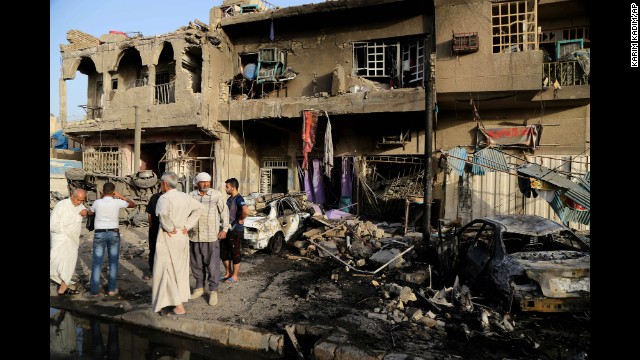 People inspect the site of a double car bombing in Baghdad on Wednesday, October 1. The United Nations said Wednesday that at least 1,119 Iraqis were killed in September in acts of terrorism and violence.
A Kurdish Peshmerga soldier who was wounded in battle is wheeled to the Zakho Emergency Hospital in Dahuk, Iraq, on Tuesday, September 30.
Iraqi Shiite militiamen aim their weapons during clashes with ISIS militants in Jurf al-Sakhar, Iraq, on Sunday, September 28.
An Iraqi Shiite militiaman stands alert after clashes with ISIS militants September 28 in Jurf al-Sakhar.
An ISIS militant peers over a barricade near the Mullah Abdullah Bridge, located on the road between Irbil and Kirkuk, Iraq, on Saturday, September 27.
A man walks amid debris at the site of a car bomb attack in Baghdad, Iraq, on Wednesday, September 24.
People inspect the aftermath of a car bomb attack in Baghdad on Tuesday, September 23.
A woman walks around the site of a car bomb attack in Baghdad on Friday, September 19.
An Iranian Kurdish female member of the Freedom Party of Kurdistan is seen in Dibis, Iraq, on Monday, September 15.
A Kurdish Peshmerga fighter holds a position Thursday, September 11, in Yangije, Iraq, where heavy clashes against ISIS fighters took place the previous night.
An ISIS flag flies on the other side of a bridge at the front line of fighting between ISIS and Kurdish Peshmerga fighters in Rashad, Iraq, on September 11.
U.S. Secretary of State John Kerry, left, shakes hands with new Iraqi Prime Minister Haider al-Abadi after a meeting in Baghdad on Wednesday, September 10. Kerry is in the Mideast this week to discuss ways to bolster the stability of the new Iraqi government and combat ISIS.
Kurdish Peshmerga fighters fire at ISIS militant positions from their position on the top of Mount Zardak, east of Mosul, Iraq, on Tuesday, September 9.
A Kurdish fighter eyes ISIS positions outside Makhmour, Iraq, on Saturday, September 6.
Iraqis on Friday, September 5, exhume bodies from a mass grave found after Kurdish forces and Shiite militiamen retook the Iraqi town of Sulaiman Bek.
Iraqi Shiite militia fighters fire a rocket toward ISIS positions outside Tikrit, Iraq, on Wednesday, September 3.
An Iraqi fighter jet flies over Amerli, Iraq, on September 3. Iraqi forces recently broke the siege of Amerli from ISIS fighters.
Iraqi volunteer fighters on Monday, September 1, celebrate breaking the Amerli siege. ISIS militants had surrounded Amerli, 70 miles north of Baquba, Iraq, since mid-June.
Iraqi Shiite Turkmen, mostly women and children, try to board an Iraqi Army helicopter bringing supplies to Amerli on Saturday, August 30.
Kurdish Peshmerga forces stand guard at their position in the Omar Khaled village west of Mosul on Sunday, August 24.
Kurdish Peshmergas fight to regain control of the town of Celavle, in Iraq's Diyala province, on August 24.
Peshmerga fighters stand guard at Mosul Dam in northern Iraq on Thursday, August 21. With the help of U.S. military airstrikes, Kurdish and Iraqi forces retook the dam from ISIS militants on August 18. A breach of the dam would have been catastrophic for millions of Iraqis who live downstream from it.
Displaced Iraqis receive clothes from a charity at a refugee camp near Feeshkhabour, Iraq, on Tuesday, August 19.
A woman holds her sister during a sandstorm at a refugee camp in Feeshkhabour on August 19.
A fighter with Kurdish Peshmerga forces battles ISIS militants near Mosul on Monday, August 18.
A Shiite fighter defends a post while backing the Iraqi army in its fight against ISIS militants south of Baghdad on August 18.
A Kurdish Peshmerga fighter patrols near the Mosul Dam in Chamibarakat, Iraq, on Sunday, August 17.
Smoke rises after a U.S. airstrike near the Mosul Dam on August 17.
A Kurdish Peshmerga fighter prepares his weapon August 17 at a combat position near the Mosul Dam.
Trucks carrying Kurdish Peshmerga fighters head to the Mosul Dam on August 17.
From a position manned by the Kurdish Peshmerga south of Kirkuk, Kirkuk Gov. Najm al-Din Omar looks through binoculars toward Islamist jihadist positions on August 17.
Kurdish Peshmerga fighters stand behind a sand barricade set up close to the village of Bashir, Iraq, on August 17.
Kurdish Peshmerga fighters fire at ISIS in Khazair, Iraq, on Thursday, August 14.
Volunteers of the Iraqi Red Crescent Society unload boxes of goods before distributing them August 14 to families who fled from ISIS.
Displaced Iraqis of the Yazidi faith reach for bottled water at the Bajid Kandala refugee camp in Iraq's Dohuk province on Wednesday, August 13.
A Yazidi woman and children take shelter inside a tent at the Bajid Kandala camp on August 13.
From the flight deck of the USS George H.W. Bush, which is in the Persian Gulf, two U.S. fighter jets take off for a mission in Iraq on Monday, August 11. U.S. President Barack Obama has authorized airstrikes against Islamic militants and food drops for Iraqis who are trapped by the militants.
Displaced Iraqis of the Yazidi faith cross the Syria-Iraq border on Sunday, August 10.
Iraqi soldiers fan out into a field in Jurf al-Sakhar on August 10 after they reportedly pushed back Islamic jihadist fighters from the area.
An Iraqi man inspects the debris of houses in Falluja, Iraq, after an apparent air raid by the Iraqi Air Force on August 10.
An F/A-18C Hornet lands on the flight deck of the USS George H.W. Bush on August 10.
An Iraqi Yazidi child, whose family fled their home a week ago when ISIS militants attacked their town, looks on at a makeshift shelter August 10 in Dohuk, which is in Iraq's autonomous Kurdistan region.
Displaced Iraqis from the Yazidi community settle outside the Bajid Kandala camp on Saturday, August 9.
Displaced Iraqis ride on a truck on a mountain road near the Turkish-Iraq border, outside Dahuk, on August 9.
Thousands of Yazidis are escorted to safety by Kurdish Peshmerga forces and a People's Protection Unit in Mosul on August 9.
Humanitarian aid for Iraq is loaded onto an aircraft in Norton, England, on Friday, August 8.
Pallets of bottled water are loaded aboard a U.S. Air Force aircraft in preparation for a humanitarian airdrop over Iraq on August 8.
Smoke rises after airstrikes targeted ISIS militants outside Irbil on Friday, August 8.
Kurdish Peshmerga fighters take position on the front line on August 8.
Displaced Iraqi Christians settle at St. Joseph Church in Irbil on Thursday, August 7.
Iraqi Shiite volunteers who have joined government forces to fight ISIS take part in a training session near Basra, Iraq, on August 7.
Thousands of Yazidi and Christian people flee Mosul on Wednesday, August 6, after the latest wave of ISIS advances.
Kurdish Peshmerga forces and members of the Syrian People's Protection Units engage ISIS members in the Mahmudiye village of Mosul on Tuesday, August 5.
Yazidi women who fled violence in Sinjar, Iraq, take shelter at a school in Dohuk on August 5.
People in Mosul walk on the rubble of the destroyed Mosque of The Prophet Yunus, which is Arabic for Jonah, on Thursday, July 24.
An Iraqi child walks through a displacement camp Saturday, June 28, in Khazair, Iraq.
An Iraqi woman walks with her child outside of a displacement camp June 28 in Khazair.
Peshmerga fighters check cars at the entrance of a temporary displacement camp in Khazair on Thursday, June 26.
A group of women wait outside the temporary displacement camp in Khazair on June 26.
Smoke rises in the Karakus district of Mosul as clashes between Iraqi forces and ISIS militants take place on June 26.
Food is handed out at the displacement camp in Khazair.
A child walks over discarded water bottles and trash at a registration area in the displacement camp in Khazair on June 26.
Kurdish Peshmerga take their positions behind a wall on the front line of the conflict with ISIS militants in Tuz Khormato, Iraq, on Wednesday, June 25.
Peshmerga fighters clean their weapons at a base in Tuz Khormato on June 25.
Female Peshmerga between 18 and 45 years old form a special unit that is called to serve in any conditions. A soldier is pictured here on June 25.
A woman gathers bread in a temporary displacement camp for Iraqis on Tuesday, June 24.
An ISIS fighter takes control of a traffic intersection in Mosul on Sunday, June 22.
An ISIS member distributes a copy of the Quran, Islam's holy book, to a driver in Mosul on June 22.
Members of ISIS patrol in Falluja on Saturday, June 21.
"Peace Brigade" volunteers raise their weapons and chant slogans during a parade in the Shiite stronghold of Sadr City on Saturday, June 21, in Baghdad. The armed group was formed to protect Shiite holy shrines against possible attacks by Sunni militants.
Iraqi men register to fight alongside security forces Friday, June 20, at a recruitment center in Baghdad.
New army recruits gather in Najaf, Iraq, on Wednesday, June 18, following a call for Iraqis to take up arms against Islamic militant fighters.
Soldiers with an Iraqi anti-terrorism unit are on guard June 18 in Baghdad.
A Kurdish Peshmerga fighter injured in clashes with ISIS lies in a hospital in Irbil on June 18.
An MH-60R Sea Hawk helicopter lands on the aircraft carrier USS George H.W. Bush in the Persian Gulf on Tuesday, June 17.
Newly recruited Iraqi volunteer fighters take part in a training session in Karbala, Iraq, on June 17.
Iraqi tribesmen gather in Baghdad on Monday, June 16, to show their readiness to join Iraqi security forces in the fight against Islamic militants.
Iraqi Christian children gather inside the Church of the Virgin Mary for prayers in Bartala, Iraq, a town near Mosul, on Sunday, June 15.
Shiite tribal fighters raise their weapons and chant slogans against ISIS in Basra on June 15.
Members of ISIS prepare to execute some soldiers from Iraq's security forces in this image, one of many reportedly posted by the militant group online. CNN cannot independently confirm the authenticity of the images.
A woman cradles her baby Thursday, June 12, at a temporary camp set up in Aski Kalak, Iraq, to shelter those fleeing the violence in northern Nineveh province.
A girl fleeing from Mosul arrives at a Kurdish checkpoint on June 12.
Iraqi men chant slogans outside of an army recruiting center to volunteer for military service June 12 in Baghdad.
Kurdish Peshmerga forces, along with Iraqi special forces, deploy their troops and armored vehicles outside of Kirkuk on June 12.
Children stand next to a burnt vehicle during clashes between Iraqi security forces and ISIS militants in Mosul on Tuesday, June 10.
Civilians from Mosul escape to a refugee camp near Irbil on June 10.
Iraqis fleeing the violence wait in their vehicles at a Kurdish checkpoint in Aski Kalak on June 10.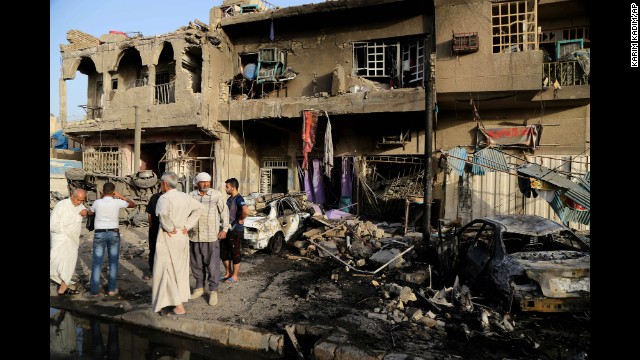 Photos: Iraq under siege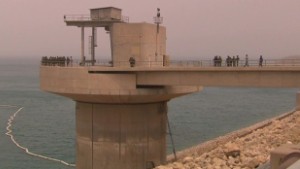 ISIS loses control of Mosul Dam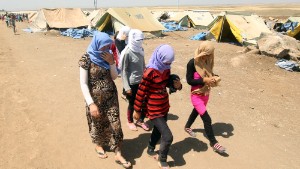 UNHCR: Iraq aid mission one of largest
His journalism career
In the mid-2000s he decided to pursue a journalism career, first by enrolling at Northwestern University's well-respected Medill School of Journalism and then by embedding with American troops in Iraq and Afghanistan. While preparing for his first embed, he started his blog.
Foley freelanced for a number of news media outlets, including GlobalPost, a world news Web site founded in 2009.
In 2012, he gravitated toward the spiraling conflict in Syria.
James Foley's prayers and the dark side of faith
Fang, who kept in touch with Foley after their years teaching in Phoenix, wrote that his interest in the story there did not surprise her.
"He's always been willing to step into a zone where no one else wants to go," she wrote. "Jim feels that society needs reporters willing to bear witness and report back the facts of history-in-the-making. And his loyalty to his colleagues meant that he wanted to be there with them on the frontlines."
BuzzFeed Middle East correspondent Sheera Frenkel said she last saw Foley about a week before his final trip into Syria.
Drinking beers at the lobby of a hotel popular among journalists, they talked, she said, about "how hard it was to move on from this job, into a life which would allow for marriage and family."
"He was a generous colleague, never holding back a tip, phone number, or detail that could help, and could spend hours talking over the ins and outs of a story to get it just right," Frenkel wrote in an email message.
"Jim was a great journalist, and I think he'd like to be remembered that way, first and foremost."
After the news of Foley's killing spread on Tuesday, CBS News foreign correspondent Clarissa Ward changed her profile picture on Twitter to a photo of Foley wearing a helmet, a flak jacket and holding up a camera.
This, she said, "is how I will chose to remember James -- as a brave and tireless journalist with a passion for the Syrian cause."
READ: ISIS beheads U.S. journalist, threatens another over Iraq
READ: Who's Haider al-Abadi, the man who will lead Iraq?