STORY HIGHLIGHTS
Author Aidan Ryan made a pilgrimage this summer to County Clare
He went to see where his great-granduncle lived and died
He discovered a familiar "streak of incredible wilfullness" in his roots
(CNN) -- The last time a Ryan stood in the low doorway of the dirt-floored Byre House would have been the day before Willie Ryan passed, 7 November 1967.
I say the seventh because Willie had been up and working that day, but when his neighbor John Maddigan stopped in to check on Willie on the eighth, he found him laid up with pneumonia on his bed in the kitchen, where he'd been living alone since the thatch roof had collapsed on the other half of his two-room house.
All this I learned this summer from Maddigan, who, given that he had been a teenager when Willie died, was looking strong and lean as a racehorse, tan as sunbaked sandstone.
A kind man of quiet gestures, he'd left his own fields to come to his neighbors the Nagles, of Carrowduff, County Clare, where I was staying, as a favor to me.
He had known Willie well; and I was Willie's great-grandnephew, tracing a few pictures, a few names and the scant threads of family lore back to Ireland. Though I thought of it, I never managed to ask John if he saw anything of Willie in me, 47 years later. I was afraid that he might click his tongue against his teeth, look down and say nothing.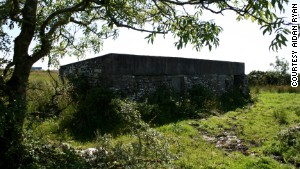 Willie Ryan lived in this simple hut in County Clare until November 8, 1967.
Like so many American descendants of 19th and early 20th century immigrants, I have no family albums tracing my lineage back to New England ships, to British houses or German hamlets echoing back my own surname; the portraits in my parents' dining room -- a long nose here, familiar deep-set eyes there -- are to an unsettling degree nameless.
So it was with great excitement when in 2011 my aunt Michele (née Ryan), gripped before the rest of us by some genealogical daemon, brought out three snapshots of the old Ryan farm in County Clare, a place no living Ryan had ever seen.
It was not an impressive structure. The corrugated tin roof recalled Soweto more than the Emerald Isle.
The stone hut was a gray weight against a gray sky; even the grasses were tinged the color of ash. The single door was black as the hole from a missing tooth. But there was something alive in the photography, as if the inkjet printed grasses could at any time sway. I think every one of us felt it tugging.
"You brought the weather with you," said Anne Nagle, my hostess in Carrowduff, a gift of a woman who thought nothing of serving the equivalent of a Thanksgiving dinner -- in volume and in variety -- at one in the afternoon, as "a bit of supper."
According to her, County Clare is rainy for much of the year, with skies drizzling or fog rolling over the hills and the limestone karst. But my bus ride from Dublin through Galway to the Cliffs of Moher, near Carrowduff, revealed minute-by-minute an Ireland of coffee-table books turned real, and vivid and brilliant before me.
In western New York, where I was born, I was accustomed to the clangor of the city or the constant buzzing and rustling of country life, but when I stepped out under the full force of the County Clare sunshine, confronted with the total silence of the fields, I tasted a new and rare serenity.
I never met my great-grandfather Michael Ryan, or "Pa," but I knew that he almost never spoke of the Ireland he left, just as his son, my grandfather, never spoke of his coming-of-age on the beaches of Normandy and in the forests of Ardennes.
Though his father Denis in Ireland's 1901 census listed him as a "scholar," Pa came to America to work 57 years on the railroad that runs through Buffalo, New York. As he never owned a car, he took his family on vacations to anywhere that his own coal steamer could take them.
When he retired, he worked the rest of his life as a caretaker for the Sisters of Saint Francis in Williamsville, to which he walked every day, about four miles from his home on Orchard Place.
His seven sons and three daughters knew little of the land their father left, because Pa told them little. And each generation knew less and less. Ireland to Pa was a cruel land in a cruel time. To his descendants, it is a mystery.
So I thought of Pa's silence as I stood in the silence of the fields of Carrowduff. I was caught between them.
Today, County Clare is home to Ireland's most popular tourist attraction, the stunning cliffs of Moher. One might assume that Carrowduff is on the edge of nowhere, but that's never true in Ireland, an island of just over 35,000 square miles.
Even by Irish standards, though, the Ryan farm is an hour walk from the town of Ennistymon, where today the gleaming glass and white sides of the Falls Hotel face the sun and the Cascades of the River Inagh. The long pristine beaches of the Lahinch are again just over an hour's walk from the farm -- and even less in an "assn'cart," as the farmers say.
And most incredibly (though the trip isn't within walking distance), Carrowduff is neighbor to Poulnabrone, a prehistoric megalith in Clare's "Burren," the tomb of at least 30 nameless members of a nameless tribe.
A tilted giant's table on sturdy limestone legs, the blank face of Poulnabrone fronts the skies at a slight angle, with something of Frank Lloyd Wright in its style and sensibility, though its outsized architects preceded America's own giant by almost six millenia.
All this is set in a vast karst landscape of limestone, riddled and wormed with tracks carved by glaciers and slow time.
The cliffs, the beaches, the waterfalls, the cooling fog, the rolling silent green fields in summer laced with flowers of purple and of yellow, the dramatic megalith mystery of Poulnabrone to the north -- all this was there for the Ryans in 1915, when Anne Ryan left for Niagara Falls, and in the 1850s, when a church fire destroyed all records of births, death and marriages in Kilshanny; all this was theirs for as long as the Ryans called Carrowduff home.
But one by one, the living left; and the rest died.
One Ryan -- Willie, a middle child, born in 1881 -- stayed longer than the rest. From a postcard we know that Pa Ryan went back to Ireland at least once, in 1927, to try to bring his brother Willie back to Buffalo. I told John Maddigan this story, and he laughed.
"I WILL NOT!" he mimicked, in a high lilt even stronger than his natural one. It was Willie Ryan's voice.
There is a streak of incredible wilfullness -- some would say stubbornness -- in the Ryan bloodline, which makes living with us a constant labor, though those that do are of the best sort. Maddigan knew this, and John Nagle knew this; the former told me that when Willie fell ill on his second to last day, he refused a doctor and a priest, twice. "He didn't want a fuss," he said.
And he didn't get one. Too poor to afford a headstone, neighbors buried Willie in 1967 in the graveyard of the old Kilshanny church of St. Augustine, abandoned after the parishioners erected its replacement in 1898.
Today the church is roofless, and in the grass-cracked floor where the pews once sat, mossy crosses and heavy headstones have taken up the best real estate, no more sheltered from the elements than the stones outside the walls, but closer to the holy ground where the long-gone altar stood.
As far from that altar as any grave in the churchyard can get, a wood surveyor's post, or the kind of stick lashed to new saplings on gentrifying city streets, marks the place where Willie was likely buried, along with his father Denis, perhaps his grandfather Thomas, and unknown other Ryans.
Maddigan marked the spot in 2011, to honor the old man he cared for when he was just a teenager, living on the next farm over. It's firm in the shadow of the ivied wall behind.
So maybe it was stubbornness that made Willie turn down his brother and kept him on the farm. When I visited the remains of the Byre house -- one half of it locked behind a thin tin door, the other a bare box home to sparrows, downed beams and dirt -- it was hard to imagine anyone living there. But Willie did, with three cows and little else.
Ducking under the doorway, standing in the dark and trying to retain with each of my senses some essence of the place, it seemed a man would need all the mindless will of lichen to cling to a rock so barren.
There was little else to do, and I stepped back out into the sun to walk the path back to the main road, an almost comically loose collection of worn rocks that seemed so many scatterings from some giant's seed bag. The sun outlined everything, every blade of grass and barbed wire spike, in goldleaf paint, and I looked at the wild bushes, and the flower clusters, and the bees and the sparrows that passed me.
Thick unnameable plants hid away old stone walls, inseparable from the Irish landscape, perhaps laid by some Ryan's hand in centuries past. The Ryan farm and the path to it overlooked most of Carrowduff, from the old church to the thick stands of government-subsidized pines laid over former marshland to the northeast.
The smell of burning peat drifted up to me from some kitchen range in the valley below, sweeter and spicier than the backyard fires from home -- and yet somehow familiar. I wondered if Pa ever missed it -- and if he did miss it, if the image I saw there was the one that he kept in the unspeakable places of his heart.
The next day, after my guide Eimear and I had left the ruined Kilshanny church, we walked a stone's kick down the road to visit St. Augustine's Well, into which the locals dip to refill their bottles of Holy Water, and a place all the Ryans would have visited every year on August 28 for the patron's feast day.
To get there, we had to go through the gate and across the yard of a house refurbished in fresh white paint. Two thick-maned white labs wagged and sniffed at us as we flipped the latch.
"Sorry, sorry!" said a man emerging from the side of the house, in painter's pants. "Sometimes they can be a bit, ah, possessive," he said of the dogs -- without a thought to the fact that Eimear and I were standing in the middle of his front lawn.
His name was Paddy Power and before we passed down the path to the well we talked with him, and he told us that he and his wife were new arrivals from Waterford. Though they knew no one in the county, they'd bought an old house by the well and were in the process of fixing it up for a retirement home.
"We always came here on vacation," he said, "so we figured we might come here to die."
His smile banished anything that could have been morbid in the statement. It was more than matter of fact -- it was cheerful.
Like me, Paddy and his wife had a loose claim on Carrowduff, County Clare -- but it had a claim on them. I looked past him to the old roofless church on its low hill, where John Maddigan's post marked the probable burial plot of the Ryans, below our fields and our Byre house. I felt that old hut tugging.