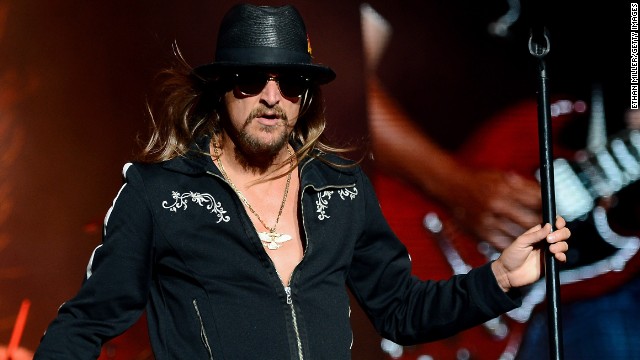 It hardly seems possible, but Kid Rock, 43, is about to become a grandfather. The rocker's son, Bobby Ritchie Jr., is
reportedly expecting his first child.
Here are some other young Hollywood grandparents.
Believe it or not, Whoopi Goldberg is a great-grandmother! "The View" co-host became a grandmother at the tender age of 34, when her then-teen daughter, Alex, gave birth. In March 2014, Goldberg's granddaughter, Amarah Dean, gave birth to a daughter.
shared with Chelsea Handler on her late-night talk show
that he was a 35-year-old grandfather, as his then-20-year-old daughter had a son.
In 2010, singer Cee Lo Green
The world found out Sarah Palin would become grandmother when she was on the campaign trail for vice president in 2008. Palin's then-teenage daughter, Bristol, revealed that she was expecting her first child. Palin was 44 when Tripp was born.
Although Joe Jackson now has a whole host of grandchildren, the Jackson family patriarch started young. He was 42 in 1971 when daughter Rebbie and her husband welcomed daughter Stacee Brown.
Reality star NeNe Leakes prefers the term "Glam-ma." Her son Bryson and his girlfriend, Ashley Hill, welcomed a daughter in 2012. Leakes was 45.
became the only grandfather playing in the NFL
when his 21-year-old daughter, Brittany, gave birth birth to son Parker Brett.
At age 40 in 2010, Brett Favre
James Brolin has quite the family tree: He and second wife Jan Smithers welcomed a daughter, Molly, the year before his son from his first marriage, Josh, made him a grandfather. Brolin was 47.
Pierce Brosnan was 44 when his daughter, Charlotte, gave birth to a daughter in 1998.
Donny Osmond still looks much the same as he did as a teen heartthrob, but these days he is a grandfather several times over. He first received the title in 2005, at age 47.
the actor said.
"But I couldn't be more thrilled. It sounds cliche, but, honestly, it's indescribably joyful to me."
Jim Carrey has talked much about how thrilled he is to be grandfather to young Jackson Riley, who arrived in 2010, when Carrey was 47. "There's still a little Hollywood ego that goes, 'What if anybody finds out?' "
Michelle and Jim Bob Duggar were not only in their 40s when they became grandparents for the first time (son Joshua and his wife, Anna, welcomed Mackynzie Renee in October 2009), but they went on to have their 19th child the following year.
Priscilla Presley's daughter, Lisa Marie, gave birth to daughter Riley Keough in 1989, when Priscilla was 44.
said
he had raised Kath "since she was 8, and she is now 29. She got married two years ago and had a baby nine months after the wedding."
Kiefer Sutherland was only 39 when his stepdaughter, Michelle Kath, made him a grandpa in 2005. He
Naomi Judd was 48 when she became "MaMaw" to daughter Wynonna's son Elijah.
Young celeb grandparents
Young celeb grandparents
Young celeb grandparents
Young celeb grandparents
Young celeb grandparents
Young celeb grandparents
Young celeb grandparents
Young celeb grandparents
Young celeb grandparents
Young celeb grandparents
Young celeb grandparents
Young celeb grandparents
Young celeb grandparents
Young celeb grandparents
Young celeb grandparents