STORY HIGHLIGHTS
British MP says Ferguson will need outside help to heal
He represents area of London hit by riots in 2011 after black man killed by police
David Lammy says healing goes far beyond rebuilding trust between police and community
And he says riots are a sign of the fractures in our societies
Editor's note: David Lammy is a British Member of Parliament. He grew up in, and now represents, Tottenham in London where riots broke out in 2011. He is the author of "Out of the Ashes: Britain after the Riots," which examined the causes of the disturbances, and what should be done to repair the damage they caused. You can follow him on Twitter @DavidLammy. The opinions expressed in this commentary are solely his.
London (CNN) -- Three summers ago, my wife and I were settling into a short summer holiday when I received an unexpected phone call from the police chief in Tottenham, the part of North London where I grew up and now represent in the UK Parliament. Phone calls from police officers are not uncommon in my line of work, but when the chief's number appeared on my screen I knew this was serious.
I was right. The voice at the other end of the phone informed me that a black man had been shot dead by armed police in my constituency. His name was Mark Duggan. I knew immediately that I had to return home, and jumped on the first train back the following morning.
I arrived back in time to watch as fire and unrestrained violence tore through my favorite local cafes and shops, and shattered glass covered the streets I have walked on all my life. The High Street just yards from the house in which I grew up was engulfed in flames, with homes set alight and buildings ransacked.
This was the start of four nights of rioting, looting and widespread disturbance that made international headlines and wreaked havoc in communities across England.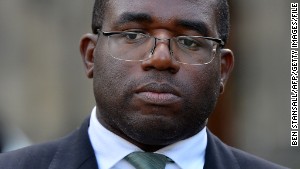 Watching the live footage coming out of Ferguson, Missouri, has brought these memories flooding back.
5 things to know about the Michael Brown shooting
While there are differences between the Tottenham riots and events in Ferguson, the similarities are stark. Michael Brown is not Mark Duggan, but he is yet another black man controversially shot dead by police.
The police officers have different uniforms and the rioters different accents, but the sense of distance and distrust between them is all too familiar.
And the human cost of rioting -- the businesses destroyed, homes damaged and relationships shattered -- transcends all borders.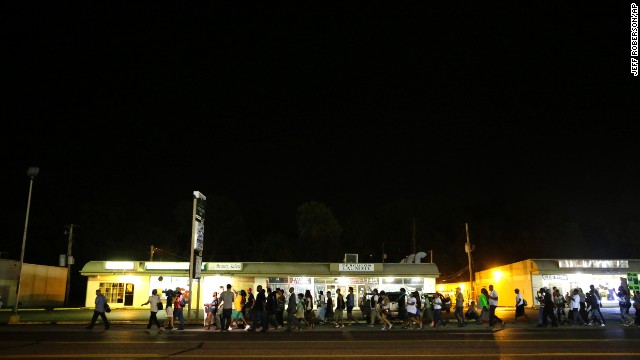 Protesters march in Ferguson, Missouri, on Thursday, August 21. The St. Louis suburb has been in turmoil since a white police officer, Darren Wilson, fatally shot an unarmed black teenager, Michael Brown, on August 9. Some protesters and law enforcement officers have clashed in the streets, leading to injuries and arrests.
A crowd gathers in Ferguson on August 21. With the situation appearing to calm, Gov. Jay Nixon ordered the Missouri National Guard to begin withdrawing from the city.
Police escort a Wilson supporter to a police vehicle, away from crowds protesting Brown's death on Wednesday, August 20. Police have said Brown and Wilson struggled over the officer's gun; some witnesses said Brown had his hands in the air when he was shot.
Lightning streaks over protesters on August 20.
Demonstrators protest on August 20.
U.S. Attorney General Eric Holder meets with Capt. Ron Johnson of the Missouri State Highway Patrol at a Ferguson restaurant on August 20. Holder came to Missouri to talk to community leaders and review the federal civil rights investigation into Brown's shooting.
Protesters march through the streets of Ferguson on August 20.
Police point out a demonstrator who has his arms raised before moving in to arrest him Tuesday, August 19.
People watch from inside a restaurant as protesters rally August 19.
Police arrest a demonstrator on August 19.
Police charge into the media work area with weapons drawn as they try to control demonstrators on August 19.
A protester speaks to a police officer on August 19.
People on August 19 stand near a memorial where Brown was shot and killed.
Protesters march on August 19.
Police watch as protesters march August 19.
A demonstrator is arrested on August 19.
Police try to control protesters on Monday, August 18.
Police lead a man away during a protest August 18.
A demonstrator shouts during a protest on West Florissant Avenue, one of Ferguson's main streets, on August 18.
Capt. Ron Johnson of the Missouri State Highway Patrol pulls his men back from aggressive protesters on August 18.
Police arrest a demonstrator August 18 after peaceful protests gave way to angry confrontations with authorities.
Law enforcement officers stand guard during a protest on West Florissant Avenue on August 18.
A woman helps a man affected by tear gas August 18. The situation overnight deteriorated after a handful of protesters threw rocks, bottles and Molotov cocktails at police. Officers responded by firing stun grenades and tear gas canisters.
Officers stand with weapons drawn during a protest on West Florissant Avenue on August 18.
Musician Nelly, center, joins demonstrators in Ferguson on August 18.
Demonstrators receive red roses as they protest August 18.
Demonstrators march on August 18.
The Rev. Jesse Jackson shakes hands with a police officer as he visits Ferguson's demonstration area on August 18.
A protester picks up a tear gas canister on Sunday, August 17.
Police wait to advance after using tear gas to disperse protesters August 17.
Water gets poured into a woman's eyes after a tear gas attack by police on August 17.
A man runs through clouds of tear gas on August 17.
Protesters react as police fire tear gas at them August 17.
Police advance through a cloud of tear gas on August 17. Most of the crowd had dispersed after a curfew went into effect at midnight, St. Louis County authorities said.
People take cover from tear gas inside a McDonald's on August 17.
A large group of police officers advance toward protesters on August 17.
A man fights the effects of tear gas in Ferguson on August 17.
Michael Brown Sr. and Lesley McSpadden, the parents of Michael Brown, attend a rally at Greater Grace Church in Ferguson on August 17.
The Rev. Al Sharpton hugs McSpadden during the rally.
Capt. Ron Johnson of the Missouri State Highway Patrol speaks at the rally. He had been appointed by the governor to take control of security operations.
Demonstrators defy a curfew early on August 17.
Police fire tear gas at demonstrators after curfew on August 17.
A law enforcement officer aims his rifle August 17 after tear gas was fired to disperse a crowd.
People scramble as police fire tear gas on August 17.
Law enforcement officers check a building on August 17.
People attend a protest after the midnight curfew on August 17.
A law enforcement officer watches as tear gas is fired to disperse a crowd on August 17.
Police stand guard before the midnight curfew on Saturday, August 16.
People loot the Ferguson Market and Liquor store on August 16. Several businesses were looted as police held their positions nearby.
Missouri State Highway Patrol officers listen to taunts from demonstrators during a protest on Friday, August 15.
Demonstrators protest with their hands up on August 15. The "hands up" gesture has become a symbol in protests as Brown, according to eyewitnesses, was trying to surrender when he was shot multiple times.
Police confront demonstrators on August 15.
A demonstrator throws a tear gas canister back at police on August 15.
Police confront demonstrators on August 15.
Thousands of demonstrators march down a Ferguson street with members of the St. Louis County Police and the Missouri State Highway Patrol on Thursday, August 14.
Demonstrators hold signs as traffic moves slowly past them on August 14.
State Highway Patrol Capt. Ron Johnson smiles at demonstrators on August 14. Johnson was appointed to lead security as state troopers took over after days of clashes between protesters and local police.
The Rev. Traci Blackmon uses a megaphone to talk to a large group of demonstrators on August 14.
A man picks up a flaming bottle and prepares to throw it as a line of police advance in the distance on Wednesday, August 13.
Police stand in clouds of smoke as they clash with protesters on August 13.
An Al-Jazeera television crew runs for cover as police fire tear gas at its position on August 13. Video and images on social media showed police later breaking down the journalists' gear.
A protester runs from tear gas exploding around him on August 13.
Police stand guard among demonstrators on August 13.
Ferguson Police Chief Thomas Jackson fields questions during a news conference on August 13.
A small group of protesters block traffic in the street before police arrived on August 13.
A protester throws a tear gas canister back toward police on August 13.
Police detain a man on Tuesday, August 12.
People congregate at the Greater St. Marks Family Church in St. Louis along with the family of Michael Brown and the Rev. Al Sharpton on August 12.
Michael Brown Sr. stands alongside Sharpton, right, during a news conference in St. Louis on August 12.
Demonstrators protest August 12 in Ferguson.
A makeshift memorial sits in the middle of the street where Michael Brown was shot and killed.
A woman tries to calm an emotional protester during a demonstration outside the headquarters of the Ferguson Police Department on August 11.
Phaedra Parks, left, comforts Desuirea Harris, the grandmother of Michael Brown, during a news conference in Jennings, Missouri, on August 11.
Police officers arrest a man who refused to leave when police cleared streets in Ferguson on August 11.
A burned-out QuikTrip gas station smolders on August 11 after protesters looted and burned the Ferguson building the night before.
Police officers and protesters confront each other on Saturday, August 9, the same day Michael Brown was shot and killed.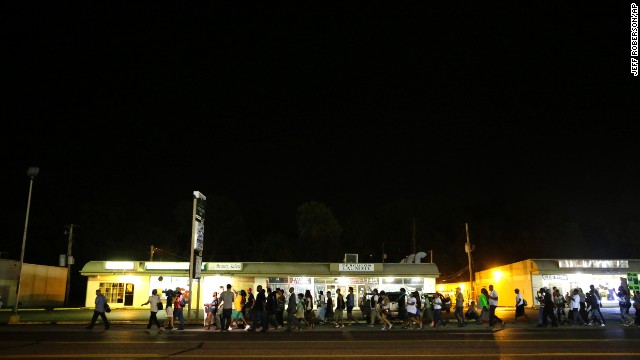 Photos: Emotions run high in Ferguson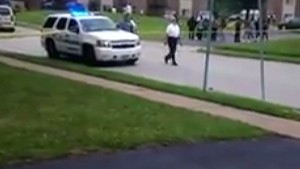 Startling video from shooting scene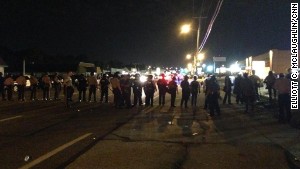 A change in dynamic in Ferguson
Soon the violence will stop, the streets will empty and the broken glass will be quietly swept away.
As a degree of normality returns to this Missouri town, journalists will drift away and the TV cameras will move on.
What will be left is a deeply scarred and divided community. The distrust and anger that is compounded by these type of events endures long after public attention has turned away. Healing these divisions will take time, money and commitment.
What is crucial is that Ferguson is not left to deal with this alone. When a community so publicly fractures in the most devastating of circumstances, it needs outside help to heal.
After the violence in London stopped, the Mayor and the Government committed to a series of reviews, commissions and repair funds that would take place over the coming months. While these were not entirely effective, they did ensure that the needs of the community were not simply forgotten.
A damaged community being left to its own devices, with no one to mediate the anger and accusations between different parties, is not a recipe for progress.
Much of this work will focus on repairing the relationship between the police and the communities they operate in. Police forces can operate only with the consent of those that they are policing; deep distrust in the police puts that at risk.
The first part of this process will involve establishing the truth about what lead to Michael Brown's death, and bringing any wrongdoers to justice. But the protesters on Ferguson's streets know that Michael was not the first young black man shot dead in controversial circumstances, and nor will he be the last. Deeper, more long-term fixes are required.
This will require serious effort on both sides to rebuild and move forward. London's current police commissioner, Bernard Hogan-Howe, knew this when he committed to virtually abolishing the controversial and divisive practice of stop and search. So too did New York Mayor Bill de Blasio when he focused his election campaign on the problems caused by its transatlantic cousin: stop and frisk. Similar leadership will be needed in Missouri.
My experience suggests that, with time, police-community relations can be rebuilt. In Tottenham, problems remain but the divisions are nowhere near as deep as they once were.
The solutions, though, must go deeper than police reform.
What became clear from speaking to those who had been involved in the August 2011 UK riots was a sense of alienation -- an awareness that these people felt they had nothing to lose. They were rebelling not just against the local police but against a society they felt they had no stake in. It was, on the whole, those without a job, an education or the hope of a brighter future who were most likely to risk a jail sentence for the sake of a new pair of Air Max trainers.
More must be done, through employment, education, urban regeneration and community programs, to integrate these groups with the rest of society.
So, too, should we address the problems that have arisen from the social revolution of the 1960s and the economic liberal revolution of the 1980s. Liberalism has made our societies fairer and more tolerant, but in excess it leads to a hyper-individualism that trumps our shared interests and makes us aware of our rights but not our responsibilities.
Both in Tottenham and in Ferguson, legitimate protesters were joined by an opportunistic minority. In London, people who had never heard of Mark Duggan rushed down to Footlocker to grab whatever looted trainers they could lay their hands on. Whole families were caught on CCTV making off with widescreen televisions robbed from electronics stores. This sense of entitlement, together with an absence of responsibility or the ability to delay gratification, was also present in pre-crash Wall Street and in the Enron boardroom; it has been very visible in recent years at both ends of society.
Since the 2011 UK riots, similar disturbances have taken place in Sweden, Italy, Belgium, Spain, France and the USA. While the immediate anger usually forms around a particular event or a specific government policy, all of these events stem from much deeper and more fundamental issues that continue to rumble below the surface in communities across the developed world.
Every now and then we see an eruption, as in Ferguson. It is a sign of the fractures that have emerged in our societies. We should not allow ourselves to think that they are nothing more than isolated events.
Full coverage of shooting, unrest in Ferguson
Magazine: The Aftermath in Ferguson
Read more about the flash point in the Heartland at CNN.com/US