STORY HIGHLIGHTS
"He gave his life" to expose the suffering of the Syrian people, Foley's mother says
CPJ estimates 20 journalists are missing in Syria
The video also appears to show missing journalist Steven Sotloff
James Foley was last seen in Syria on November 22, 2012
(CNN) -- A video released by ISIS shows the beheading of U.S. journalist James Foley and threatens the life of another American if President Barack Obama doesn't end military operations in Iraq.
In the video posted Tuesday on YouTube, Foley is seen kneeling next to a man dressed in black. Foley reads a message, presumably scripted by his captors, that his "real killer'' is America.
"I wish I had more time. I wish I could have the hope for freedom to see my family once again," he can be heard saying in the video.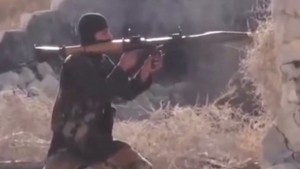 'The world's most ruthless terrorists'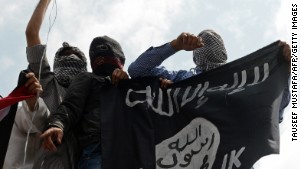 Will ISIS attacks spread to U.S.?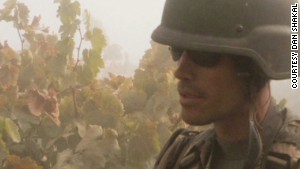 Who is James Foley?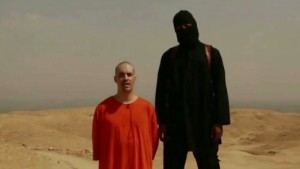 American journalist beheaded by ISIS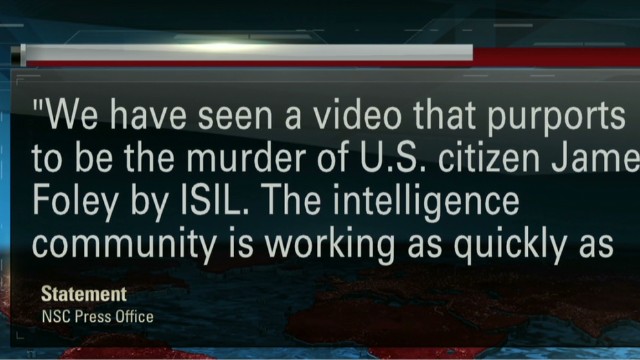 W.H. reacts to journalist's beheading
He is then shown being beheaded.
"We have seen a video that purports to be the murder of U.S. citizen James Foley by (ISIS)," National Security Council spokeswoman Caitlin Hayden said. "The intelligence community is working as quickly as possible to determine its authenticity. If genuine, we are appalled by the brutal murder of an innocent American journalist and we express our deepest condolences to his family and friends. We will provide more information when it is available."
Obama was briefed about the video, and "he will continue to receive regular updates," White House spokesman Eric Schultz said.
ISIS has carried out executions, including beheadings, as part of its effort to establish an Islamic caliphate that stretches from Syria into Iraq. In many cases, ISIS -- which refers to itself as the Islamic State -- has videotaped the executions and posted them online.
CNN is not airing the video.
'They are innocents'
Foley disappeared on November 22, 2012, in northwest Syria, near the border with Turkey. He was reportedly forced into a vehicle by gunmen; he was not heard from again. At the time of his disappearance, he was working for the U.S.-based online news outlet GlobalPost.
On Tuesday, Foley's mother, Diane, took to social media with an emotional statement to praise and mourn her son.
"We have never been prouder of our son Jim. He gave his life trying to expose the world to the suffering of the Syrian people," she said in a post on the Free James Foley Facebook page.
"We implore the kidnappers to spare the lives of the remaining hostages. Like Jim, they are innocents. They have no control over American government policy in Iraq, Syria or anywhere in the world.
"We thank Jim for all the joy he gave us. He was an extraordinary son, brother, journalist and person. Please respect our privacy in the days ahead as we mourn and cherish Jim.''
Another American in video
The video of his killing also shows another U.S. journalist. The militant in the video, who speaks English with what sounds like a British accent, says the other American's life hangs in the balance, depending on what Obama does next.
U.S. Official: ISIS 'credible alternative to al Qaeda'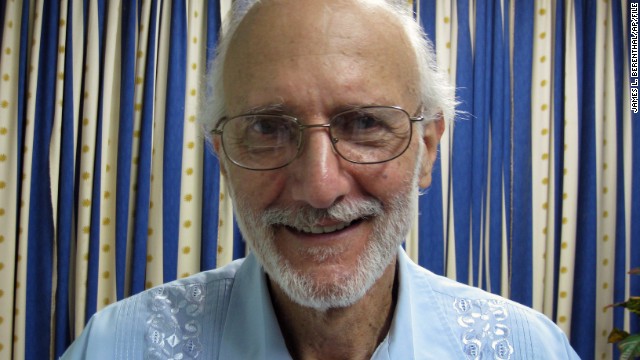 Alan Gross, at right with Rabbi Arthur Schneier, has been in Cuban custody since December 2009, when he was jailed while working as a subcontractor. Cuban authorities say Gross tried to set up illegal Internet connections on the island. Gross says he was just trying to help connect the Jewish community to the Internet. Former President Jimmy Carter and New Mexico Gov. Bill Richardson have both traveled to Cuba on Gross' behalf. On December 17, Gross was released from Cuban prison.
Luke Somers, a photojournalist being held captive by al Qaeda in the Arabian Peninsula (AQAP), was shown begging for his life in a video released by the terror group. Somers was killed by AQAP militants during a raid conducted by U.S. forces on Friday, December 5. A U.S. official said that during the raid, one of the terrorists ran inside the compound and shot Somers and South African hostage, Pierre Korkie.
Kenneth Bae is one of two American detainees released from North Korea in November. Bae had been held since late 2012, and in April 2013 was sentenced to 15 years of hard labor for unspecified "hostile acts" against the North Korean government. North Korea claimed Bae was part of a Christian plot to overthrow the regime.
Matthew Todd Miller also was allowed to leave North Korea with Kenneth Bae in November. According to the state-run Korean Central News Agency, he was convicted in September of committing "acts hostile" to North Korea and sentenced to six years of hard labor. He had traveled to North Korea after arranging a private tour through the U.S.-based company Uri Tours, which takes tourists into North Korea. He and Bae were released after U.S. Director of National Intelligence James Clapper went to Pyongyang as an envoy of President Barack Obama, a senior State Department official told CNN.
Stacey Addison was detained on drug charges by police in East Timor in September during a taxi ride. Addison says she was sharing a taxi from near the Indonesian border to Dili, the capital of East Timor, when another passenger asked to stop and pick up a package at a DHL office. The package allegedly contained methamphetamine.
Washington Post Tehran Bureau Chief Jason Rezaian remains behind bars after being detained in Iran with his wife, Iranian journalist Yeganeh Salehi, in July under unclear circumstances. Salehi was released on bail in late October, according to The Post.
Jeffrey Edward Fowle was released from North Korea and returned home Wednesday, October 22, 2014. Fowle was accused of leaving a Bible in a restaurant. North Korea announced Fowle's detention in June, saying he had violated the law by acting "contrary to the purpose of tourism." Fowle told CNN: "I've admitted my guilt to the government and signed a statement to that effect and requested forgiveness from the people and the government of the DPRK."
American journalist Peter Theo Curtis was handed over to U.N. peacekeepers on August 24 after nearly two years in captivity. He is believed to have been captured in October 2012 and held by the al-Nusra Front, a Syrian rebel group with ties to al Qaeda.
An Iranian court threw out a 2011 death sentence for Amir Hekmati, a former U.S. Marine charged with spying. But he was secretly retried in Iran and convicted of "practical collaboration with the U.S. government," his sister told CNN on April 11. He has been sentenced to 10 years in prison, she said. Hekmati was detained in August 2011 during a visit to see his grandmother. His family and the Obama administration deny accusations he was spying for the CIA.
This undated image provided by the U.S. Army shows Sgt. Bowe Bergdahl, who had been held by insurgents in Afghanistan since 2009. The White House announced Bergdahl's release on May 31. Bergdahl was released in exchange for five senior Taliban members held by the U.S. military.
Retired FBI agent Robert Levinson has been missing since 2007. His family says he was working as a private investigator in Iran when he disappeared, and multiple reports suggest Levinson may have been working for the CIA. His family told CNN in January that they have long known that Levinson worked for the CIA, and they said it's time for the government to lay out the facts about Levinson's case. U.S. officials have consistently denied publicly that Levinson was working for the government, but they have repeatedly insisted that finding him and bringing him home is a "top" priority.
Warren Weinstein, a contractor held by al Qaeda militants, is a U.S. citizen who has been held hostage in Pakistan since August 2011.
U.S. tourist and Korean War veteran Merrill Newman arrives at the Beijing airport on December 7 after being released by North Korea. Newman was detained in October 2013 by North Korean authorities just minutes before he was to depart the country after visiting through an organized tour. His son Jeff Newman said the Palo Alto, California, man had all the proper paperwork and set up his trip through a North Korean-approved travel agency.
Mexican authorities arrested Yanira Maldonado, a U.S. citizen, right, in May 2013, for alleged drug possession. She and her husband, Gary, were traveling from Mexico back to the United States when their bus was stopped and searched. She was released a few days later and is now back in the United States.
Saeed Abedini, a 33-year-old U.S. citizen of Iranian birth, was sentenced to eight years in prison in January 2013. He was accused of attempting to undermine the Iranian government and endangering national security by establishing home churches.
North Korea has arrested Americans before, only to release them after a visit by a prominent dignitary. Journalists Laura Ling, center, and Euna Lee, to her right, spent 140 days in captivity after being charged with illegal entry to conduct a smear campaign. They were freed in 2009 after a trip by former President Bill Clinton.
Former President Jimmy Carter negotiated the release of Aijalon Gomes, who was detained in 2010 after crossing into North Korea illegally from China. Analysts say high-level visits give Pyongyang a propaganda boost and a way to save face when it releases a prisoner.
Eddie Yong Su Jun was released by North Korea a month after he was detained in April 2011. His alleged crime was not provided to the media. The American delegation that secured his freedom included Robert King, the U.S. special envoy for North Korean human rights issues.
Robert Park was released by North Korea in 2010 without any apparent U.S. intervention. The Christian missionary crossed into North Korea from China, carrying a letter asking Kim Jong Il to free political prisoners and resign. North Korea's state-run news agency said Park was released after an "admission and sincere repentance of his wrongdoings." Here, Park holds a photo of Kim and a malnourished child during a protest in Seoul.
Josh Fattal, center, Sarah Shourd, left, and Shane Bauer were detained by Iran while hiking near the Iraq-Iran border in July 2009. Iran charged them with illegal entry and espionage. Shourd was released on bail for medical reasons in September 2010; she never returned to face her charges. Bauer and Fattal were convicted in August 2011, but the next month they were released on bail and had their sentences commuted.
Haleh Esfandiari, an Iranian-American scholar, was detained at Iran's Evin Prison, spending months in solitary confinement before Iran released her on bail in August 2007. Esfandiari was visiting her ailing mother in Tehran when she was arrested and charged with harming Iran's national security.
Sixteen Americans were among the dozens arrested in December 2011 when Egypt raided the offices of 10 nongovernmental organizations that it said received illegal foreign financing and were operating without a public license. Many of the employees posted bail and left the country after a travel ban was lifted a few months later. Robert Becker, right, chose to stay and stand trial.
Filmmaker Timothy Tracy was arrested in Venezuela in April 2013 on allegations of funding opponents of newly elected President Nicolas Maduro, successor to the late Hugo Chavez. Tracy went to Venezuela to make a documentary about the political division gripping the country. He was released in June 2013.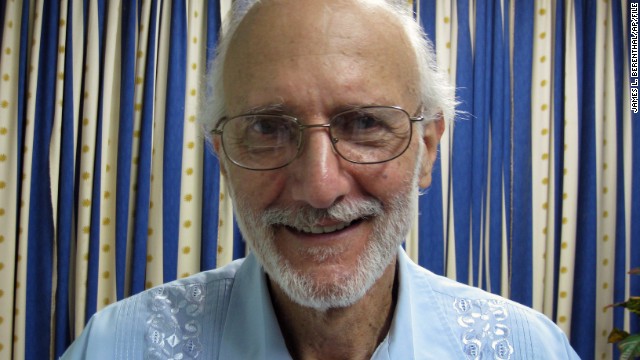 Photos: Americans detained abroad
The journalist is believed to be Steven Sotloff, who was kidnapped at the Syria-Turkey border in 2013. Sotloff is a contributor to Time and Foreign Policy magazines.
The Committee to Protect Journalists estimates there are about 20 journalists missing in Syria, many of them held by ISIS.
Among them is American Austin Tice, a freelance journalist who was contributing articles to The Washington Post. Tice disappeared in Syria in August 2012. There has been no word of from him since his abduction.
'We ask for your prayers'
As a freelancer, Foley picked up work for a number of major media outlets, including Agence France-Presse and GlobalPost.
"On behalf of John and Diane Foley, and also GlobalPost, we deeply appreciate all of the messages of sympathy and support that have poured in since the news of Jim's possible execution first broke," Philip Balboni, GlobalPost CEO and co-founder, said in a published statement, referring to James Foley's parents.
"We have been informed that the FBI is in the process of evaluating the video posted by the Islamic State to determine if it is authentic. Until we have that determination, we will not be in a position to make any further statement. We ask for your prayers for Jim and his family."
Foley had previously been taken captive in Libya. He was detained there in April 2011 along with three other reporters and released six weeks later.
Afterward, he said that what saddened him most was knowing that he was causing his family to worry.
Fair, curious and popular
Foley grew up in New Hampshire and graduated from Northwestern University's Medill School of Journalism in 2008.
Like some other young journalists working after the September 11 terror attacks, Foley was drawn to Iraq, Afghanistan and other areas of conflict.
Friends described Foley as fair, curious and impressively even-tempered.
"Everybody, everywhere, takes a liking to Jim as soon as they meet him," journalist Clare Morgana Gillis wrote in a blog post about him in May 2013, six months after he disappeared in Syria.
"Men like him for his good humor and tendency to address everyone as 'bro' or 'homie' or 'dude' after the first handshake. Women like him for his broad smile, broad shoulders, and because, well, women just like him."
'Our hearts are broken'
People in Foley's hometown of Rochester, New Hampshire, expressed shock and sadness at the news.
"This is a tragedy which is beyond imagining. There are no words to describe this kind of inhumanity," the Rev. Paul Gousse of the Holy Rosary Church told CNN affiliate WMUR.
"You just feel sad," Sully Harte, a neighbor, told the local broadcaster. "You just hope the family can grieve and deal with it because it's one of those things that you can't control at all."
Sen. Kelly Ayotte, Republican of New Hampshire, said in a statement that "our hearts are broken for the Foley family."
"James was an innocent civilian who was bravely performing his job as a journalist," Ayotte said. "This barbaric and heinous act shocks the conscience and highlights the truly evil nature of the terrorists we confront, who must be defeated."
Previous brutal killings of Americans
The video of Foley was released as ISIS is being targeted by American airstrikes ordered by Obama.
"I think they may have been surprised and are doing the best they can to retaliate," former CIA director R. James Woolsey, Jr. told CNN.
Foley's killing recalled the murder of Daniel Pearl, The Wall Street Journal correspondent who was kidnapped while reporting in Pakistan in January 2002. His killing was captured on video and posted on line by al Qaeda.
It also harkened to the videotaped beheadings of Americans Nicholas Berg, Eugene Armstrong and Jack Hensley carried out by al Qaeda during the height of the Iraq War.
Beheading of American journalist James Foley recalls past horrors
CNN's Mohammed Tawfeeq, Kevin Liptak, Mayra Cuevas, Brian Stelter, Jethro Mullen, Elise Labott and Leslie Bentz contributed to this report.