3 members of Pope's extended family die in Argentina car crash
updated 2:02 PM EDT, Tue August 19, 2014
STORY HIGHLIGHTS
Police: A car driven by the Pope's nephew struck a truck on a highway in Cordoba, Argentina
The crash killed the nephew's sons and wife, police say
The Pope's nephew, Emanuel Bergoglio, is in critical condition
(CNN) -- Two of Pope Francis' grandnephews and the boys' mother were killed early Tuesday in a car crash in the pontiff's homeland of Argentina, police said.
The pontiff's nephew, Emanuel Horacio Bergoglio, was critically injured in the crash on a highway in Cordoba province, said Carina Ferreyra, a Cordoba provincial police spokeswoman.
A car driven by Bergoglio struck a truck about 12:30 a.m., killing his sons -- Jose Bergoglio, 8 months, and Antonio Bergoglio, 2 -- and his wife, Valeria Carmona, 36.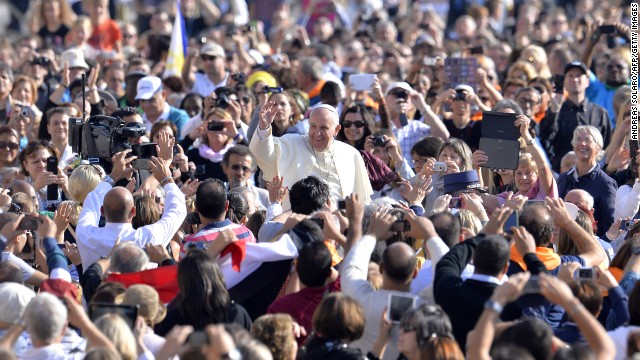 Pope Francis greets the crowd as he arrives for his general audience at St. Peter's Square at the Vatican on Wednesday, October 8. With his penchant for crowd-pleasing and spontaneous acts of compassion, the Pope has earned high praise from fellow Catholics and others since he replaced Pope Benedict XVI in March 2013.
Pope Francis speaks during the feast-day Mass on a one-day trip to the Calabrian region of Italy on Saturday, June 21. The Pope spoke out against the Mafia's "adoration of evil and contempt for the common good," and declared that "mafiosi are excommunicated, not in communion with God.'
The Pope meets faithfuls as he visits the San Gregorio Parish in Rome on Sunday, April 6.
Queen Elizabeth II and Prince Philip, Duke of Edinburgh, have an audience with the Pope during their one-day visit to Rome on April 3.
Francis speaks with U.S. President Barack Obama, who visited the Vatican on March 27.
The Pope blesses the altar at Rome's Santa Sabina church as he celebrates Mass on March 5, Ash Wednesday.
Daniele De Sanctis, a 19-month-old child dressed up as a pope, is handed to Francis as the pontiff is driven through the crowd February 26 at St. Peter's Square in the Vatican.
Wind blows the papal skullcap off Pope Francis' head February 19 in St. Peter's Square.
A lamb is placed around Francis' neck as he visits a living nativity scene staged at the St. Alfonso Maria de' Liguori parish church, on the outskirts of Rome, on January 6.
The Pope holds a baby Jesus during a Christmas Eve Mass held at St. Peter's Basilica in the Vatican in 2013.
Pope Francis, right, meets with Pope Emeritus Benedict XVI at the Mater Ecclesiae monastery in the Vatican on December 23. Benedict surprised the world by resigning "because of advanced age." It was the first time a pope has stepped down in nearly 600 years.
Pope Francis marked his 77th birthday on December 17 by hosting homeless men to a Mass and a meal at the Vatican. One of the men brought his dog.
Pope Francis embraced Vinicio Riva, a disfigured man who suffers from a non-infectious genetic disease, during a public audience November 6 at the Vatican. Riva then buried his head in the Pope's chest.
Pope Francis jokes November 6 with members of the Rainbow Association, which uses clown therapy in hospitals, nursing homes and orphanages.
A young boy hugs Francis as he delivers a speech October 26 in St. Peter's Square. The boy, part of a group of children sitting around the stage, played around the Pope as the Pope continued his speech and occasionally patted the boy's head.
Francis has eschewed fancy cars. Here, Father Don Renzo Zocca, second from right, offers his white Renault 4L to the Pope during a meeting September 7 at the Vatican.
Francis has his picture taken inside St. Peter's Basilica with youths who came to Rome for a pilgrimage in August.
During an impromptu news conference on July 29, aboard a plane from Brazil to Rome, the Pope said about gay priests, "Who am I to judge?" Many saw the move as the opening of a more tolerant era in the Catholic Church.
Crowds swarm the Pope as he makes his way through World Youth Day in Rio de Janeiro on July 27. According to the Vatican, 1 million people turned out to see the Pope.
Francis frees a dove May 15 during his weekly general audience in St. Peter's Square.
Francis embraces a young boy with cerebral palsy on March 31, 2013, a gesture that many took as a heartwarming token of his self-stated desire to "be close to the people."
The Pope washes the feet of juvenile offenders, including Muslim women, as part of Holy Thursday rituals on March 28, 2013. The act commemorates Jesus' washing of the Apostles' feet during the Last Supper.
Francis stands at the reception desk of the Domus Internationalis Paulus VI residence, where he paid the bill for his stay during the conclave that would elect him leader of the world's 1.2 billion Catholics.
Francis, formerly known as Argentine Cardinal Jorge Mario Bergoglio, was elected the Roman Catholic Church's 266th Pope on March 13, 2013. The first pontiff from Latin America was also the first to take the name Francis.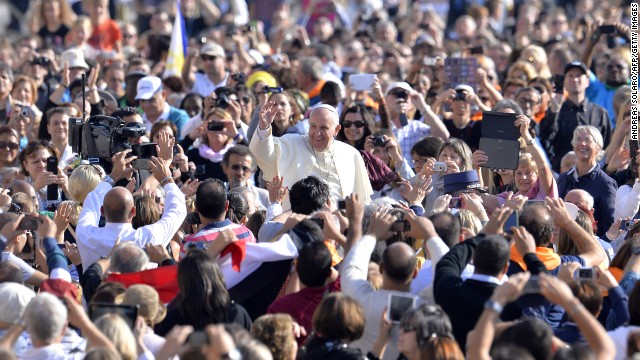 Photos: Pope Francis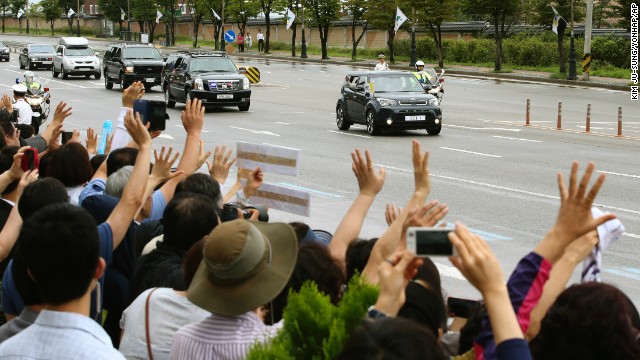 Pope Francis waves to crowds from inside a vehicle near Seoul Air Base in Seongnam on Monday, August 18. The Pope's trip to South Korea marks the first papal visit to the country since Pope John Paul II went there 25 years ago.
Francis meets with South Korea's religious leaders at Myeong-dong Cathedral in Seoul on August 18.
The Pope celebrates a Mass for Peace and Reconciliation in Seoul on August 18.
Nuns greet Pope Francis for a Mass in Haemi on Sunday, August 17.
Francis delivers his message as he celebrates Mass in Haemi on August 17.
Young Catholics attend a Mass conducted by Pope Francis on August 17.
Pope Francis kisses a child on August 17 upon arrival for the mass.
Pope Francis blesses the faithful on August 17 as he arrives for Mass.
In Seoul on August 17, Pope Francis greets the father of one of the victims of the sinking of a South Korean ferry that killed more than 300 people, most of them high school students, earlier this year.
Pope Francis kisses a baby as he arrives to celebrate Mass and the beatification of Paul Yun ji-Chung and 123 martyrs, at Gwanghwamun Gate in Seoul on Saturday, August 16.
Thousands of people line a street as Pope Francis arrives for a Mass to beatify Korean martyrs on August 16.
Pope Francis arrives at Solmoe Shrine for Korea's Catholic martyrs in Dangjin, South Korea, on Friday, August 15.
The Pope kisses a child at the Mass of the Assumption of Mary at Daejeon World Cup stadium in Daejeon, South Korea, on August 15.
Pope Francis gathers with thousands of the faithful to celebrate Mass in Daejeon, South Korea.
Thousands of believers sit in Daejeon World Cup Stadium for Mass with the Pope on August 15.
Pope Francis prays during the Mass of the Assumption of Mary on August 15.
Pope Francis enjoys a traditional Korean dance as he meets with young believers at the Solmoe Shrine in Dangjin.
Pope Francis waves to a crowd during his visit to the birthplace of Saint Kim Taegon Andrea, who was the first Korean-born Catholic priest and is the patron saint of Korea, at the Solmoe Shrine for Korea's Catholic martyrs on August 15.
Pope Francis prays with Daejeon Bishop Lazarus You Heung-sik in front of the birthplace of Saint Andrea Kim Dae-gun in Dangjin.
Pope Francis laughs with bishops as he signs a guestbook Thursday, August 14, at the headquarters of the Korean Episcopal Conference in Seoul, South Korea.
Pope Francis walks with South Korean President Park Geun-hye before a welcoming ceremony at the presidential Blue House in Seoul on August 14.
Pope Francis waves to a crowd after his arrival in Seongnam, South Korea, on August 14.
The Pope shakes hands with a nun in Seoul on August 14.
People watch Pope Francis' arrival on a television at the Seoul Railway Station.
Park delivers a speech during a news conference with the Pope in Seoul.
Pope Francis walks down stairs during a welcoming ceremony in Seoul.
Pope Francis is escorted by Park upon his arrival at Seoul Military Airport in Seongnam.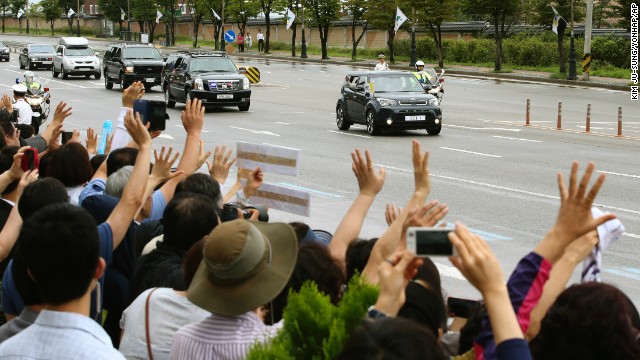 Photos: Pope Francis visits South Korea
Emanuel Bergoglio, 35, was taken to a hospital in Cordoba, where he was in critical condition Tuesday morning, Ferreyra said.
5 ways the Pope is tougher than you think
Pope Francis was "deeply hurt" by news of the crash, a Vatican spokesman said.
"The Pope has been informed of the tragic accident that took place in Argentina involving some of his family members," said the spokesman, the Rev. Federico Lombardi. "He is deeply hurt.
"He asks to all of those who participate in his sorrow to be with him in prayers."
Pope Francis, the former Jorge Mario Bergoglio, served the Roman Catholic Church in Argentina for 43 years, including 15 years as archbishop of Buenos Aires. He succeeded Pope Benedict XVI as leader of the church in March 2013.
The 77-year-old pontiff recently visited South Korea -- the first papal visit to the country in 25 years.
The Pope's first year in 60 seconds
CNN's Jason Hanna and Elwyn Lopez reported and wrote from Atlanta. CNN's Hada Messia contributed to this report from Rome.