STORY HIGHLIGHTS
NEW: U.S. airstrikes destroy 90 targets in Mosul dam fight, Pentagon says
NEW: Ridding Iraq of ISIS forces a must for U.S., expert says
NEW: ISIS threatens "America will disappear from map"
Dam battle shows Kurdish, Iraqi forces can take the fight to ISIS, President Obama says
(CNN) -- U.S. airstrikes helped Kurdish and Iraqi forces take control of Mosul Dam on Monday, fighting back ISIS militants who had seized the dam, President Obama told reporters.
The stakes were huge for the millions of Iraqis who live downstream from the dam, the largest in the country.
"If that dam was breached it could have proven catastrophic, with floods that would have threatened the lives of thousands of civilians and endangered our embassy compound in Baghdad," the President said.
The dam has been the center of an intense battle in northern Iraq between the Islamic extremists and Kurdish forces that had been fighting to retake it since Saturday with U.S. air support.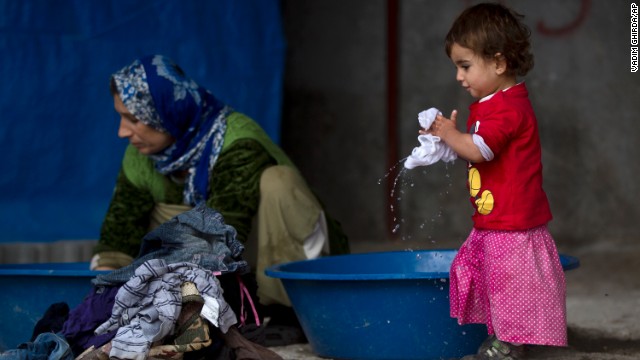 A Syrian Kurdish refugee child from the Kobani area holds laundry on a cold morning at a camp in Suruc, on the Turkey-Syria border, on Monday, November 17. Kobani, also known as Ayn Arab, has been under assault by extremists of the Islamic State group since mid-September and is being defended by Kurdish fighters. ISIS has been advancing in Iraq and Syria as it seeks to create an Islamic caliphate in the region.
Smoke rises from the Syrian town of Kobani following airstrikes by the U.S. led coalition on the Turkey-Syria border on November 17.
A Syrian Kurdish refugee child from the Kobani area holds on to a fence at a camp in Suruc, on the Turkey-Syria border, on Sunday, November, 16.
People in Suruc, Turkey, watch smoke rise near the Syrian border during clashes between ISIS members and armed groups on Thursday, November 13. ISIS has been advancing in Iraq and Syria as it seeks to create an Islamic caliphate in the region.
A bomb (upper left) falls on an ISIS position in Kobani, Syria. during an airstrike by the U.S.-led coalition on Saturday, November 8. ISIS militants and Syrian Kurdish fighters have been battling for control of the city near the Turkish border, and the United States and several Arab nations have been bombing ISIS targets to take out the group's ability to command, train and resupply its fighters.
Iraqi military forces take up position in Jurf al-Sakher, south of Baghdad, on November 8.
Fire and smoke rise from the Syrian city of Kobani following airstrikes against the ISIS militant group on Thursday, October 30.
Iraqi special forces search a house in Jurf al-Sakhar, Iraq, on October 30 after retaking the area from ISIS.
Smoke rises during fighting in Kobani on Monday, October 27.
ISIS militants stand near the site of an airstrike near the Turkey-Syria border on Thursday, October 23.
An explosion rocks Kobani during a reported car-bomb attack by ISIS militants on Monday, October 20.
People watch Kobani from a hill near the Turkey-Syria border on October 20.
Kurdish fighters walk to positions as they fight ISIS forces in Kobani on Sunday, October 19.
A U.S. Air Force plane flies above Kobani on Saturday, October 18.
Heavy smoke rises in Kobani following an airstrike by the U.S.-led coalition on Saturday, October 18.
Cundi Minaz, a female Kurdish fighter, is buried in a cemetery in the southeastern Turkish town of Suruc on Tuesday, October 14. Minaz was reportedly killed during clashes with ISIS militants in nearby Kobani.
Turkish police officers secure a basketball stadium in Suruc on October 14. Some Syrian Kurds have been held there since crossing from Syria into Turkey. Tens of thousands of people have fled Kobani, known in Arabic as Ayn al-Arab, to escape ISIS.
Kiymet Ergun, a Syrian Kurd, celebrates in Mursitpinar, Turkey, after an airstrike by the U.S.-led coalition in Kobani on Monday, October 13.
Smoke rises from Kobani on Sunday, October 12.
Syrian Kurds from Kobani stand outside the grounds of a refugee camp in Suruc on Saturday, October 11.
Alleged ISIS militants stand next to an ISIS flag atop a hill in Kobani on Monday, October 6.
In this photo released by the U.S. Air Force on Saturday, October 4, a U.S. Navy jet is refueled in Iraqi airspace after conducting an airstrike against ISIS militants.
A Kurdish Peshmerga soldier who was wounded in a battle with ISIS is wheeled to the Zakho Emergency Hospital in Duhuk, Iraq, on Tuesday, September 30.
Iraqi Shiite militiamen aim their weapons during clashes with ISIS militants in Jurf al-Sakhar on Sunday, September 28.
Syrian Kurds wait near a border crossing in Suruc as they wait to return to their homes in Kobani on Sunday, September 28. Tens of thousands of people have fled Kobani, known in Arabic as Ayn al-Arab, to escape ISIS.
Syrian Kurds wait behind border fences to cross into Suruc on September 28.
Tomahawk missiles, intended for ISIS targets in Syria, fly above the Persian Gulf after being fired by the USS Philippine Sea in this image released by the U.S. Navy on Tuesday, September 23.
Turkish Kurds clash with Turkish security forces during a protest near Suruc on Monday, September 22. According to Time magazine, the protests were over Turkey's temporary decision to close the border with Syria.
Syrian Kurds fleeing ISIS militants wait behind a fence in Suruc on Sunday, September 21.
A elderly man is carried after crossing the Syria-Turkey border near Suruc on Saturday, September 20.
A Kurdish Peshmerga fighter launches mortar shells toward ISIS militants in Zumar, Iraq, on Monday, September 15.
An ISIS flag flies on the other side of a bridge at the front line of fighting between ISIS and Kurdish Peshmerga fighters in Rashad, Iraq, on Thursday, September 11.
U.S. Secretary of State John Kerry reads on a flight en route to Iraq on Wednesday, September 10. Kerry traveled to the Mideast to discuss ways to bolster the stability of the new Iraqi government and combat ISIS.
Kurdish Peshmerga fighters fire at ISIS militant positions from their position on the top of Mount Zardak, east of Mosul, Iraq, on Tuesday, September 9.
An Iraqi fighter jet flies over Amerli, Iraq, on September 3. Amerli had been under siege by ISIS militants.
Iraqi volunteer fighters celebrate breaking the Amerli siege on Monday, September 1. ISIS militants had surrounded Amerli, 70 miles north of Baquba, Iraq, since mid-June.
Kurdish Peshmerga forces stand guard at their position in the Omar Khaled village west of Mosul on Sunday, August 24.
Kurdish Peshmergas fight to regain control of the town of Celavle, in Iraq's Diyala province, on August 24.
Peshmerga fighters stand guard at Mosul Dam in northern Iraq on Thursday, August 21. With the help of U.S. military airstrikes, Kurdish and Iraqi forces retook the dam from ISIS militants on August 18. A breach of the dam would have been catastrophic for millions of Iraqis who live downstream from it.
Displaced Iraqis receive clothes from a charity at a refugee camp near Feeshkhabour, Iraq, on Tuesday, August 19.
A fighter with Kurdish Peshmerga forces battles ISIS militants near Mosul on Monday, August 18.
Peshmerga fighters inspect the remains of a car that reportedly belonged to ISIS militants and was targeted by a U.S. airstrike in the village of Baqufa, north of Mosul, on August 18.
Kurdish Peshmerga fighters fire at ISIS in Khazair, Iraq, on Thursday, August 14.
Volunteers of the Iraqi Red Crescent Society unload boxes of goods before distributing them August 14 to families who fled from ISIS.
From the flight deck of the USS George H.W. Bush, which is in the Persian Gulf, two U.S. fighter jets take off for a mission in Iraq on Monday, August 11. U.S. President Barack Obama authorized airstrikes against Islamic militants and food drops for Iraqis who are trapped by the militants.
Aziza Hamid, a 15-year-old Iraqi girl, cries for her father while she and some other Yazidi people are flown to safety Monday, August 11, after a dramatic rescue operation at Iraq's Mount Sinjar. A CNN crew was on the flight, which took diapers, milk, water and food to the site where as many as 70,000 people were trapped by ISIS. But only a few of them were able to fly back on the helicopter with the Iraqi Air Force and Kurdish Peshmerga fighters.
Thousands of Yazidis are escorted to safety by Kurdish Peshmerga forces and a People's Protection Unit in Mosul on Saturday, August 9.
Iraqi Shiite volunteers who have joined government forces to fight ISIS take part in a training session near Basra, Iraq, on Thursday, August 7.
Thousands of Yazidi and Christian people flee Mosul on Wednesday, August 6, after the latest wave of ISIS advances.
A Baiji oil refinery burns after an alleged ISIS attack in northern Selahaddin, Iraq, on Thursday, July 31.
A Syrian rebel fighter lies on a stretcher at a makeshift hospital in Douma, Syria, on Wednesday, July 9. He was reportedly injured while fighting ISIS militants.
Iraqis who fled fighting in the cities of Mosul and Tal Afar try to enter a temporary displacement camp in Khazair on Wednesday, July 2.
Peshmerga fighters check cars at the entrance of a temporary displacement camp in Khazair on Thursday, June 26.
Kurdish Peshmerga take their positions behind a wall on the front line of the conflict with ISIS militants in Tuz Khormato, Iraq, on Wednesday, June 25.
Peshmerga fighters clean their weapons at a base in Tuz Khormato on June 25.
New army recruits gather in Najaf, Iraq, on Wednesday, June 18, following a call for Iraqis to take up arms against Islamic militant fighters.
An MH-60R Sea Hawk helicopter lands on the aircraft carrier USS George H.W. Bush in the Persian Gulf on Tuesday, June 17.
Newly recruited Iraqi volunteer fighters take part in a training session in Karbala, Iraq, on June 17.
Members of ISIS prepare to execute soldiers from Iraq's security forces in this image, one of many reportedly posted by the militant group online. CNN cannot independently confirm the authenticity of the images.
Iraqi men chant slogans outside of an army recruiting center to volunteer for military service Thursday, June 12, in Baghdad.
Kurdish Peshmerga forces, along with Iraqi special forces, deploy their troops and armored vehicles outside of Kirkuk, Iraq, on June 12.
Children stand next to a burnt vehicle during clashes between Iraqi security forces and ISIS militants in Mosul on Tuesday, June 10.
Civilians from Mosul escape to a refugee camp near Irbil, Iraq, on June 10.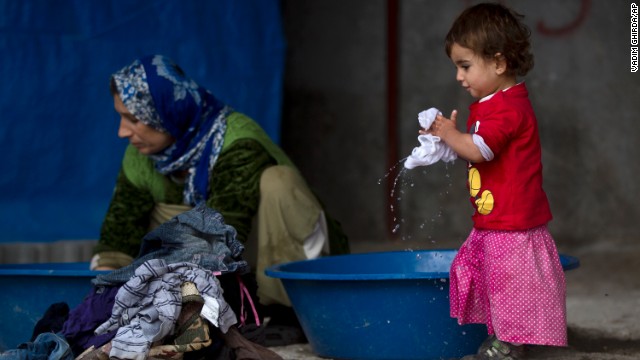 Photos: The ISIS terror threat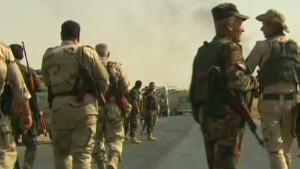 Kurdish forces fight for Mosul Dam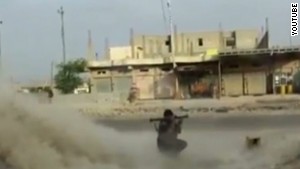 U.S. airstrikes drive ISIS from Mosul dam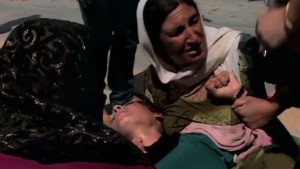 ISIS storms town, captures 100 women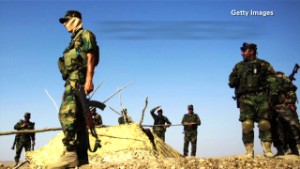 Who are the Peshmerga?
"The U.S. military used fighters, bombers, attack and unmanned aircraft to conduct 35 strikes, " said Pentagon spokesman Rear Adm. John Kirby. "We destroyed over 90 targets including a range of vehicles, equipment and fighting positions," he said.
Now that the dam is cleared of ISIS militants, Iraqi forces are moving to grow their area of control, the Pentagon said.
"This operation demonstrates that Iraqi and Kurdish forces are capable of working together and taking the fight to ISIS," Obama said. "If they continue to do so, they will have the strong support of the United States of America."
Taking the fight to ISIS
U.S. airstrikes may not be enough to do the job of ridding Iraq of ISIS forces, said retired Col. Cedric Leighton, a former Air Force intelligence officer.
"At the core of the mission is to get rid of ISIS," he said. "The U.S. cannot have a Middle East in which ISIS exists," he said.
The brutal attacks of ISIS militants as they took control of towns and villages in northern Iraq forced hundreds of thousands of people to flee.
"ISIS tells people to pay or convert," said one Christian man who fled ISIS forces.
A Christian village near Mosul Dam is almost deserted. Some of its residents fled just in time to a monastery in the mountains.
"We were afraid, terrified they'd call us infidels," a Christian woman there told CNN's Nick Paton Walsh. "My Muslim friend told me to just leave."
Now she said she hopes ISIS fighters won't reach the monastery.
The U.S. strategy in fighting ISIS is "to take out Isis' leadership, to degrade their operational capabilities, to cut off their financing sources," U.S State Department spokeswoman Marie Harf said Monday.
On several ISIS websites, the group posted a message Monday threatening that "America will disappear from the map soon on the hands of knights of al-Khilafa," a reference to the caliphate ISIS claims it wants to recapture.
Water in war
When ISIS militants seized the dam this month, many feared it could be used as a weapon.
Built in the early 1980s under former Iraqi dictator Saddam Hussein, the dam sits on the Tigris River about 50 kilometers (30 miles) north of the city of Mosul. It serves as a key source of electricity, irrigation and flood protection.
ISIS has a track record of attacking its enemies with water.
This year, its fighters opened the gates on the Falluja Dam in central Iraq after seizing it in an effort to stop an Iraqi military advance. The water from the dam flooded a number of villages.
"ISIS has already used other smaller dams to gain control of territory, to pressure Sunnis to support them and to punish the Shiites," Daniel Pipes, president of the Middle East Forum, told CNN this month.
The 3.2-kilometer-long Mosul Dam holds back as much as 12.5 million cubic meters of water, according to Engineering News-Record, a construction industry website.
If the structure were to give way, it would unleash a wall of water tens of feet tall that would race down the Tigris toward Mosul and its 1.7 million inhabitants. It would also bring flooding to major cities farther downstream, including Baghdad.
'Very poor foundation'
But even if the militant group doesn't try to destroy the dam, concerns remain about its sturdiness.
A U.S. Army Corps of Engineers report in 2006 said that what made the dam especially dangerous was the risk of internal erosion of its foundations.
The structure is built on layers of soil that dissolve or erode in water.
The Army Corps said the dam was "constructed on a very poor foundation" that wasn't designed for the conditions.
Seepage has plagued the structure since the reservoir behind it was filled, according to a U.S. government report in 2007, and sinkholes have appeared near the structure, suggesting problems beneath the surface.
During the American military occupation of Iraq, U.S. authorities spent tens of millions of dollars on short-term repairs on the dam.
But with the immense structure now in the midst of a conflict zone, it remains unclear if it will get the maintenance it needs anytime soon.
READ: U.S. warplanes, Kurdish forces pound ISIS targets in bid to retake Iraqi dam
READ: Yazidi refugees braced for life in exile
READ: Can this man keep Iraq together?
CNN's Anna Coren, Barbara Starr, Mohammed Tawfeeq, Henry Shirley and Jomana Karadsheh contributed to this report.