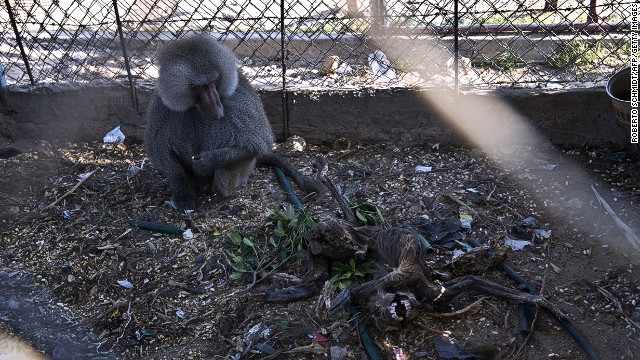 A baboon looks at the carcass of a family member at a zoo in Gaza, on Thursday, August 14. The zoo was almost completely destroyed during the Israel-Hamas conflict.
The body of a killed baboon lays decomposed in a cage. An Israeli military spokesman told CNN that there is an investigation under way into allegations that the zoo, located in the in Al-Bisan Park in Jabalayah, had been hit by airstrikes.
The surviving baboon spends his time next to the carcasses of his mate and offspring. He picks seeds off the ground for food as the zoo's staff say they have almost no funding to buy anything to eat for the animals.
A lion and lioness look on from inside their cage. CNN understands from Israeli sources that the military believes there may have been a number of Hamas rocket launchers in the area of the zoo.
Hamas, the militant group that governs Gaza, says the park is a civilian area, but a CNN crew did see several charred and mangled metal cases that looked like destroyed rocket batteries.
Zookeeper Farid al-Hissi feeds chickens to the lions.
The remains of the administration building at the zoo, which along with Al-Bisan Park was built in 2008.
The CNN crew found a duck, a pelican and a crocodile sharing a cage at the zoo.
Pleitgen gives a pelican some water. The zoo's staff cannot afford to buy fish to feed it.
A monkey sits in its cage, mostly living on leaves and a little dirty water.
The ground is littered with dead animals.
The wild cats at the zoo appear very thirsty and weak. Like many of the other animals, they had not been fed in days.
A gazelle wanders in its cage. Its hooves have grown far too long since it is not being cared for.
One ostrich was killed. The others remain in their pen in need of food to be provided to them by the staff.
The amusement park's carousel can be seen next to the shell of a destroyed building.
Much of the zoo is reduced to rubble, amid a few surviving cages and animals.
The zoo is just one of dozens of sites in Gaza ravaged by the conflict.
A large crater in the park -- a result of the fighting.
Entry tickets to the park lay scattered among the rubble.
Animals caught in Gaza crossfire
Animals caught in Gaza crossfire
Animals caught in Gaza crossfire
Animals caught in Gaza crossfire
Animals caught in Gaza crossfire
Animals caught in Gaza crossfire
Animals caught in Gaza crossfire
Animals caught in Gaza crossfire
Animals caught in Gaza crossfire
Animals caught in Gaza crossfire
Animals caught in Gaza crossfire
Animals caught in Gaza crossfire
Animals caught in Gaza crossfire
Animals caught in Gaza crossfire
Animals caught in Gaza crossfire
Animals caught in Gaza crossfire
Animals caught in Gaza crossfire
Animals caught in Gaza crossfire
Animals caught in Gaza crossfire