STORY HIGHLIGHTS
Ukraine recognizes Russian cargo as humanitarian aid, but delay likely in delivery of goods
Ukraine says it destroyed part of Russian military convoy that crossed border
British media outlets report they saw military vehicles cross from Russia into Ukraine
Kiev, Ukraine (CNN) -- One month after Malaysia Flight 17 was shot down over Ukraine, government military forces there said they've made advances Sunday against pro-Russian separatists.
Ukrainian forces regained control over the strategic town of Yasynuvata in Donetsk in the southeastern part of the country, according to the official Twitter account of President Petro Poroshenko. They've also made gains in Luhansk in the eastern part of Ukraine, government forces told CNN. The Ukrainian army has entered Donetsk and raised the Ukrainian flag in front of the district's police offices, said National Defense and Security Council spokesman Col. Andriy Lysenko.
Yet the site of crash MH17 is still unsafe as fighting near it rages, officials tell CNN.
Most investigators left Kiev this week but small teams from several countries remain in Ukraine on standby. For now, the search is officially suspended.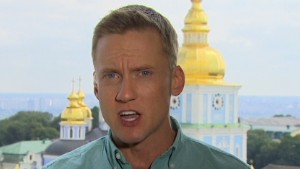 Ukrainian MiG shot down by separatists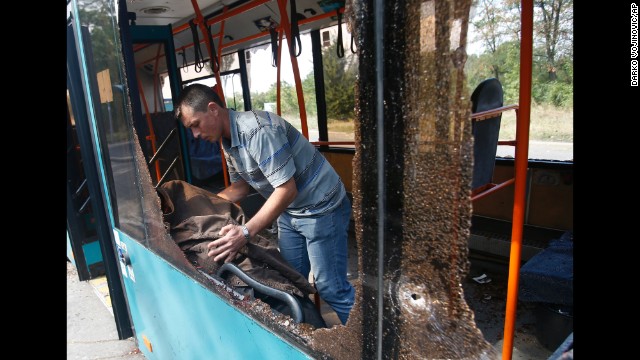 A man covers the body of his mother, who was killed on a bus during a battle in Donetsk, Ukraine, on Tuesday, September 16. The fighting between Ukrainian troops and pro-Russian rebels in the country has left more than 3,000 people dead since mid-April, according to the United Nations.
People walk through a market Monday, September 15, in the Kievsky district of Donetsk.
Smoke rises around the Donetsk International Airport on Saturday, September 13, as shelling continues between pro-Russian rebels and the Ukrainian army.
A Ukrainian soldier stands guard as residents rally in support of a united Ukraine in the southern Ukrainian city of Mariupol on September 13.
Russian trucks, flying Russian flags and carrying humanitarian aid for eastern Ukraine, line up at a border checkpoint in Donetsk on September 13.
Workers unload supplies from Russia in Luhansk, Ukraine, on September 13. More than 200 Russian trucks entered Ukraine with supplies for the city, which has been cut off from electricity and water for weeks.
Ukrainian soldiers ride on an armored vehicle near Kramatorsk, Ukraine, on September 13.
People look at a large crater from a reported missile strike that hit a bus station Friday, September 12, in Makiivka, Ukraine.
Workers clear rubble Thursday, September 11, after the bombing of a mine in Donetsk.
A column of Ukrainian forces is seen in Volnovakha, Ukraine, on September 11.
An elderly woman sits next to a Ukrainian soldier standing guard in Volnovakha on September 11.
Armed pro-Russian rebels walk September 11 in front of the destroyed Luhansk International Airport. The rebels took control of the airport on September 1 after heavy fighting with the Ukrainian army.
Residents of Lutuhyne, Ukraine, push containers in a wheelbarrow September 11 as they walk between destroyed armored vehicles left behind by the Ukrainian army.
Ukrainian troops protect themselves from a nearby shooting in Debaltseve, Ukraine, on Tuesday, September 9.
Young residents of Berdyansk, Ukraine, dig trenches September 9 to help Ukrainian forces protect the city from possible rebel attacks.
Ukrainian President Petro Poroshenko, left, inspects military personnel during a visit to Mariupol on Monday, September 8.
A pro-Russian rebel stands next to a truck with a heavy machine gun attached to it Sunday, September 7, in Donetsk.
Homes smolder after being hit by shelling in Donetsk on September 7.
A woman stands next to a road sign September 7 after an overnight bombing attack at an Ukrainian army checkpoint on the outskirts of Mariupol.
Ukrainian troops stand on a deserted road as they patrol the border area of the Donetsk and Luhansk regions Friday, September 5, near Debaltseve.
A man repairs damage to a building caused by shelling in Donetsk on September 5.
Smoke rises on the outskirts of Mariupol after pro-Russian rebels fired heavy artillery on September 5.
Ukrainian soldiers ride a tank on a road close to where pro-Russian rebels fired heavy artillery outside Mariupol on September 5.
A wounded Ukrainian soldier is helped by a medical team on the outskirts of Mariupol on September 5.
A pro-Russian rebel holds a destroyed weapon in the village of Novokaterynivka, Ukraine, on Thursday, September 4.
Unmarked military vehicles burn on a country road in Berezove, Ukraine, on September 4 after a clash between Ukrainian troops and pro-Russian rebels. For months, Ukrainian government forces have been fighting the rebels near Ukraine's eastern border with Russia.
People wait by their cars near Berezove on September 4 as rockets hit the road ahead.
A pro-Russian rebel holds a dog, which has a hand grenade attached to its leash, in Donetsk on Wednesday, September 3.
Pro-Russian rebels fire at Ukrainian army positions in Donetsk on September 3.
A Ukrainian military vehicle patrols in the Donetsk region on September 3.
Pro-Russian rebels hold a man near a column of destroyed Ukrainian military vehicles in Novokaterynivka on Tuesday, September 2.
A Ukrainian military truck passes by a serviceman resting in his military camp in Ukraine's Donetsk region on September 2.
A destroyed Ukrainian military vehicle sits abandoned on the side of the road near Novokaterynivka on September 2.
Men clear rubble in Ilovaisk, Ukraine, on Sunday, August 31.
Ukrainian troops leave the rebel-held town of Starobesheve on Saturday, August 30.
A Ukrainian loyalist fighter from the Azov Battalion stands guard on a hill on the outskirts of Mariupol on August 30.
A pro-Russian rebel listens to the news on a transistor radio in the town of Novoazovsk, Ukraine, on Friday, August 29.
Ukrainian soldiers stop on a roadside as they wait for the start of their march into Mariupol on Wednesday, August 27.
A man opens a box filled with rocket-propelled grenades left by the Ukrainian army in Starobesheve.
A pro-Russian rebel walks through a local market damaged by shelling in Donetsk on Tuesday, August 26.
Ukrainian servicemen of the volunteer battalion Azov leave for Novoazovsk on August 26.
Pro-Russian rebels escort captured Ukrainian soldiers in a central square in Donetsk on Sunday, August 24.
People yell as Ukrainian prisoners are paraded through Donetsk in eastern Ukraine on August 24.
A pro-Russian rebel delivers a speech atop a damaged Ukrainian armored personnel carrier in Donetsk on August 24.
People look at damaged Ukrainian military equipment in Donetsk on August 24.
The first trucks of a Russian aid convoy roll on the main road to Luhansk in eastern Ukraine on Friday, August 22. The head of Ukraine's security service called the convoy a "direct invasion" under the guise of humanitarian aid since it entered the country without Red Cross monitors.
A pro-Russian rebel holds shrapnel from a rocket after shelling in Donetsk on August 22.
Residents sit in a makeshift bomb shelter during a shelling in Makiivka on Wednesday, August 20.
Dogs play together as a Russian convoy carrying aid supplies stops at a border control point with Ukraine, in the Russian town of Donetsk, on August 20.
Ukrainian forces take their position not far from Luhansk on August 20.
Clouds of smoke are on the horizon as Ukrainian forces and pro-Russian rebels clash in Yasynuvata, a suburb of Donetsk, on Tuesday, August 19.
An Ukrainian helicopter flies near Kramatorsk on August 19.
Ukrainian soldiers load a missile during fighting with pro-Russian rebels Monday, August 18, near Luhansk.
Boys play at a refugee camp, set up by the Russian Emergencies Ministry, near the Russian-Ukrainian border on August 18.
Ukrainian soldiers carry weapons at a checkpoint near Debaltseve on Saturday, August 16.
Pro-Russian rebels greet each other as they pass near Krasnodon, Ukraine, on August 16.
A fireman tries to extinguish a fire after shelling in Donetsk on August 16.
Ukrainian border guards patrol near Novoazovsk on Friday, August 15.
Trucks of a Russian humanitarian convoy are parked in a field outside the town of Kamensk-Shakhtinsky, in the Rostov region of Russia about 20 miles from the Ukraine border, on August 15. Ukrainian officials were preparing to inspect the convoy, which was bound for the conflict-torn east.
A truck driver from the convoy jumps out of a trailer on August 15. The Ukrainian government had expressed fears that the convoy was a large-scale effort to smuggle supplies or troops to pro-Russian rebels.
A tank belonging to pro-Russian rebels moves along a street in Donetsk on August 15.
A Ukrainian soldier walks past a line of self-propelled guns as a column of military vehicles prepares to head to the front line near Ilovaisk on Thursday, August 14.
A Ukrainian soldier prepares a mortar at a position near Ilovaisk on August 14.
A man inspects damage at his house after a shelling in Donetsk on August 14.
A convoy of trucks, which Moscow said was carrying relief goods for war-weary civilians, moves from Voronezh, Russia, toward Rostov-on-Don, Russia, on August 14.
Pro-Russian rebels on the outskirts of Donetsk stand at a checkpoint near a bullet-riddled bus on Wednesday, August 13.
A pro-Russian rebel inspects damage after shelling in Donetsk on Thursday, August 7.
Smoke billows from a Ukrainian fighter jet crash near the village of Zhdanivka, Ukraine, on August 7.
Residents of eastern Ukraine cry in a hospital basement being used as a bomb shelter August 7 in Donetsk.
Ordnance from a Ukrainian rocket launcher shoots toward a pro-Russian militant position in the Donetsk region on August 7.
Relatives of Ukrainian military member Kyril Andrienko, who died in combat in eastern Ukraine, gather during his funeral in Lviv, Ukraine, on August 7.
Refugees from southeastern Ukraine wait at a refugee camp in Donetsk on Wednesday, August 6.
A pro-Russian rebel adjusts his weapon in Donetsk on August 6.
Men walk past a bomb crater in Donetsk on August 6.
A man steps out of his car as Ukrainian soldiers inspect the vehicle at a checkpoint in Debaltseve on August 6.
Ukrainian servicemen sit on a bus near Slovyansk, Ukraine, on Tuesday, August 5.
A pro-Russian separatist guards a road as Australian, Malaysian and Dutch investigators prepare to examine the crash site of Malaysia Airlines Flight 17 near the village of Rossipne, Ukraine, on August 5. U.S. and Ukrainian officials allege that a Russian-made missile shot down the plane from rebel-held territory, killing all 298 people on board. Russia and the rebel fighters deny involvement.
Rescue workers carry the body of a woman who was killed during a bomb shelling in Donetsk on August 5.
A boy stands in a hallway of a refugee hostel run by pro-Russian rebels in Donetsk on Monday, August 4.
Ukrainian servicemen from the Donbass volunteer battalion clean their guns Sunday, August 3, in Popasna, Ukraine.
Ukrainian soldiers fire shells toward rebel positions near Pervomaysk, Ukraine, on Saturday, August 2.
Ukrainian troops patrol near the village of Novoselovka on Thursday, July 31.
A woman says goodbye to her mother as she flees her home in Shakhtersk, Ukraine, on Tuesday, July 29. See more photos of the crisis from earlier this year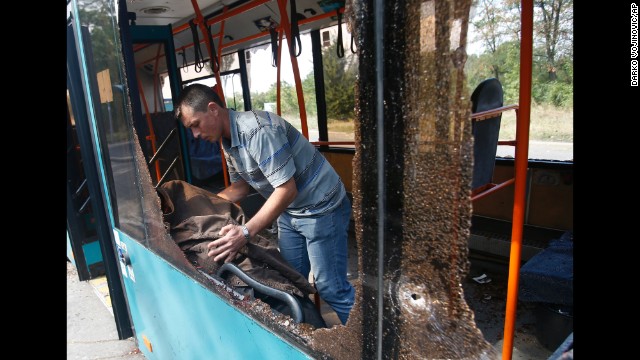 Photos: Crisis in Ukraine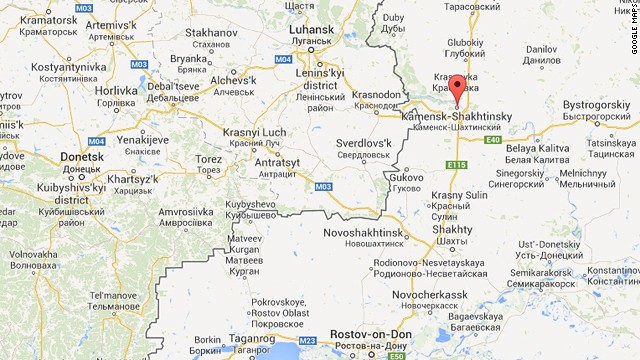 Map: Location of Russian convoy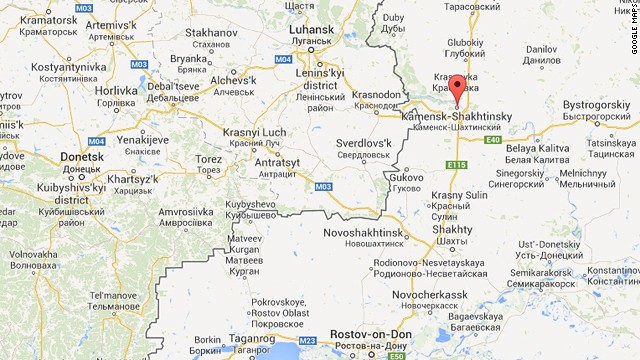 Map: Location of Russian convoy
All 298 people on the Boeing 777 were killed when it crashed near the Russian border in eastern Ukraine. Ukrainian and U.S. officials have alleged that a Russian-made missile system was responsible for shooting the aircraft down. The separatists and Russians deny that.
And while hopes diminish for answers about MH17, thousands of people in the region have no access to water, electricity and proper medical aid, humanitarian agencies have said.
The Donetsk water supply was turned off temporarily after the city's water treatment facility stopped operating because ongoing fighting downed power lines. The Donetsk City Council announced on its website that the water supply would be cut off starting at 9 p.m. local time on Sunday (2 p.m. ET).
Ukrainian officials acknowledged Sunday that a convoy of more than 260 Russian vehicles on the border is, in fact, carrying humanitarian aid, a statement on the Ukrainian Cabinet website said.
The convoy initially sparked fears that Russia was trying to use a humanitarian convoy as a cover for sending in more aid and weapons for pro-Russian rebels in eastern Ukraine.
Aid delay likely
But there could be a hold up on the delivery of that aid.
Ukraine received an inventory of the supplies Saturday, which was signed by the head of the regional International Committee of the Red Cross delegation to Russia.
Pascal Cuttat says there are still "basic technical details" that need to be discussed.
The convoy's inspection will not happen Sunday, said Victoria Zotikova, a spokeswoman for the ICRC.
Zotikova added that the aid agency is missing security guarantees from all sides.
Moscow says the trucks contain grain, sugar, baby food, medical supplies and sleeping bags -- a claim that Kiev initially doubted.
The Ukrainian-recognized governor of Luhansk, Irina Verigina, said that she doesn't want aid from Russia.
Ukraine says it is distributing its own aid through the Red Cross.
"They send us tanks and Grads (rocket-launching vehicles) overnight and offer to send humanitarian aid by day," Verigina said.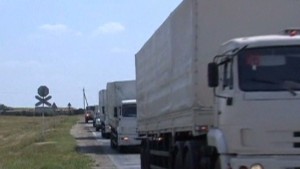 Convoy: Humanitarian aid or Trojan horse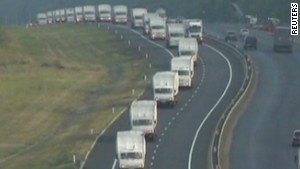 Ukraine suspicious of Russian convoy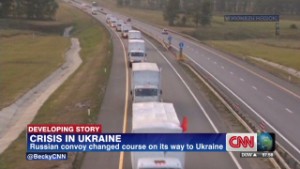 Ukraine turns back Russian convoy
Ukraine: We destroyed most of a Russian convoy
Ukraine claims its artillery destroyed much of a military convoy that crossed from Russia into Ukraine last week, an incursion that two British newspaper journalists say they witnessed.
If true, Ukraine's account and the British reports appear to give credence to what Kiev has long alleged -- that Russia has been sending troops and arms into eastern Ukraine.
A diplomatic row was brewing Friday over the reports, with the United Kingdom's foreign office summoning Russia's ambassador in London to explain the incident.
Russia's Foreign Ministry has denied any such incursion, and its foreign minister will meet in Berlin with his counterparts from Ukraine, Germany and France on Sunday, state-run news agency RIA-Novosti reported. The meeting's agenda wasn't immediately released.
Those concerns took on a new light when British media outlets The Guardian and The Telegraph reported that armored personnel carriers, along with other vehicles with Russian military plates, crossed the border near Donetsk.
The Guardian reported that it witnessed 23 armored personnel carriers, in addition to other vehicles with Russian military plates, cross into Ukraine through a gap in a barbed wire fence. "Armed men were visible in the gloom by the border fence as the column moved into Ukraine," the Guardian report reads.
This is the first time foreign media recorded such an incursion, though it illustrates what Kiev has said has been happening for months -- that Russia has been sending troops and equipment to help the rebels, said Lysenko.
Poroshenko told British Prime Minister David Cameron that Ukrainian forces destroyed "the majority" of the Russian vehicles, Poroshenko's office said.
Poroshenko "expressed concern over the situation on the border, particularly over the fact that the inflow of Russian arms and military machines in Ukraine through the open part of the border continued," his office said.
Lysenko said he didn't know exactly how many vehicles crossed the border, or how many Ukraine's artillery managed to destroy.
Battle rages on
A Ukrainian fighter jet was shot down on Sunday in the Luhansk region, Leonid Matyuhin, the spokesman for Ukraine's counter-terrorist operation, told CNN. The pilot managed to eject and is safe, Ukrainian state media reported.
The ongoing fighting -- sparked last year with by political crisis over whether Ukraine would seek closer ties with Europe or Russia -- has left more than 2,000 people dead and just under 5,000 wounded in eastern Ukraine since mid-April, according to estimates from U.N. officials.
The United States and the European Union have applied steadily increasing sanctions against Russian officials, banks and other interests since March, when Russia annexed the Black Sea Ukrainian peninsula of Crimea. Russia's move came a month after Ukraine's parliament ousted pro-Moscow President Viktor Yanukovych.
Yanukovych left office after violent protests against his government in the capital, Kiev. Those protests were motivated in part by his decision to back out of a trade deal with the European Union in favor of closer ties with Russia.
Aid or invasion? Question looms as Russian convoy nears Ukraine
Opinion: Why Vladimir Putin isn't going to make peace
Journalist Victoria Butenko reported from Kiev, CNN's Will Ripley contributed to this report and Jason Hanna and Joshua Berlinger reported and wrote from Atlanta