STORY HIGHLIGHTS
Police commonly use dashboard cameras. Ferguson police have bought them, but don't have money to install them
Evidence that cameras have helped law enforcement, including ensuring officers' safety
Chief in Rialto, California, says body cameras are helping his department
(CNN) -- Last fall, a mother driving a vehicle with five children inside was pulled over for speeding in New Mexico. The dramatic minutes that followed showing a series of confrontations between the driver and officers were caught on a police dashboard video camera and made national news.
The motorist peels away and is stopped again. One of the officers involved is seen on tape firing at the vehicle when the motorist drives away again. The woman is now facing child abuse charges related to the incident, according to CNN affiliate KRQE. The state police officer who shot at the car resigned.
Watch the New Mexico dashcam incident
Dashboard cam videos like this one have often played a role in documenting interactions between law enforcement and citizens. When those interactions go terribly wrong, as was the case in the shooting death of Ferguson, Missouri, teenager Michael Brown, it seems logical to ask: Where is the video?
There is none, Ferguson's police chief said.
Thomas Jackson says his department has 18 patrol cars. This spring, the department purchased two dashboard cameras and two wearable body cameras, but the equipment hasn't been installed because the department doesn't have the money to cover that cost, he said.
A dashcam and installation runs about $3,000, he told CNN.
The August 9 shooting has sparked days of protests and violent confrontations between police and the community. The details of what happened between the officer and Brown wildly differ from witness accounts and police accounts, leaving many to wonder whether a dashboard camera could have shed light on what happened.
5 things to know about Michael Brown's shooting
Technology that improves policing
Dashcams have been available widely since the 1980s, though the first attempt to put a camera in a police car occurred in the 1960s.
Mothers Against Drunk Driving's 1980s campaign against impaired driving drove home the need to have video documention of traffic stops. In the 1990s, increased crime related to drugs and more allegations of racial profiling prompted departments to install more dashcams.
But it was the 1991 police beating of African-American Rodney King in Los Angeles that spurred a national discussion about how vital a tool video can be in incidents involving authorities, said David Harris, a law professor at the University of Pittsburgh who has studied the use of cameras in policing.
A witness to King's beating shot the footage from his apartment window on his personal video camera. The tape was broadcast repeatedly on national television and played a pivotal role in the criminal trial of the officers involved. Their ultimate acquittal outraged many and sparked the L.A. riots.
The images of Rodney King being pummeled into the pavement also stirred debate -- not just among communities, but within police departments who wanted their own recording of their encounters.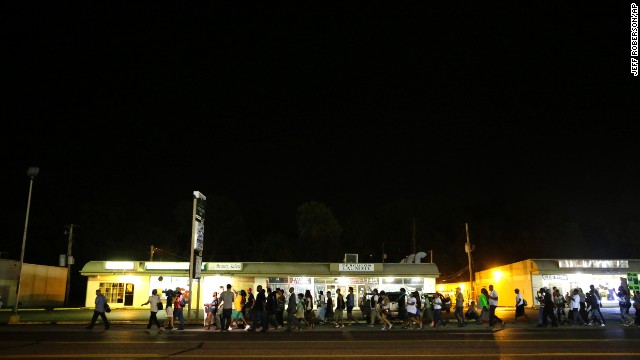 Protesters march in Ferguson, Missouri, on Thursday, August 21. The St. Louis suburb has been in turmoil since a white police officer, Darren Wilson, fatally shot an unarmed black teenager, Michael Brown, on August 9. Some protesters and law enforcement officers have clashed in the streets, leading to injuries and arrests.
A crowd gathers in Ferguson on August 21. With the situation appearing to calm, Gov. Jay Nixon ordered the Missouri National Guard to begin withdrawing from the city.
Police escort a Wilson supporter to a police vehicle, away from crowds protesting Brown's death on Wednesday, August 20. Police have said Brown and Wilson struggled over the officer's gun; some witnesses said Brown had his hands in the air when he was shot.
Lightning streaks over protesters on August 20.
Demonstrators protest on August 20.
U.S. Attorney General Eric Holder meets with Capt. Ron Johnson of the Missouri State Highway Patrol at a Ferguson restaurant on August 20. Holder came to Missouri to talk to community leaders and review the federal civil rights investigation into Brown's shooting.
Protesters march through the streets of Ferguson on August 20.
Police point out a demonstrator who has his arms raised before moving in to arrest him Tuesday, August 19.
People watch from inside a restaurant as protesters rally August 19.
Police arrest a demonstrator on August 19.
Police charge into the media work area with weapons drawn as they try to control demonstrators on August 19.
A protester speaks to a police officer on August 19.
People on August 19 stand near a memorial where Brown was shot and killed.
Protesters march on August 19.
Police watch as protesters march August 19.
A demonstrator is arrested on August 19.
Police try to control protesters on Monday, August 18.
Police lead a man away during a protest August 18.
A demonstrator shouts during a protest on West Florissant Avenue, one of Ferguson's main streets, on August 18.
Capt. Ron Johnson of the Missouri State Highway Patrol pulls his men back from aggressive protesters on August 18.
Police arrest a demonstrator August 18 after peaceful protests gave way to angry confrontations with authorities.
Law enforcement officers stand guard during a protest on West Florissant Avenue on August 18.
A woman helps a man affected by tear gas August 18. The situation overnight deteriorated after a handful of protesters threw rocks, bottles and Molotov cocktails at police. Officers responded by firing stun grenades and tear gas canisters.
Officers stand with weapons drawn during a protest on West Florissant Avenue on August 18.
Musician Nelly, center, joins demonstrators in Ferguson on August 18.
Demonstrators receive red roses as they protest August 18.
Demonstrators march on August 18.
The Rev. Jesse Jackson shakes hands with a police officer as he visits Ferguson's demonstration area on August 18.
A protester picks up a tear gas canister on Sunday, August 17.
Police wait to advance after using tear gas to disperse protesters August 17.
Water gets poured into a woman's eyes after a tear gas attack by police on August 17.
A man runs through clouds of tear gas on August 17.
Protesters react as police fire tear gas at them August 17.
Police advance through a cloud of tear gas on August 17. Most of the crowd had dispersed after a curfew went into effect at midnight, St. Louis County authorities said.
People take cover from tear gas inside a McDonald's on August 17.
A large group of police officers advance toward protesters on August 17.
A man fights the effects of tear gas in Ferguson on August 17.
Michael Brown Sr. and Lesley McSpadden, the parents of Michael Brown, attend a rally at Greater Grace Church in Ferguson on August 17.
The Rev. Al Sharpton hugs McSpadden during the rally.
Capt. Ron Johnson of the Missouri State Highway Patrol speaks at the rally. He had been appointed by the governor to take control of security operations.
Demonstrators defy a curfew early on August 17.
Police fire tear gas at demonstrators after curfew on August 17.
A law enforcement officer aims his rifle August 17 after tear gas was fired to disperse a crowd.
People scramble as police fire tear gas on August 17.
Law enforcement officers check a building on August 17.
People attend a protest after the midnight curfew on August 17.
A law enforcement officer watches as tear gas is fired to disperse a crowd on August 17.
Police stand guard before the midnight curfew on Saturday, August 16.
People loot the Ferguson Market and Liquor store on August 16. Several businesses were looted as police held their positions nearby.
Missouri State Highway Patrol officers listen to taunts from demonstrators during a protest on Friday, August 15.
Demonstrators protest with their hands up on August 15. The "hands up" gesture has become a symbol in protests as Brown, according to eyewitnesses, was trying to surrender when he was shot multiple times.
Police confront demonstrators on August 15.
A demonstrator throws a tear gas canister back at police on August 15.
Police confront demonstrators on August 15.
Thousands of demonstrators march down a Ferguson street with members of the St. Louis County Police and the Missouri State Highway Patrol on Thursday, August 14.
Demonstrators hold signs as traffic moves slowly past them on August 14.
State Highway Patrol Capt. Ron Johnson smiles at demonstrators on August 14. Johnson was appointed to lead security as state troopers took over after days of clashes between protesters and local police.
The Rev. Traci Blackmon uses a megaphone to talk to a large group of demonstrators on August 14.
A man picks up a flaming bottle and prepares to throw it as a line of police advance in the distance on Wednesday, August 13.
Police stand in clouds of smoke as they clash with protesters on August 13.
An Al-Jazeera television crew runs for cover as police fire tear gas at its position on August 13. Video and images on social media showed police later breaking down the journalists' gear.
A protester runs from tear gas exploding around him on August 13.
Police stand guard among demonstrators on August 13.
Ferguson Police Chief Thomas Jackson fields questions during a news conference on August 13.
A small group of protesters block traffic in the street before police arrived on August 13.
A protester throws a tear gas canister back toward police on August 13.
Police detain a man on Tuesday, August 12.
People congregate at the Greater St. Marks Family Church in St. Louis along with the family of Michael Brown and the Rev. Al Sharpton on August 12.
Michael Brown Sr. stands alongside Sharpton, right, during a news conference in St. Louis on August 12.
Demonstrators protest August 12 in Ferguson.
A makeshift memorial sits in the middle of the street where Michael Brown was shot and killed.
A woman tries to calm an emotional protester during a demonstration outside the headquarters of the Ferguson Police Department on August 11.
Phaedra Parks, left, comforts Desuirea Harris, the grandmother of Michael Brown, during a news conference in Jennings, Missouri, on August 11.
Police officers arrest a man who refused to leave when police cleared streets in Ferguson on August 11.
A burned-out QuikTrip gas station smolders on August 11 after protesters looted and burned the Ferguson building the night before.
Police officers and protesters confront each other on Saturday, August 9, the same day Michael Brown was shot and killed.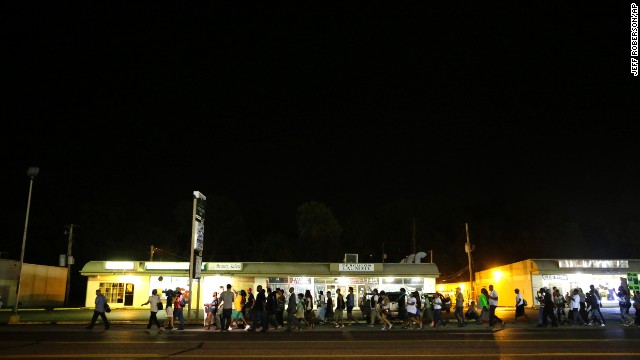 Photos: Emotions run high in Ferguson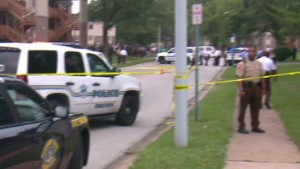 Hear police tapes from Ferguson shooting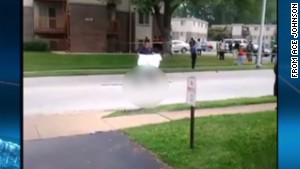 Video shows Brown's body in street
Didn't that make sense in an age where it was becoming commonplace for citizens to videotape?
"Back in the day, police officers were initially resistant to using them," Harris said. "They felt like they were being spied on, or that they weren't trusted to do their job. But after awhile, they realized it was the best possible tool to prevent someone from making a bogus claim against them. They realized that if they were doing their job, footage could back them up."
A 2005 International Association of Chiefs of Police report found that cameras aided law enforcement -- improving officer safety, often backing up the officer's version of events, reducing department liability and conveying to the community a sense of transparency.
Some officers reported that they reviewed footage they recorded in order to critique themselves, the report says, and cameras cut down on the number of complaints a citizen made claiming mistreatment after the citizen was informed that there was footage of an incident.
In interviews and surveys of officers with 21 law enforcement agencies across the United States, the vast majority -- 86% -- said cameras did not affect the officers' discretion in handling situations and 89% said it had no effect on their decision to use force. In other words, when they felt that they needed to use force, the camera didn't make them hesitate.
By 2007, 61% of local police departments were using video cameras in patrol cars, up from 55% that were using them in 2003, said the U.S. Department of Justice, which has provided grants to help law enforcement buy recording equipment.
But dashcams have limitations, Harris said.
Most only capture what's happening in front of the car. Some don't pick up sound, so officers wear microphones that sync with the cameras, Harris said, and all it takes is a popped hood to obscure the view of a dashcam.
A turn toward body cameras
To address these shortfalls, body cameras are gaining popularity among law enforcement worldwide.
Perhaps the strongest argument for more mobile cameras is this: Everyone has a cellphone and citizens are going to shoot video. Shouldn't law enforcement acknowledge that reality and have their own visual account of an incident?
Officers in the United Kingdom were the first to experiment with body cameras, Harris said. They found that the cameras did more than simply record an encounter; they also had an interesting effect on people who were confronted by police.
"Some people who weren't behaving suddenly started behaving knowing that what they were doing was being filmed," Harris said.
Used with apps and other technology, the devices also allowed officers to record and maintain records in real time, which led to faster resolutions of cases.
But sticky questions have been raised.
There are concerns about privacy. Police are called after terrible things happen to people. Could recording expose victims? When do officers begin recording? Only during certain situations or in every situation? Could footage, depending on when the record button is pressed, present a false or misleading account of an encounter?
When does an officer announce that he is recording? Laws governing when and where people can be recorded vary from state to state. Would a person who knows they are being recorded by a police officer be less likely to tell an officer much needed information?
One department's experiment
There are no national guidelines on the use of dashcams or body cameras, said William A. Farrar, the police chief in Rialto, California, a city of about 100,000 in San Bernardino County.
Farrar, a 34-year law enforcement veteran, became intrigued by the use of body cameras in policing while he was on a sabbatical getting his graduate degree at University of Cambridge in England in late 2011.
When he returned full time to the department, he partnered with Barak Ariel, a fellow at the Institute of Criminology at Cambridge, and set out to do a yearlong study. Between February 2012 and February 2013, some of his officers would wear body cameras, purchased with grant funding.
Farrar wrote a policy based on input from his officers and guidance from the Los Angeles branch of the American Civil Liberties Union to assure that guidelines adhered to privacy laws.
"I truly believe that cameras had a positive impact as it relates to increased professionalism -- officers minding their P's and Q's -- and being more sympathetic to what was happening in the community," he said. "At the same time, the cameras also got citizens who interacted with officers to calm down. It mitigated a lot of circumstances instead of escalating them."
Use of force by Rialto police dropped 60% during the experiment year, Farrar said.
The long-term benefits of having cameras far outweighs the financial costs, Farrar said.
One of the best examples of that came the first week that the officers had body cameras. A call came into Rialto dispatch from a person describing a man who was in a car with a gun. Officers showed up and discovered a man sitting in his car. The man's voice sounded the same as the man who had placed the call, and records showed that later, Farrar said.
But that day, on the street, the man got out and raised his weapon toward an officer, the chief said. And the officer shot him.
"It was a classic suicide-by-cop," explained Farrar. "He called us because he wanted that confrontation."
If the man holding a weapon toward the officer wasn't caught on body camera, the situation might have been misconstrued because another person -- a witness filming from afar -- also captured the confrontation on video camera and sent it to local press.
On that second video, you can hear a voice saying that it appeared that an officer had, without cause, shot a man in the street.
"We had video that showed what really happened," said Farrar. "It made all the difference."
CNN asked Farrar for his thoughts about Ferguson's lack of police cameras.
He said he didn't want to criticize another police department.
Law enforcement has faced financial hardship in the past several years. "Agencies have downsized and reduced staffing and budgets are tight," he said.
But, Farrar said, "at some point every police chief should really ask themselves ... are we doing everything we can?"
Chief: No video of shooting
Chief Jackson has said there is no video of Michael Brown's shooting.
The two versions of what happened on the afternoon of August 9 come from witnesses and police, and they are vastly different.
Witnesses say that Brown, 18, and 22-year-old friend Dorian Johnson were walking down a street and an officer drove by and shouted for Brown and Johnson to move to a sidewalk. Johnson has said that they told the officer that the friends were close to their destination and would move.
The officer, Johnson said, threw his squad car in reverse and had a confrontation with he and Brown, at one point opening his car door into them. The officer reached out of his squad car and attempted to choke Brown, Johnson said.
Johnson said that neither he nor Brown were armed. At some point the officer got out of the car and shot at them, Johnson said. The officer fired multiple times, he said, eventually killing Brown.
St. Louis County Police, a separate entity from Ferguson police, is conducting an independent investigation.
Earlier this week, St. Louis County Police Chief Jon Belmar said that Brown reached into the officer's car and tried to get the officer's weapon. Brown was shot about 35 feet from the police vehicle, according to Belmar, who declined to give more details.
Two witnesses CNN interviewed Wednesday said Brown did not try to get the officer's weapon.
"It looked as if Michael was pushing off and the cop was trying to pull him in," said Tiffany Mitchell.
Piaget Crenshaw said that she shot cell phone video of the aftermath of the shooting. She said the officer and the teen appeared to be arm wrestling when a shot went off. The teen broke free, and the officer got out of his car to run after him. "I saw the police chase him ... down the street and shoot him down," Crenshaw said.
Ferguson violence: Police slammed for 'escalating the situation'
No expectation of transparency
The FBI also has opened an inquiry into the shooting.
"Only when the FBI takes control of this investigation will there be any kind of transparency or hope for justice," said Antonio French, an alderman in St. Louis, on Wednesday to CNN. "No one in the community has any expectation that there will be a clear truth of what happened. Could a camera have helped? I don't know. It might have been a start."
Sixty-seven percent of Ferguson's residents are black. Of the police department's 53 officers, three are black.
"This is about not understanding or relating or being empathetic to the community the Ferguson police department are supposed to serve," French said.
Witness Dorian Johnson told CNN the officer was white. Ferguson police initially said it would release the name of the officer but backed away from that this week. Chief Jackson said that threats had been made on social media against another officer who was incorrectly identified as the shooter.
Ferguson has been akin to a "war zone" this week, said Gov. Jay Nixon.
A vigil for Brown and non-violent protests against police disintegrated into violence and looting Sunday night. One officer was caught on camera calling protesters "animals." There were marches through the town during the day, with people shouting, "No justice...no peace!" but by nightfall, violence erupted again.
On Wednesday night, officers were firing tear gas and rubber bullets into crowds. Much of the chaos has been filmed as a national news spotlight is firmly trained on Ferguson.
The night that French spoke to CNN he was arrested. He said police came through a part of Ferguson and began trying to disperse a crowd with smoke bombs. When that didn't work, police warned the crowd and then released tear gas, he told CNN.
French said that didn't work to break up the gathering, so he went to his car to try to drive away.
Police approached his vehicle and pulled him from his car and handcuffed him with zip ties, he said.
It's unclear whether anyone got that on video.
Complete coverage of Ferguson shooting and protests
CNN's Tristan Smith contributed to this story.