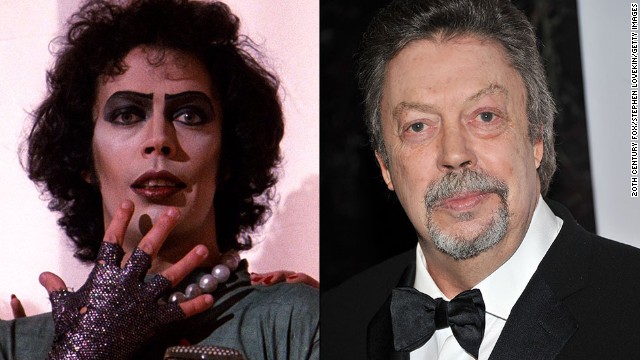 Time warp
, anyone? "The Rocky Horror Picture Show" was released in the United Kingdom 39 years ago on August 14, and in honor of the long-running release's legacy, we're catching up with where the cast is now. Let's start with Tim Curry, the man who could wear lipstick, lingerie and heels like no one else while playing scientist Dr. Frank N. Furter. In 2014,
after rebounding from a stroke
, he's doing voice work on "Star Wars: The Clone Wars."
he told People magazine
in 2000 that he left acting behind because "One, I can't act. Two, I cringe with embarrassment every time I see myself on film. (And) three, I relish a quiet, peaceful life."
Peter Hinwood, the man who famously wore those teensy gold shorts (under his mummy wrap here) as Dr. Frank N Furter's creation, Rocky, has since receded from the spotlight. After his star turn in "The Rocky Horror Picture Show," the former actor was credited for one other film before he dropped the pursuit. Now an art and antiques dealer in London,
Nell Campbell played Columbia, the groupie who meets an unfortunate end. In the years since, Campbell was at turns a singer, nightclub owner, restaurateur, actress and mom. She most recently appeared in the Australian dramedy series "Rake" in 2010.
the blood-red mouth that infamously takes up the screen
during "Rocky Horror's" opening credits. After playing the domestic Magenta, Quinn kept busy with more acting roles and is
consistently up for a "Rocky Horror" event.
If you don't know Patricia Quinn, you do know her lips. She's the owner of
Since playing straitlaced Brad, who learns far more than he expected after his car breaks down by Dr. Frank N Furter's Gothic home, Barry Bostwick went on to have a popular career. He's starred in hit series like "Spin City," "Law & Order: SVU" and "Cougar Town," and has appeared on ABC's "Scandal" as the father of Tony Goldwyn's President Fitzgerald Grant.
It goes without saying that playing the initially demure Janet in "The Rocky Horror Picture Show" is just one shining moment from Susan Sarandon's illustrious career. Since then, the Oscar winner knocked out a number of acclaimed films, from "Bull Durham" to "Thelma & Louise" to "Dead Man Walking." In July 2014, she co-starred with Melissa McCarthy in the comedy "Tammy."
After working on his theater skills with the musical "Hair," Meat Loaf landed a pretty tasty part in "The Rocky Horror Picture Show" as the doomed ex-delivery boy, Eddie. He immediately followed that success with 1977's rock opera "Bat Out of Hell," and gave fans a second installment in 1993. While continuously making albums, Meat Loaf slipped in some acting, from "Fight Club" to "Spice World," most recently appearing in the 2014 horror musical "Stage Fright."
Jonathan Adams, who played rival scientist Dr. Everett Scott, was the narrator of the stage version of "Rocky Horror" before he starred in the film. Afterward, Adams returned to TV, appearing in titles like the 1977 miniseries "Jesus of Nazareth" and the crime drama "Bergerac," in addition to hosting one-man shows and performing dramatic work for the radio. Adams, who was also a trained artist, passed away in London in June 2005. He was 74.
Charles Gray, who was the observant narrator for "The Rocky Horror Picture Show," is just as famous for his work in the James Bond franchise. Gray played the villain Blofeld in 1971's "Diamonds Are Forever," and was Henderson in 1967's "You Only Live Twice." The prolific thespian appeared in the 1981 "Rocky Horror" follow-up "Shock Treatment," and then racked up a number of gigs, including playing the brother of Sherlock Holmes, Mycroft, in various TV features. Gray died in 2000 at age 71.
Rocky Horror: Where are they now?
Rocky Horror: Where are they now?
Rocky Horror: Where are they now?
Rocky Horror: Where are they now?
Rocky Horror: Where are they now?
Rocky Horror: Where are they now?
Rocky Horror: Where are they now?
Rocky Horror: Where are they now?
Rocky Horror: Where are they now?
Rocky Horror: Where are they now?