STORY HIGHLIGHTS
There have been many news reports on actor Robin Williams since his death this week
Paul Farmer says reports of shock and disbelief moved on to salacious speculation
Farmer says media in the UK gave unnecessary detail about the manner of his death
Journalists need to take into account the impact their reporting can have, he says
Editor's note: Paul Farmer is chief executive of the mental health charity, Mind. He is also chair of the NHS England Mental Health Patient Safety Board, an advisor to the Catholic Bishops on mental health and was on the Metropolitan Police commission on mental health and policing. He is a trustee at the Mental Health Providers Forum and at Lloyds Banking Foundation and is an elected member of the ACEVO board. The views expressed in this commentary are solely the author's.
(CNN) -- The tragic death of much loved actor and comedian Robin Williams took the world by surprise. There has been a steady stream of news reports -- at first conveying shock and disbelief then, disappointingly, moving on to salacious speculation about the cause and method of his death.
Media coverage of mental health and suicide has come a long way over the last few years however, on this occasion; many newspapers got it badly wrong. In Britain, some journalists went too far and breached the Editors' Code, the ethical standard on press reporting that states that "when reporting suicide, care should be taken to avoid excessive detail about the method used."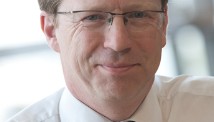 Paul Farmer, Mind
Many of the tabloids and online reports gave unnecessary detail. Part of the reason is that the U.S. police spokesperson put into the public domain far more detail than would be the norm in the UK, Australia or New Zealand.
When explicit descriptions which illustrate the method used are put in the public domain we know that this can have devastating consequences and lead to acts of imitation. There have been many research studies presenting evidence for this and the tragic events in Bridgend should have been a valuable lesson for the media in the need for safe reporting.
When a media report describes clear details of unusual methods of suicide and essentially gives a "how to" guide -- the danger is it can make suicide seem like a more accessible action to take.
Opinion: Why Williams lost to depression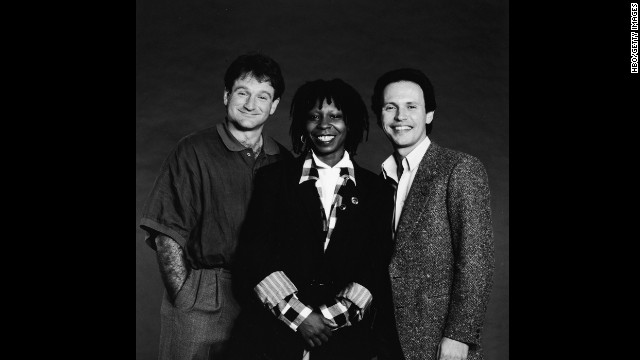 Robin Williams was honored during this year's Emmy telecast with a tribute led by friend Billy Crystal, who hosted the "Comic Relief" benefits with Williams and Whoopi Goldberg (seen here in 1986). Williams died August 11 at age 63. Click through to see moments from the beloved actor's remarkable life.
Williams' peers regarded him as a brilliant actor and comedian. His friend David Letterman remembered him as "nothing we had ever seen before."
Williams first shot to stardom with Pam Dawber in the sitcom "Mork & Mindy" in September 1978.
Williams attends the Robin Williams Opening Party on April 11, 1979, at Studio 54 in New York City.
This 1982 file photo originally released by Warner Bros. Pictures shows Williams as T.S. Garp from the film "The World According to Garp."
Williams and his first wife, Valerie Velardi, join a huge number of photographers packed into singer Paul Simon's apartment to celebrate Simon's wedding to actress Carrie Fisher in New York City on August 16, 1983.
Williams, center, takes time out from rehearsal at NBC's "Saturday Night Live" with cast members Eddie Murphy, left, and Joe Piscopo on February 10, 1984. Williams would appear as guest host on the show.
Williams enjoys music through a headset in a scene from the film "Good Morning, Vietnam" in 1987.
Williams portrayed a teacher in the movie "Dead Poets Society" in 1989, one of his first mostly dramatic roles.
Williams went to all lengths to stay with his children in the 1993 movie "Mrs. Doubtfire."
From left, Bonnie Hunt, Bradley Pierce, Kirsten Dunst and Williams hold one another in a scene from the 1995 film "Jumanji."
Comedians and co-hosts, from left, Billy Crystal, Whoopi Goldberg and Williams sing and dance the 1940s-era opening number to "Comic Relief VII" on November 11, 1995, in Los Angeles.
Jay Leno laughs as Williams jokes around during a taping of "The Tonight Show with Jay Leno" on November 13, 1995, at the MGM Grand Hotel in Las Vegas.
Williams and Nathan Lane starred in the film "The Birdcage" in 1996.
Williams visits a sick child in a scene from the film "Patch Adams" in 1998.
Williams and his wife, Marsha, pose for photographers with their daughter, Zelda, as they arrive at the premiere of the film "Patch Adams" in December 1998 in New York City.
Williams wears a clown nose as he places his hands in concrete during a ceremony outside Mann's Chinese Theatre in Hollywood in 1998. In the critically acclaimed "Patch Adams," he played a doctor who used humor to help heal his patients
Actor-writers Matt Damon, left, and Ben Affleck, right, pose with Williams, holding the Oscars they won for "Good Will Hunting" at the 70th annual Academy Awards in 1998. Damon and Affleck won for best original screenplay, and Williams won for best supporting actor.
Williams donates blood at the Irwin Memorial Blood Center in San Francisco on September 11, 2001.
U.S. Postal Service team rider Lance Armstrong rides with Williams during training on a rest day of the 89th Tour de France cycling race in Vaison La Romaine on July 22, 2002.
Williams plays Rainbow Randolph in the 2002 black comedy "Death to Smoochy."
Williams and Oscar host Billy Crystal perform at the 76th Academy Awards show in 2004.
Williams poses for pictures with U.S. soldiers at the main U.S. base at Bagram, Afghanistan, on December 16, 2004.
Williams in 2007's "License to Wed."
Williams and Susan Schneider arrive at the premiere of "World's Greatest Dad" in Los Angeles on August 13, 2009.
Williams at the pre-premiere party for "Happy Feet Two" at the Grand Connaught Rooms in London on November 20, 2011.
Williams poses for photographs in Sydney, Australia, on December 5, 2011. He and Australian director George Miller were in Australia to promote "Happy Feet Two."
Williams' wife, Susan Schneider, said, "This morning, I lost my husband and my best friend, while the world lost one of its most beloved artists and beautiful human beings. I am utterly heartbroken."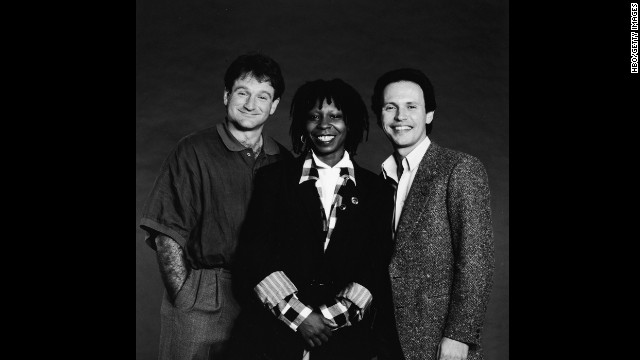 Photos: Robin Williams' career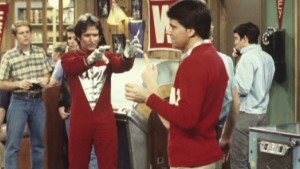 'Happy Days' star remembers Williams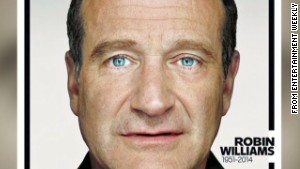 The best Robin Williams tributes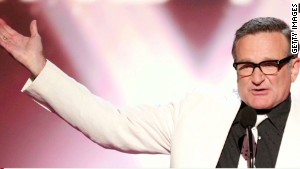 The pain behind Robin Williams' punchlines
The media also oversimplified the reasons Williams took his own life -- for example highlighting money problems -- when we know that there is no one reason people choose to take their lives. The reasons are varied and complex.
Concerning too is the effect that wall-to-wall media coverage about a celebrity suicide can have on the public. However unintentionally, it can appear to glamorize and romanticize the incident. One of the most well documented examples of the copycat effect of a celebrity suicide was that of Marilyn Monroe. During the month of her suicide in August 1962 there were an additional 303 suicides, an increase of 12%.
Suicide is a sensitive and complicated subject which affects a huge number of people. This is why, when news of Robin Williams' death first broke, we issued a briefing to all newsdesks which provided advice on how to report suicide in a sensitive, and responsible, way.
We followed it up with a second briefing the next afternoon. We urged journalists to consult Samaritans media guidelines, this resource has been produced in conjunction with journalists and has been welcomed by editors.
While we appreciate journalists have a hugely difficult task presenting breaking news to readers quickly and concisely against increasingly tight deadlines, accuracy and sensitivity cannot take a back seat. When journalists are writing pieces they should always consider the impact that the tone, content, prominence and imagery of their story will have on their audience.
Opinion: Suicide doesn't set you free
I have been asked a lot over the last few days why certain aspects of a death by suicide should not be reported. In short it's to keep people, who may be struggling with their mental health, safe. We know that around 6,000 people take their own life every year in the UK, and thousands more will attempt suicide, seriously contemplate it and battle mental health problems.
When done correctly, media coverage can be incredibly powerful in helping people to seek support and advice. It can also contribute towards changing public attitudes towards mental health problems and reducing the stigma that sadly still exists.
We are hopeful that there is willingness in the media industry to listen and act on the concerns raised by the mental health charities, experts and their own audiences. Social media is giving readers a voice like never before and editors now know quickly when they are out of step with the public mood. We believe we can work collaboratively with the media to make mental health and suicide reporting safe.
The views expressed in this commentary are solely the author's.