STORY HIGHLIGHTS
She was on the run for five years
The woman was taken into custody at an Oregon shopping mall
She and her husband are accused of abusing their adopted children
Join victims' rights activist John Walsh as he follows ongoing police investigations of wanted fugitives around the world on CNN's original series, "The Hunt with John Walsh," Sundays at 9 p.m. ET
(CNN) -- For five years, they pursued her, always one step behind as she used aliases and altered her appearance to elude them.
But Janet Killough Barreto's luck ran out at a shopping mall in Portland, Oregon, where the U.S. Marshals Service caught up with her -- the lone female fugitive in their 15 Most Wanted list.
"The crimes they are alleged to have committed are nothing short of horrendous and despicable," Union County, Mississippi, Sheriff Jimmy Edwards said, about Barreto and her husband. His department aided in the search because her alleged crimes took place in his jurisdiction.
"Now it is time to let justice be served."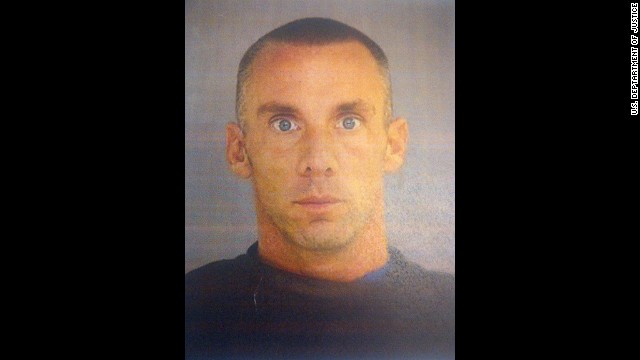 A dog found a skull that authorities identified as being the remains of fugitive Kevin Patrick Stoeser, U.S. Marshals in Texas said Monday, November 17. Stoeser, who escaped from a halfway house in Texas last year, pleaded guilty in 2003 to child sexual assault and child pornography charges and was sentenced to 13 years behind bars. Click through to see others who are on the Marshals' Most Wanted list.
From the U.S. Marshals website: Raymond Abbott "used the alias Robo-Cop while smuggling weapons, such as AR-15's and other automatic rifles, out of Orlando, Florida and selling them in Puerto Rico. The weapons ultimately were being distributed to local gangs and drug cartels in Puerto Rico that had strong ties to groups in Colombia. ... He pled guilty to weapons smuggling in April 1992, and was scheduled to be sentenced in Federal court when he escaped, amid a hail of gunfire, from the maximum security penitentiary in Rio Piedras, Puerto Rico on July 3, 1992."
From the U.S. Marshals website: In May 2012, Peter Castillo "allegedly shot 22-year-old military veteran Stephen Perez in the back killing him following an altercation that occurred in the Boston Theater District. Castillo was immediately identified as the shooter by the Boston Police Department and a warrant was issued for homicide. Shortly after the incident, he allegedly fled to New York then to the Dominican Republic where he has extensive ties."
From the U.S. Marshals website: Larry Porter Chism "is wanted for charges stemming from his Escape from the Lonoke County Jail in Arkansas in December 1978. He was serving a 40 year state sentence for armed robbery and narcotics violations and an additional 30 year federal sentence for kidnapping and airplane hijacking. During a previous escape, Chism shot and seriously wounded a correctional officer."
From the U.S. Marshals website: David Benjamin Creamer has been "charged with distribution of child pornography, transportation of obscene materials, firearms violations, money laundering and income tax evasion."
From the U.S. Marshals website: Corey Deshawn Gaston "is wanted in Michigan by the Detroit Police Department and the U.S. Marshals for failure to appear on the original charges of rape (1st and 2nd degree criminal sexual conduct/person under 13), kidnapping, home invasion and child enticement. A federal warrant for unlawful flight to avoid prosecution has also been issued."
From the U.S. Marshals website: Daniel Hiers "is wanted for the gunshot murder of his wife, and the sexual molestation of a child. He is a former police officer with 11 years of experience and is proficient in police tactics and procedures."
From the U.S. Marshals website: Robert Lee King "is wanted by the Shelby County (TN) Sheriff's Department for the brutal murder of his girlfriend and the attempted first degree murder of his girlfriend's daughter. On December 1, 2005, King allegedly murdered his girlfriend then turned his aggression towards her daughter by seriously injuring her with a sharp object before fleeing the scene."
From the U.S. Marshals website: Frederick Cecil McLean "was charged in San Diego Superior Court in January of 2005 of four counts of child molestation and one count of lewd and lascivious acts with a child under the age of 14."
From the U.S. Marshals website: Andre Neverson "is wanted for the murder of his sister and an ex-girlfriend, as well as for parole violation and illegal entry into the United States."
From the U.S. Marshals website: John Ruffo "is wanted in the Eastern District of Virginia for failure to surrender for service of a 17 year sentence federal sentence. Ruffo and a co-defendant set up a fraudulent business scheme through which they defrauded United States and Foreign Banks of $350 million dollars."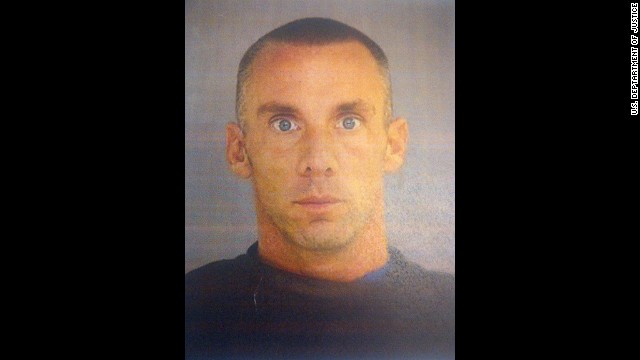 U.S. Marshals' most wanted
Abuse leads to death
Barreto, 43, and her husband, Ramon, allegedly traveled to Guatemala on multiple occasions in 2005 and 2006 to purchase children from a local adoption agency. Authorities say the children were brought back to the United States and were malnourished, physically abused, and forced to sleep on beds with plywood bottoms.
"The children were purportedly often punished with beatings and on various occasions duct-taped to their beds, punched in the stomach, and forced to endure having their heads submerged under water," the Marshals Service said.
In 2008, the abuse allegedly led to the death one of their adopted children, a 2-year-old girl.
Barreto was arrested in May of that year for child abuse, neglect, and manslaughter. She was released six months later on bond.
On the run
In March 2009, Barreto was arrested again for tampering with a witness and later released on bond. Two months later, she never appeared in court to face the charges against her, authorities said.
The Union County Sheriff's Office began searching, aided by the U.S. Marshals when Barreto was added to their "15 Most Wanted" list in June 2013. Authorities asked the public for any information leading to Barreto, offering a $25,000 reward.
A "Wanted" poster distributed by the Marshals Service said Barreto was known to change her appearance using wigs. It also said Barreto would evade law enforcement through the use of several aliases, fleeing before her true identity was discovered.
Cornered
The call came in on Monday.
According to authorities, the five-year investigation gained considerable momentum when a "concerned citizen" called the U.S. Marshals task force in Oxford, Mississippi, with information that placed Barreto in either Oregon or Washington. The caller also told authorities that the Barretos might have a small child with them.
The investigation moved swiftly.
Less than 24 hours after that initial tip, a lead about a possible location sent agents to Oregon.
They cornered Barreto and her husband late Tuesday afternoon at the Jantzen Beach Center, a shopping mall in Portland.
At first, the Barretos refused to identify themselves, but the husband was identified on the spot when his fingerprints were verified digitally.
Though Barreto continued to be uncooperative, her identity was revealed once she was fingerprinted at a local jail.
"Janet Barreto is a malicious individual. Through her alleged crimes, Barreto demonstrated a blatant disregard and lack of respect for life other than her own," said U.S. Marshals Service Director Stacia Hylton.
The infant found with the Barretos during their arrest was placed with child protective services, authorities said.
Six years after the death of their daughter, it's uncertain what the Barretos will face upon their return.
Both are currently being held at the Multnomah County Detention Center in Portland, awaiting extradition to Mississippi, authorities said.
It is unknown whether either has retained an attorney.
Suspect in mom-son slayings surrenders after 1 day on FBI's Top 10 list