STORY HIGHLIGHTS
NEW: Far fewer Yazidis are trapped than previously feared, officials say
Sisters Aziza and Dunya Hamid escape mountain in a helicopter rescue
CNN's Ivan Watson tracked them down at a makeshift shelter in Zakho
They found out their father, who stayed behind, was safe
Zakho, Iraq (CNN) -- Theirs were the faces that stood out in the chaotic helicopter evacuation off the Sinjar Mountains.
Tears streamed down the cheeks of 15-year-old Aziza Hamid and her 17-year-old sister, Dunya, who were among a lucky few to fight their way onto an Iraqi helicopter, a scene captured this week by a CNN crew on the flight taking food and water to thousands trapped by extremist fighters.
Two days later, CNN's Ivan Watson tracked the girls and some of their family members to the third floor of a derelict building in Zakho, Iraq, a makeshift shelter where roughly 1,000 Yazidis with nowhere to go have taken refuge.
Inside, the girls, their brothers and their 16-month-old cousin are confined with their meager belongings to a few feet of bare concrete.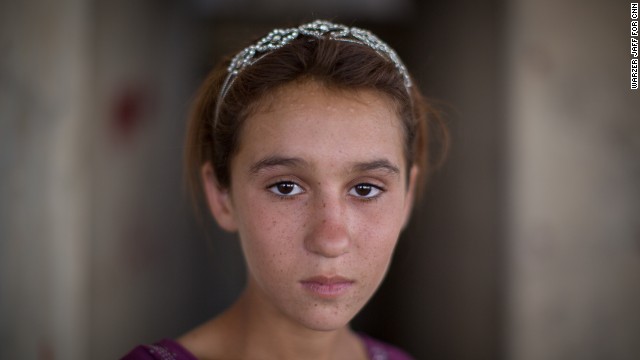 Aziza Hamid, 15, was rescued from Mount Sinjar and now lives in a derelict building that houses more than a thousand other refugees.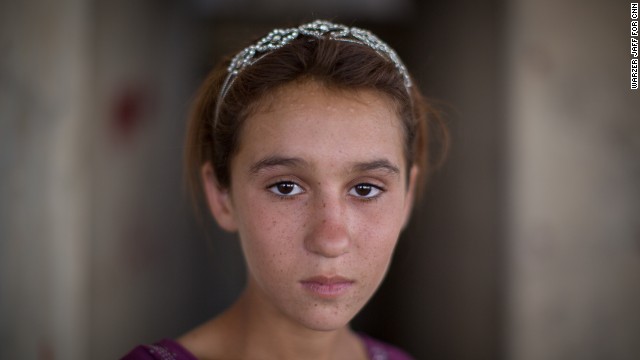 Aziza Hamid, 15, was rescued from Mount Sinjar and now lives in a derelict building that houses more than a thousand other refugees.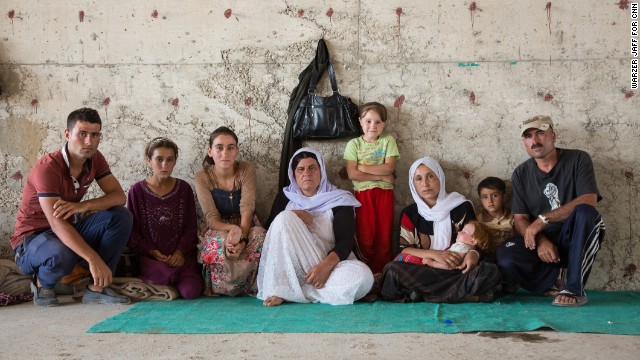 A portrait of Aziza's family.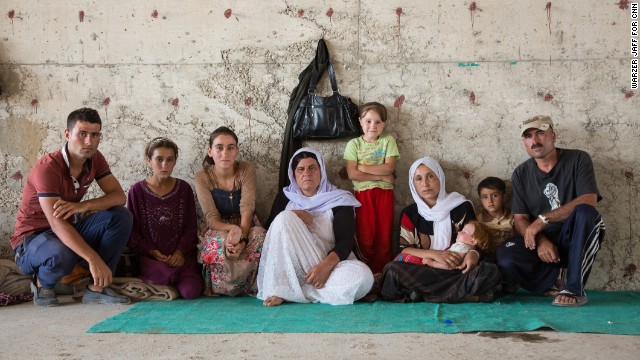 A portrait of Aziza's family.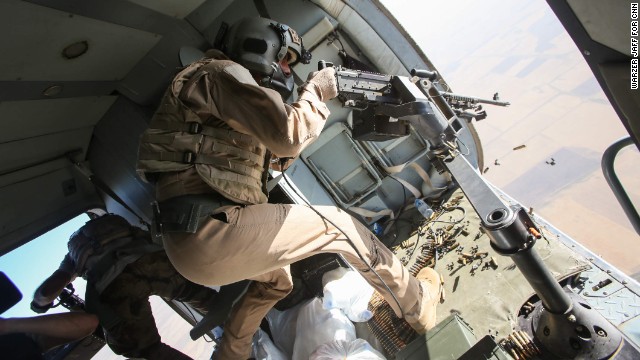 An Iraqi gunner opens fire at possible ISIS targets during a rescue operation by the Iraqi Air Force and Kurdish Peshmerga fighters on Monday, August 11. The dramatic operation at Iraq's Mount Sinjar involved taking supplies to desperate Yazidis and even bringing some aboard a helicopter to make it safely out of the area.
A CNN crew was on the flight, which took diapers, milk, water and food to the site. Thousands of people have been fleeing from the militant group ISIS, which has taken over large swaths of northern and western Iraq as it seeks to create an Islamic caliphate that stretches from Syria into Iraq.
A couple dozen civilians were rescued during the operation. CNN's Ivan Watson, who was on the chopper, described the mission as "heroic."
An elderly woman is put on the helicopter.
Yazidi people sit on the aircraft with members of the CNN crew.
An elderly Yazidi man cries after he was rescued.
A toddler named Helen sits in her mother's lap after being rescued.
Rescued civilians sit on the helicopter.
Yazidi people arrive safely to the Kurdish territory.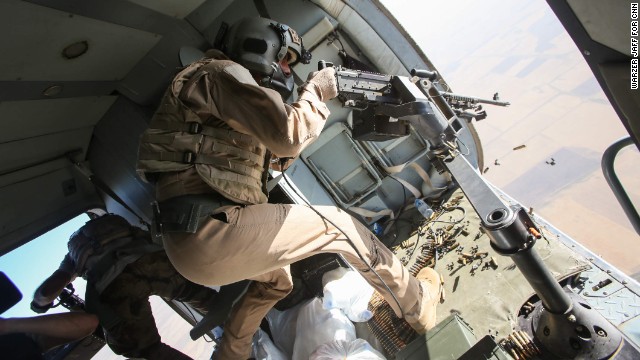 Yazidis rescued from ISIS
"You no have food. You no have drink. You no have sleep. It is very, very poor," the girls' brother, Kareem, told Watson on Wednesday. "It's no good."
'Heroic' mission rescues desperate Yazidis from ISIS
Their plight, like so many, began more than a week ago when they fled into the surrounding mountains when ISIS fighters stormed the town of Sinjar.
Thousands are believed to be on the mountain, trapped without food, water or medical care in the summer heat.
U.S. President Barack Obama ordered targeted airstrikes last week, partly to protect the Yazidis and others fleeing ISIS. He also ordered humanitarian airdrops.
A mass evacuation of Yazidis is unlikely following an assessment by the U.S. State Department and military that found far fewer people were trapped than previously feared.
Once believed to be in the tens of thousands, the number of Yazidis in the mountains is "now in the low thousands," Brett McGurk, a deputy assistant secretary of state, told CNN on Wednesday.
Part of the reason for the drop in the number trapped is the airstrikes and humanitarian airdrops, as well as Iraqi helicopter evacuations, McGurk said.
For now, those escaping continue to do so either by helicopter or a treacherous journey on foot.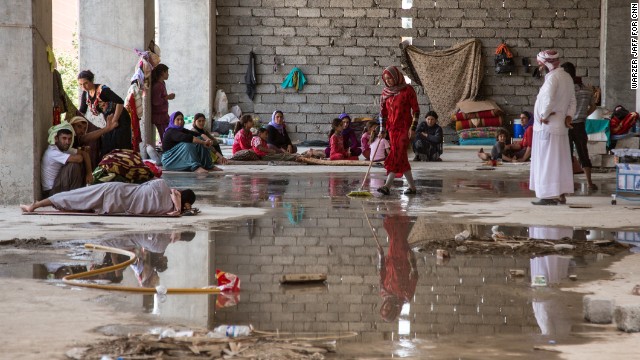 A Yazidi family from Sinjar cleans a spot for themselves in a derelict building that houses more than a thousand other refugees on Thursday, August 14, in Zakho, Iraq.
A woman and child sit in the makeshift housing on Thursday.
A Yazidi woman holds her baby while crossing Peshkhabour bridge from Syria back into Kurdish-controlled Iraq on Tuesday, August 12.
Entire families carry nothing but the clothes on their back. Some are barefoot. And not everyone who set out on the arduous journey survived.
The militant group ISIS, which now calls itself the Islamic State, executes civilians who don't adhere to its version of Sunni Islam.
Yazidis fled into the barren and windswept Sinjar Mountains more than a week ago after ISIS captured their town.
Descendants of Kurds and followers of an ancient pre-Islamic religion, Yazidis are one of Iraq's smallest minorities, and have been persecuted for centuries, but they have a strong sense of community.
According to some accounts, Syrian Kurds also helped people use parts of northeastern Syria under their control to reach Kurdish areas of northern Iraq.
A young refugee carries a disabled man across the bridge.
Thousands trudge across a river to seek humanitarian aid in Syria.
A number of those who made the treacherous trek off the mountain told CNN that PKK fighters control parts of the mountain, and they fed and protected them from ISIS.
A Kurdish border guard watches while people cross.
A senior Kurdish official estimated that as many as 70,000 people remain trapped on Mount Sinjar, and that at least 100 have died so far from dehydration and the heat. CNN could not independently confirm those estimates.
A man weeps after been reunited with his family.
A Kurdish Peshmerga stands in front of the bridge.
Children rest after arriving back into Kurdish-controlled Iraq.
A little girl was seen crossing the bridge by herself. The United States is sending more troops to northern Iraq, a move that U.S. officials told CNN is necessary to help in the rescue of tens of thousands of Yazidis trapped in the mountains.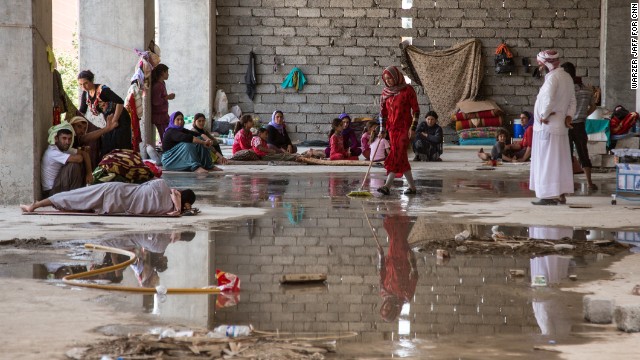 Iraqi refugees fleeing ISIS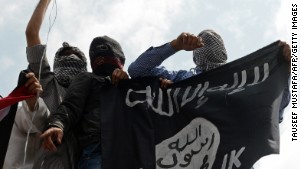 Will ISIS attacks spread to U.S.?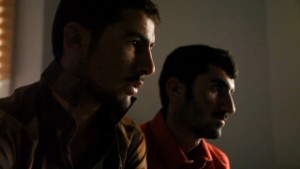 ISIS massacre survivors speak out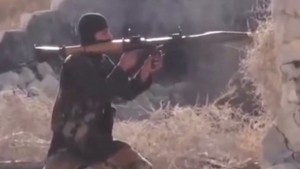 'The world's most ruthless terrorists'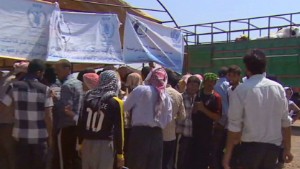 Thousands of Iraqi Yazidis flee to Syria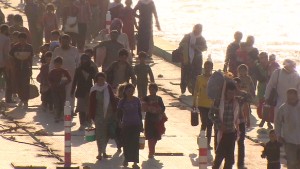 Thousands of Iraqi refugees flee ISIS
ISIS fighters have vowed to kill the Yazidis, calling them "devil worshipers."
Yazidis, one of the world's smallest and oldest religious minorities, are members of a pre-Islamic sect with its roots in Zoroastrianism. It has ties to Hinduism, Christianity, Judaism and Islam.
When ISIS advanced on Sinjar, an ancestral home for many Yazidis, the Hamid family was forced to flee.
"I was happy we survived, but I was sad and worried about my father," Dunya told Watson.
The girls' father, like so many, refused to leave their hometown of Sinjar ahead of the ISIS advance.
"We all tried hard to convince my dad but he refused to leave the house," the girls' other brother, Thabed Hamid, said.
"He said it would be a humiliation. I decided I couldn't let them capture girls and the women. So we left."
The family didn't make it far in their car before they ran into ISIS fighters, who were shooting at fleeing Yazidis on a bridge.
Who are the religious and ethnic groups under threat from ISIS?
"I jumped out of the car and off the bridge," Aziza says, "because I was scared of ISIS."
From there, they made their way up the mountain in the sweltering Iraqi summer heat.
"If we were able to find a tree where we could rest in the shade, we were lucky," Dunya said.
"For the first four days we had no food, only water. Any bread we found we fed to the little kids to keep them alive."
It would be days before they learned their father's fate.
On Tuesday, they learned in a cellular telephone call their father was still alive.
He escaped Sinjar and is on the mountain, the girls told Watson.
CNN's Gul Tuysuz reported from Zakho, Iraq, and Chelsea J. Carter wrote this report from Atlanta.