STORY HIGHLIGHTS
Robin Williams became a comedian because of Jonathan Winters
As a boy, Williams saw how his stern father laughed at Winters on television
Williams called Winters his "Comedy Buddha"
Both comics enjoyed great careers -- and dark moments in their personal lives
(CNN) -- Before Robin Williams, there was Jonathan Winters.
Winters begat Williams, if only in comedic spirit.
To understand the genius of Williams, an audience must look to Winters.
They were kindred clowns, and even as you read their names now, you wonder what jokes each comic would have conjured up seeing their surnames side by side, W with W.
Winters was the original master of funny characters created out of the thin air of a stage, Williams once pronounced. Winters could invent them with nothing more than a stick as a prop.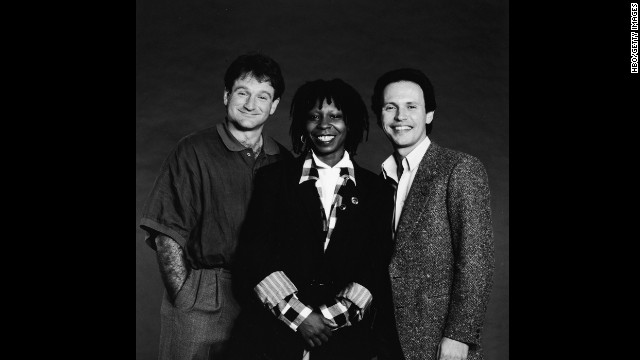 Robin Williams was honored during this year's Emmy telecast with a tribute led by friend Billy Crystal, who hosted the "Comic Relief" benefits with Williams and Whoopi Goldberg (seen here in 1986). Williams died August 11 at age 63. Click through to see moments from the beloved actor's remarkable life.
Williams' peers regarded him as a brilliant actor and comedian. His friend David Letterman remembered him as "nothing we had ever seen before."
Williams first shot to stardom with Pam Dawber in the sitcom "Mork & Mindy" in September 1978.
Williams attends the Robin Williams Opening Party on April 11, 1979, at Studio 54 in New York City.
This 1982 file photo originally released by Warner Bros. Pictures shows Williams as T.S. Garp from the film "The World According to Garp."
Williams and his first wife, Valerie Velardi, join a huge number of photographers packed into singer Paul Simon's apartment to celebrate Simon's wedding to actress Carrie Fisher in New York City on August 16, 1983.
Williams, center, takes time out from rehearsal at NBC's "Saturday Night Live" with cast members Eddie Murphy, left, and Joe Piscopo on February 10, 1984. Williams would appear as guest host on the show.
Williams enjoys music through a headset in a scene from the film "Good Morning, Vietnam" in 1987.
Williams portrayed a teacher in the movie "Dead Poets Society" in 1989, one of his first mostly dramatic roles.
Williams went to all lengths to stay with his children in the 1993 movie "Mrs. Doubtfire."
From left, Bonnie Hunt, Bradley Pierce, Kirsten Dunst and Williams hold one another in a scene from the 1995 film "Jumanji."
Comedians and co-hosts, from left, Billy Crystal, Whoopi Goldberg and Williams sing and dance the 1940s-era opening number to "Comic Relief VII" on November 11, 1995, in Los Angeles.
Jay Leno laughs as Williams jokes around during a taping of "The Tonight Show with Jay Leno" on November 13, 1995, at the MGM Grand Hotel in Las Vegas.
Williams and Nathan Lane starred in the film "The Birdcage" in 1996.
Williams visits a sick child in a scene from the film "Patch Adams" in 1998.
Williams and his wife, Marsha, pose for photographers with their daughter, Zelda, as they arrive at the premiere of the film "Patch Adams" in December 1998 in New York City.
Williams wears a clown nose as he places his hands in concrete during a ceremony outside Mann's Chinese Theatre in Hollywood in 1998. In the critically acclaimed "Patch Adams," he played a doctor who used humor to help heal his patients
Actor-writers Matt Damon, left, and Ben Affleck, right, pose with Williams, holding the Oscars they won for "Good Will Hunting" at the 70th annual Academy Awards in 1998. Damon and Affleck won for best original screenplay, and Williams won for best supporting actor.
Williams donates blood at the Irwin Memorial Blood Center in San Francisco on September 11, 2001.
U.S. Postal Service team rider Lance Armstrong rides with Williams during training on a rest day of the 89th Tour de France cycling race in Vaison La Romaine on July 22, 2002.
Williams plays Rainbow Randolph in the 2002 black comedy "Death to Smoochy."
Williams and Oscar host Billy Crystal perform at the 76th Academy Awards show in 2004.
Williams poses for pictures with U.S. soldiers at the main U.S. base at Bagram, Afghanistan, on December 16, 2004.
Williams in 2007's "License to Wed."
Williams and Susan Schneider arrive at the premiere of "World's Greatest Dad" in Los Angeles on August 13, 2009.
Williams at the pre-premiere party for "Happy Feet Two" at the Grand Connaught Rooms in London on November 20, 2011.
Williams poses for photographs in Sydney, Australia, on December 5, 2011. He and Australian director George Miller were in Australia to promote "Happy Feet Two."
Williams' wife, Susan Schneider, said, "This morning, I lost my husband and my best friend, while the world lost one of its most beloved artists and beautiful human beings. I am utterly heartbroken."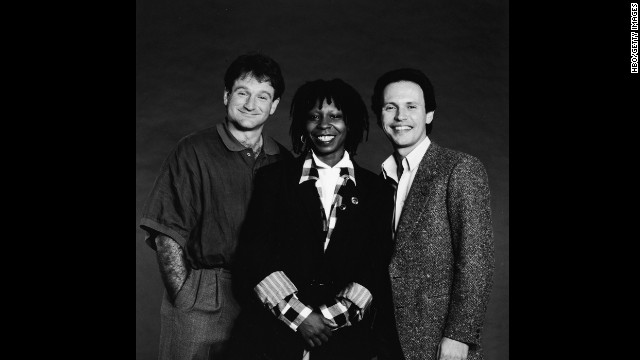 Photos: Robin Williams' career
Winters became a deity to Williams. In fact, he was the "Comedy Buddha," as the protégé put it.
"Jonathan Winters is the reason I became a comedian," Williams declared.
Indeed, Winters' influence began in Williams' childhood, when he saw how his father belly-laughed at Winters on television.
Robin Williams and the next generation of comics
A rush of insight overwhelmed the boy named Robin: The way to his stern father's heart was through imitating Winters.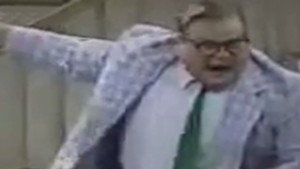 Comedians who left us too soon
That's how Robin Williams the prodigy was born.
"My dad was a sweet man, but not an easy laugh," Williams wrote in The New York Times in an homage to Winters shortly after his death in 2013 at age 87. "My father's laughter introduced me to the comedy of Jonathan Winters."
The father and son were watching Jack Paar on "The Tonight Show" when Winters appeared as a guest, wearing a pith helmet, Williams recounted in the Times.
"Who are you?" Paar asked.
"I'm a great white hunter," Winters said in an effete voice. "I hunt mainly squirrels."
"How do you do that?"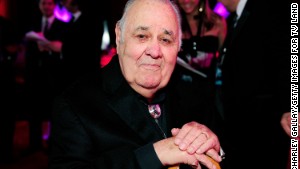 Jonathan Winters in the audience at the TV Land Awards.
"I aim for their little nuts."
Williams repeated this tale often. The moment put him on the path to become one of America's funniest and most prolific artists, until this week when he apparently ended his life at age 63.
The epiphany of his life came in boyhood, while in front of a television screen, he said.
"My dad and I lost it. Seeing my father laugh like that made me think, 'Who is this guy and what's he on?' " Williams wrote in 2013.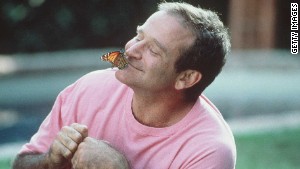 One man, one stage, so much laughter
The symbiosis lasted throughout Williams' career, except Williams was a far more hyperactive comic. Pity the co-star with whom he shared a stage. There was no way to stop Williams when he was on a roll.
Winters, in contrast, enjoyed a pause. He evoked an era before technology decimated our attention spans.
What the two masters shared was an irrepressible mischief, delivering joke upon joke with originality and freshness that left audiences wondering, how do they do it?
"Once upon a time, I called Jonathan my mentor and he immediately corrected me and said, 'Please,' he told me, 'I prefer idol,' " Williams said, drawing laughter from an audience gathered for the 2008 TV Land Awards.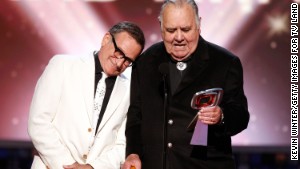 Robin Williams presents the Pioneer Award to actor Jonathan Winters at the TV Land Awards in 2008.
Williams presented the Pioneer Award to Winters at that event.
"Jonathan Winters is my idol, and he is a true pioneer," Williams added in a rare moment of seriousness.
It wasn't the first time the mentor and the protégé shared a telecast.
When the acolyte surpassed the master and became a bigger name in show business, he and his producers invited Winters to join Williams' successful sitcom "Mork & Mindy" in 1981.
It could have made for an awkward moment: Winters was clearly the journeyman, in his late 50s; Williams was turning 30 that year. After all, Winters was better known to the generation of Williams' parents. Winters' namesake show aired in 1956, when Williams was 5.
What would Hollywood do? In a clever move, the show employed a role reversal. Winters emerged from an egg as a middle-aged offspring of Williams' Mork and Pam Dawber's Mindy.
The image of Winters as an infant born to Williams was an example of the two comics' imaginative powers.
"Jonathan's improvs on 'Mork & Mindy' were legendary," Williams wrote in the Times. "People on the Paramount lot would pack the sound stage on the nights we filmed him. ... Sometimes I would join in (on his bit), but I felt like a kazoo player sitting in with Coltrane."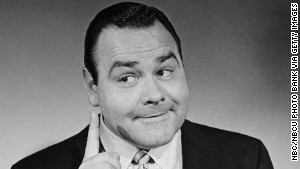 Jonathan Winters in a publicity 1956 shot for "The Jonathan Winters Show," which aired on NBC.
Winters cast a long shadow in Williams' work, comedian Gilbert Gottfried said.
"When you watch Robin Williams, you can see a lot of Jonathan Winters. Robin is the first one to admit that; he worshiped Jonathan Winters. He insisted that Jonathan be written in as a regular on 'Mork and Mindy.' They wrote him in as an overgrown child, which was perfect casting," Gottfried wrote for CNN in a tribute to Winters shortly after his death.
Their shared backgrounds weren't all laughs, however.
Both men knew darkness. Inner battles took them to the brink.
Winters suffered two nervous breakdowns, in 1959 and 1961, according to the Internet Movie Database. He even voluntarily spent time in a private mental institution in his early 30s. And, like Williams, Winters also saw uneasy moments with his father, a banker who became an alcoholic after losing everything in the Great Depression, IMDB says. When in his room away from his parents, who later divorced, Winters invented characters to amuse himself.
Winters was a manic depressive, or bipolar, and described to National Public Radio in 2011 how, "I need that pain — whatever it is — to call upon it from time to time, no matter how bad it was."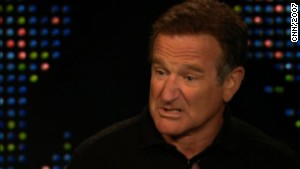 Williams in 2007: 'I was an alcoholic'
Williams' descents into the abyss are well known because he openly spoke about them. He was an alcoholic who suffered relapse, costing him his second of three marriages. He abused cocaine, and made jokes about it afterward.
He also suffered depression -- so hard to imagine between all the laughs -- and at the time of his death, he was being treated for a severe bout that now seems more serious than he ever allowed his audiences to know.
Whatever hardships they endured, both jesters left a legacy that is unconquerable: a public court that is still laughing and a world of characters as richly pluralized as the names of Winters and Williams.
Complete coverage on Robin Williams
Robin Williams: Full of talent, full of demons, full of heart