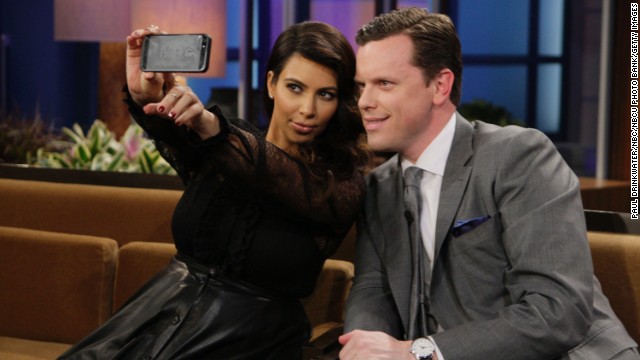 Television personalities Kim Kardashian and Willie Geist take a selfie during "The Tonight Show with Jay Leno."
DeGeneres tweeted
. "Best photo ever." It reportedly became the most retweeted post of all time.
Academy Awards host Ellen DeGeneres takes a moment during the show to orchestrate a selfie with a group of stars. Bradley Cooper, seen in the foreground, was holding the phone at the time. "If only Bradley's arm was longer,"
Denmark's Prime Minister Helle Thorning-Schmidt snaps a selfie with British Prime Minister David Cameron and U.S. President Barack Obama during the memorial service of former South African President Nelson Mandela in Johannesburg on Tuesday, December 10.
Tom Hanks takes a selfie with fellow actor Steve Martin at the 2013 Governors Awards.
Track star Usain Bolt takes a picture of himself under the Christ the Redeemer statue in Rio de Janeiro. Oxford defines a selfie as "a photograph that one has taken of oneself, typically one taken with a smartphone or webcam and uploaded to a social media website."
Singer Justin Bieber takes a selfie with a fan before appearing on NBC's "Today" show.
Actress Angelina Jolie takes a photo of herself with a fan's camera at the Paris premiere of "World War Z."
Actress Meryl Streep takes a photo of herself and Hillary Clinton after Clinton hosted a dinner for the Kennedy Center honorees in Washington.
Even political figures are getting in on the trend. Here, British Prime Minister David Cameron takes a photograph with Olympic volunteer Anita Akuwudike in London.
Actor Ashton Kutcher poses in the audience during the 2010 People's Choice Awards.
Now-retired tennis player Kim Clijsters takes a selfie with Caroline Wozniacki during an exhibition match in Hua Hin, Thailand.
Actor Josh Duhamel takes a selfie at the Empire State Building in New York City.
Actor Bradley Cooper poses for selfies with eager fans at the Los Angeles premiere of "The Hangover Part III."
Kathie Lee Gifford, Kris Jenner and Hoda Kotb pose for a selfie on NBC's "Today" show.
Selfies don't always have to be with other people. Director Zack Snyder takes a photo of himself in front of Action Comics No. 1 at the Superman 75 party in San Diego.
Actor Ken Jeong takes a photo with a fan before appearing on NBC's "Today" show.
Actor Sam Claflin poses for photos with fans in New York City.
After the Sky News People's Forum in August, then-Australian Prime Minister Kevin Rudd, left, and opposition leader Tony Abbott took a selfie with Nada Makdessi in Sydney. Abbott became prime minister in September.
Musician Keith Urban takes a selfie with a fan before performing at NBC's "Today" show.
Rep. Sean Duffy, R-Wisconsin, shoots a video selfie for his Facebook page before the start of a House GOP news conference in Washington.
Actors Eric McCormack and Debra Messing take a selfie while appearing on NBC's "Today" show.
Duhamel and comedian JB Smoove take a selfie during a commercial break on "The Tonight Show with Jay Leno."
Celebs taking selfies
Celebs taking selfies
Celebs taking selfies
Celebs taking selfies
Celebs taking selfies
Celebs taking selfies
Celebs taking selfies
Celebs taking selfies
Celebs taking selfies
Celebs taking selfies
Celebs taking selfies
Celebs taking selfies
Celebs taking selfies
Celebs taking selfies
Celebs taking selfies
Celebs taking selfies
Celebs taking selfies
Celebs taking selfies
Celebs taking selfies
Celebs taking selfies
Celebs taking selfies
Celebs taking selfies
STORY HIGHLIGHTS
Kim Kardashian is compiling a 352-page book of selfies titled "Selfish"
Pepper Schwartz: Normal people would find this extreme, but not the Queen of narcissism
She says Kim K is a canny self-promoter; it's when you just love yourself so much 24/7
Schwartz: Why are young women so entranced with Kardashian?
Editor's note: Pepper Schwartz is professor of sociology at the University of Washington and the author of many books, the latest of which is "The Normal Bar." She is the love and relationship ambassador for AARP and writes the Naked Truth column for AARP.org. She is also a senior fellow at the Council on Contemporary Families, a nonprofit organization that gathers research on American families. The opinions in this commentary are solely those of the author.
(CNN) -- It hurts me to say this, but I bet when I say "Kim," you know the last name.
Our world is no longer run by bankers and brokers but by public relations people who will do anything to keep certain names in (or out) of the news. If they are not trained psychologists, they sure act like them; they know how to get our interest even when we absolutely do not want to give it.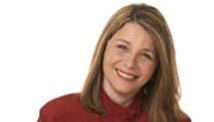 Pepper Schwartz
And so into this vortex of extreme public relations savvy comes Kim K, one of the people who is "famous for being famous." How did she do it? By flaunting her vapid lifestyle, her great body and good looks and her money.
Of course America idolizes her. But as it turns out, not nearly so much as she idolizes herself.
Kim is putting together a big book of selfies called "Selfish." She said she was assembling sexy pictures of herself from a trip to Southeast Asia for a book to give to her newish husband, Kanye West, on Valentine's Day. But then the thought occurred to her -- why wouldn't everyone want one?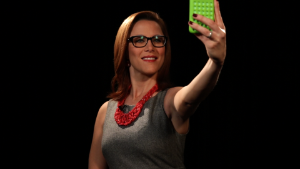 Generation Selfie: We do it better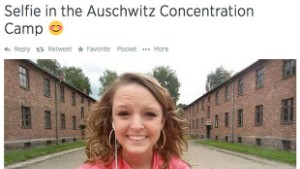 Put the phone away if ...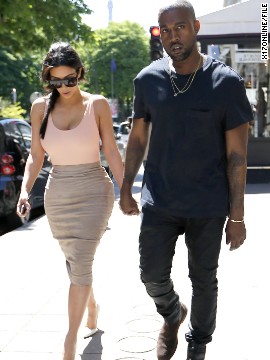 Before their May 24 wedding, lovebirds Kim Kardashian and Kanye West pretty much took over Paris. Here, the couple -- who often enjoy matching one another -- take a pre-wedding stroll in the City of Light on May 19. This moment's pretty kute, but how does it stack up against these other PDA-filled moments?
In April 2014, the evidently happy couple got gussied up for pre-wedding shopping in Paris.
In October 2013, West proposed to Kardashian in perhaps the most elaborate way possible. It was staged at the San Francisco Giants' baseball stadium, complete with fireworks and a 50-piece orchestra. As for the rock? Kardashian was given a 15-carat Lorraine Schwartz ring.
Kim kept a low profile following the arrival of the couple's daughter, North, in June 2013, but toward the end of that September she showed off both a new hair color and her post-baby physique in Paris as Kanye stayed close.
If there were a thought bubble above Kanye's head at the 2013 Met Gala, we'd bet it would say, "Say something about my girlfriend's dress. I dare you."
While momager Kris Jenner believes Kim and Kanye are a match made in heaven, we think they're more like two peas in a pod. Notice how often they coordinate their outfits, like they did here at a fashion show in March 2013?
Kim and Kanye were all smiles as they cuddled up at one of their favorite haunts: courtside at a basketball game, this time watching the Denver Nuggets face the Los Angeles Clippers on December 25, 2012. By the following Sunday, Kanye spilled the beans that they were expecting daughter North.
We'd love to know what Kanye was whispering in Kim's ear as they clung to one another at the Angel Ball 2012 in New York City on October 22.
When Kim and Kanye took a romantic, rainy stroll in Miami in October 2012, everything seemed PG at first ...
Until cameras revealed just how close they were getting.
In July 2012, Kim and Kanye kept one another close as they exited the Valentino Haute-Couture Show during Paris Fashion Week.
In April 2012, the pair were seen hitting the streets of New York, eating ice cream and laughing with one another.
Suspicions that the two were an item were going strong in April 2012 after Kanye's profession of love went viral, and their snuggling at a Lakers game in May of that year bolstered the reports.
In March 2012, a month before Kanye told the world he "fell in love with Kim" in a new song, the pair were seen embracing at his Fall/Winter 2012 fashion show in Paris, raising eyebrows about their status.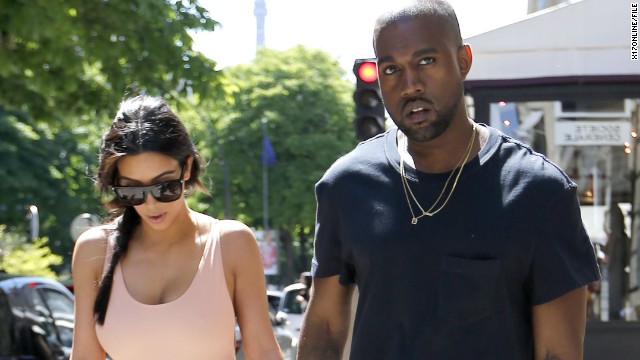 Kim and Kanye's kutest PDA moments
Normal people would find a 352-page compilation of selfies in bad taste. But in truth we recognize the basic instinct: It's hard to resist walking by a mirror and not having one of two reactions -- to look or, at all costs, to avoid looking.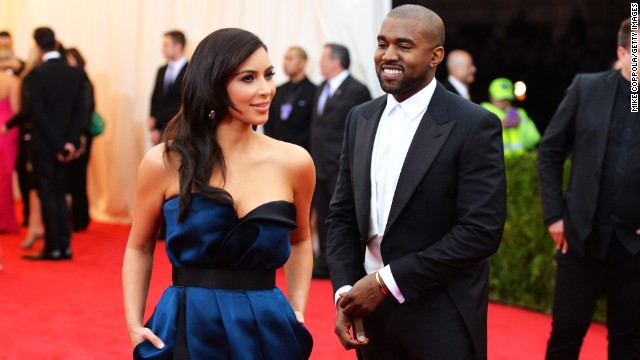 Kim Kardashian is a self-described hopeless romantic, and she never stopped searching for the right guy after these former flames burned out. Before she married Kanye West, there was:
Kris Humphries. He's a professional basketball player -- who played for the Boston Celtics in the 2013-2014 season -- but he's better known as the man Kim Kardashian was married to for 72 days. The couple dated for six months before Humphries proposed with a 20.5 carat ring in May 2011. Within two months of tying the knot in front of several celebrities and E!'s TV cameras for a four-hour wedding special, Kardashian filed for divorce.
For a nanosecond in 2010 -- which is Kardashian time for a few weeks -- Kim Kardashian dated model Gabriel Aubry after he broke up with Halle Berry. The rumor at the time was that Berry wasn't happy with the idea of reality show cameras being anywhere near daughter Nahla, whom she welcomed with Aubry in 2008.
Before she began dating Kris Humphries toward the end of 2010 (after a brief detour to Gabriel Aubry's arm), Kardashian dated football player Miles Austin. For those who follow Kardashian's love life, he's also known as the athlete who immediately scooped Kardashian up after she broke up with ...
... The infamous Reggie Bush, whom Kardashian dated from 2007 to 2010. Those also happened to be the years Kardashian's fame took off like a rocket after 2007 brought a sex tape release, an E! reality show and the cover of Playboy. The speculation is that Kardashian's busy career and camera-friendly lifestyle wasn't compatible with Bush.
What could Nick Lachey and Kim Kardashian possibly have in common? Well, in 2006 they were both single and looking for love. This pairing, which occurred roughly six months after Lachey's breakup with Jessica Simpson, was basically one viewing of "The Da Vinci Code" and done. Lachey is pretty convinced Kardashian used the date to gain publicity.
All of which brings us to Ray J, the man whose singing talents have long been eclipsed by the sex tape he made with Kardashian sometime during their 2004 to 2006 romance. It appears Ray J is also fully aware of the video's publicity power: he reportedly has pledged to give a portion of the sex tape's 2014 earnings to Kardashian and West as a wedding present.
Nick Cannon says his 2006 fling with Kardashian was brought to an end by her sex tape. "She told me there was no tape," Cannon, now married to Mariah Carey and a father of twins, told Howard Stern in 2012. "If she might have been honest with me I might have tried to hold her down and be like 'That was before me' because she is a great girl. ... I still think she had a part to play (with its release)."
Years before she was TV famous, Kim Kardashian was married to music producer Damon Thomas, from 2000 to 2004. Their relationship was dragged back out for public gossip in 2010, when there were allegations of abuse and cheating.
According to Kardashian's mom, Kris Jenner, Kardashian's "first true love" was the King of Pop's nephew, T.J. Jackson. The reality star dated the 3T singer when they were teens in the mid-90s.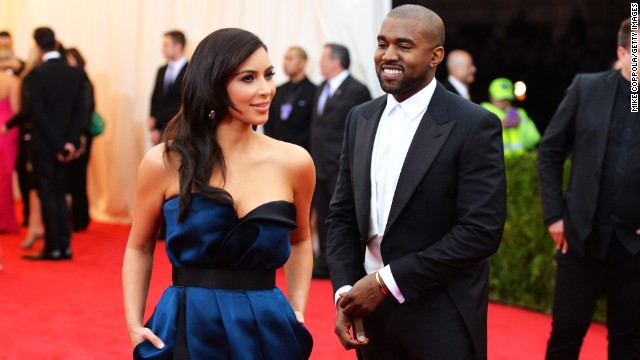 Photos: Kim Kardashian's past loves
Unlike Kim K, the Queen of Narcissism, most of us have a more ambivalent relationship to our own image. We look at pictures of ourselves and more often than not, cringe. If it's a flattering picture, we save it for our Facebook page or give it to our partner. But few of us, even few movie stars, want to create books of how glorious we look.
Yes we all are mini-narcissists, but most of us have a sense of our flaws and the limits of how much time we should spend on adoringly looking at our own image. Kim K is a lesson in how extreme it can get when you are a canny self-promoter: You just love yourself so much 24/7.
If you, like me, is relieved at the disappearance of Paris Hilton from the front pages and are not a fan of pathological narcissism, you know we should ignore Kim K and shun falling into her PR trap.
But the fact that she has an esteemed publisher and that the editors there must think this book will sell well presents a serious issue: Why are young women entranced with this woman? (I understand why young men would be.) But young girls who are easily impressionable and hooked by hype may be enchanted with the ease with which she seems to float through life and take on her "struggles" (Which brand name shall I buy? Which mini-feud will I rage about?) as ones they would rather have than the ones they have in real life.
They envy her. The fact is that the Kardashians have gained traction in their lives. They have built an empire and no one can deny she and her posse have figured out how to make a fortune based on her brand. Kim K won't be around forever. But is it some failure of feminism among the young that allows this kind of person to be a star?
I remember the icons of my day: Janis Joplin -- a wild woman, a maverick and a massive talent (though, sadly an addict as well). There's Gloria Steinem, a woman who was mission driven. And while perhaps she had extra press attention because she was good-looking, it was her feminist theory, her amazing verbal ability and her mentoring of others that made her someone to follow and emulate. These were women who deserved to be famous. Even Madonna, embellished by PR but not created by it, had (and has) talent, and a provocative message about sexuality.
Kim K, like Paris Hilton, is just about as thin as their photographs. They want our love and money and they hope to achieve it by showing how much love and money they have already.
So wouldn't it be great if Kim K's selfie book sat moldering in book stores and on Amazon? That would reassure me about the soul of modern girls and young women. I wouldn't blame anyone for paging through it. It's a little like a car wreck -- awful, but hard to totally avoid looking at. But buying the book is another thing altogether.
Instead of sending Kim K to the bank, let's encourage her to go to a really good therapist. This kind of narcissism needs to be treated, not celebrated.
Read CNNOpinion's new Flipboard magazine
Follow us on Twitter @CNNOpinion.
Join us on Facebook.com/CNNOpinion