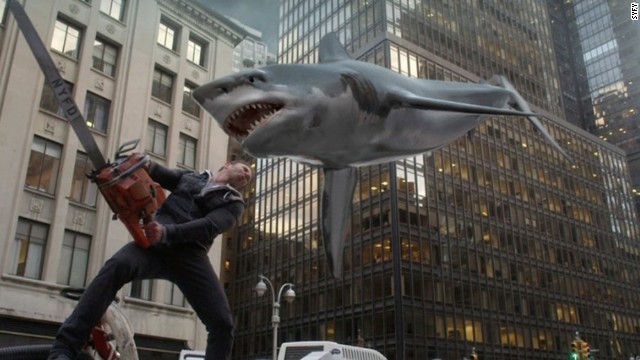 We've survived "Sharknado 2," but what about
Shark Week 2014?
The Discovery Channel's annual ode to the underwater king kicked off on August 10, promising 13 toothy specials plus a nightly talk show. If that's still not enough shark for you, try to hunt down one of these pop culture favorites:
Steven Spielberg's 1975 shark thriller "Jaws" gave birth to the summer blockbuster and a cultural love-hate relationship with swimming in the ocean. The filmmaker's classic also proved that these beasts were ready for their close-ups.
Maybe we can blame our current obsession with sharks on the generation who grew up watching "Jabberjaw," ABC's animated series that ran from 1976 to 1978. The kids' show was reportedly inspired by "Jaws," but this version was far more cuddly; Jabberjaw held regular jam sessions with his human pals.
Ever wondered where the phrase "jumped the shark" came from? You can thank the "Happy Days" writers for that one. In 1977, the beloved show took a plot turn it couldn't recover from when Henry Winkler's Fonzie literally "jumped the shark" while water skiing.
Decades before Syfy became the home of shark-related comedy, "Saturday Night Live" introduced "the cleverest species of them all" in its "Land Shark" sketch. It featured Chevy Chase as the trickster shark who preyed on unsuspecting humans with the lure of telegrams and flowers.
Disney's 1989 under-the-sea adventure "The Little Mermaid" began with a tense run-in with a shark. Unlike the chilling but affable characters Disney has produced lately, this shark was straight out of "Jaws" with its brutish strength and snapping teeth.
Out of all the sharks in "Deep Blue Sea" -- like this guy seen terrorizing LL Cool J -- there's one that particularly stands out. In the 1999 film, Samuel L. Jackson was in the middle of giving a stirring speech when a toothy killer popped up from behind him and practically devoured him whole.
Disney/Pixar brought Steven Spielberg's Bruce to life again in 2003's "Finding Nemo." This Bruce was just as terrifying -- especially to a clownfish dad hunting for his son -- but at least he tried to live by the rule that "fish are friends, not food."
In 2004, the shark wave rolled on with DreamWorks' "Shark Tale," featuring the voices of Will Smith, Angelina Jolie, Renee Zellweger, and Jack Black as Lenny the shark. With Hans Zimmer composing, the soundtrack had just as much bite.
The build-up to "Sharknado" was quiet enough that many didn't see the cultural storm coming in July. Syfy didn't land monster ratings at first, but the film, which stars Ian Ziering and Tara Reid, has had a long tail. Thanks to the intense fandom on Twitter, the sequel
Feeding frenzy: Our favorite sharks in pop culture
Best sharks in pop culture
Best sharks in pop culture
Best sharks in pop culture
Best sharks in pop culture
Best sharks in pop culture
Best sharks in pop culture
Best sharks in pop culture
Best sharks in pop culture
Best sharks in pop culture
Best sharks in pop culture
Best sharks in pop culture