Sherri Shepherd says emotional goodbye to 'The View'
updated 7:07 AM EDT, Tue August 12, 2014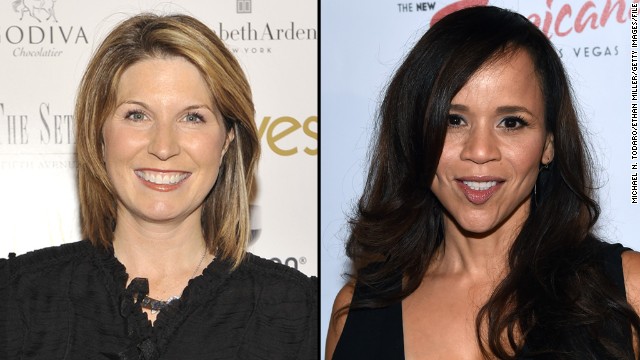 Political analyst Nicolle Wallace, left, and actress Rosie Perez are the newest faces to join ABC's "The View." They're signing on after the departures of co-hosts Sherri Shepherd, Jenny McCarthy and Barbara Walters. Here's a look at the ladies who've had a seat at "The View's" table:
What is old is new again: It was announced in July 2014 that Rosie O'Donnell would be rejoining "The View." She previously co-hosted during the show's 10th season in 2006-07 and got into heated debate with former co-host Elisabeth Hasselbeck.
she reportedly announced she was leaving the show in 2006 without alerting her co-workers first.
In 2012 she returned for an appearance that saw things
get heated between her and Walters.
Jones continues to appear on television, including in a stint on the reality show "The Celebrity Apprentice."
Star Jones became somewhat infamous on "The View" after
it was announced
that Ling would host a documentary series for CNN.
Lisa Ling attended on "The View" from 2009 to 2012. She returned to international reporting and hosted "Our America with Lisa Ling" on the OWN network and "National Geographic Ultimate Explorer." In April 2014
For awhile Joy Behar pulled double duty on both "The View" and as host of "The Joy Behar Show" on HLN. The later was canceled in 2011 and she left "The View" at the end of the 2013 season.
Elisabeth Hasselbeck was a lightning rod on "The View" because of her conservative beliefs, which often found her at odds with her fellow co-hosts. After a decade on the show it was announced that she would be leaving to join the talk show "Fox & Friends."
heated debate with conservative pundit Ann Coulter
and her
defense of ESPN anchor Stephen A. Smith.
She has continued to act, most recently in the 2014 reboot "Teenage Mutant Ninja Turles."
In 2007 Whoopi Goldberg became the show's new moderator. She mixed things up on the panel with her outspoken nature, including a
Sherri Shepherd joined the cast in 2007 following the departure of Star Jones. She stirred controversy when she expressed on air that she did not believe in evolution. She said goodbye to "The View" on August 11, 2014.
Jenny McCarthy, we hardly knew ye. The comedic actress joined the show for only one season -- announcing in 2014 that she was leaving along with Sherri Shepherd.
'The View' co-hosts
'The View' co-hosts
'The View' co-hosts
'The View' co-hosts
'The View' co-hosts
'The View' co-hosts
'The View' co-hosts
'The View' co-hosts
'The View' co-hosts
'The View' co-hosts
'The View' co-hosts
STORY HIGHLIGHTS
Sherri Shepherd said an emotional goodbye to "The View"
She co-hosted the daytime talk show for the last seven years
Shepherd will next appear on Broadway in "Cinderella"
(CNN) -- Sherri Shepherd is ready for a new "view."
In Monday's pre-recorded episode of ABC's "The View," Shepherd was both optimistic and emotional. "The View" co-host announced in June she would be leaving the show after seven seasons.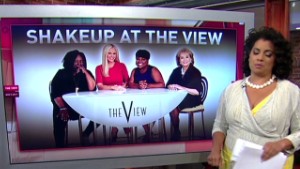 Shepherd, McCarthy leave 'The View'
In her final farewell, which Sherri admitted was loaded in the teleprompter, Shepherd got ahead of the headlines and joked about the state of her personal life.
With son Jeffrey sitting by her side, Shepherd said, "When I joined the view seven years ago Jeffrey was 2 years old and I was going through a very public divorce. Now my son is 9 years old and I'm going through another very public divorce. Let's just say I'm happy that Barbara Walters and Bill Geddes were better at picking co-hosts for this show than I was at choosing my husbands."
On a more positive note, Shepherd emphasized that her time on the show was "a dream come true."
"I'm so extremely and profoundly grateful. This has been one of the best seven years of my life," Shepherd reflected. "I didn't want to take this job. ... I have to say my boss Barbara Walters pushed me. I cried in my dressing room for three years saying, 'What am I doing on this table? I don't know what I'm doing!' "
"Look, this table is just not going to be the same without you," said co-host Whoopi Goldberg. Goldberg is the only current host who will return for Season 18, but she will be joined by returning host Rosie O'Donnell.
It won't be long until fans can see Sherri back in the spotlight. Shepherd will make her Broadway debut as Cinderella's wicked stepmother come September.
A new, retooled season of "The View" begins in September.