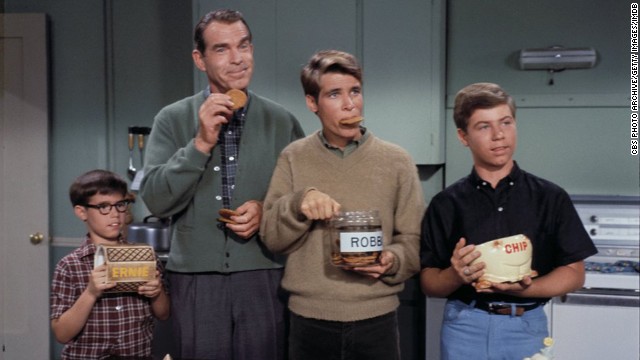 "My Three Sons":
The comedy series
followed the ups and downs of widower Steve Douglas (played by Fred MacMurray) and his -- well, you can probably guess -- three sons during its on-air run from 1960 to 1972.
"Sanford and Son": The 1970s NBC sitcom followed the generational gap of salvage dealer Fred Sanford (played by Redd Foxx) and his son Lamont (Demond Wilson) after Sanford's wife, Elizabeth, passed away. In moments of frustration with his son as a dropout and reluctant business partner, Sanford would feign a heart attack and declare, "I'm coming to join ya, honey!"
"Finding Nemo": This Pixar movie follows the journey of overprotective father, Marlin, as he searches for his clownfish son, Nemo, who was taken by a fishing boat. In the 2003 film, Nemo's mother and siblings were killed by a barracuda when he was just an egg.
"Diff'rent Strokes": The series, which aired on NBC from 1978 to 1985, told the story of rich widower Phillip Drummond (played by Conrad Bain) and his two adopted sons, Arnold and Willis Jackson (Gary Coleman and Todd Bridges). You know the line: "Whatcha talkin' 'bout, Willis?"
"Hannah Montana": In more innocent, pre-twerking times, Miley Cyrus starred in the popular Disney show with real dad Billy Ray Cyrus as her on-screen dad. The main character's deceased mom (played by Brooke Shields) only appeared in flashback scenes.
"Full House": Living up to its name, viewers of the ABC series watched widower Danny Tanner (played by Bob Saget) raise his three daughters with the in-house help of childhood friend Joey Gladstone (Dave Coulier) and brother-in-law Jesse Katsopolis (John Stamos).
"The Andy Griffith Show": Andy Griffith played a widowed sheriff -- and father to son Opie (Ron Howard) -- in the 1960s series set in the fictional town of Mayberry, North Carolina.
"Arrested Development":
Michael Bluth (played by Jason Bateman) is the protagonist of the show known for its
cult following.
After his wife dies, Bluth has to raise son George Michael (Michael Cera) while surrounded by his own unusual family.
"My Two Dads": When Nicole (Staci Keanan) is left without a parent after her mom passes away, a judge in this sitcom orders joint custody to two men, played by Paul Reiser and Greg Evigan, who were after the affections of Nicole's mom.
"3 Men and a Baby": Tom Selleck, Steve Guttenberg and Ted Danson star in the 1987 comedy that chronicles how their characters' bachelor-like tendencies are turned upside-down when a baby is left on their doorstep.
"Who's the Boss?": Widower Tony Micelli (played by Tony Danza) takes a job as a live-in housekeeper for a divorced, female advertising executive in the role-reversal series that aired from 1984 to 1992. His daughter, Samantha (Alyssa Milano), also moves into the house.
"The Courtship of Eddie's Father": In this movie-turned-TV-show, a young boy named Eddie decides to play matchmaker for his widowed father.
"Sleepless in Seattle": This classic rom-com by Nora Ephron stars Tom Hanks as a depressed widower who lost his wife to cancer. His young son, Jonah, takes it upon himself to call into a radio show to help the grieving father -- who becomes known as "Sleepless in Seattle" -- find a new mate.
"Pinocchio": In the 1940 classic Disney film, lonely woodcarver Geppetto always wanted one of his wooden puppets to become a real boy. When he wishes on a star that "I wish my little Pinocchio might be a real boy," his dream finally comes true.
Single dads in pop culture
Single dads in pop culture
Single dads in pop culture
Single dads in pop culture
Single dads in pop culture
Single dads in pop culture
Single dads in pop culture
Single dads in pop culture
Single dads in pop culture
Single dads in pop culture
Single dads in pop culture
Single dads in pop culture
Single dads in pop culture
Single dads in pop culture
STORY HIGHLIGHTS
In Nick Harkaway's "Tigerman," a soldier becomes a self-made superhero to impress a kid
Harkaway says the novel is about "the power of paternal and filial love"
Justice and vengeance figure heavily in "Tigerman" similar to another hero with dad issues
Harkaway's father is the famous spy novelist John le Carré.
(CNN) -- The main character in Nick Harkaway's new novel, "Tigerman," is a British solider who becomes a self-made superhero.
But all Sgt. Lester Ferris really wants to be is "Dad."
"Tigerman" is about geopolitics, environmental disaster and the 24-hour news culture. But, at its core, Harkaways says "Tigerman" is a story about fatherhood and the "power of paternal and filial love."
It's not your typical father-son story, says Harkaway, a married father of two and the son of legendary spy novelist John le Carré. But, "something about the nature of guns and the similarities between being an NCO (noncommissioned officer) and a parent," combined with revelations in the British press in 2010 about rendition, led Harkaway to start writing.
The book deals with darker themes of justice and vengeance, similar to another hero with father issues, "Batman." Despite the comic book overtones and its location on a fictional island scheduled by NATO for demolition, Harkaway says he tried to keep the story grounded in reality.
In other words, no laws of physics are broken, he says. "It's the most real, in a way, of the books I've written."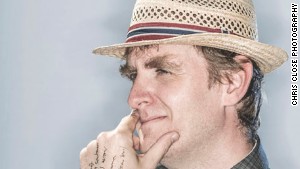 Author Nick Harkaway
After years of dodging enemy fire in Afghanistan and Iraq, the main character Ferris is sent to the fictional island of Mancreu, a "spit of land" in the Arabian Sea, to serve as the last representative of Her Majesty's government.
On Mancreu, Ferris meets a nameless, streetwise boy raised on comic books, action movies and video games. His self-taught English is a mish-mash of "leetspeak" -- the language of the elite -- riddled with pop-culture references and Internet slang.
Most importantly, the boy may be an orphan. Ferris is also a man without a family. When he and the boy bond over their mutual love of comic books and afternoon tea, Ferris starts to imagine life as a father. Ferris' hopes bloom into a plan to adopt the boy (if he's willing) and forge a future together.
But the sergeant and the boy face a deadline for their would-be family. After years of ecological abuse, Mancreu has become an environmental disaster. NATO has earmarked the island for destruction. Residents who can afford it are "Leaving" with a capital "L." Others are hanging on and facing eventual evacuation.
With an end date looming, anarchy and lawlessness spread across the island, think Casablanca, only with "discharge clouds" of toxic pollution.
When a group of gun-toting thugs kills a mutual friend, the boy inspires Ferris to become "Tigerman," part vigilante, part myth and "full of win," as the boy says.
The sergeant dons a homemade mask, body armor and utility belt to battle bad guys and hopefully convince the boy to become his son when the dust settles.
Comic book fans will recognize elements of the Caped Crusader, with Ferris playfully referring to the boy as "Robin" in the book.
Harkaway names "Dark Knight" and "Sandman" among his childhood favorites. But "Tigerman" isn't so much his version of "Batman" as it is his take "on me, or any of us, shoved into being a costumed hero," he says.
Don't miss out on the conversation we're having at CNN Living.
Follow us on Twitter
and
Facebook
for the latest stories and tell us what's influencing your life.
"Batman is one of a small number of characters who get the title 'superhero' despite having no actual superpowers. Although I've heard it said that he has the best superpower of all, that of being ridiculously rich in a world where technology can make you a god."
Harkaway is the author of two previous genre-bending and critically-acclaimed novels, "The Gone-Away World" and "Angelmaker." Despite his famous lineage, he says he doesn't pattern his work after his famous father.
"We haven't spent a lot of time consciously talking about writing in a master-student kind of way, but we have similar concerns, ethical worries, (and) geopolitical perceptions in some areas. I like to think that my thought influences his in some areas, too."
For now, Harkaway is already at work on his next novel about "semiotics, murder, alchemy, sharks, banking, game design and the surveillance state," he said.
He's also making time for fatherhood, something he describes as "the best, and the most extreme" adventure.