STORY HIGHLIGHTS
Hundreds of young Sunni men have joined ISIS in recent weeks, officials tell CNN
The recruits are typically between the ages of 16 and 25, they say
"I don't know what they told him," says one father
(CNN) -- Abu Raad pleaded with his son not to volunteer.
But there was nothing he says he could say to talk his 19-year-old son out of joining ISIS, which refers to itself as the Islamic State and is formerly known as the Islamic State of Iraq and Syria.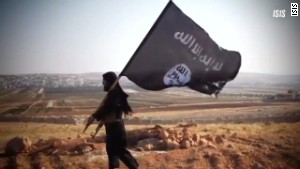 Is ISIS a threat to the United States?
"I don't know what they told him," Abu Raad told CNN by telephone from his home in Mosul. "Last week, my son came home and told me that he is leaving home and joining the Islamic State."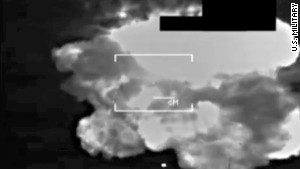 U.S. airstrikes target ISIS in Sinjar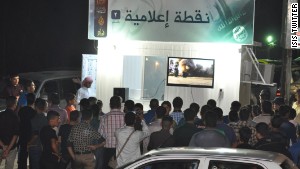 A video is shown to residents at an ISIS propaganda information center in Mosul, Iraq.
And then, the teenager packed a bag and left.
"We have heard nothing from him," said Abu Raad, who asked to be identified by his Arab nickname out of fear of retaliation by ISIS for speaking out.
His son is now believed to be one of hundreds of young Sunni men who, two Iraqi senior defense officials tell CNN, have joined ISIS in recent weeks in the Iraqi provinces of Nineveh, Salaheddin and Anbar.
Analysts and U.S. officials estimate ISIS has as many as 10,000 fighters in Iraq and Syria, including those who were freed from prisons by ISIS and Sunni loyalists who have joined the fight as the group advanced.
But that number likely doesn't include these latest recruits, mostly young men between the ages of 16 and 25 who are primarily poor, unemployed and lack an education, the two Iraqi senior defense officials told CNN.
Add to that a disenfranchisement felt by Iraq's Sunni minority, who have bitterly complained of being marginalized and cut out of the political process by Prime Minister Nuri al-Maliki's Shiite-dominated government.
The height of that disenfranchisement coincided with ISIS routing Iraqi security forces in Mosul, Iraq's second-largest city, in June.
Abu Raad blames al-Maliki's government for what happened with his son.
"He allowed those (ISIS) thugs" to take hold in the country, he said.
U.S. President Barack Obama vowed on Saturday to push Iraq's lawmakers to create a more inclusive government that "can give confidence to populations in the Sunni areas that (ISIS) is not the only game in town."
But for now, at least in Mosul, ISIS is recruiting young men at a rapid pace, officials and residents told CNN.
"Once they are in, (ISIS) gives them cars to drive, guns, cell phones and cash money," said one man, who lives in Mosul and has direct knowledge of ISIS recruit efforts.
In Mosul, for example, ISIS recruiting efforts appear to begin at information centers that have been set up around the city.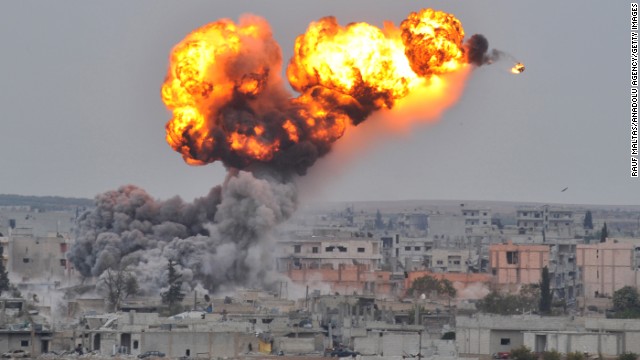 Fire and smoke rise from the Syrian city of Kobani following airstrikes against the ISIS militant group on Thursday, October 30. ISIS militants and Syrian Kurdish fighters have been battling for control of the city near the Turkish border, and the United States and several Arab nations have been bombing ISIS targets to take out the group's ability to command, train and resupply its fighters.
Iraqi special forces search a house in Jurf al-Sakhar, Iraq, on October 30 after retaking the area from ISIS. ISIS has been advancing in Iraq and Syria as it seeks to create an Islamic caliphate in the region.
Smoke rises during fighting in Kobani on Monday, October 27.
ISIS militants stand near the site of an airstrike near the Turkey-Syria border on Thursday, October 23.
An explosion rocks Kobani during a reported car-bomb attack by ISIS militants on Monday, October 20.
People watch Kobani from a hill near the Turkey-Syria border on October 20.
Kurdish fighters walk to positions as they fight ISIS forces in Kobani on Sunday, October 19.
A U.S. Air Force plane flies above Kobani on Saturday, October 18.
Heavy smoke rises in Kobani following an airstrike by the U.S.-led coalition on Saturday, October 18.
Cundi Minaz, a female Kurdish fighter, is buried in a cemetery in the southeastern Turkish town of Suruc on Tuesday, October 14. Minaz was reportedly killed during clashes with ISIS militants in nearby Kobani.
Turkish police officers secure a basketball stadium in Suruc on October 14. Some Syrian Kurds have been held there since crossing from Syria into Turkey. Tens of thousands of people have fled Kobani, known in Arabic as Ayn al-Arab, to escape ISIS.
Kiymet Ergun, a Syrian Kurd, celebrates in Mursitpinar, Turkey, after an airstrike by the U.S.-led coalition in Kobani on Monday, October 13.
Smoke rises from Kobani on Sunday, October 12.
Syrian Kurds from Kobani stand outside the grounds of a refugee camp in Suruc on Saturday, October 11.
Alleged ISIS militants stand next to an ISIS flag atop a hill in Kobani on Monday, October 6.
In this photo released by the U.S. Air Force on Saturday, October 4, a U.S. Navy jet is refueled in Iraqi airspace after conducting an airstrike against ISIS militants.
A Kurdish Peshmerga soldier who was wounded in a battle with ISIS is wheeled to the Zakho Emergency Hospital in Duhuk, Iraq, on Tuesday, September 30.
Iraqi Shiite militiamen aim their weapons during clashes with ISIS militants in Jurf al-Sakhar on Sunday, September 28.
Syrian Kurds wait near a border crossing in Suruc as they wait to return to their homes in Kobani on Sunday, September 28. Tens of thousands of people have fled Kobani, known in Arabic as Ayn al-Arab, to escape ISIS.
Syrian Kurds wait behind border fences to cross into Suruc on September 28.
Tomahawk missiles, intended for ISIS targets in Syria, fly above the Persian Gulf after being fired by the USS Philippine Sea in this image released by the U.S. Navy on Tuesday, September 23.
Turkish Kurds clash with Turkish security forces during a protest near Suruc on Monday, September 22. According to Time magazine, the protests were over Turkey's temporary decision to close the border with Syria.
Syrian Kurds fleeing ISIS militants wait behind a fence in Suruc on Sunday, September 21.
A elderly man is carried after crossing the Syria-Turkey border near Suruc on Saturday, September 20.
A Kurdish Peshmerga fighter launches mortar shells toward ISIS militants in Zumar, Iraq, on Monday, September 15.
An ISIS flag flies on the other side of a bridge at the front line of fighting between ISIS and Kurdish Peshmerga fighters in Rashad, Iraq, on Thursday, September 11.
U.S. Secretary of State John Kerry reads on a flight en route to Iraq on Wednesday, September 10. Kerry traveled to the Mideast to discuss ways to bolster the stability of the new Iraqi government and combat ISIS.
Kurdish Peshmerga fighters fire at ISIS militant positions from their position on the top of Mount Zardak, east of Mosul, Iraq, on Tuesday, September 9.
An Iraqi fighter jet flies over Amerli, Iraq, on September 3. Amerli had been under siege by ISIS militants.
Iraqi volunteer fighters celebrate breaking the Amerli siege on Monday, September 1. ISIS militants had surrounded Amerli, 70 miles north of Baquba, Iraq, since mid-June.
Kurdish Peshmerga forces stand guard at their position in the Omar Khaled village west of Mosul on Sunday, August 24.
Kurdish Peshmergas fight to regain control of the town of Celavle, in Iraq's Diyala province, on August 24.
Peshmerga fighters stand guard at Mosul Dam in northern Iraq on Thursday, August 21. With the help of U.S. military airstrikes, Kurdish and Iraqi forces retook the dam from ISIS militants on August 18. A breach of the dam would have been catastrophic for millions of Iraqis who live downstream from it.
Displaced Iraqis receive clothes from a charity at a refugee camp near Feeshkhabour, Iraq, on Tuesday, August 19.
A fighter with Kurdish Peshmerga forces battles ISIS militants near Mosul on Monday, August 18.
Peshmerga fighters inspect the remains of a car that reportedly belonged to ISIS militants and was targeted by a U.S. airstrike in the village of Baqufa, north of Mosul, on August 18.
Kurdish Peshmerga fighters fire at ISIS in Khazair, Iraq, on Thursday, August 14.
Volunteers of the Iraqi Red Crescent Society unload boxes of goods before distributing them August 14 to families who fled from ISIS.
From the flight deck of the USS George H.W. Bush, which is in the Persian Gulf, two U.S. fighter jets take off for a mission in Iraq on Monday, August 11. U.S. President Barack Obama authorized airstrikes against Islamic militants and food drops for Iraqis who are trapped by the militants.
Aziza Hamid, a 15-year-old Iraqi girl, cries for her father while she and some other Yazidi people are flown to safety Monday, August 11, after a dramatic rescue operation at Iraq's Mount Sinjar. A CNN crew was on the flight, which took diapers, milk, water and food to the site where as many as 70,000 people were trapped by ISIS. But only a few of them were able to fly back on the helicopter with the Iraqi Air Force and Kurdish Peshmerga fighters.
Thousands of Yazidis are escorted to safety by Kurdish Peshmerga forces and a People's Protection Unit in Mosul on Saturday, August 9.
Iraqi Shiite volunteers who have joined government forces to fight ISIS take part in a training session near Basra, Iraq, on Thursday, August 7.
Thousands of Yazidi and Christian people flee Mosul on Wednesday, August 6, after the latest wave of ISIS advances.
A Baiji oil refinery burns after an alleged ISIS attack in northern Selahaddin, Iraq, on Thursday, July 31.
A Syrian rebel fighter lies on a stretcher at a makeshift hospital in Douma, Syria, on Wednesday, July 9. He was reportedly injured while fighting ISIS militants.
Iraqis who fled fighting in the cities of Mosul and Tal Afar try to enter a temporary displacement camp in Khazair on Wednesday, July 2.
Peshmerga fighters check cars at the entrance of a temporary displacement camp in Khazair on Thursday, June 26.
Kurdish Peshmerga take their positions behind a wall on the front line of the conflict with ISIS militants in Tuz Khormato, Iraq, on Wednesday, June 25.
Peshmerga fighters clean their weapons at a base in Tuz Khormato on June 25.
New army recruits gather in Najaf, Iraq, on Wednesday, June 18, following a call for Iraqis to take up arms against Islamic militant fighters.
An MH-60R Sea Hawk helicopter lands on the aircraft carrier USS George H.W. Bush in the Persian Gulf on Tuesday, June 17.
Newly recruited Iraqi volunteer fighters take part in a training session in Karbala, Iraq, on June 17.
Members of ISIS prepare to execute soldiers from Iraq's security forces in this image, one of many reportedly posted by the militant group online. CNN cannot independently confirm the authenticity of the images.
Iraqi men chant slogans outside of an army recruiting center to volunteer for military service Thursday, June 12, in Baghdad.
Kurdish Peshmerga forces, along with Iraqi special forces, deploy their troops and armored vehicles outside of Kirkuk, Iraq, on June 12.
Children stand next to a burnt vehicle during clashes between Iraqi security forces and ISIS militants in Mosul on Tuesday, June 10.
Civilians from Mosul escape to a refugee camp near Irbil, Iraq, on June 10.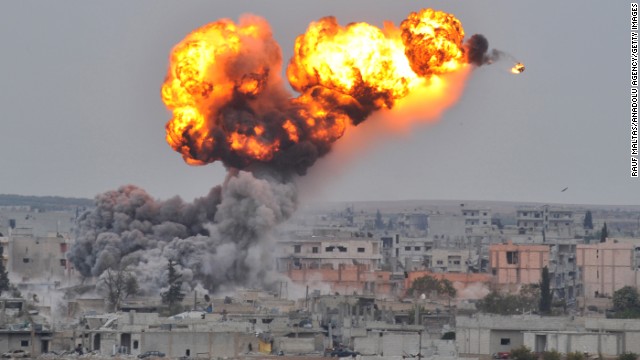 Photos: The ISIS terror threat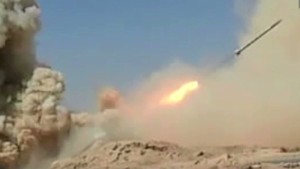 Is ISIS a threat to U.S. safety?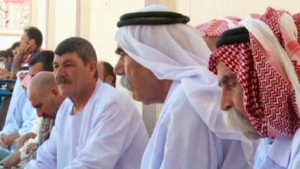 Enemies: Yazidis are 'devil worshippers'
Pictures of the centers posted online purportedly by ISIS claim to show militants, many dressed head-to-toe in black, distributing leaflets, videos and CDs about their operations to men and boys.
While CNN cannot confirm the authenticity of the pictures, they appear to coincide with descriptions provided by the man who described ISIS recruiting efforts.
The pictures also show men and young boys gathered in front of the centers, watching videos purporting to show ISIS leader, Abu Bakr al-Baghdadi, on giant flat-screen televisions.
In some of the videos, al-Baghdadi is heavily armed. In others, he appears to be preaching at a pulpit.
Still other pictures appear to show videos about bomb-making and suicide bombs.
At the centers, ISIS encourages young men to join, according to a man who asked to be identified only as Abu Younis out of fear of retaliation by ISIS
The actual recruiting occurs elsewhere, according to Younis, who lives in Mosul and told CNN he has visited the centers.
Sometimes, he says, recruiting takes place at mosques.
Last week, the Iraqi air force targeted the al-Mufti mosque in western Mosul.
A senior security official in Baghdad and two residents told CNN that the mosque was being used by ISIS as a recruitment center. CNN cannot independently verify the claims.
Abu Raad can't pinpoint the moment that his son made the decision to leave his life behind for ISIS.
Before the militants swept into Mosul, his son listened to music and played video games.
"But then he became a different person. He stopped acting like a normal boy a few weeks ago," Abu Raad said.
"My wife and I begged him not do it. But he didn't listen. He packed and left."
There are stories, Abu Raad says, of young men who have been recruited by ISIS and within weeks are carrying out suicide bombings.
He wonders if one them will be his son.
"My son dreamed of becoming a computer engineer," Abu Raad said, his voice breaking. "Now he's just a terrorist."