STORY HIGHLIGHTS
NEW: U.S. makes another drop of food and water to Iraqis stranded on mountain
Fighter jets and drones targeted an ISIS mortar position and a convoy, Pentagon says
The warplanes targeted an ISIS convoy near Irbil, the Pentagon says
ISIS militants capture dam north of Mosul, Kurdish official says
Washington (CNN) -- U.S. fighter jets and drones repeatedly bombed Sunni Islamic extremists in northern Iraq on Friday, targeting what officials described as ISIS artillery units and convoys advancing on the Kurdish regional capital of Irbil.
The airstrikes ramped up America's involvement in Iraq where ISIS, which calls itself the Islamic State, is seizing control of towns and key infrastructure in an advance that has forced hundreds of thousands to run for their lives.
The critical Mosul Dam is now in the hands of ISIS fighters, authorities said, while 150 hundred miles to the east tens of thousands of Iraq's minority Yazidis were trapped on a mountain by ISIS fighters below who vowed to kill them.
News of the second round of U.S. airstrikes came just after the governor of Irbil told CNN that ISIS may be as close as 30 kilometers (just over 18 miles) from the city of more than a million people.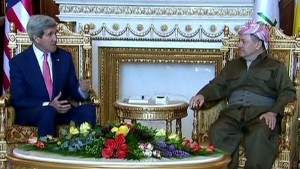 The importance of Kurdistan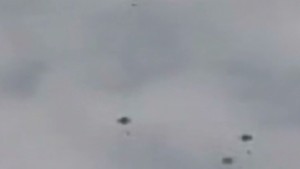 U.S. starts aid drop mission in Iraq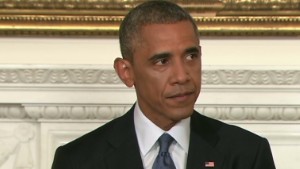 Obama authorizes airstrikes against ISIS
The airstrikes began just hours after President Barack Obama authorized "targeted airstrikes," saying in a televised address late Thursday that the United States had an obligation to protect its personnel in Iraq and prevent a potential genocide of minority groups by ISIS.
Obama said there will be no buildup of U.S. combat troops in Iraq. "As commander in chief, I will not allow the United States to be dragged into fighting another war in Iraq," the President said.
Hitting ISIS
Two U.S. F/A 18 fighters first struck an ISIS artillery unit outside of Irbil, dropping two 500-pound laser-guided bombs at about 6:45 a.m. ET Friday, Pentagon spokesman Navy Rear Adm. John Kirby said.
Later, a drone targeted an ISIS mortar position, Kirby said. When ISIS fighters returned to the site a short time later, the drone struck the target again, he said.
That was followed a short time later by a second round of airstrikes, carried out by four U.S. fighter jets, that targeted an ISIS convoy of seven vehicles and another mortar position, Kirby said.
The F/A 18s made two passes, dropping a total of eight laser-guided bombs, he said.
Before the ISIS onslaught, the region had been the most stable in Iraq and a cooperative ally of the United States. U.S. military advisers and consular personnel are stationed in Irbil.
At this point, the United States has hundreds of military personnel in Iraq, including advisers sent in recent weeks to coordinate with Iraqi and Kurdish military officials in response to the ISIS rampage. The USS George H.W. Bush and other Navy ships also are in the region, and the FA/18s in Friday's initial strike came from the aircraft carrier, officials said.
Airstrikes are "very important" because ISIS fighters are well-armed and are outgunning the Kurdish forces, thanks to the weapons the militants seized from the Iraqi military in Mosul, Irbil Gov. Nawzad Hadi said.
Even as the airstrikes were under way, there was news that ISIS militants captured Iraq's largest hydroelectric dam, just north of Mosul, Iraq's second-largest city. According to a senior Kurdish official, the militant fighters have been using U.S.-made weapons seized during fighting from the Iraqi army, including M1 Abrams tanks.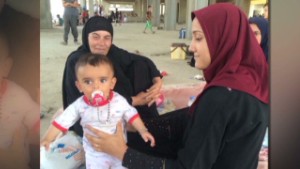 U.S.: No plan for boots on ground in Iraq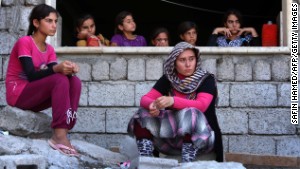 U.N.: Kids dying from poor living situation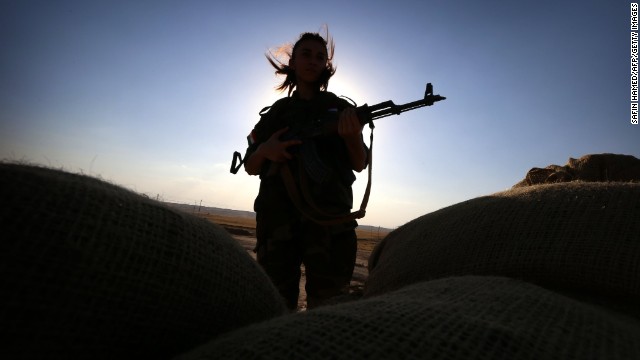 An Iranian Kurdish female member of the Freedom Party of Kurdistan keeps a position in Dibis, Iraq, on Monday, September 15. Some of the world's top diplomats have pledged to support Iraq in its fight against ISIS militants by "any means necessary," including "appropriate military assistance." ISIS has taken over large swaths of northern and western Iraq as it seeks to create an Islamic caliphate that stretches from Syria to Iraq.
A Kurdish Peshmerga fighter holds a position Thursday, September 11, in Yangije, Iraq, where heavy clashes against ISIS fighters took place the previous night.
An ISIS flag flies on the other side of a bridge at the front line of fighting between ISIS and Kurdish Peshmerga fighters in Rashad, Iraq, on September 11.
U.S. Secretary of State John Kerry, left, shakes hands with new Iraqi Prime Minister Haider al-Abadi after a meeting in Baghdad, Iraq, on Wednesday, September 10. Kerry is in the Mideast this week to discuss ways to bolster the stability of the new Iraqi government and combat ISIS.
Kurdish Peshmerga fighters fire at ISIS militant positions from their position on the top of Mount Zardak, east of Mosul, Iraq, on Tuesday, September 9.
A Kurdish fighter eyes ISIS positions outside Makhmour, Iraq, on Saturday, September 6.
Iraqis on Friday, September 5, exhume bodies from a mass grave found after Kurdish forces and Shiite militiamen retook the Iraqi town of Sulaiman Bek.
Iraqi Shiite militia fighters fire a rocket toward ISIS positions outside Tikrit, Iraq, on Wednesday, September 3.
An Iraqi fighter jet flies over Amerli, Iraq, on September 3. Iraqi forces recently broke the siege of Amerli from ISIS fighters.
Iraqi volunteer fighters on Monday, September 1, celebrate breaking the Amerli siege. ISIS militants had surrounded Amerli, 70 miles north of Baquba, Iraq, since mid-June.
Iraqi Shiite Turkmen, mostly women and children, try to board an Iraqi Army helicopter bringing supplies to Amerli on Saturday, August 30.
Kurdish Peshmerga forces stand guard at their position in the Omar Khaled village west of Mosul on Sunday, August 24.
Kurdish Peshmergas fight to regain control of the town of Celavle, in Iraq's Diyala province, on August 24.
Peshmerga fighters stand guard at Mosul Dam in northern Iraq on Thursday, August 21. With the help of U.S. military airstrikes, Kurdish and Iraqi forces retook the dam from ISIS militants on August 18. A breach of the dam would have been catastrophic for millions of Iraqis who live downstream from it.
Displaced Iraqis receive clothes from a charity at a refugee camp near Feeshkhabour, Iraq, on Tuesday, August 19.
A woman holds her sister during a sandstorm at a refugee camp in Feeshkhabour on August 19.
A fighter with Kurdish Peshmerga forces battles ISIS militants near Mosul on Monday, August 18.
A Shiite fighter defends a post while backing the Iraqi army in its fight against ISIS militants south of Baghdad on August 18.
A Kurdish Peshmerga fighter patrols near the Mosul Dam in Chamibarakat, Iraq, on Sunday, August 17.
Smoke rises after a U.S. airstrike near the Mosul Dam on August 17.
A Kurdish Peshmerga fighter prepares his weapon August 17 at a combat position near the Mosul Dam.
Trucks carrying Kurdish Peshmerga fighters head to the Mosul Dam on August 17.
From a position manned by the Kurdish Peshmerga south of Kirkuk, Iraq, Kirkuk Gov. Najm al-Din Omar looks through binoculars toward Islamist jihadist positions on August 17.
Kurdish Peshmerga fighters stand behind a sand barricade set up close to the village of Bashir, Iraq, on August 17.
Kurdish Peshmerga fighters fire at ISIS in Khazair, Iraq, on Thursday, August 14.
Volunteers of the Iraqi Red Crescent Society unload boxes of goods before distributing them August 14 to families who fled from ISIS.
Displaced Iraqis of the Yazidi faith reach for bottled water at the Bajid Kandala refugee camp in Iraq's Dohuk province on Wednesday, August 13.
A Yazidi woman and children take shelter inside a tent at the Bajid Kandala camp on August 13.
From the flight deck of the USS George H.W. Bush, which is in the Persian Gulf, two U.S. fighter jets take off for a mission in Iraq on Monday, August 11. U.S. President Barack Obama has authorized airstrikes against Islamic militants and food drops for Iraqis who are trapped by the militants.
Displaced Iraqis of the Yazidi faith cross the Syria-Iraq border on Sunday, August 10.
Iraqi soldiers fan out into a field in Jurf al Sakhr, Iraq, on August 10 after they reportedly pushed back Islamic jihadist fighters from the area.
An Iraqi man inspects the debris of houses in Falluja, Iraq, after an apparent air raid by the Iraqi Air Force on August 10.
An F/A-18C Hornet lands on the flight deck of the USS George H.W. Bush on August 10.
An Iraqi Yazidi child, whose family fled their home a week ago when ISIS militants attacked their town, looks on at a makeshift shelter August 10 in Dohuk, which is in Iraq's autonomous Kurdistan region.
Displaced Iraqis from the Yazidi community settle outside the Bajid Kandala camp on Saturday, August 9.
Displaced Iraqis ride on a truck on a mountain road near the Turkish-Iraq border, outside Dahuk, on August 9.
Thousands of Yazidis are escorted to safety by Kurdish Peshmerga forces and a People's Protection Unit in Mosul on August 9.
Humanitarian aid for Iraq is loaded onto an aircraft in Norton, England, on Friday, August 8.
Pallets of bottled water are loaded aboard a U.S. Air Force aircraft in preparation for a humanitarian airdrop over Iraq on August 8.
Smoke rises after airstrikes targeted ISIS militants outside the Iraqi city of Irbil on Friday, August 8.
Kurdish Peshmerga fighters take position on the front line on August 8.
Displaced Iraqi Christians settle at St. Joseph Church in Irbil on Thursday, August 7.
Iraqi Shiite volunteers who have joined government forces to fight ISIS take part in a training session near Basra, Iraq, on August 7.
Thousands of Yazidi and Christian people flee Mosul on Wednesday, August 6, after the latest wave of ISIS advances.
Kurdish Peshmerga forces and members of the Syrian People's Protection Units engage ISIS members in the Mahmudiye village of Mosul on Tuesday, August 5.
Yazidi women who fled violence in Sinjar, Iraq, take shelter at a school in Dohuk on August 5.
People in Mosul walk on the rubble of the destroyed Mosque of The Prophet Yunus, which is Arabic for Jonah, on Thursday, July 24.
An Iraqi child walks through a displacement camp Saturday, June 28, in Khazair, Iraq.
An Iraqi woman walks with her child outside of a displacement camp June 28 in Khazair.
Peshmerga fighters check cars at the entrance of a temporary displacement camp in Khazair on Thursday, June 26.
A group of women wait outside the temporary displacement camp in Khazair on June 26.
Smoke rises in the Karakus district of Mosul as clashes between Iraqi forces and ISIS militants take place on June 26.
Food is handed out at the displacement camp in Khazair.
A child walks over discarded water bottles and trash at a registration area in the displacement camp in Khazair on June 26.
Kurdish Peshmerga take their positions behind a wall on the front line of the conflict with ISIS militants in Tuz Khormato, Iraq, on Wednesday, June 25.
Peshmerga fighters clean their weapons at a base in Tuz Khormato on June 25.
Female Peshmerga between 18 and 45 years old form a special unit that is called to serve in any conditions. A soldier is pictured here on June 25.
A woman gathers bread in a temporary displacement camp for Iraqis on Tuesday, June 24.
An ISIS fighter takes control of a traffic intersection in Mosul on Sunday, June 22.
An ISIS member distributes a copy of the Quran, Islam's holy book, to a driver in Mosul on June 22.
Members of ISIS patrol in Falluja on Saturday, June 21.
"Peace Brigade" volunteers raise their weapons and chant slogans during a parade in the Shiite stronghold of Sadr City on Saturday, June 21, in Baghdad. The armed group was formed to protect Shiite holy shrines against possible attacks by Sunni militants.
Iraqi men register to fight alongside security forces Friday, June 20, at a recruitment center in Baghdad.
New army recruits gather in Najaf, Iraq, on Wednesday, June 18, following a call for Iraqis to take up arms against Islamic militant fighters.
Soldiers with an Iraqi anti-terrorism unit are on guard June 18 in Baghdad.
A Kurdish Peshmerga fighter injured in clashes with ISIS lies in a hospital in Irbil on June 18.
An MH-60R Sea Hawk helicopter lands on the aircraft carrier USS George H.W. Bush in the Persian Gulf on Tuesday, June 17.
Newly recruited Iraqi volunteer fighters take part in a training session in Karbala, Iraq, on June 17.
Iraqi tribesmen gather in Baghdad on Monday, June 16, to show their readiness to join Iraqi security forces in the fight against Islamic militants.
Iraqi Christian children gather inside the Church of the Virgin Mary for prayers in Bartala, Iraq, a town near Mosul, on Sunday, June 15.
Shiite tribal fighters raise their weapons and chant slogans against ISIS in Basra on June 15.
Members of ISIS prepare to execute some soldiers from Iraq's security forces in this image, one of many reportedly posted by the militant group online. CNN cannot independently confirm the authenticity of the images.
A woman cradles her baby Thursday, June 12, at a temporary camp set up in Aski Kalak, Iraq, to shelter those fleeing the violence in northern Nineveh province.
A girl fleeing from Mosul arrives at a Kurdish checkpoint on June 12.
Iraqi men chant slogans outside of an army recruiting center to volunteer for military service June 12 in Baghdad.
Kurdish Peshmerga forces, along with Iraqi special forces, deploy their troops and armored vehicles outside of Kirkuk on June 12.
Children stand next to a burnt vehicle during clashes between Iraqi security forces and ISIS militants in Mosul on Tuesday, June 10.
Civilians from Mosul escape to a refugee camp near Irbil on June 10.
Iraqis fleeing the violence wait in their vehicles at a Kurdish checkpoint in Aski Kalak on June 10.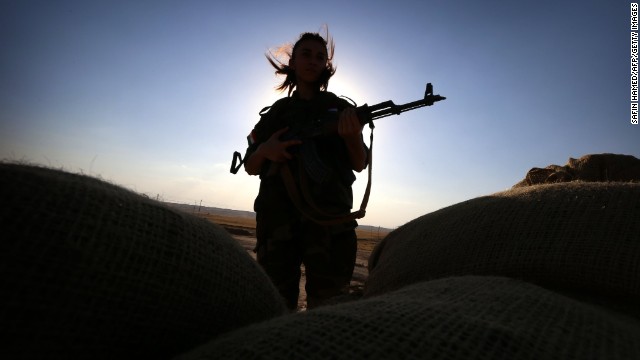 Photos: Iraq under siege
There had been conflicting reports about who controlled the dam on the Tigris River, with heavy fighting under way between ISIS fighters and Kurdish forces, known as peshmerga. U.S. officials have warned that a failure of the dam would be catastrophic, resulting in flooding all the way to Baghdad.
In other fighting, an Iraqi airstrike killed 45 ISIS fighters and injured 60 Friday in the northern town of Sinjar, the country's state-run National Media Center said.
Sinjar is the town that ISIS overran last weekend, forcing tens of thousands of Yazidis to flee into surrounding mountains without food, water or shelter and prompting concerns of a potential genocide. The Yazidis are of Kurdish descent, and their religion is considered a pre-Islamic sect that draws from Christianity, Judaism and Zoroastrianism.
U.S. flights prohibited
In other signs of a growing regional conflict: The Federal Aviation Administration issued a notice prohibiting U.S. airlines from flying through Iraqi airspace "due to the hazardous situation created by the armed conflict."
The developments showed that the lightning advance by ISIS fighters across northern Iraq this year has become a battle for the nation's future and overall stability in a part of the world wracked for decades by periodic war.
U.S. warplanes patrolling the skies over northern Iraq have a "green light" to go after perceived ISIS threats to the Kurdish capital, Irbil, or to minority populations, said deputy national security adviser Ben Rhodes.
Airstrikes are also possible to help Kurdish forces end the siege by ISIS in the northern Iraqi mountains, where tens of thousands of Yazidis have sought refuge, Earnest, the White House spokesman, said Friday.
ISIS fighters have surrounded the Yazidis on the ground below.
"If there can be American military might that can tip (the) balance, we'll look for an opportunity to do that," Earnest said.
Kurdish pleas
In announcing his airstrike decision Thursday night, Obama said the militants would get hit "should they move towards the city."
Kurdish leaders have been pleading for the United States or NATO to buttress their forces against ISIS from the air. The President seems to have heard their appeal.
"We do whatever is necessary to protect our people," Obama said, adding, "We support our allies when they're in danger."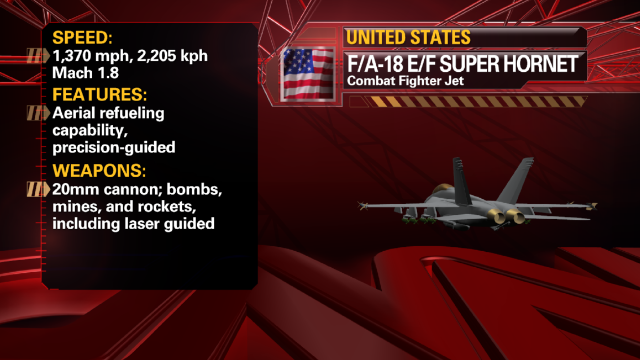 U.S. F/A-18 E/F Super Hornet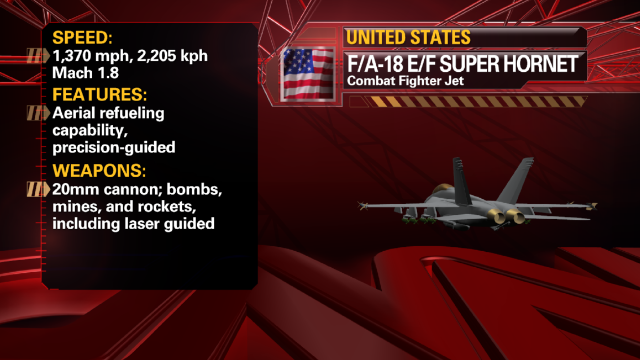 U.S. F/A-18 E/F Super Hornet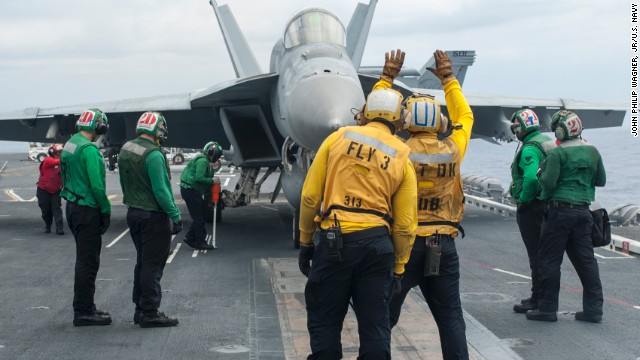 An F/A-18E Super Hornet from the Sunliners of Strike Fighter Squadron 81 taxis onto a catapult prior to launching from the flight deck of the aircraft carrier USS Carl Vinson. Two F/A-18s flying from the carrier crashed into the Pacific Ocean, the Navy said on Friday, September 12.
An F/A-18 Hornet is pictured aboard the USS George H.W. Bush on May 19, 2009. Two F/A-18s from the Bush struck ISIS artillery in Iraq on Friday, August 8. The F/A-18 Hornet, a late-'70s contemporary of the Air Force's F-16 Fighting Falcon, became the workhorse of U.S. carrier-based air power, and still supplements the Navy's and Marines' more current fleet of F/A-18E and F/A-18F Super Hornets. It is designed as both a fighter and attack aircraft.
A F-35C conducts a test flight over the Chesapeake Bay on February 11, 2011. Inspections of F-35 engines have been ordered after a runway fire took place at Eglin Air Force Base on June 23. The F-35 Lightning II, still in its development and testing phase, has been beset by delays and cost overruns in the years since its introduction.
F-16 Fighting Falcons are parked at the Aerospace Maintenance and Regeneration Center in Tucson, Arizona, on December 11, 2004. General Dynamics (which was later sold to Lockheed) delivered the U.S. Air Force its first F-16As in 1979. More than 4,500 of the fighters have been built and are used by more than 20 nations in addition to the United States.
An F-15E Strike Eagle flies by during a U.S. Air Force demonstration on September 14, 2007, near Indian Springs, Nevada. The F-15E was designed for long-range, high-speed interdiction without relying on escort or electronic warfare aircraft. It was derived from the F-15 Eagle, which was developed to enhance U.S. air superiority during the Vietnam War.
Pilots perform daily flight checks on their F-5E/F Tiger aircraft in Key West, Florida, on January 7, 2005. The Vietnam-era aircraft -- one of several offshoots of the original Northrup F-5s that went into service in the early 1960s -- is used to simulate adversary aircraft in training.
A F-22 Raptor flies over Marietta, Georgia, home of the Lockheed Martin plant where it was built. The F-22 is the only fighter capable of simultaneously conducting air-to-air and air-to-ground combat missions.
A AV-8B Harrier lands on board the USS Nassau on April 14, 1999, following a strike mission into Kosovo. The AV-8B Harrier is a single-engine ground-attack aircraft capable of vertical or short takeoff and landing. Though production of the aircraft ceased in 2003, the U.S. Marine Corps is looking at systems enhancements and plans to continue using Harriers well into the next decade.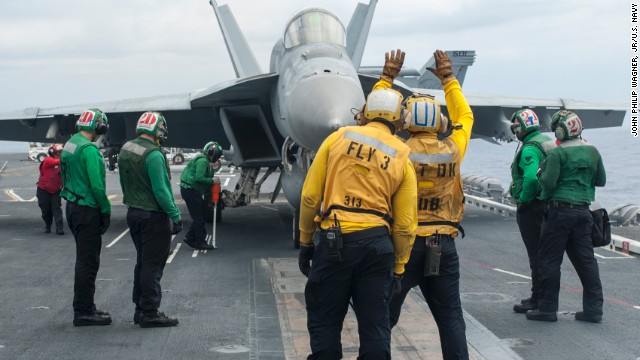 U.S. military's fighter fleet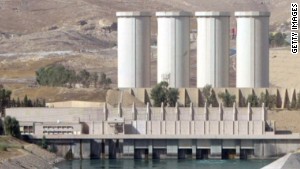 Report: ISIS captures Iraq's largest dam
Before Obama announced the airstrikes, two U.S. military cargo planes airdropped 5,300 gallons of water and 8,000 meals onto Mount Sinjar, where some Yazidi children had died from dehydration.
According to a U.S. official, a Predator drone flying overhead indicates the Yazidis have 63 of the 72 pallets dropped with aid supplies. It's not clear if the other pallets missed the drop zone or are in ISIS hands.
Late Friday, the Defense Department announced that U.S. military planes made another airdrop of food and water for Iraqi citizens stranded on Mount Sinjar.
The British government said Friday it would support the U.S. humanitarian effort and planned airdrops of its own.
French President François Hollande joined the growing chorus of condemnation of the ISIS attacks and called on the international community to respond.
"France is ready to take its part," Hollande said in a statement from his office that called for the European Union "to take an active role very quickly" and put in place all the necessary assistance to respond to the crisis.
Meanwhile, the United Nations in Iraq was "urgently preparing a humanitarian corridor to allow those in need to flee the areas under threat," said Nickolay Mladenov, the special representative to the U.N. secretary-general.
He welcomed the "cooperation between the Government of Iraq, the Kurdistan Regional Government (KRG) and the international community to help prevent genocide and fight terrorism," according to a U.N. statement.
Iraqi Foreign MInister Hoshyar Zebari told reporters Friday from Irbil that his government is working with the KRG -- including supplying the Kurdish peshmerga with ammunition and military helicopters.
This hasn't always been the case "because of political issues," the KRG's official website notes. Yet the same site reported that Zebari said "it is now clear that the peshmerga and the Iraqi security forces are fighting together against a common enemy."
Beheadings
ISIS has executed people who don't share their fanatical interpretation of Sunni Islam and posted videos of their killings to the Internet. "Convert to Islam or die" is the militants' ultimatum to those captured.
They also have beheaded victims and placed their heads on spikes to strike terror in the population, a senior administration official said.
Already, the Obama administration is rapidly funneling weapons to Iraqi forces. Factories are operating seven days a week to produce them, a senior administration official said.
The administration has pushed for Iraqi Prime Minister Nuri al-Maliki's Shiite-dominated regime to be replaced by an ethnically more inclusive government
But two Republican senators said in a statement that the President's actions do not go far enough. And the United States should not wait on Iraq to pull together before Washington takes action.
Sens. John McCain of Arizona and Lindsey Graham of South Carolina want to see U.S. forces take the fight to ISIS.
"It should include U.S. airstrikes against ISIS leaders, forces, and positions both in Iraq and Syria," their statement read.
ISIS takes Iraq's largest Christian city
CNN's Barbara Starr and Tom Cohen reported from Washington, and Chelsea J. Carter reported and wrote from Atlanta. CNN's Ivan Watson, Catherine E. Shoichet, Ben Brumfield, Jim Sciutto, Niki Cook, Elise Labott, Mohammed Tawfeeq, Jim Acosta, Jamie Crawford, Mohammed Tawfeeq and Hamdi Alkhshali contributed to this report.