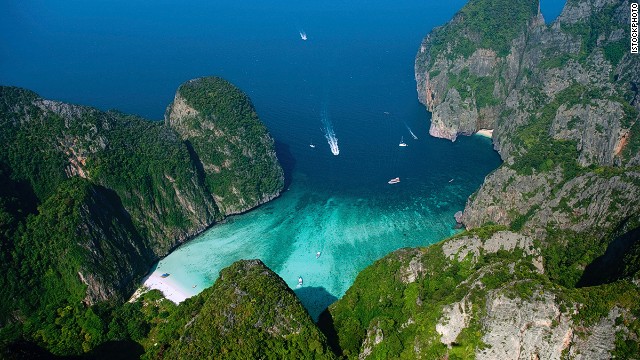 Consider something spectacular for your next beach vacation. Ko Phi Phi in southern Thailand's Krabi province is an archipelago of six islands about an hour's boat ride from Phuket. On Phi Phi Leh, towering limestone cliffs surround Maya Bay's pristine beach.
Only accessible by boat, secluded Navagio Beach on the Ionian Island of Zakynthos is one of Greece's most beautiful stretches of sand.
Just north of Sidi Ifni along the coast of southern Morocco, the Atlantic has worn natural arches into the red stone cliffs of Legzira Beach. Go at low tide to explore.
This is about as close as you'll get to McWay Falls unless you're an experienced kayaker. The falls tumble onto the beach in McWay Cove in Julia Pfeiffer Burns State Park along California's iconic Highway 1 in Big Sur. Climbing down to the beach is prohibited, but the beach is all yours if you can get there by water. There are more accessible beaches nearby, but the short walk to this overlook is well worth it.
Not all coastal cliffs are remote and windswept. Along the Calabrian Coast, in the toe of Italy's boot, the clifftop town of Tropea looks down on the clear Tyrrhenian Sea.
Erosion really is a wonder. On Spain's Galician coastline near Ribadeo, As Catedrais features naturally carved arches that resemble a cathedral.
Calanque d'En Vau, along the Mediterranean coast of France between Cassis and Marseille, is one of a series of steep, narrow coves and inlets cutting into the shore. The beach can be reached on foot or by boat.
The wild South African cape that includes secluded Dias Beach was called the Cape of Storms by explorer Bartolomeu Dias in 1488. The beach is in Cape Point Nature Reserve. There's a scenic hike down to the shore, but the wild surf makes swimming dangerous.
A short hike down an unpaved path leads to Halona Beach Cove. The beach on Oahu's southern shore had a role in the 1953 movie "From Here to Eternity."
A steep rock wall surrounds Chiaia di Luna on the island of Ponza, the most visited of Italy's Pontine Islands.
The island of Fernando de Noronha is one of Brazil's national marine parks. The island's Baia do Sancho is a peaceful spot for snorkeling and sunbathing.
One of Barbados' most beautiful beaches, Bottom Bay is surrounded by coral cliffs. The surf is wild here, so swimming isn't advised, but picnicking in the shade of the palms is absolutely recommended.
In the Philippine province of Palawan, limestone karst cliffs define the tucked-in beaches and lagoons of El Nido.
Natural arches have emerged from the chalky cliffs of Etretat, France, a scene that inspired Claude Monet and other impressionists. A wide beach fronts the resort town beyond this dramatic formation.
Porto Katsiki's stunning setting draws crowds. Located on the Ionian Island of Lefkada, it's best to arrive early or late or visit during the off-season for a bigger slice of sand and a smoother arrival. The narrow road to the beach and the parking area above can get very tight. Many sunbathers arrive by boat.
Near Lagoa on southern Portugal's Algarve coast, Praia da Marinha features imposing rock formations and calm waters. There's parking above and a staircase down to the beach.
You've got to be committed to reach Cape Leveque. Located at the end of Western Australia's Dampier Peninsula, you'll need a four-wheel drive vehicle to navigate the rough road. After the more than three-hour drive from Broome, swim, snorkel and relax amid the red cliffs and white sandy beaches.
There are two ways to get to Anguilla's Little Bay Beach: by boat or by cliff. There's a rope that runs the length of the cliff to help climbers down or you can navigate on your own using the natural grips of the rock. Tread carefully.
Low volcanic cliffs surround a small black sand beach at Waianapanapa State Park, off the famous Hana Highway in Maui.
Perched over the Caribbean Sea, the ancient Mayan fortress city of Tulum provides a truly one-of-a-kind beach experience.
Maya Bay, Ko Phi Phi, Thailand
Navagio Beach, Zakynthos, Greece
Legzira Beach, Morocco
McWay Cove, Big Sur, California
Tropea, Italy
As Catedrais, Galicia, Spain
Calanque d'En Vau, near Cassis, France
Dias Beach, Cape Point, South Africa
Halona Beach Cove, Oahu, Hawaii
Chiaia di Luna, Ponza, Italy
Baia do Sancho, Fernando de Noronha, Brazil
Bottom Bay, Barbados
El Nido, Palawan, Philippines
Etretat, France
Porto Katsiki, Lefkada, Greece
Praia da Marinha, Algarve, Portugal
Cape Leveque, the Kimberley, Western Australia
Little Bay Beach, Anguilla
Waianapanapa State Park, Maui, Hawaii
Tulum, Mexico