'Saved by the Bell's' Mark-Paul Gosselaar calls co-star 'negative'
updated 4:05 PM EDT, Fri August 8, 2014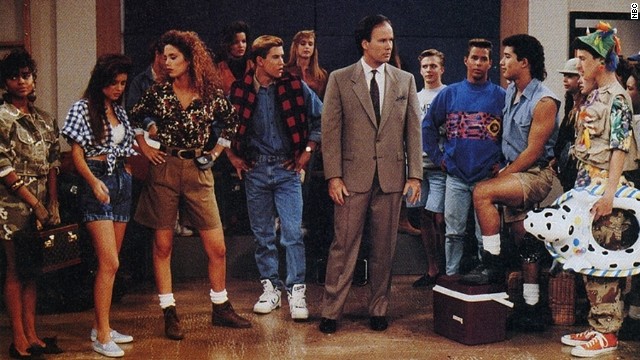 Beloved '90s sitcom "Saved by the Bell" is celebrating its 25th anniversary. The show debuted on NBC on August 20, 1989, after it was rebooted from a failed Disney series titled "Good Morning, Miss Bliss." It's the subject of the Lifetime movie "The Unauthorized Saved by the Bell Story," which aired September 1, 2014.
After reprising his role as Zack Morris on "Saved by the Bell: The College Years" and "Wedding in Las Vegas," Mark-Paul Gosselaar appeared in "NYPD Blue" and "Raising the Bar." In 2009, he appeared on "Late Night with Jimmy Fallon" as Zack. He has starred on "Franklin & Bash" and appeared in the series "Don't Trust the B**** in Apartment 23."
Funny or Die sketch
about why she doesn't have time for a "Saved by the Bell" reunion.
After Kelly Kapowski and Zack tied the knot in 1994, Tiffani Thiessen dropped the "Amber" from her name and went on to appear in "Beverly Hills, 90210," "Fastlane" and "White Collar." She did a
Yo Soy Productions
. Her mom, Tricia, told
People
that the former child star has been diagnosed with bipolar disorder. However, the "How High" actress insists she's just fine.
Lark Voorhies, who played Lisa Turtle, has said she was keeping busy with her new company,
After playing A.C. Slater, Mario Lopez appeared in "Pacific Blue" "The Bold and the Beautiful" and "Nip/Tuck." He competed on Season 3 of "Dancing with the Stars" and has hosted "America's Best Dance Crew," "Extra" and "The X Factor."
turned to caffeine pills
to keep up with her schoolwork and extracurricular activities during Season 2. After playing the Bayside overachiever, Elizabeth Berkley appeared in "Showgirls," "Any Given Sunday" and Broadway's "Sly Fox." Her 2011 book
"Ask Elizabeth"
is touted as a "guide to teen life."
We'll never forget the time Jessie Spano
Dustin Diamond played Samuel "Screech" Powers for more than a decade. After starring on "Saved by the Bell: The New Class," Diamond appeared on reality shows like "Celebrity Fit Club" and "Celebrity Boxing 2." The stand-up comedian directed and starred in a 2006 sex tape, "Screeched," and released a book, "Behind the Bell," in 2009.
Leanna Creel played tough girl Tori Scott during season 4. She was with the gang for some very important moments, like helping set up a hotline for teens and the birth of Mr. Belding's son. She has since appeared in 2000's "The Cell" and co-produced 2001's "Get Over It."
mom of four
and "Craft Wars" host has starred in and produced several Oxygen reality series with husband Dean McDermott.
Tori Spelling briefly appeared on the series as a nerdy student named Violet who had a crush on Screech. The actress went on to appear in a number of films and series, including "Beverly Hills, 90210." The
'Saved by the Bell': Where are they now?
Mark-Paul Gosselaar
Tiffani Thiessen
Lark Voorhies
Mario Lopez
Elizabeth Berkley
Dustin Diamond
Dennis Haskins
Leanna Creel
Tori Spelling
STORY HIGHLIGHTS
Gosselaar said he disagrees with Dustin Diamond's memories of the show
He said he was not involved with the new TV movie
In 2013, Diamond distanced himself from his book about the show
(CNN) -- Sorry, Screech, but Zack thinks you are wrong.
Mark-Paul Gosselaar, who played Zack Morris on the cult classic '90s TV show "Saved by the Bell," doesn't agree with former co-star Dustin Diamond's portrayal of their time together.
Diamond -- who played super nerdy Samuel "Screech" Powers -- put out a book years ago titled "Behind the Bell."
Now there's a Lifetime TV movie, "The Unauthorized Saved by the Bell Story," which purports to show the less-than-glamorous side of life on the show, complete with fights, jealousy and other drama.
During an interview with HuffPostLive to promote his current series, "Franklin & Bash," Gosselaar said he neither was involved with nor consulted on the TV project.
As for Diamond's book, the actor said it is "negative."
"Everything I've heard about his book is, it is negative," Gosselaar said. "I don't remember those things. My experience on the show was very positive."
Gosselaar's "Franklin & Bash" co-star took it even further when commenting on Diamond.
"This guy's such a d**k," Breckin Meyer said. "I don't know Dustin at all but everything I read. (Gosselaar) and I have talked endlessly about 'Saved by the Bell.' I grew up at the same time, I was acting, and I used their sets one time when I did a pilot.
"The Dustin Diamond thing is just so silly," he added. "It's just so negative, and it always bums me out."
During a 2013 interview with OWN, Diamond distanced himself from the book, saying that he had a ghostwriter and that it was a "disappointment" to him.
"I talked to a guy a few times, so the book has some truth in it, but a lot of the stories were just kind of throwaways," Diamond said. "I have nothing but good thoughts and memories towards everybody."
'Saved by the Bell' to have dirt exposed
See more comedy content at CNN Comedy.