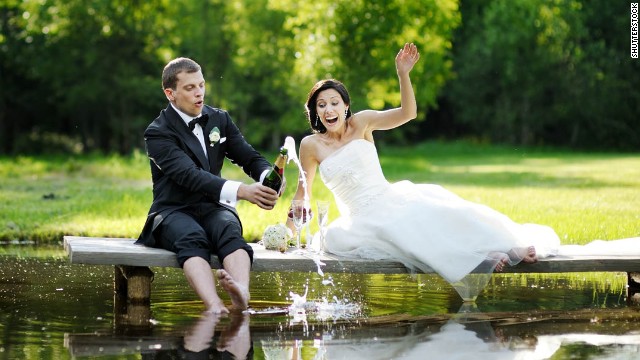 Weddings don't just celebrate the union of two crazy kids in love -- they also blend some sticky etiquette questions into the mix. For instance, will your guests be expecting dinner and drinks? Here's how to get the message across without stirring up too much fuss.
If it's just going to be a cocktail reception with drinks and passed appetizers, say "cocktail reception," "cocktails and hors d'oeuvres" or "cake and punch to follow" or use similar language on wedding invitation inserts so guests aren't just hanging around waiting for a seated dinner that will never come.
The cutting of the cake or presentation of desserts is the usual point at which guests know they can make a polite exit. If dinner isn't being served, try to wrap everything up by 8 p.m. so guests can make alternate plans.
Consider deputizing wedding party or family members to convey the message if there is a special theme or structure to the food. In a traditional New Orleans wedding, there is no sit down meal -- the heavy passed apps and small plates stations ARE the dinner and guests shouldn't miss them
A clambake on the beach sounds great, right? It helps to let the guests know if there's a limited theme menu just in case they have allergies or aversions. They may care to eat beforehand or make plans afterward.
Barbecue weddings are hugely popular, especially in the South. Again, just make sure to let guests know so they can perhaps avoid wearing their most stain-attracting silk. Consider offering a meat-free option as well for your vegetarian guests.
Cash bar or dry wedding? Get your trusty wedding party or family members to discreetly spread the word so people know to bring cash (or possibly a flask).
'I now pronounce you fed'
'I now pronounce you fed'
'I now pronounce you fed'
'I now pronounce you fed'
'I now pronounce you fed'
'I now pronounce you fed'
'I now pronounce you fed'
STORY HIGHLIGHTS
Refreshments take up the largest slice of most wedding budgets
It's important to choose your caterer carefully and ask questions before you sign a contract
Permits, licenses and allergy accommodations are all on the table
Ask who is responsible for which tasks and how much it's all going to cost you
(Brides.com) -- Food and drink will consume the largest portion of your wedding budget, so it's incredibly important to choose the right caterer for your celebration. Before you sign a contract, go ahead and pepper them with questions. Here is a comprehensive list of all the questions you should probably ask to ensure you're communicating exactly what you need.
Tip: We recommend printing out this list of questions and bringing it with you to caterer meetings!
Brides: Couples that Found Love on The Bachelor and The Bachelorette
The Wedding Date
• Is my wedding date available?
• How many weddings will you cater that day?
Brides: TV Wedding Dresses: The Best of the Best
Background Information
• How many weddings do you cater per year?
• Have you done events at my wedding venue?
• Are you licensed, with health permits and liability insurance?
• Are you licensed to serve alcohol?
• Will I need any special permits for my event? If so, will you handle obtaining them?
• Will you provide a banquet manager to coordinate the meal service or an on-site coordinator who will run the entire event? If so, can we meet this person before the wedding?
Brides: 20 Celebrity-Approved Honeymoon Destinations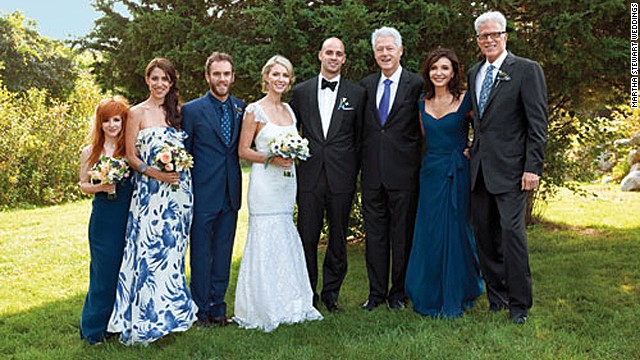 Like going to weddings? Here's how you get asked to more of them.
Don't stash the RSVP card away! The couple needs to know four weeks ahead of time.
If you say yes to being in the wedding, know what your duties are.
Don't add your own plus-one -- even if it's a child.
Make sure you arrive on time so you don't walk in after the bride.
Be seated appropriately -- unless you're told otherwise, the first few rows may be reserved.
Unless asked, your friends don't need you to play paparazzi.
Keep your speech short and sweet, and make sure to rehearse.
Don't overindulge -- an open bar is a treat, not a goal to be surmounted.
Respect the venue so your hosts don't end up paying the price.
Mail your gift so the happy couple doesn't have to haul things home.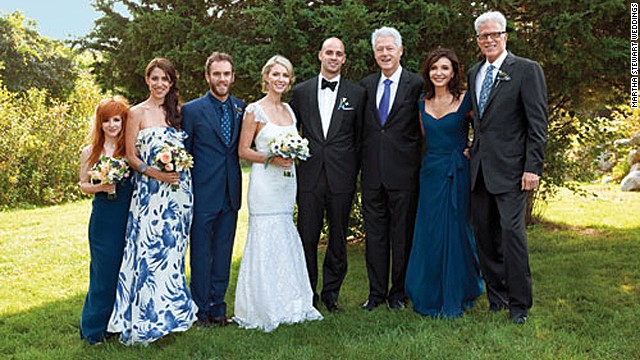 Wedding guest etiquette 101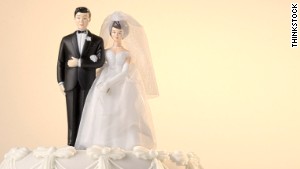 Bride: Here's why you're NOT invited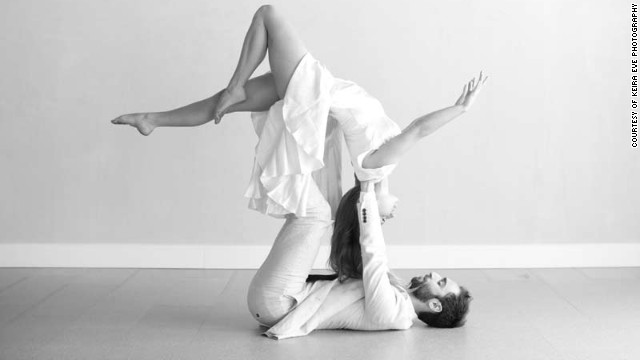 Kelsey and Isaac: June 23, 2012, in the backyard of Kelsey's yoga teacher in Orem, Utah
Tessa and Ashoke: August 3, 2013, in Sonoma, California, at Cornerstone Gardens
James and Aubrey: November 19, 2011 at their friend's ranch in Round Top, Texas
Shenae and Josh: May 2013 in a small garden
Chi and Jesse: October 6, 2012, in New York City
Zahra and Vincent: April 2013 in Washington, D.C.
Kara and Thomas: August 11, 2012, at Kara's family's home in Rockport, Maine
Maggi and Alex: June 29, 2013, at a converted barn next to a pond in Saugerties, New York
Amy and Carter: September 10, 2011, at their Traverse City, Michigan, home, which is a 100-year-old farmhouse
McKenzie and Jamie: June 2012 on a farm they rented (See more at Elle.com)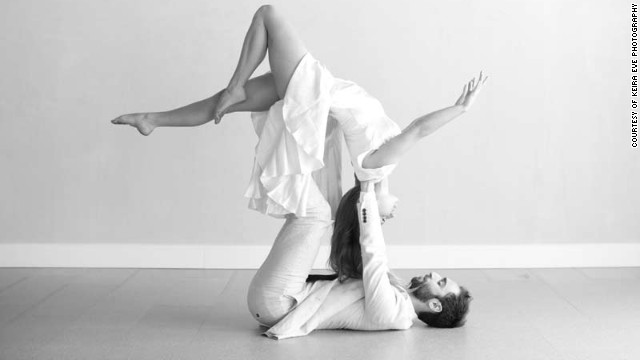 They did 'I do' their way
Food & Presentation
• What is your signature fare?
• Do you specialize in certain cuisines?
• Given my budget, guest count, and wedding style, what food choices would you recommend?
• Where does the food come from? Can you source organic or sustainably farmed ingredients?
• What can you do for guests with allergies and dietary restrictions?
• Will the food be prepared on-site or be brought in already prepared?
• How will you handle last-minute requests?
Brides: The Most Flattering Wedding Dress for Your Body Type
Drinks:
• Do you provide alcoholic beverages and bartenders? Can you accommodate specialty cocktails?
• What brands of alcohol will be served?
• Can we provide the alcohol and you provide the bar labor?
• Do you charge a corkage fee if we provide our own wine or champagne?
• How do you charge for alcoholic and non-alcoholic beverages? Per consumption or per person? Which is more cost-effective?
• Is the champagne toast after the ceremony included in your meal packages or is it extra?
• Will your staff serve the wine with dinner?
• How long will alcohol be served?
• Is coffee and tea service included with the per-person meal charge? What brands of each do you offer and do they include decaf and herbal tea options?
Brides: 11 Celebrities Who Didn't Wear White Down the Aisle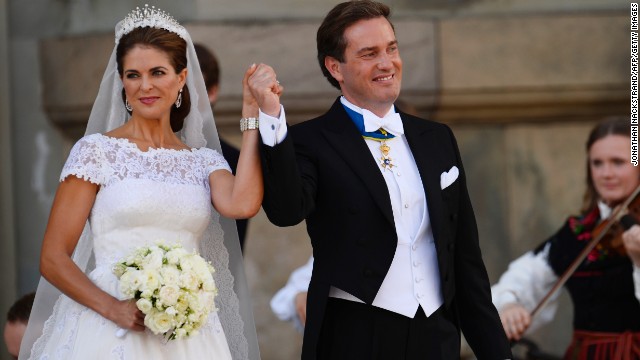 A trip down the aisle shouldn't mean stumbling into debt. Experts say it's important to determine your spending priorities as a couple -- and then skimp on the rest as needed.
Favors are frequently left behind on the tables. As one expert says, guests just don't care -- they're just there to party. If you really want your guests to go home with a token, consider making it edible.
Wedding cake makes a great photo op, but many guests just take a bite or two, if any. Consider a small "show cake" and a less-expensive dessert bar.
Wedding planners say full glasses of Champagne are routinely left un-sipped. Skip the Champagne toast and just have it as option at the bar, or offer sparkling cider.
A bride may have dreamed of a frothy, fancy designer dress since childhood, but many come to regret the expense and the discomfort of wearing it all night. Plenty of brides say they're just as happy having an off-the-rack or sample dress altered so it fits perfectly.
Fancy shoes also might not be worth the splurge. They're often hidden under the dress, and brides slip them off the first second they can.
A vintage veil that's been passed down for generations is one thing. But many brides find that the cumbersome veil they've spent a fortune on is the first thing to go the second the ceremony is over.
One bride says she worked out a deal with her florist to "rent" the flowers, which were collected at the end of the night and brought in to decorate local hotels and restaurants.
Printed programs and menus are lovely, but often skippable. If you're determined to have a menu for everyone, print each guest's name at the top so it becomes a place card.
It might seem incredibly necessary to drape every last surface with flowing fabric, it's often less expensive just to focus on better lighting. Plus -- guests are too busy drinking, dancing and merrymaking to look up and see what's above them.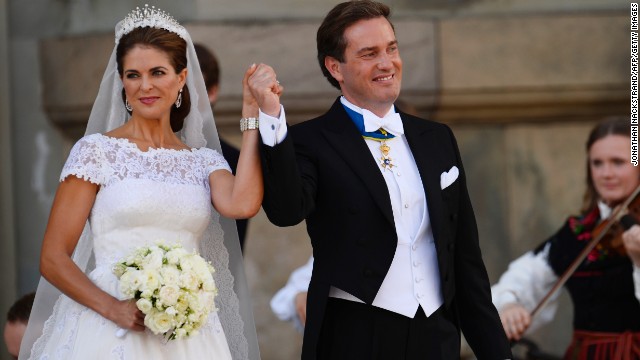 Wedding $: What to skip and where to splurge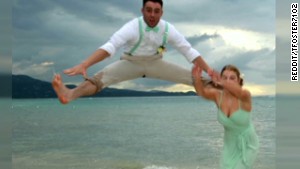 Goofy wedding pic goes viral
Catering Packages and Payment:
• Do we have to work off a pre-set menu or can you create a custom menu for our event?
• If I have a special dish I'd like served, would you accommodate that?
• Do you offer event packages or is everything a la carte? What exactly do your packages include?
• Can you explain the price differences between sit-down meal vs. buffet vs. stations vs. cocktail-style reception vs. family-style?
• How much do you charge for children's meals?
• How much do you charge for vendor meals?
• Do you do wedding cakes? If so, is this included in the per-person meal price or is it extra?
• If we use an outside cake designer, do you charge a cake-cutting fee?
• If I decide not to serve cake, what are some other dessert options?
• Do you do menu tastings and is there an extra charge for this?
• Do you handle rental equipment such as tables, chairs, etc.?
• What types of linens, glassware, plates and flatware do you provide?
• Do you provide rental upgrades (i.e., chair covers, lounge furniture, Chiavari chairs, etc.)? What would be the additional fees?
• When will I receive a written contract?
• How much of a deposit do you require and when is it due? Do you offer a payment plan?
• What is your refund/cancellation policy?
• How far in advance do I need to book you?
• What information do you need from me before the wedding day?
• When would I need to finalize the menu?
• When will you need a final guest count?
Brides: The Most Creative Wedding Cakes of the Year
Don't miss out on the conversation we're having at CNN Living.
Follow us on Twitter
and
Facebook
for the latest stories and tell us what's influencing your life.
Logistics:
• What are your water, electrical, and equipment needs?
• How long will it take your team to set up and break down the event?
• What is the ratio of servers to guests?
• What time will you and your staff arrive at the site?
• Will your team handle all table settings? Will they light candles and put out place cards and favors?
• What is your policy on cleanup?
• How will your staff dress?
• How do you handle tips for your staff?
• What do you do with leftovers?
For more food and drink news, advice and opinions, visit Eatocracy at its new home
Reprinted with permission of Conde Nast.