STORY HIGHLIGHTS
It's been 45 years since the Tate-LaBianca murders
Charles Manson's next parole hearing is in 2027
At 79, Manson still draws attention -- and even supporters
He has received more mail than any other inmate in California
(CNN) -- Inside the Charles Manson room at the Museum of Death in Hollywood, Anne Forde looks at crime scene photos from the 1969 Tate-LaBianca murders.
"I was a kid when he was involved in these crimes," says Forde, who grew up in County Cork, Ireland. "It's just been a fascination for me ever since."
"His eyes just stand out and look crazy," says Debbie Roberts, who was visiting the museum from Kentucky. "I can see how people followed him."
A few miles away on Saturday mornings, Scott Michaels is hosting the "Helter Skelter Tragical History Tour." For $65, you can buy a bus seat to see where the murders took place, as Michaels tells the story of Helter Skelter.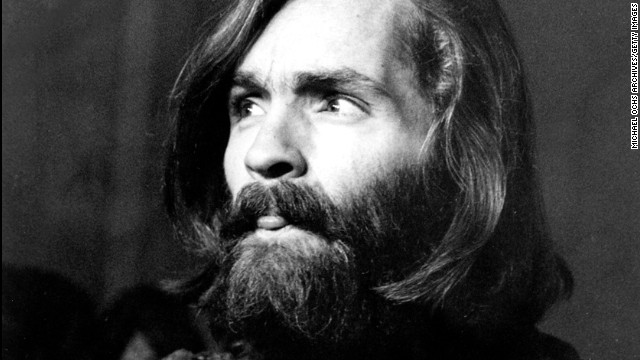 Saturday, August 9, marks 45 years since the murder of Sharon Tate and four others at the Los Angeles home of Tate and her husband, director Roman Polanski. The murders led to the arrest and trial of Charles Manson along with his followers, who physically committed the crimes.
Polanski and Tate at their wedding in January 1968. Tate was eight months pregnant at the time of her death.
Writer Wojciech Frykowski, coffee heiress Abigail Folger, celebrity hairstylist Jay Sebring and Steven Parent, a friend of the family's gardener, were also killed.
The victims were stabbed, shot and beaten to death.
Polanski, who was out of town at the time of the murders, is seen on the porch outside his home, the remnants of the word "pig" can be seen where it was scrawled on the door.
On the night of August 10, three of Manson's followers killed supermarket executive Leno LaBianca and his wife, Rosemary, at their home (pictured). This time Manson accompanied his followers to select the victims, but again did not take part in the killing.
Manson and his followers were arrested at this remote location, called Barker Ranch, on suspicion of auto theft. Police did not immediately connect them to the murders.
A break in the case came when Susan Atkins, already in jail, told a fellow inmate about the Tate murders. "Because we wanted to do a crime that would shock the world, that the world would have to stand up and take notice," she said.
Manson, along with five followers, is indicted on December 8, 1969, for the murders.
From left, Susan Atkins, Patricia Krenwinkel and Leslie Van Houten walk to court to appear for their roles in the murders.
Manson is escorted to his arraignment on conspiracy-murder charges related to the murders.
Manson appears with an "X" cut into his forehead when the trial starts on June 16, 1970. It was said to symbolize being crossed out of society. He later altered the scar to become a swastika.
After a seven-month trial, all the defendants were found guilty on January 25, 1971. Susan Atkins, Patricia Krenwinkel and Leslie Van Houten received the death penalty.
Manson is led, head shaved and beardless, to hear his sentence on March 29, 1971. He received the death penalty as well.
Charles "Tex" Watson was tried separately, after fleeing to Texas and fighting extradition to California. He was convicted and also sentenced to death in 1971. All the sentences were commuted to life in prison when California abolished the death penalty in 1972.
Manson is seen in court in 1986, during a parole hearing. He was denied for the sixth time.
Manson was denied parole for the 12th time on April 12, 2012. According to the California Parole Board, he has accrued 108 serious disciplinary violations in prison since 1971 and has shown no remorse for the murders.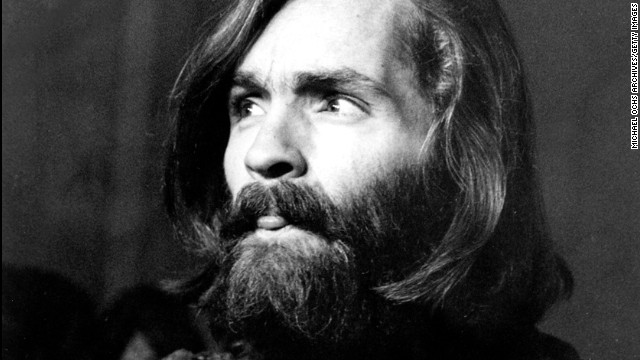 Manson Family murders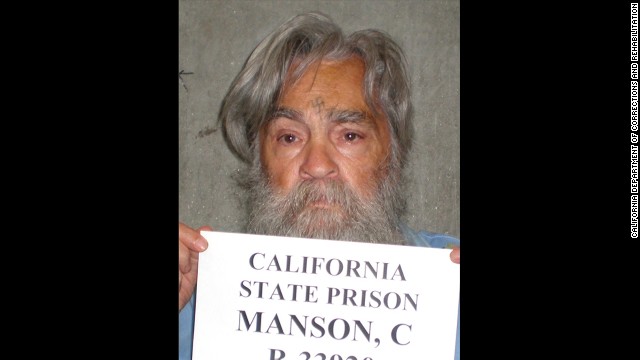 This image is the most recent photo of infamous inmate Charles Manson, taken in 2011.
In this 2009 prison photo, Manson is seen without his trademark long hair.
Manson is seen slightly disheveled in this 2006 prison booking photo.
Cult leader Manson is seen in the prison booking photo from August 2002.
Manson in this August 1996 prison booking photo.
Manson smirks at the camera in this 1978 photo.
Manson is seen with his trademark swastika forehead tattoo in August 1970.
This 1969 mug shot shows Manson soon after the murder of actress Sharon Tate.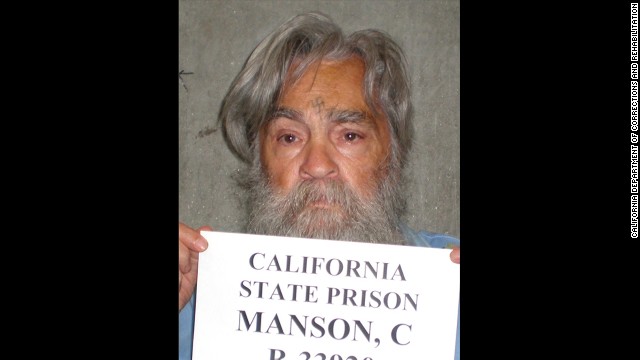 Charles Manson: The infamous inmate
"We have people from around the world that sign up," says Michaels. "We added an additional anniversary tour, which is sold out."
August 9 marks the 45th anniversary of the murders of Sharon Tate and four others on Cielo Drive in the Benedict Canyon neighborhood of Los Angeles. Tate, who was 8½ months pregnant and married to movie director Roman Polanski, was stabbed 16 times as she pleaded for the life of her unborn child. The next night, supermarket executive Leno LaBianca and Rosemary LaBianca were tortured and killed inside their home near Hollywood.
Fast facts: Manson family murders
Since then, Charles Manson, who was convicted of orchestrating the murders, has been the focus of continued fascination.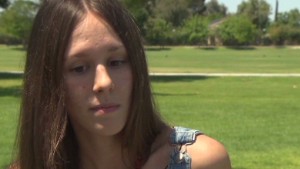 Why I want to marry Charles Manson
"People seem to be fascinated by things that are strange and bizarre," says Vincent Bugliosi, sitting in his Los Angeles-area living room.
Bugliosi is the man who prosecuted Manson and his "family" and co-wrote the book "Helter Skelter: The True Story of the Manson Murders." With more than 7 million copies sold, it is still the best-selling true crime book.
Bugliosi believes people are still fascinated by the Tate-LaBianca murders for two reasons: the gruesome nature of the murders and the lasting image people have of Charles Manson, with the maniacal stare and the swastika on his forehead.
"The name Manson has become a metaphor for evil, and there's a side of human nature that's fascinated by pure unalloyed evil," says Bugliosi.
There are, however, people who continue to support Manson. He has received more mail than any other inmate in state history. According to California's Department of Corrections and Rehabilitation, Manson still gets about 35 letters a week.
Online, there are multiple Charles Manson websites, including mansondirect.com, which features audio messages from Manson in prison. Manson's Facebook page has 70,000 "likes."
"This is an unusual case. It's not a whodunnit. This is a why dunnit," says Brian Davis, the host of the Internet radio channel TLB, which stands for Tate La Bianca. Davis operates the channel, which has an irregular schedule and averages a few hundred listeners, from his home in Roanoke, Virginia.
Davis says he has been studying the Manson case off and on for 10 years and labels himself as "down the middle." He thinks a lot of the Manson image was created by Bugliosi and the media, and he wonders if Manson really brainwashed the killers.
"I don't think Manson ordered those murders," he says.
Manson, who turns 80 in November, has been denied parole 12 times. His next parole hearing isn't scheduled until 2027, when, if he's still alive, he'll be 92 years old.
READ: Manson associate granted parole