'Can't wait to meet her in person': Justin Bieber, Malala Yousafzai talk online
updated 4:46 AM EDT, Fri August 8, 2014
STORY HIGHLIGHTS
"She has such an incredible story," Bieber says on Twitter
Malala told CNN's Christiane Amanpour last year she was a Bieber fan
The Taliban targeted Malala for death because of her support for girls' education
Bieber has helped grant the wishes of more than 200 children through the Make-A-Wish
(CNN) -- Justin Bieber's newest friend is Malala Yousafzai, the Pakistani schoolgirl who survived an attack by the Taliban and now advocates for girls' rights.
Yousafzai has met with President Barack Obama, Queen Elizabeth II and many others, but her online encounter with Bieber on Wednesday is likely to make her the envy of teen girls around the world.
Pakistan's Malala Yousafzai meets with Queen
Bieber, 20, made sure his fans knew, posting a screenshot of his conversation with the 17-year-old activist on Twitter: "Just got to FaceTime with Malala Yousafzai. She has such an incredible story. I can't wait to meet her in person and talk about how I can support her and the @malalafund. #love"
The Pakistani Taliban targeted Yousafzai for assassination in 2012 because of her outspoken support for girls' education in her native country.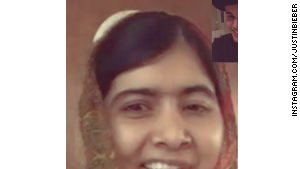 Justin Bieber posts sceenshot on Instagram of his FaceTime with Malala Yousafzai.
Yousafzai, who has not posted any tweets about her time with Bieber, did confide to CNN's Christiane Amanpour last year that she was a Bieber fan.
Bieber's representative said she had "no official comment," including about if there are plans for the two to meet in person.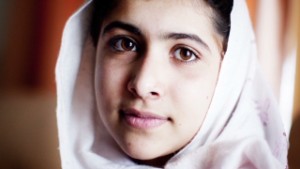 Who is Malala Yousafzai?
Despite Bieber's reputation as an out-of-control celebrity, earned partly from three arrests earlier this year, the pop idol has an impressive track record of good deeds.
Bieber has helped grant the wishes of more than 200 children through the Make-A-Wish Foundation, which fulfills the wishes of children diagnosed with a life-threatening medical conditions.

Malala Yousafzai, 16, poses for a photo in London on October 3. She stared death in the face in 2012 when a Taliban gunman shot her in the head on her way home from school in Pakistan. Since then, she has become a global voice for girls' education in Pakistan.
Pakistani hospital workers carry Malala on a stretcher on October 9, 2012, after she was shot in the head and neck by the Taliban in Mingora, Pakistan.
Malala recovers after receiving treatment at Queen Elizabeth Hospital in Birmingham, England, on October 19, 2012. Doctors covered the large hole in her skull with a titanium plate. The teen suffered no major brain or nerve damage and has kept the piece of her skull that was removed as a souvenir of her fight.
Malala talks with her father, Ziauddin, at the Queen Elizabeth Hospital. In Pakistan's Swat Valley, Malala fought for girls' rights to have an education. Girls were banned from schools in the Swat Valley in 2009. Malala anonymously blogged for the BBC in opposition to that order, drawing the Islamist militants' rage.
The teen was discharged from the hospital in January to continue her rehabilitation at her family's home.
Malala returns to school at Edgbaston High School for Girls in Birmingham, England, on March 19. She said she had "achieved her dream."
Malala was one of seven people featured on the cover of Time magazine's 100 most influential people edition in April. New threats by the Taliban surfaced on Monday, October 7. The Taliban have denied targeting her for promoting education for girls.
Malala is applauded before she speaks at the United Nations Youth Assembly in New York City on July 12, her 16th birthday. "They thought that the bullets would silence us, but they failed," she said. "And then, out of that silence, came thousands of voices."
The teen receives the XXV International Prize of Catalonia award in Barcelona, Spain, on July 26. The prize recognizes those who have contributed to the development of cultural, scientific and human values around the world.
Malala receives a trophy from Yemeni civil rights activist and 2011 Nobel Peace Prize winner Tawakkul Karman after being honored with the International Children's Peace Prize in the Hague, Netherlands, on September 6.
Musician Bono and Secretary General of Amnesty International Salil Shetty honor the teen with the Amnesty International Ambassador of Conscience Award for 2013 at the Manison House in Dublin, Ireland, on September 17. The award is Amnesty International's highest honor, recognizing individuals who have promoted and enhanced the cause of human rights.
Queen of Jordan Rania Al Abdullah presents the Leadership in Civil Society award to Malala at the Clinton Global Citizen Award ceremony in New York City on September 25.
Malala addresses students and faculty of Harvard University in Cambridge, Massachusetts, after receiving the 2013 Peter J. Gomes Humanitarian Award on September 27.
A man arranges Malala's memoir, 'I Am Malala' at a bookstore in Ahmedabad, India, on October 9. The book marks the anniversary of her shooting, it follows her journey from near-death to global fame.
Malala gives a copy of her book to Britain's Queen Elizabeth II during a reception for youth, education and the commonwealth at Buckingham Palace in London on Friday, October 18.
Photos: Malala Yousafzai
One recent recipient was Grace Kesablak, who was Bieber's date to the Young Hollywood Awards in Los Angeles last month whe the singer was given the "Champ of Charity Award."
Bieber is on supervised probation for egging his neighbor's mansion in January. He also has a pending drunken driving charge in Miami and an assault charge in Toronto.
Malala Yousafzai talks to CNN about #BringBackOurGirls
Beverly Hills cops to Bieber: Tone down the parties, respect neighbors
CNN's Carolyn Sung contributed to this report.