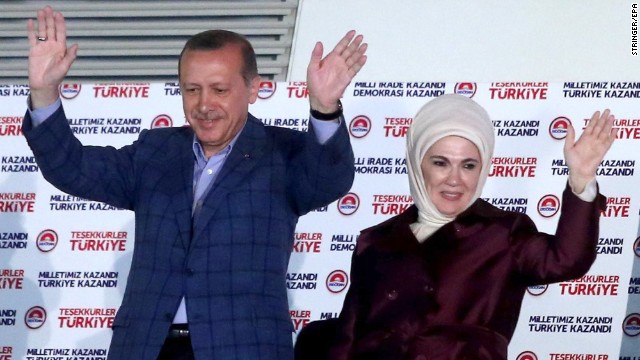 Turkish President-elect Recep Tayyip Erdogan and his wife, Emnine, cheer their supporters after the results of elections at the headquarters of Turkey's ruling Justice and Development Party (AKP) in Ankara on Sunday, August 10. Erdogan will become the country's first directly elected president by a wide margin of votes, according the semi-official Anadolu News Agency.
Erdogan supporters celebrate his victory in front of the AKP party headquarters in Ankara on August 10.
Erdogan casts his vote at a polling station on August 10 in Istanbul.
Erdogan shakes hands with cheering supporters outside an Istanbul polling station on August 10.
Ekmeleddin Ihsanoglu, the main opposition candidate, casts his vote at an Istanbul polling station on August 10.
Erdogan addresses nomadic Turkish groups in Ankara on Wednesday, August 6.
People listen to presidential candidate Selahattin Demirtas, a member of Turkey's main pro-Kurdish party, from an unfinished building as he addresses his supporters in Van, Turkey, on Tuesday, August 5.
Supporters of Ekmeleddin Ihsanoglu, one of the leading opposition candidates for the presidential election, wave Turkish flags as they listen to him speak during a rally in Ankara on Monday, August 4.
Erdogan supporters rally in Istanbul on Sunday, August 3.
A Turkish national in Nicosia, Cyprus, casts her vote Friday, August 1. Turkish citizens in other countries have been able to cast their votes early.
Election workers prepare polling booths Thursday, July 31, in Frankfurt, Germany, where members of Germany's Turkish community would cast their votes.
Ihsanoglu greets supporters during an event in Istanbul on Wednesday, July 23.
Demirtas speaks during a campaign rally Tuesday, July 15, in Istanbul.
Turkey's presidential vote
Turkey's presidential vote
Turkey's presidential vote
Turkey's presidential vote
Turkey's presidential vote
Turkey's presidential vote
Turkey's presidential vote
Turkey's presidential vote
Turkey's presidential vote
Turkey's presidential vote
Turkey's presidential vote
Turkey's presidential vote
Turkey's presidential vote