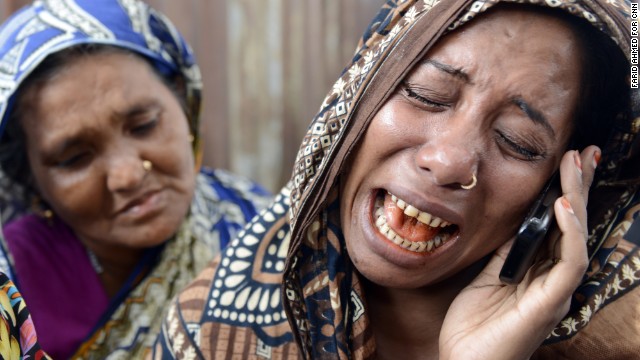 Distressed relatives await news of loved ones.
Rescuers search in vain for the capsized boat.
Authorities rely on feedback from search vehicles as well as divers.
Tears turn to anger as the search stretches on with no results.
People wait at Mawa station on the bank of Padrelativma river for news of their missing relatives Tuesday.
Rescue efforts hampered by conditions
Rescue efforts hampered by conditions
Rescue efforts hampered by conditions
Rescue efforts hampered by conditions
Rescue efforts hampered by conditions
STORY HIGHLIGHTS
Angry relatives line the banks of river at scene of Monday's ferry collapse
Authorities insist weather and conditions hampering rescue efforts
Strong currents may have moved bodies downriver
Around 300 people believed to be on board
Dhaka, Bangladesh (CNN) -- A full day after a passenger ferry with as many as 300 people on board sank in Bangladesh, hundreds of anxious people waited on the bank of the Padma river until late evening as a search for bodies failed to turn up any sign of survivors.
Indeed, the rescuers failed even to trace the sunken ferry, leading to frustration and anger among those awaiting news of loved ones.
The crowds on the riverbank launched an impassioned protest against what they said was the administration's inept handling of the situation.
Authorities blamed conditions for the slow pace of the rescue.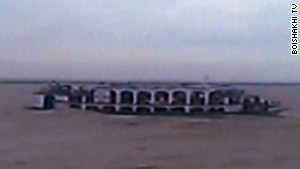 Video shows last moments of sinking ferry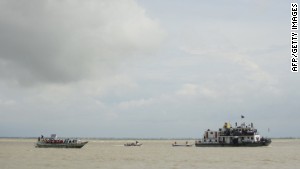 Passengers missing after ferry capsizes
"The search operation is badly disrupted as the rescuers from Bangladesh navy, coast guard and fire service are struggling against strong current and choppy water in the river," Saiful Hassan Badal, chief administrator of Munshiganj district, told CNN.
The rescuers believed that the strong current may have moved some of the bodies a significant distance from the scene of the accident.
"We've found a body in a river in Chandpur, nearly 100 kilometers away from the scene, but we're not sure if it was one of the ferry victims," Badal said. "We've alerted government offices in all the districts surrounding Munshiganj."
"Apart from the divers, our teams are constantly monitoring (feedback) from salvage vessels and helicopters," he said.
Shipping minister Shahjahan Khan said he had ordered legal action to be taken against the ferry owner and others as the boat was over capacity.
Badal told CNN the ferry had about 300 people on board when it sank, according to witnesses. Nearly 100 passengers were rescued shortly after the capsizing.
However, he said they were yet to be sure about how exactly how many people were missing because there were no records detailing how many people were traveling on the ferry.
"We've opened a control room on the riverbank to monitor the situation and we've received names of 120 missing people from relatives so far," Badal said. "But it's not verified."
Abul Hasem, who was looking for his elder brother, told CNN that he was frustrated with the response. "There are lots of people from the government offices, but they are doing nothing to find out our missing relatives,"
Supervising the rescue operation, Khan tried to reason with an angry crowd \that surrounded him on the riverbank.
One woman had waited at the Mawa terminal for two days in the hope of finding some news of her sister, "I want to see my sister... they (government) should at least find her body," Rehana Begum said.
The sister, an apparel factory worker, was traveling on the ferry and returning to Dhaka after celebrating Eid with the family in her home village of Faridpur.
The ferry, MV Pinak-6, capsized late Monday morning in the Padma river, around 60 km (37 miles) south of Bangladesh's capital, Dhaka.
One of the survivors, Abul Hossain, said that most people traveling on the boat's deck survived, but passengers who were traveling in cabins remained missing.
Overcrowding of ferries and poor monitoring system are persistent problems in Bangladesh, which sees scores of casualties from ferry accidents every year.