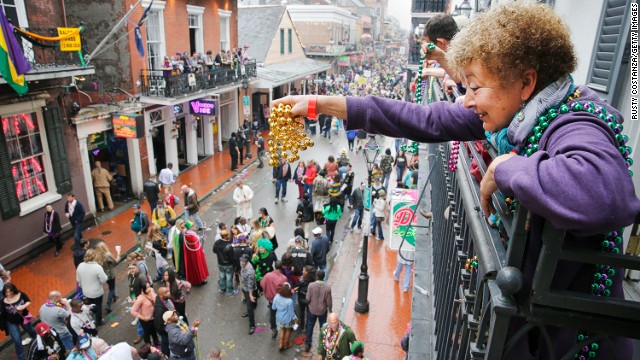 "The people have been through a lot, but their enthusiastic pride for their city shines," says one reader about New Orleans. The city is the fifth friendliest U.S. city according to Conde Nast Traveler's annual Readers' Choice Survey.
The relatively peaceful town of Telluride, Colorado ranked fourth. As one reader said, "The nearest stoplight is 75 miles away, as is the nearest snob."
Coming third on the list, San Antonio's friendly locals won't be averse to taking a picture for you in front of the historical Alamo Mission.
A number of readers raved about "animated guides in seersucker suits," one of the reasons for Savannah, Georgia coming second in the friendliest cities list.
For the second year in a row, Charleston in South Carolina was named the friendliest city in the country. It was also the only U.S. city to make it into the top 10 friendliest cities in the world last year.
New Haven, Connecticut may boast several educational and cultural attractions including Yale University (pictured), but it's also the fifth unfriendliest city in the United States according to Conde Nast Traveler's poll.
Ranking fourth is Atlantic City, New Jersey. "It's struggling with competition from Pennsylvania, Delaware and Maryland casinos, and the staff are becoming increasingly vocal about cutbacks," one reader said.
Hartford, Connecticut has "been trying to lift itself out of a slump since the 1980s," said one respondent, but is clearly not succeeding. It was ranked third unfriendliest.
"Rough around the edges" was how Oakland, California was described by one traveler. The city was the first runner-up in the unfriendly city list.
Having been voted the least friendly city in the world last year (beating Islamabad, Kuwait City and even Detroit), the New Jersey hub has this year been named the least friendly in the United States too.
Friendly cities: 5. New Orleans
Friendly cities: 4. Telluride, Colorado
Friendly cities: 3. San Antonio
Friendly cities: 2. Savannah, Georgia
Friendly cities: 1. Charleston, South Carolina
Unfriendly cities: 5. New Haven, Connecticut
Unfriendly cities: 4. Atlantic City, New Jersey
Unfriendly cities: 3. Hartford, Connecticut
Unfriendly cities: 2. Oakland, California
Unfriendly cities: 1. Newark, New Jersey