STORY HIGHLIGHTS
Intel agencies fear Edward Snowden has achieved celebrity as a leaker
They want to know if that means he's inspiring others to disclose national security information
New documents published this week by Glenn Greenwald raise new questions
(CNN) -- U.S. intelligence agencies fear Edward Snowden has achieved celebrity as a leaker and could be inspiring others to disclose classified national security information.
One indication of that may be in new documents published this week by the Intercept, the website begun by Glenn Greenwald, who published Snowden's leaks.
Government officials believe the documents, labeled "Secret," came from a Pentagon-run computer network called SIPRnet that government agencies used to share classified information. Investigators are looking for the leak.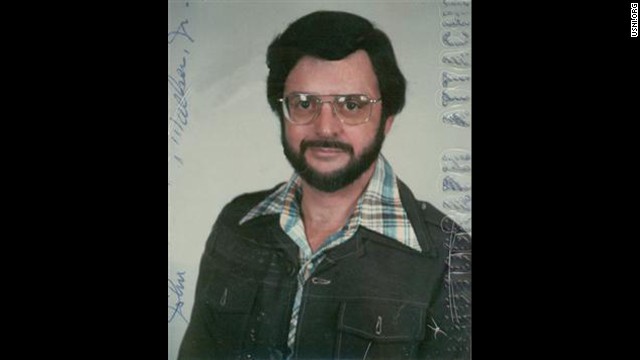 John Walker ran a father and son spy ring, passing classified material to the Soviet Union from 1967 to 1985. Walker was a Navy communication specialist with financial difficulties when he walked into the Soviet Embassy and sold a piece of cyphering equipment. Navy and Defense officials said that Walker enabled the Soviet Union to unscramble military communications and pinpoint the location of U.S. submarines at all times. As part of his plea deal, prosecutors promised leniency for Walker's son Michael Walker, a former Navy seaman. Click through the gallery to see other high-profile leak scandals the United States has seen over the years.
Military analyst Daniel Ellsberg leaked the 7,000-page Pentagon Papers in 1971. The top-secret documents revealed that senior American leaders, including three presidents, knew the Vietnam War was an unwinnable, tragic quagmire. Further, they showed that the government had lied to Congress and the public about the progress of the war. Ellsberg surrendered to authorities and was charged as a spy. During his trial, the court learned that President Richard Nixon's administration had embarked on a campaign to discredit Ellsberg, illegally wiretapping him and breaking into his psychiatrist's office. All charges against him were dropped. Since then he has lived a relatively quiet life as a respected author and lecturer.
Jonathan Pollard is a divisive figure in U.S.-Israeli relations. The former U.S. Navy intelligence analyst was caught spying for Israel in 1985 and was sentenced in 1987 to life imprisonment. The United States and Israel are discussing his possible release as part of efforts to save fragile Middle East peace negotiations, according to sources familiar with the talks.
Wen Ho Lee was a scientist at the Los Alamos Laboratory in New Mexico who was charged with 59 counts of downloading classified information onto computer tapes and passing it to China. Lee eventually agreed to plead guilty to a count of mishandling classified information after prosecutors deemed their case to be too weak. He was released after nine months in solitary confinement. Lee later received a $1.6 million in separate settlements with the government and five news agencies after he sued them, accusing the government of leaking damaging information about him to the media.
Members of the Bush administration were accused retaliating against Valerie Plame, pictured, by blowing her cover in 2003 as a U.S. intelligence operative, after her husband, former Ambassador Joe Wilson, wrote a series of New York Times op-eds questioning the basis of certain facts the administration used to make the argument to go to war in Iraq.
In 2007, Lewis "Scooter" Libby, Vice President Dick Cheney's former chief of staff, was convicted on charges related to the leak of the identity of CIA operative Valerie Plame. Libby was convicted of obstruction of justice and perjury in connection with the case. His 30-month sentence was commuted by President George W. Bush. Cheney told a special prosecutor in 2004 that he had no idea who leaked the information.
Aldrich Ames, a 31-year CIA employee, pleaded guilty to espionage charges in 1994 and was sentenced to life in prison. Ames was a CIA case worker who specialized in Soviet intelligence services and had been passing classified information to the KGB since 1985. U.S. intelligence officials believe that information passed along by Ames led to the arrest and execution of Russian officials they had recruited to spy for them.
Robert Hanssen pleaded guilty to espionage charges in 2001 in return for the government not seeking the death penalty. Hanssen began spying for the Soviet Union in 1979, three years after going to work for the FBI and prosecutors said he collected $1.4 million for the information he turned over to the Cold War enemy. In 1981, Hanssen's wife caught him with classified documents and convinced him to stop spying, but he started passing secrets to the Soviets again four years later. In 1991, he broke off relations with the KGB, but resumed his espionage career in 1999, this time with the Russian Intelligence Service. He was arrested after making a drop in a Virginia park in 2001.
Army Pvt. Bradley Manning was convicted July 30 of stealing and disseminating 750,000 pages of classified documents and videos to WikiLeaks, and the counts against him included violations of the Espionage Act. He was found guilty of 20 of the 22 charges but acquitted of the most serious charge -- aiding the enemy. Manning was sentenced to 35 years in military prison in 2013.
Former intelligence contractor Edward Snowden revealed himself as the leaker of details of U.S. government surveillance programs run by the U.S. National Security Agency to track cell phone calls and monitor the e-mail and Internet traffic of virtually all Americans. Snowden has been granted temporary asylum in Russia after initially fleeing to Hong Kong. He has been charged with three felony counts, including violations of the U.S. Espionage Act, over the leaks.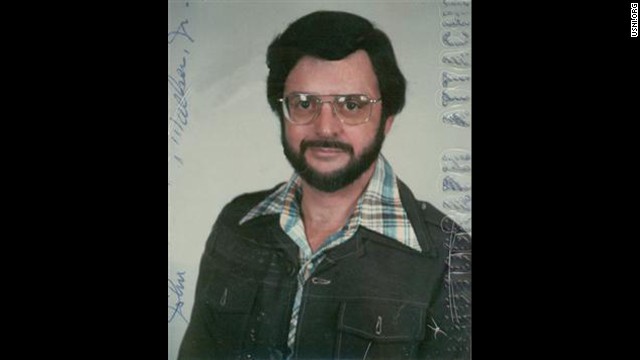 Sharing secrets: U.S. intelligence leaks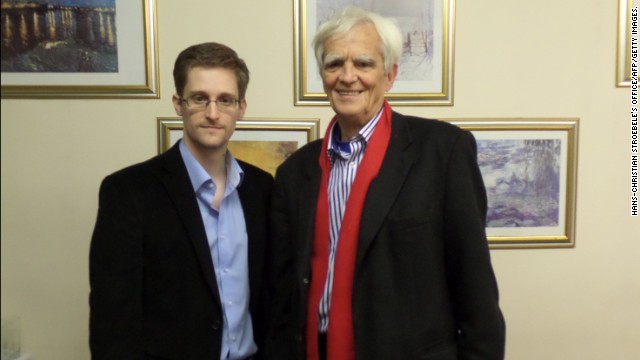 National Security Agency leaker Edward Snowden poses with German Green party parliamentarian Hans-Christian Stroebele in Moscow on October 31. Stroebele returned from the meeting with a letter from Snowden to German authorities, which was distributed to the media. In it, Snowden said he is confident that with international support, the United States would abandon its efforts to "treat dissent as defection" and "criminalize political speech with felony charges."
Snowden's refugee document granted by Russia is seen during a news conference in Moscow on August 1. Snowden slipped quietly out of the airport after securing temporary asylum in Russia, ending more than a month in limbo.
Sen. Charles Schumer, D-New York, leaves a last-minute news conference at the U.S. Capitol after Russia announced that it would grant Snowden temporary asylum on August 1. "Russia has stabbed us in the back, and each day that Mr. Snowden is allowed to roam free is another twist of the knife," he said.
Snowden's father, Lon Snowden, who has adamantly supported his son, talks to reporters in Washington on Tuesday, July 30. He has urged his son to remain in Russia "until we have assurances that he would receive a fair trial."
Demonstrators in Berlin hold a protest march on Saturday, July 27, in support of Snowden and WikiLeaks document provider Bradley Manning. Both men have been portrayed as traitors and whistle-blowers. Manning was acquitted on July 30 on the most serious charge of aiding the enemy, but he was convicted on several other counts and likely faces a lengthy term in a military prison.
Russian lawyer Anatoly Kucherena, center, speaks with journalists at the Sheremetyevo International Airport in Moscow after meeting with Snowden on Wednesday, July 24. Kucherena said he was in daily contact with Russian authorities about securing permission for Snowden to leave the airport.
Snowden meets with human rights activists and lawyers on July 12 in a transit zone of the Russian airport. It was his first public appearance since he left Hong Kong on June 23. He announced that he was seeking refuge Russia while awaiting safe passage to Latin America, where he has been offered asylum.
Russian President Vladimir Putin attends a meeting in Prokhorovka on July 12. Russian officials said Snowden abandoned his effort to seek asylum in the country after Putin warned that he would have to stop leaking information about U.S. surveillance programs if he wanted to stay.
A woman burns American flags during a protest in support of Bolivian President Evo Morales in front of the U.S. embassy in Mexico City on July 4. Leftist Latin American leaders and activists were fuming after some European nations temporarily refused Morales' plane access to their airspace amid suspicions Snowden was aboard.
Bolivian President Evo Morales holds a news conference at the Vienna International Airport on July 3. He angrily denied any wrongdoing after his plane was diverted to Vienna and said that Bolivia is willing to give asylum to Snowden, as "fair protest" after four European countries restricted his plane from flying back from Moscow to La Paz.
Umbrellas with slogans are lined up before a protest march to the U.S. consulate in Hong Kong on June 15. Snowden was hiding in Hong Kong, where he arrived on May 20 before blowing the lid off the NSA surveillance operation.
Protesters in Hong Kong shout slogans in support of Snowden on June 13. The NSA leaker vowed to fight any bid to extradite him from Hong Kong.
Graffiti sympathetic to Snowden is stenciled on the sidewalk in San Francisco on June 11.
An American flag flutters in front of the U.S. consulate in Hong Kong on June 10.
Snowden outs himself on June 9 in the British newspaper The Guardian, which published details of his revelations about the NSA electronic surveillance programs. "I have no intention of hiding who I am because I know I have done nothing wrong," he said in a video interview.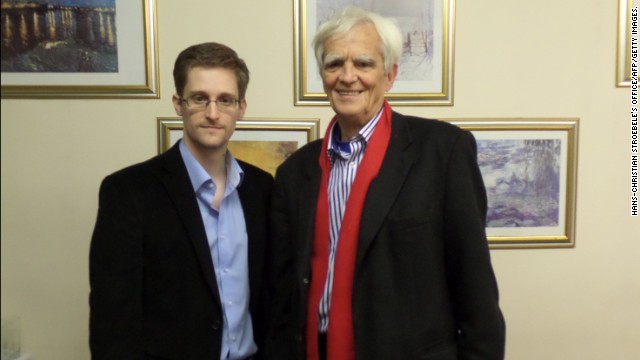 Photos: NSA leaker Edward Snowden
Rep. Adam Schiff, a member of the House Intelligence Committee, called it the "copycat phenomenon" and noted it was a big concern.
"The degree that people have been lionizing Snowden, it encourages people to make a name for themselves by leaking," Schiff told CNN in an interview.
Schiff said the issue has come up in intelligence briefings that he couldn't talk about.
"It's a concern we've discussed: That Snowden has become the model for other leakers," he said.
Snowden inspired by others
Snowden has said that he was inspired by others who disclosed secrets, including Daniel Ellsberg, who leaked the Pentagon Papers in 1971.
He also has said that he considered the former Army private, now called Chelsea Manning, a hero. Manning leaked hundreds of thousands of classified documents to the anti-secrecy group WikiLeaks on the wars in Iraq and Afghanistan.
Like Snowden is now by the Obama administration, Ellsberg was demonized at first by the Nixon administration.
Decades later Ellsberg is widely praised for revealing the government's secret dealings in Vietnam and neighboring countries.
Snowden, who has lived in exile in Russia for a year to avoid U.S. criminal charges, has encouraged others to come forward.
In the year since his leaks on U.S. surveillance practices, the Obama administration has tried to improve security at the agencies handling the nation's secrets.
NSA security tightened
The National Security Agency, where Snowden worked as a contractor, has tightened its computer security aiming to ensure no one can carry out a theft of the size of which was attributed to Snowden: 1.7 million documents.
The Director of National Intelligence has issued rules across all related agencies to try to better track contact with the media.
At the same time, the administration is bowing to countervailing pressure to limit how prosecutors pursue leak investigations.
It is now reining-in aggressive tactics, such as declaring journalists co-conspirators with leakers and subpoenaing journalists to reveal sources.
The spate of leak scandals stems in part from the government's move since the September 11, 2001, terror attacks to more broadly share information.
Some of the 9/11 hijackers were being tracked by one or more federal agencies. But the failure to share information across various agencies is one reason why the 9/11 attacks succeeded, officials have said.
Schiff said the lesson learned then was to "break down the silos" of information. That effort, perhaps went too far.
"Beginning with Manning, you see people having access to things they had no reason to access to," Schiff said. "The pendulum is clearly swinging back in the other direction."
Millions get clearances
A recent GAO study concluded the Pentagon approved as many as 3.2 million people for access to secret and higher-level classified information between 2006 and 2011.
Schiff said there were far too many people with security clearances. At the same time, he said the government's national security work requires some secrecy.
Revealing the methods by which security agencies try to prevent terror could show terrorists how to evade detection and thereby increase the risk of a disastrous attack.
Intelligence agencies are "kind of damned if they do and damned if they don't," he said.
Obama, Congress working on changes to NSA
Opinion: NSA and your phone records: What should Obama do?
Review board finds potential abuses in NSA phone, internet surveillance