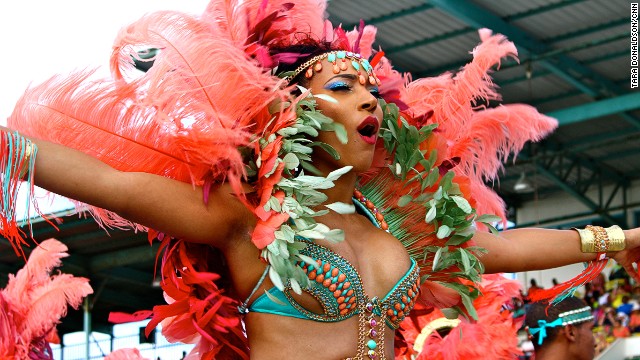 Every year, during the Barbados Crop Over festival, Kadooment Day bands choose a theme and express it through costume colors, feathers and other creative elements.
Foreday Morning isn't just about getting dirty. It's beautiful, according to reveler Jeanille Bonterre. "It's the color and the culture and the spirit, and I love it," she says.
At this nighttime street fest, party goers surface around 1 a.m., parade alongside music trucks blaring the latest Crop Over soca music and douse each other in mud, paint and powder.
Beaches on the west side of the island, like Mullins Bay, are known for being particularly pristine. They're also where celebrities like Barbados-born Rihanna opt to take in the island's beauty.
Bridgetown Market is a three-day street fair along Spring Garden Highway featuring local crafts like handwoven baskets and plaintain wine.
Flying fish is the island's specialty. At Oistins, on the south coast, you can have the fish fried in a cutter, or sandwich, or alongside macaroni and cheese.
Cohobblopot at the island's Kensington Oval sees local soca artists perform the season's songs. Beachfront fetes such as Booze Premium at the Boatyard are fueled on rum punch.
Participating in a Grand Kadooment band means you've chosen a group to parade with and purchased a team costume. Individual costumes tend to be larger and more greatly adorned.
"Kadooment Day is one of the happiest days of the year," says Barbadian reveler Tresha Nelson. "It's a spectacle of color and costumes, and everybody enjoys the vibe. It's all smiles."
More than 30,000 masqueraders hit the streets of St. Michael on Kadooment Day, also known as Mega Monday -- the colorful culmination of the Crop Over festivities.
Crop Over originated as a celebration at the end of the sugar cane crop, so a Ceremonial Delivery of the Last Canes kicks off every festival.
A guest band from Guadeloupe joined this year's Crop Over. Masqueraders chanted to the rhythm of the drums and marched in a formation that channeled their nation's creole heritage.
Feathers on parade
Foreday morning reveler
Foreday morning festivities
Mullins Bay
Local crafts
Fish at its finest
Fetes on the beach
Individual costume
On Kadooment Day
Caribbean color
Ceremonial delivery of the Last Canes
Guadeloupian revelers