Report: 'Big Bang Theory' stars sign deal
updated 4:38 PM EDT, Wed August 6, 2014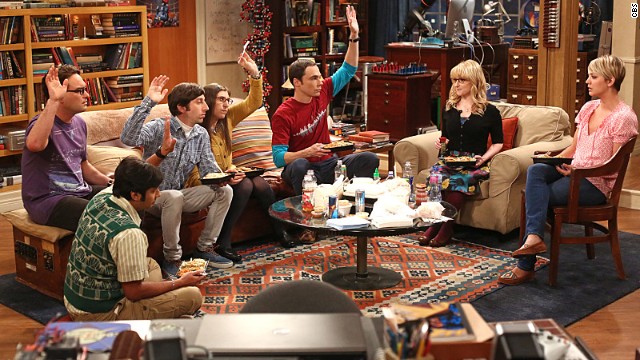 Raise your hand if you're excited for the return of "The Big Bang Theory!" season 8 kicks off on September 22, and things have changed for our favorite Pasadena physicists. Let's catch up with where the cast is at the start of Season 8.
Jim Parsons has won four Emmys for his portrayal of physicist Sheldon Cooper, who is as clueless about social interaction as he is knowledgeable about science. At the start of season 8, Sheldon makes a grand return back home after trying to run away to clear his head with a train trip. Although he didn't deal well with change last season, by the second episode he's taking on a new job.
Simon Helberg plays Howard Wolowitz, an aerospace engineer who started out a bit awkward with women, but these days is happily married. At the start of season 8, he's having trouble adjusting to the new, prominent role his mother's caretaker, Stuart.
executive producer Steve Molaro has warned
that fans shouldn't expect to see a wedding any time soon.
"Roseanne" alum Johnny Galecki stars as Leonard Hofstadter, Sheldon's long-suffering roommate and, as of the season 7 finale, the future husband of Penny (Kaley Cuoco). He is a physicist. As far as his new engagement to Penny,
Cuoco, left, plays Penny, a waitress who can't quite match wits with her group of friends but nevertheless hangs out with them. In season 8, Cuoco's new haircut won't be the only change for Penny, who's embarking on a career as a pharmaceutical sales rep with help from Bernadette (Melissa Rauch, right).
Rauch's Bernadette Rostenkowski-Wolowitz is a highly paid scientist who is married to Howard. A frequent joke in the show is how she can be as overbearing as his mother.
Three-time Emmy nominee Mayim Bialik plays Amy Farrah Fowler, a scientist who is involved with Sheldon. She also believes she is best friends with Penny. Although Amy and Sheldon have definitely progressed in their relationship (they even kiss now!), they're still taking it very, very slowly as season 8 begins.
Kunal Nayyar plays Rajesh Ramayan "Raj" Koothrappali, a shy astrophysicist who up until recently could only talk to women after he drank alcohol. He is desperate to find true love and recently, finally found a girlfriend. At the start of season 8, his relationship with Emily is still solid.
Photos: 'Big Bang Theory' cast
'Big Bang Theory' cast
'Big Bang Theory' cast
'Big Bang Theory' cast
Photos: 'Big Bang Theory' cast
'Big Bang Theory' cast
Big Bang Theory cast
'Big Bang Theory' cast
STORY HIGHLIGHTS
Production had been stalled during negotiations
Jim Parsons, Johnny Galecki and Kaley Cuoco reportedly will own more of the show
Two other cast members are said to still be in negotiations
(CNN) -- "Big Bang Theory" fans can breathe a sigh of relief.
According to Deadline, the stars of the hit CBS series have agreed to hefty pay increases for the new season. Quoting unnamed sources, the publication reports that Jim Parsons, Johnny Galecki and Kaley Cuoco have secured three-year deals for "$1 million per episode for the 72 episodes the show is slated to produce in Seasons 8-10."
According to reports, the trio will also have an increased stake in the show's backend profits.
It's been said that the trio previously received more than $300,000 per episode.
The Hollywood Reporter confirmed the deal in its story and said co-stars Kunal Nayyar and Simon Helberg were still in negotiations, but expected to sign a deal soon.
Warner Bros. Television told CNN that "we aren't commenting on the speculation at this time." Earlier, the company confirmed that "ongoing contract negotiations" had caused production on "The Big Bang Theory's" eighth season to be postponed.
Production had been scheduled to begin July 30 and on Tuesday the company released a statement saying "Production on season 8 of 'The Big Bang Theory' will begin Wednesday, August 6, with contract negotiations now having been concluded."
Warner Bros. is owned by CNN's parent company.
The new deals would put Parsons, Galecki and Cuoco in the same territory as the former cast of "Friends," who also negotiated for pay raises at the height of their show's popularity.
The popular series was renewed in March. Mayim Bialik and Melissa Rauch, who also appear on the show, are reported to have received raises in September.
'The Big Bang Theory' actors get $25,000 an hour
CNN's Carolyn Sung contributed to this report.