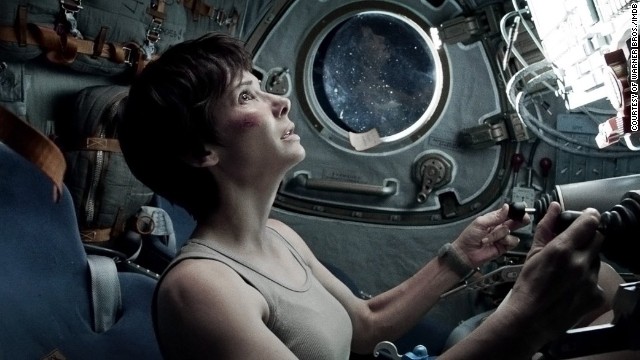 No. 1:
Sandra Bullock's 2013 role in "Gravity" (with George Clooney) came with accolades and a nice paycheck. Forbes estimates the Oscar-nominated feature helped Bullock earn $51 million between June 2013 and June 2014, putting her at the top of
Forbes' list of highest-earning actresses.
Check out the other top earners:
No. 2: "The Hunger Games" actress Jennifer Lawrence earned $34 million between June 2013 and June 2014 -- not so surprising considering the star's tireless work ethic. In addition to a "Hunger Games" sequel, "Catching Fire" (with Josh Hutcherson), she also starred in "American Hustle" and "X-Men: Days of Future Past."
No. 3:
Jennifer Aniston, here with Jason Bateman in "The Switch,"
may not be associated with strong showings
at the box office, but she's the third highest-earning actress this year. When you combine comedies such as "We're the Millers" with lucrative spokeswoman deals and "Friends" residuals, Aniston pulled in $31 million in the past year.
No. 4: Like Aniston, Gwyneth Paltrow is no stranger to being associated with a big brand. It doesn't hurt that the brand is "The Avengers" either. With her work in "Iron Man 3," Paltrow is estimated to have earned $19 million in the past year.
No. 5 (tie): Angelina Jolie has become as famous for her off-screen humanitarian work as she has for her on-screen talent, but the actress can still command a sizable payday. After taking time off for a double mastectomy, Jolie returned to the screen in May with "Maleficent." Forbes estimates that Jolie has earned $18 million within the past year.
No. 5 (tie): Cameron Diaz, second from right, has had a steady stream of work that's added up to about $18 million in the past year. It includes the 2014 comedy "The Other Woman," which also starred Leslie Mann, from left, Nicki Minaj and Kate Upton.
No. 6: Scarlett Johansson is proving herself to be a force at the box office, recently landing at No. 1 with the action flick "Lucy," pictured. Her work in the Marvel movies as Black Widow and endorsement deals also helped her secure a debut spot on Forbes' list of highest-earning actresses. The magazine estimates Johansson made about $17 million in the past year.
No. 7:
Amy Adams is everywhere, and her bank account proves it. Over the past year, she's starred in "Man of Steel," "Her" and "American Hustle," pictured, earning around $13 million in the process. To see the rest of the list,
visit Forbes.com
.
Forbes' highest-paid actresses
Forbes' highest-paid actresses
Forbes' highest-paid actresses
Forbes' highest-paid actresses
Forbes' highest-paid actresses
Forbes' highest-paid actresses
Forbes' highest-paid actresses
Forbes' highest-paid actresses