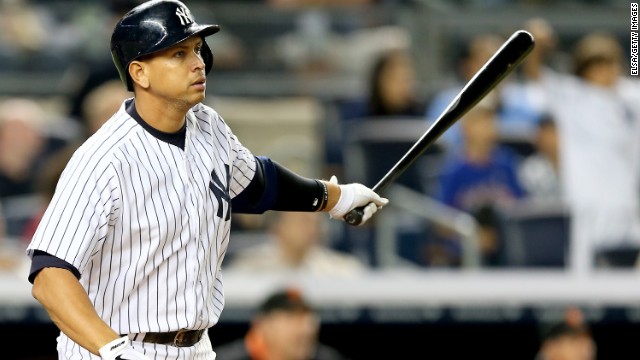 Alex Rodriguez is suspended for the 2014 regular and postseason over accusations of taking performance-enhancing drugs and having ties to the now-shuttered Biogenesis clinic in South Florida.
Barry Bonds is baseball's all-time home run leader, but some commentators say there should be an asterisk by his record. Though he's said he never knowingly used steroids, two San Francisco reporters wrote a book alleging he used performance-enhancing drugs. In 2007, he was indicted on charges of perjury and obstructing justice for allegedly lying to a grand jury investigating steroids and convicted of obstruction of justice. Here are some of Major League Baseball's biggest scandals:
Known as Rocket for his aggressive pitching style, Roger Clemens played pro ball for more than two decades, racking up seven Cy Young Awards. He left Major League Baseball under a cloud of steroid allegations, despite a court finding him not guilty of perjury in 2012 when he told Congress he never used the drugs.
After his former Texas Rangers teammate Jose Canseco accused him of using steroids, Rafael Palmeiro appeared before Congress in 2005 to deny the allegations. Later that year, he was suspended from baseball for testing positive for steroids. He maintains to this day he has never knowingly taken performance enhancers.
An Olympian and renowned long-ball hitter, Mark McGwire spent his entire career with the Oakland A's and St. Louis Cardinals, breaking the single-season home run record in 1998. In 2010, he admitted using steroids over the course of a decade but told Bob Costas in an interview he took them only for health reasons.
John Rocker's pitching career with the Atlanta Braves only lasted a few seasons because of his offensive comments about homosexuals, New Yorkers, Asian women and a black teammate in a Sports Illustrated article. Rocker faced large backlash and ultimately was cut by the Braves in 2001 and played for three other teams before calling it quits in 2003.
Cincinnati Reds owner Marge Schott faced lawsuits, fines from the MLB and suspensions during her career for her offhand comments and actions. Schott told ESPN in 1996 that "Hitler was good in the beginning, but he went too far." That comment drew a $25,000 fine and one-year suspension.
Former New York Yankees owner George Steinbrenner, center, was banned for life in 1990 for hiring a man to investigate Yankees outfielder Dave Winfield's background for any dirt. The ban was later reduced to a two-year suspension.
Cincinnati Reds switch-hitter Pete Rose was caught gambling on baseball games during the 1987 season. Fingerprints from betting slips and a handwriting expert's testimony ultimately led to Rose being banned from baseball.
Darryl Strawberry, right, was suspended multiple times throughout his career for cocaine possession and soliciting prostitutes. Strawberry released a book in which he claims that several players with the 1980s Mets committed the same offenses.
Pitcher Ferguson Jenkins was the first baseball player to be suspended for a drug-related offense. Ferguson was arrested in Toronto in 1980 for cocaine possession and promptly banned for life. However, the ban was lifted only a month later and he returned to the pitchers mound for the Chicago Cubs in 1982.
Gambler Arnold Rothstein was the financial backer accused of being behind the fixed 1919 World Series. Eight Chicago White Sox players were allegedly bribed to throw the game with money provided by Rothstein. He denied all allegations before a grand jury and was later exonerated of any wrongdoing. All eight players involved in the fix were banned for life.
Alex Rodriguez: Performance-enhancing drugs
Barry Bonds: Perjury indictment
Roger Clemens: Steroid allegations
Rafael Palmeiro: Steroid suspension
Mark McGwire: Steroids admission
John Rocker: Outrageous comments
Marge Schott: Hitler observation
George Steinbrenner: Dirty dealings
Pete Rose: Gambling on baseball
Darryl Strawberry: Cocaine, prostitutes
Ferguson Jenkins: First drug suspension
Chicago White Sox: The big fix
STORY HIGHLIGHTS
NEW: Tony Bosch enters not guilty plea for now, expected to change to guilty later
Bosch, founder of Biogenesis anti-aging clinic in Miami, surrenders to DEA
Clinic allegedly provided performance-enhancing drugs to pro baseball players
Earlier this year, Major League Baseball dropped suit against Bosch and Biogenesis
(CNN) -- Tony Bosch, the founder of the now-defunct Biogenesis anti-aging clinic in Miami, is not a licensed doctor, but portrayed himself as one, federal officials said Tuesday.
Officials said he dispensed performance-enhancing drugs to professional baseball players such as suspended New York Yankees slugger Alex Rodriguez and to impressionable high school athletes in South Florida and teenagers in the Dominican Republic.
Bosch, 50, surrendered to the Drug Enforcement Administration in Florida on Tuesday. At a court appearance, he pleaded not guilty and a judge set bail at $100,000.
Federal officials said earlier Tuesday that Bosch would agree to plead guilty to a charge of distributing steroids in a conspiracy that stretched from big league club houses to South Florida high schools and youth baseball leagues to sandlots in the Caribbean.
One of his attorneys, Susy Ribero-Ayala, said there is a plea agreement in place and Bosch will change his plea later.
"Mr. Bosch has never had and does not have a DEA registration," said Mark Trouville, special agent in charge of the DEA Miami. "He is not a licensed medical professional. He is not a doctor. He is a drug dealer."
Also charged in the scandal were Yuri Sucart, a cousin of Rodriguez, and Juan Carlos Nunez, who was named in a scheme to clear All-Star Melky Cabrera after a positive 2012 testosterone test, authorities said.
Other defendants include Carlos Acevedo, a longtime associate of Bosch's, former University of Miami coach Lazaro "Lazer" Collazo, Jorge Velasquez, and Christopher Engroba.
Acevedo and three other men, including CarlosLuis Ruiz, a Florida Highway Patrol trooper, also were charged in a separate conspiracy involving the sale of the drug MDMA, or molly.
Eight of the 10 men charged appeared in court. Acevedo and Engroba also entered not guilty pleas. The other men didn't enter a plea.
Lengthy investigation
The drug conspiracy charges against the men stemmed from from a 21-month DEA investigation.
"These defendants were motivated by one thing: money," United States Attorney for the Southern District of Florida, Wifredo Ferrer, said. "They did this by lining their pockets, by exploiting the pressures of athletes and others to be bigger, to be stronger and to play better."
Bosch could face a 10-year prison term in the case.
Bosch told investigators that he provided the illegal substances to at least 18 minors, Ferrer said.
Bosch and his associates distributed the drugs to minors who attended a number of public and private high schools in South Florida. He would charge the teenagers and their parents between $250 and $600 a month, promising that the concoctions -- which included black market steroids -- would improve their game.
A look at performance enhancing drugs in sports
In addition, investigators said, Bosch and the others operated in the Dominican Republic, where boys as young as 12 were given new baseball equipment and treated with testosterone-loaded syringes in an effort to get them signed with big league teams. Talents scouts working with the children would keep as much as 50 % of their signing bonuses.
"These defendants provided easy access to dangerous concoctions of steroids and human growth hormones to impressionable high school kids," Ferrer said. "Simply put: Doping children is unacceptable. It is wrong. It is illegal and it is dangerous and Bosch and his reckless recruiters and his black market suppliers ignored the serious health risks posed to their so called patients, all to make a profit."
Using lollipops
The drugs were administered in a number of ways, through injections, pills, creams and even lollipops, according to a source with direct knowledge of the investigation.
Masking agents were used to hide the drugs. "It was so good. The key was being able to fool testers with the league (Major League Baseball), the source said. "The masking agents in the creams would hide the actual drug, and (Bosch) would know the timing involved. He knew if the athlete took the drug right before a game, they'd be tested 12 hours later and the drug would no longer be detectable."
Earlier this year, Major League Baseball dropped its lawsuit against Bosch and the company the league claims provided performance-enhancing drugs to a number of players, including Rodriguez. The league had agreed to drop the suit if Bosch cooperated in the investigation, according to published reports.
In a statement Tuesday, Rodriguez's lawyer, Joe Tacopina, said: "This obviously is the beginning of the end of this sordid chapter in baseball."
Authorities said professional athletes recruited by the clinic paid between $2,000 and $12,000 per month for the drugs.
The investigation led to the suspension of 14 players for violating the league's drug policy. Besides Rodriguez, suspended players included Milwaukee Brewers outfielder Ryan Braun, the 2011 National League MVP, who served part of his suspension last season.
Bosch's Biogenesis clinic became part of the story in late January 2013, when the Miami New Times reported that more than a dozen professional baseball players and other athletes had been named in records kept over several years by the clinic.
Two months later, MLB filed its lawsuit against the clinic in Florida's Miami-Dade County.
Its 14-page complaint named Biogenesis, its predecessor company and six individuals -- among them program director Bosch, others at the company, someone who worked at a sports agency, a former University of Miami baseball player and a "self-proclaimed chemist" who supplied substances.
Alex Rodriguez drops lawsuits, accepts 162-game suspension
CNN's Alina Machado contributed to this report.