STORY HIGHLIGHTS
Palestinian health official says Israel carries out strike on Gaza after start of truce
IDF confirms airstrike two minutes into truce, says operation was ongoing
Israeli PM Benjamin Netanyahu says tunnel operation almost finished
More than 1,800 people have been killed in the Gaza conflict
(CNN) -- A temporary humanitarian cease-fire declared by Israel began Monday in Gaza without the agreement of Hamas.
It expired seven hours later amid claims and counterclaims of attacks.
Israel's Prime Minister Benjamin Netanyahu said his country is close to concluding its action to destroy Hamas tunnels but that the military operation will end "only when quiet and security are restored to the citizens of Israel for a lengthy period."
As the death toll continues to rise and any deal to halt hostilities between the two bitterly opposed sides appears far off, here's an explanation of key elements of the nearly four-week conflict.
What's the latest?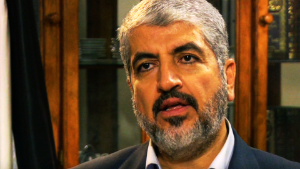 Hamas: We don't use human shields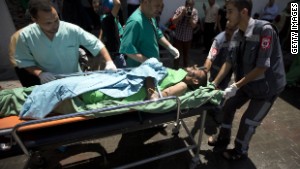 Another attack near U.N. school in Gaza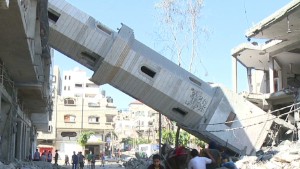 Prayers and dreams in Gaza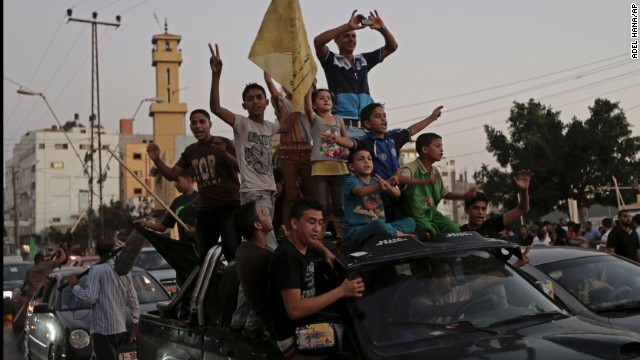 Palestinians in Gaza celebrate a ceasefire between Israel and Hamas on Tuesday, August 26. After more than seven weeks of heavy fighting, Israel and Hamas agreed to an open-ended ceasefire that puts off dealing with core long-term issues.
Palestinians inspect the damage to a residential building following several late night Israeli airstrikes in Gaza City on August 26.
Gila, center, mother of 4-year-old Israeli boy Daniel Tragerman, sits next to his grave during his funeral near the Israel-Gaza border on Sunday, August 24.
Palestinians run away from debris after a bomb from an Israeli airstrike hit a house in Gaza on Saturday, August 23.
An Israeli soldier smokes a cigarette in a large concrete pipe used as shelter at an army deployment point near the Israeli-Gaza border on Wednesday, August 20.
Light trails made by rockets fired from the Gaza Strip stand out against the night sky on Tuesday, August 19. Despite efforts to come to a peaceful agreement, Gaza militants launched rockets into Israel on Tuesday, and Israel responded with its own rockets.
An injured Palestinian man is helped into the Shifa hospital in Gaza City on August 19.
Police examine the remains of a rocket launched from Gaza that landed near the kibbutz of Yad Mordechay on August 19.
Smoke rises after an Israeli airstrike on Gaza City on August 19.
Islam El Masri begins to sort through the rubble of her destroyed home in Beit Hanoun, Gaza, on Thursday, August 14.
Israelis gather in Tel Aviv during a protest August 14 calling on the government and the army to end Palestinian rocket attacks from Gaza once and for all.
Smoke rises in Gaza City after an airstrike on Saturday, August 9.
Israeli soldiers walk past a Merkava tank as they patrol a field near Israel's border with Gaza on August 9.
A Palestinian boy salvages family belongings from the rubble of a four-story building after an airstrike in Gaza City on Friday, August 8.
Israelis flee after a rocket fired from Gaza hit the residential neighborhood of Sderot, Israel, on August 8.
A Palestinian man looks out over destruction in the al-Tufah neighborhood of Gaza City on Wednesday, August 6.
Displaced Palestinians carry their belongings as they leave a United Nations school in Beit Lahiya, Gaza, to return to their homes Tuesday, August 5.
The body of Avrohom Wallis is carried during his funeral in Jerusalem on Monday, August 4. Wallis was killed in what Israeli police spokesman Micky Rosenfeld called a "terror attack," when a man drove an earthmover into a bus in Jerusalem.
Israeli soldiers fire a mortar shell toward Gaza from the Israeli side of the border on August 4.
Palestinians remove rubble from a house hit by an airstrike in the al-Shati refugee camp in Gaza City on August 4.
An Israeli drone circles over Gaza City on Sunday, August 3.
A Palestinian man sits in a hospital in Rafah, Gaza, on August 3.
An honor guard caries the coffin of Israeli Lt. Hadar Goldin during his funeral in Kfar-saba, Israel, on August 3. Goldin was thought to have been captured during fighting in Gaza but was later declared killed in action by the Israel Defense Forces.
A Palestinian boy looks for belongings after an airstrike in Rafah on Saturday, August 2.
Israeli soldiers walk to their tank at a staging area near the border with Gaza on August 2.
A young Palestinian carries damaged copies of the Quran from the rubble of the Imam Al Shafaey mosque in Gaza City on August 2.
Palestinians displaced from their houses return to check their homes in Gaza City on Friday, August 1.
An Israeli soldier carries a shell as he prepares a tank along the Israel-Gaza border on Thursday, July 31. Israel called up 16,000 additional reservists, bolstering forces for its fight against Hamas, the militant group that controls Gaza.
Smoke rises from a building after an airstrike in Rafah on July 31.
The parents and a sister of Israeli soldier Guy Algranati mourn during his funeral in Tel Aviv on July 31.
U.N. workers remove a donkey injured at a U.N.-run school in Gaza on Wednesday, July 30.
Palestinians walk under the collapsed minaret of a destroyed mosque in Gaza City on July 30.
Palestinians gather leaflets that fell from an Israeli plane on July 30. The leaflets warned residents of airstrikes in Gaza City.
Israelis take cover from a Palestinian rocket attack from Gaza during the funeral of Israeli soldier Meidan Maymon Biton, which was held at a cemetery in Netivot, Israel, on Tuesday, July 29.
Smoke and fire rise above Gaza City after an Israeli airstrike on July 29.
An Israeli soldier prays on the Israeli side of the border with Gaza on July 29 as smoke billows from the only power plant supplying electricity to Gaza.
Near the rubble of their home in Rafah, Palestinian men mourn July 29 for people killed during an airstrike.
A Palestinian man places a portrait of Hamas leader Ismail Haniya on the rubble of Haniya's Gaza City home July 29 after it was hit by an overnight airstrike.
Flares from Israeli forces light up the night sky of Gaza City on July 29.
Israeli soldiers carry the coffin of 2nd Lt. Roy Peles, an infantry officer who was killed in combat, during his funeral in Tel Aviv on Sunday, July 27.
During a 12-hour cease-fire in Gaza City's Shijaiyah neighborhood on Saturday, July 26, a Palestinian man sits atop a car filled with belongings that were salvaged from a destroyed home.
Israeli soldiers watch a bomb explode along the border with Gaza before the 12-hour cease-fire on July 26.
As her brother-in-law Mazen Keferna weeps on the ground, Manal Keferna cries upon discovering her family home destroyed by airstrikes in Beit Hanoun on July 26.
Palestinians dig a body out of the rubble of a destroyed house in Gaza during the cease-fire on July 26.
An Israeli soldier mourns at the grave of reserve Master Sgt. Yair Ashkenazy during his funeral at the military cemetery in Rehovot, Israel, on Friday, July 25. Ashkenazy was killed during operations in northern Gaza, the Israel Defense Forces reported.
A Palestinian man cries after bringing a child to the Kamal Adwan hospital in Beit Lahiya on Thursday, July 24. The child was wounded in a strike on a school that was serving as a shelter for families in Gaza. It's unclear who was behind the strike. The Israeli military said it was "reviewing" the incident, telling CNN that a rocket fired from Gaza could have been responsible.
Israeli soldiers carry a wounded soldier to a helicopter near the Israel-Gaza border on July 24.
Israeli soldiers patrol the Israel-Gaza border on July 24.
A trail of blood is seen in the courtyard of the school that was hit July 24 in the Beit Hanoun district of Gaza.
An Israeli tank fires toward Gaza from a position near Israel's border on July 24.
A photograph tweeted by astronaut Alexander Gerst on Wednesday, July 23, shows major cities of Israel and Gaza. Gerst said in his tweet: "My saddest photo yet. From #ISS we can actually see explosions and rockets flying over #Gaza & #Israel."
A woman in Philadelphia passes by a departure board that shows US Airways Flight 796, scheduled to fly to Tel Aviv, has been canceled on Tuesday, July 22. The Federal Aviation Administration told U.S. airlines they were temporarily prohibited from flying to the Tel Aviv airport after a Hamas rocket exploded nearby.
Smoke and fire from the explosion of an Israeli strike rise over Gaza City on July 22.
A relative of Israeli soldier Jordan Ben-Simon mourns over his coffin during his funeral in Ashkelon, Israel, on July 22.
Palestinians inspect destroyed buildings and collect usable items after an Israeli air assault on July 22.
Israeli soldiers weep at the grave of Israeli Sgt. Adar Barsano during his funeral Sunday, July 20, in Nahariya, Israel.
Palestinian medics carry a body in Gaza's Shaja'ia district on July 20.
Israeli soldiers give medical care to soldiers who were wounded during an offensive in Gaza on July 20.
A Palestinian boy injured during an Israeli airstrike is taken to the hospital by his father in Gaza City on July 20.
Palestinians flee their homes as Israeli troops focus their firepower on the Gaza town of Shaja'ia on Sunday, July 20. The shelling and bombing killed at least 60 people and wounded 300, according to the Gaza Health Ministry.
Smoke rises after an Israeli missile hit Shaja'ia on July 20.
A Palestinian child walks on debris from a destroyed house following an overnight Israeli strike in Beit Lahiya on Saturday, July 19.
An explosion rocks a street in Gaza City on Friday, July 18.
Israeli ground forces move to the Gaza border on July 18.
Israeli soldiers patrol near the Israel-Gaza border on July 18.
A relative mourns July 18 during the funeral of Rani Abu Tawila, a Palestinian who was killed in an Israeli attack on Gaza City.
A Palestinian demonstrator, protesting Israel's military operation in Gaza, runs through smoke July 18 during clashes with Israeli soldiers at the entrance of the Ofer prison in the West Bank village of Betunia.
This image, made from video shot through a night-vision scope, was released by the Israeli military on July 18. It shows troops moving through a wall opening during the early hours of the ground offensive in Gaza.
Children stare as Palestinians flee Khan Yunis, Gaza, to safe areas July 18.
An Israeli tank fires a shell into Gaza on July 18.
A Palestinian carries a gas cylinder salvaged from the rubble of an apartment building after it was hit by Israeli fire on July 18.
An Israeli reservist prays July 18 near the Gaza border by Sderot, Israel.
Flare smoke rises into the Gaza City sky on Thursday, July 17.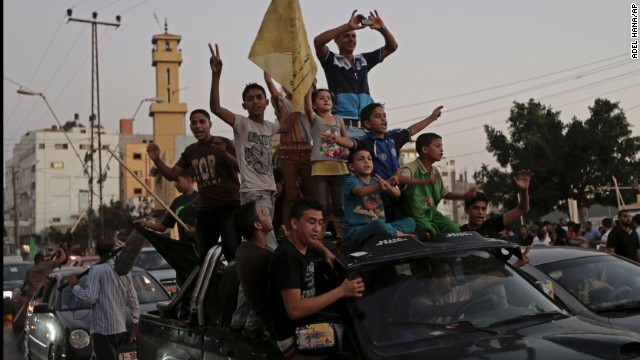 Photos: Israel-Gaza crisis
The seven-hour humanitarian cease-fire declared by Israel began at 10 a.m. local time (3 a.m. ET) Monday, but a senior Hamas spokesman said the group had not agreed to it.
The Israeli military had said the truce would not apply to the areas in which Israeli soldiers were currently operating, such as Rafah, and warned that it would "respond to any attempt to exploit this window to harm Israeli civilians and IDF soldiers."
The Gaza Health Ministry said Israeli forces carried out a strike on a house in a refugee camp in Gaza City 20 minutes after the cease-fire took effect. The strike killed an 8-year-old girl and wounded around 30 people, most of them children, a spokesman said.
Israel denied the claim, saying all offensive operations had ceased as it had declared they would. A spokesman later confirmed that a strike had taken place at 10:02 a.m. but said that it did not breach the cease-fire as it was an ongoing operation targeting "terrorists from Islamic Jihad."
The Israel Defense Forces said three rockets had been fired into Israel from Gaza since it began the cease-fire.
Meantime, police in Jerusalem said they foiled what they described as a terror attack when they shot and killed the driver of an earthmover, who had overturned a passenger bus in the central Sheikh Jarrah area of the city. Police said one pedestrian was also killed and the bus driver was injured. There were no passengers on the bus at the time, police said.
In another incident, a man on a motorbike opened fire at an Israeli soldier near Hebrew University, police said. Rescue workers said the Israeli was severely wounded.
Why didn't Hamas sign on to Monday's cease-fire?
In an exclusive interview with CNN's Nic Robertson on Sunday, Hamas' Qatar-based political leader Khaled Meshaal said Israel's condition that it be able to continue destroying militant tunnels meant that it was not truly a cease-fire.
"The presence of the Israeli forces inside Gaza and destroying the tunnels means it's an aggression, because they are inside the Gaza territories," Meshaal said, according to a CNN translation.
Meshaal said he would only support a long-term cease-fire if Israel changed its policy restricting the movement of goods and people into Gaza.
"There are two kinds of cease-fires: There is the humanitarian cease-fire, like 72-hour cease-fire that was meant to help and aid our people getting food, water, and help collecting the bodies. As far as the sustainable cease-fire, this is connected to an agreement accepted by the two parties that will guarantee our Palestinian demands headed by lifting the siege on Gaza," Meshaal said.
The political leader said he was still willing to engage in talks with Egyptians acting as the go-betweens.
Didn't the U.S. describe an Israeli attack this weekend as 'disgraceful'?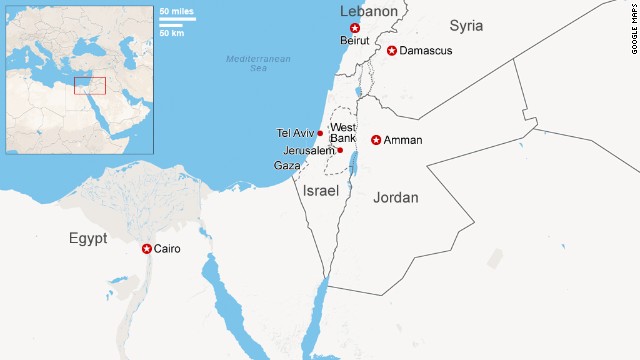 Map: Middle East region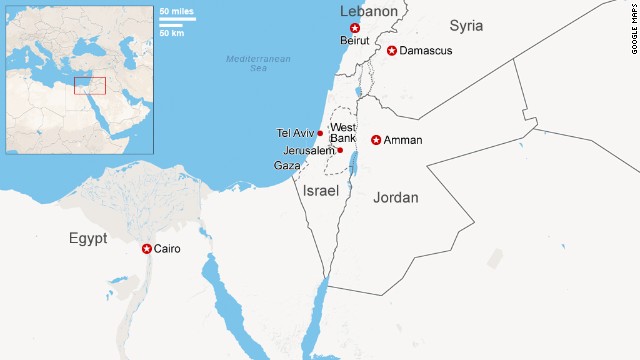 Map: Middle East region
Israel's tactics are coming under increasing international criticism after a series of deadly strikes on or near U.N. shelters housing displaced civilians in Gaza.
After the latest incident, in which at least nine people were killed Sunday, the U.S. government said Israel must "do more to meet its own standards."
"The United States is appalled by today's disgraceful shelling outside an UNRWA school in Rafah sheltering some 3,000 displaced persons, in which at least 10 more Palestinian civilians were tragically killed. The coordinates of the school, like all U.N. facilities in Gaza, have been repeatedly communicated to the Israeli Defense Forces," the State Department said.
"The suspicion that militants are operating nearby does not justify strikes that put at risk the lives of so many innocent civilians," it said.
The IDF said that it targeted three Palestinian Islamic Jihad members riding a motorcycle in the vicinity of the U.N. building and that it was reviewing the consequences of the strike.
But U.N. Secretary-General Ban Ki-moon said the attack was "yet another gross violation of international humanitarian law."
The Israeli military says it doesn't intentionally target U.N. facilities.
Who is fighting?
Israel, the biggest recipient of U.S. foreign aid, is battling Hamas, the Palestinian militant organization that controls Gaza. Other armed groups in Gaza, a coastal territory about the size of Detroit, are also fighting alongside Hamas.
The Israeli military launched Operation Protective Edge against Hamas in Gaza on July 8, saying it wanted to put a stop to rockets being fired over the border. The conflict began with waves of Israeli airstrikes on Gaza amid barrages of Hamas rockets fired into Israel. But on July 17, Hamas fighters used a tunnel under the border to attempt an attack on Israeli soil. Israel responded by sending thousands of ground troops into Gaza with the stated aim of destroying the network of underground tunnels.
What does each side want?
Hamas says it wants Israel to lift a blockade it began on Gaza in 2007, a measure Israel has said is necessary to stop Hamas and other allied militant groups from bringing weapons into the territory. Israel has been criticized for tightly restricting the movement of goods and people, with aid groups accusing it of cutting off basic supplies and creating a humanitarian crisis.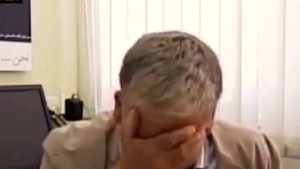 U.N. Official weeps over Gaza bloodshed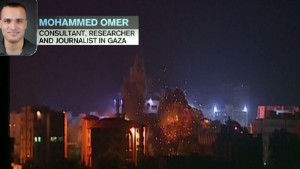 'The situation is horrifying'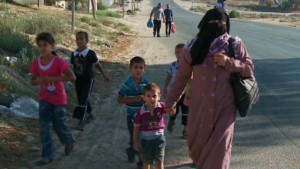 Life in Gaza after cease-fire collapse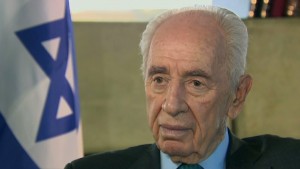 Ending war, making peace
Hamas also wants the release of large numbers of Palestinians who were detained in June after the kidnapping of three Israeli teenagers in the West Bank. The teenagers were later found dead in a field, heightening the tensions that led to the Gaza conflict.
Israel wants to halt the rocket fire from Gaza and demolish the labyrinth of tunnels underneath the territory. More broadly, it says it wants the demilitarization of Gaza to permanently remove the threat posed by Hamas to its citizens.
Netanyahu last week described the current operation as the first phase of demilitarizing Gaza.
In comments at an IDF conference Monday, Netanyahu said the operation would continue beyond the tunnel actions and called on the international community to demand "that the rehabilitation of Gaza be linked to its demilitarization."
What has been the human cost of the conflict?
The heaviest casualties have come where the fighting has been concentrated: in crowded areas of Gaza.
More than 1,800 Palestinians have been killed in the densely populated territory since July 8, the Gaza Ministry of Health says, and more than 9,000 have been wounded.
At least 69% of the dead are civilians, according to the U.N. Office for the Coordination of Humanitarian Affairs, including more than 350 children and nearly 200 women.
Many of the injuries that doctors have had to treat are severe.
Mohammed Salam, an emergency room doctor in one Gaza hospital, reeled off a list of what he was seeing: "Shrapnel and fractures and explosives injuries; open wounds; cut, amputated lower limbs -- mainly amputated lower limbs."
On the Israeli side, 64 soldiers and three civilians have been killed. Israel's Iron Dome missile defense system has helped significantly reduce civilian casualties in the country, intercepting many of the more than 3,000 rockets fired from Gaza.
The indiscriminately fired rockets have varying ranges, putting most of Israel under threat. Residents have to scramble for bomb shelters when the warning sirens go off.
But many people in Gaza have little in the way of shelter. The United Nations estimates that as many as 485,000 Gaza residents may have been displaced by the fighting, roughly a quarter of the territory's population.
Hospitals and morgues have been overwhelmed. The electricity supply has been out since early last week. And most people have extremely limited or no access to water, deepening the humanitarian crisis.
Who's responsible for the high number of civilian deaths?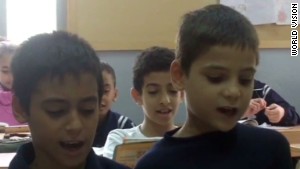 Sponsored children dying in Gaza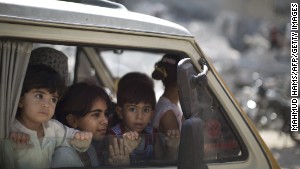 Israel-Gaza conflict: How did we get here
As with much in this conflict, each side blames the other.
Israel says Hamas fighters hide behind civilians and put weapons and military infrastructure in populated areas, like homes, mosques, hospitals and schools.
The Israeli military argues that although it strives to minimize civilian casualties, Hamas' approach draws the fighting into densely populated areas.
But human rights activists have slammed Israeli forces for using imprecise weapons like artillery in crowded residential areas. And U.S. officials have stepped up calls for Israel to do more to avoid civilian casualties.
Are there any talks at the moment?
Efforts to find a way out of the violence have continued in Cairo, Egypt, but so far without Israel.
Egyptian President Abdel Fattah el-Sisi touted a cease-fire initiative as a "real chance" to stop the bloodshed and the best way to get help into Gaza and launch talks.
An Egyptian proposal put forward last month was accepted by Israel but rejected by Hamas, which said the plan didn't address its broader concerns.
Members of a Palestinian delegation arrived in Cairo on Saturday to attend the negotiations, the Egyptian state-run news agency MENA reported.
The delegation included a representative of Fatah and Palestinian intelligence, with Hamas and Islamic Jihad representatives set to arrive later, the report said.
But Israel said it wasn't sending a delegation to Cairo.
The Egyptian government helped broker the cease-fire between Israel and Hamas in the 2012 conflict in Gaza. But that was under former President Mohamed Morsy, who was ousted by the military last year.
There is not a single mediator among them that's trusted by both sides
Aaron David Miller, a former Middle East negotiator for the U.S. government
The current president has much worse ties with Hamas than Morsy, who was backed by the Islamist Muslim Brotherhood.
This time around, the United States, the United Nations and Egypt are all trying to engineer a peace deal, but so far without success.
"There is not a single mediator among them that's trusted by both sides," Aaron David Miller, a former Middle East negotiator for the U.S. government, wrote in an opinion article for CNN.
How has the United States responded to the conflict?
The United States, Israel's staunchest ally, has throughout the conflict repeated its support for Israel's right to defend itself. Secretary of State John Kerry, meanwhile, has worked hard to try to broker a cease-fire, but with little success.
As the death toll continues to mount and anger grows over the strikes on U.N. shelters, U.S. officials have increased calls for Israel to improve its efforts to avoid civilian casualties.
Those concerns didn't stop the United States from agreeing to Israel's request to resupply it with several types of ammunition, a U.S. defense official told CNN last week.
Publicly, U.S. and Israeli officials have tried to display solidarity.
Over the weekend, Netanyahu praised what he called U.S. President Barack Obama's "unequivocal stand with Israel on our right to defend ourselves" as well as the "untiring efforts" of Kerry.
But tensions have been reported behind the scenes.
Netanyahu didn't deny a report that he told Kerry and U.S. Ambassador to Israel Dan Shapiro "not to ever second guess me again" on how to deal with Hamas, though he said the report did not reflect the general "tone and substance" of calls between them.
How are the Arab nations reacting?
Analysts say this conflict is unusual because many Arab states are supportive of Israel's offensive against Hamas.
Countries like Egypt and Saudi Arabia are viewed by experts as being more concerned by Islamic fundamentalist movements than they are about Israel.
Hamas is an offshoot of the Muslim Brotherhood movement, which is the target of a crackdown by Egypt and feared by some other Arab governments in the aftermath of the Arab Spring.
In the new order in the Middle East, support for Hamas is believed to come more from Iran, Qatar and Turkey.
What is the mood in Israel?
The Israeli public has shown strong support for the military operation in Gaza.
According to a poll conducted by the Sarid Institute for the Israeli broadcaster Channel 10, 63% of Israelis are against ending the operation at this moment. That was nonetheless down from 81% last week.
The survey, whose results were made public Sunday, found that 56% of Israelis believe Netanyahu is doing a good job, a slight increase over last week.
READ: CNN exclusive: Inside the mind of Hamas' political leader
READ: Life in Gaza: Misery heightened by war
READ: How long will it last? Gaza conflict by the numbers
CNN's John Vause, Tal Heinrich, Jake Tapper and Dana Ford contributed to this report.