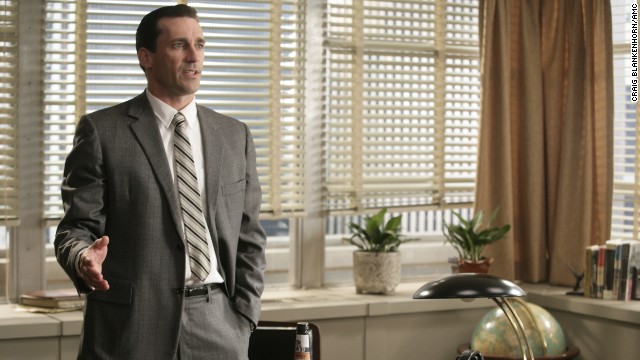 Jon Hamm stars as Don Draper, an ad agency creative director, in the first season of "Mad Men," set in the year 1960.
Elisabeth Moss plays Peggy Olson, who starts the show as a secretary.
January Jones plays Draper's wife -- later ex-wife -- Betty.
Peggy returns a dress to Joan Holloway, played by Christina Hendricks. In season 1, Joan is the agency's office manager.
John Slattery plays Roger Sterling, here in season 2, set in the year 1962. Sterling's father co-founded the agency Sterling Cooper.
The cast in the Sterling Cooper office. From left, sales exec Pete Campbell (Vincent Kartheiser), Joan, Roger, Peggy and Don.
Betty Draper becomes increasingly estranged from husband Don.
Peggy takes public transportation in season 3.
Roger and Don in season 3 of "Mad Men," set in 1963.
Joan attracts plenty of male attention in a flattering dress in season 3.
Betty lounges in season 4 of "Mad Men," set in 1964-65.
From left, Joan; Roger; Betty; Lane Pryce (Jared Harris), who joins the firm from the UK; Pete, Don and Peggy strike a pose during season 4. Peggy has become a noted copywriter by this point in the series.
Don and Megan Draper, played by Jessica Pare, in season 5 of "Mad Men," set in 1966-67. Megan starts as a secretary and becomes Don's wife.
From left, Joan, Roger, Lane, Pete, Don, Bertram Cooper (Robert Morse) and Peggy at the office.
Bertram, Pete, Joan, Don and Roger during season 6 of "Mad Men."
Roger and Don take a trip in season 7 of "Mad Men."
Betty Draper Francis, Henry Francis (Christopher Stanley) and Sally Draper (Kiernan Shipka) are quite the colorful family in season 7.
Stan Rizzo (Jay R. Ferguson, seated), Michael Ginsberg (Ben Feldman), Peggy, Harry Crane (Rich Sommer) and Ken Cosgrove (Aaron Staton) on a plane in season 7. Ken is missing the eyepatch he's had to wear since an unfortunate shooting accident in season 6.
Season 1
Season 1
Season 1
Season 1
Season 2
Season 2
Season 2
Season 3
Season 3
Season 3
Season 4
Season 4
Season 5
Season 5
Season 6
'Mad Men' through the seasons
'Mad Men' through the seasons
'Mad Men' through the seasons