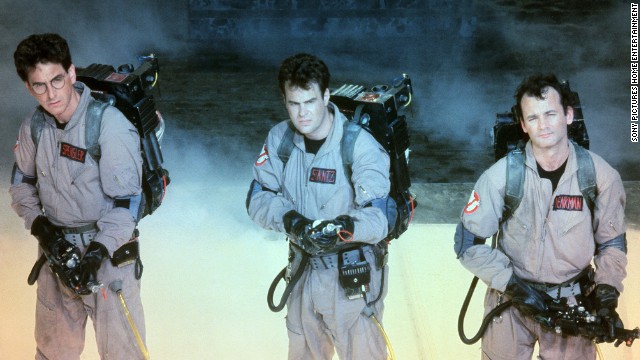 Believe it or not, it's been 30 years since the "Ghostbusters" first suited up, strapped on their proton packs and changed pop culture with comedy, special effects and an irresistible theme song. Lately, talk has turned to building on the "Ghostbusters" legacy with a new installment featuring an all-female cast. While we wait to see what could become of that idea, let's catch up with where the original paranormal-fighting crew is now.
As the charming Dr. Peter Venkman, Bill Murray could do no wrong in the eyes of the audience. Not much has changed since then. Most recently Murray acted in "Monuments Men" and "The Grand Budapest Hotel." In 2015, he'll provide voice work in a movie that would make Venkman proud: the animated comedy "B.O.O.: Bureau of Otherworldly Operations."
"Ghostbusters" was the brainchild of "Saturday Night Live" vet Dan Aykroyd, who apparently has a thing for ghosts. The resulting product is different from what Aykroyd initially envisioned (his first script had his "SNL" co-star John Belushi in mind), but it's nevertheless become a seminal piece of pop culture history. The actor who played Dr. Raymond Stantz is hard at work trying to get a "Ghostbusters III" off the ground. When he's not immersed in the spirit world, Aykroyd is still acting in other projects such as the upcoming James Brown biopic, "Get on Up."
Ramis died in February 2014
, but the legacy of his work lives on: from "Caddyshack" to "Stripes" to Egon's perennial safety tip ("Don't cross the streams!").
Harold Ramis was at the heart of the success of "Ghostbusters" -- as both the co-writer and the lovable nerd Dr. Egon Spengler.
No one could pull off being possessed while in full '80s glam like Sigourney Weaver. Her Dana Barrett was equal parts alluring and hilariously scary. These days, Weaver is devoting her talents to another huge franchise -- she's at work on the sequel to 2009's "Avatar," due out in December 2016.
Moranis decided to retire
from on-screen acting in 1997 to be a stay-at-home dad following his wife's death. If you're really missing him, he released an
album called "My Mother's Brisket & Other Love Songs"
in 2013.
Louis Tully was also a demonic force to be reckoned with in "Ghostbusters," but you couldn't help but feel badly for the guy with Rick Moranis playing him. After creating more family-friendly fare with the "Honey, I Shrunk the Kids" franchise and "The Flintstones"
Annie Potts' Janine Melnitz may not have fought the ghosts like her employers did, but the secretary was just as tough as the boys -- if not tougher. (Seriously, can you imagine being the organizer in a paranormal containment operation?) There's much to recommend when Potts is around -- from "Ghostbusters" to "Designing Women" to "Pretty In Pink," These day she's popping up on ABC Family's "The Fosters."
William Atherton has a knack for playing annoying characters -- remember Richard Thornburg in "Die Hard"? -- and he put his talents to good use in "Ghostbusters" as a skeptical government official who kept getting in the way of the team's work. This year, he'll appear in the second season of Syfy's "Defiance."
The filmmaker has been dancing around
a sequel to 1988's "Twins" that would star Arnold Schwarzenegger, Eddie Murphy and Danny DeVito. It would be called "Triplets."
You can't talk about "Ghostbusters" without mentioning director Ivan Reitman, who also helmed another '80s comedy classic -- "Stripes." Reitman's work has been received with more ambivalence since then -- neither 2011's rom-com "No Strings Attached" nor 2014's "Draft Day" was as universally liked as "Ghostbusters."
'Ghostbusters': Where are they now?
'Ghostbusters': Where are they now?
'Ghostbusters': Where are they now?
'Ghostbusters': Where are they now?
'Ghostbusters': Where are they now?
'Ghostbusters': Where are they now?
'Ghostbusters': Where are they now?
'Ghostbusters': Where are they now?
'Ghostbusters': Where are they now?
'Ghostbusters': Where are they now?