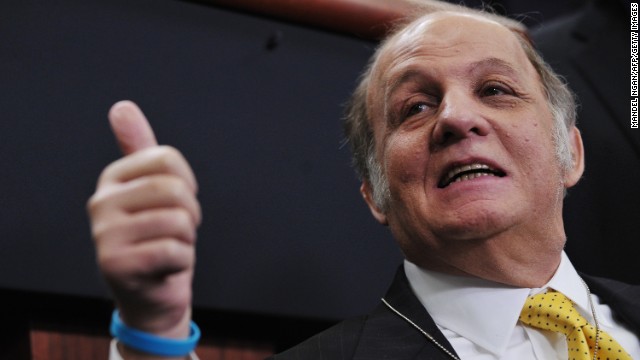 James Brady, a former White House press secretary who became a prominent gun-control advocate after he was wounded in the 1981 attempt on President Ronald Reagan's life, died Monday, August 4. He was 73.
Reagan introduces Brady as his press secretary on January 6, 1981, in Washington.
the Reagan assassination attempt,
which took place March 30, 1981, after a conference outside the Hilton Hotel in Washington. Lying on the ground in front is wounded police officer Thomas Delahanty. Brady is behind him, also lying face down.
Police and Secret Service agents react during
Brady is placed into an ambulance shortly after being shot. He suffered a head wound and was left partially paralyzed.
Maryland Attorney General Joseph Curran reaches to shake Brady's hand outside the U.S. Supreme Court in October 1981. After leaving the White House, Brady launched the Brady Campaign to Prevent Gun Violence, which pushes for stricter firearms laws.
Brady, with his left hand in a sling, chats with his son, Scott, in November 1981. Because of the shooting, Brady had to use a wheelchair for the rest of his life.
Brady is next to President Bill Clinton as Clinton signs the Brady Bill on November 30, 1993. The bill, which was fiercely fought over for years before Congress approved it, required background checks for gun purchases.
Brady gives a thumbs-up to Clinton at the White House on September 9, 1996. Brady was receiving the Presidential Medal of Freedom, the highest civilian award in the United States.
Clinton congratulates Brady in February 2000, when the White House press briefing room was named in his honor.
Brady visits the White House Briefing Room with his wife, Sarah, as White House Deputy Press Secretary Bill Burton, left, shows them around in June 2009.
Brady, alongside his wife and Brady Campaign President Paul Helmke, speaks in March 2011 about new legislation curbing gun violence.
Gun-control advocate James Brady
Gun-control advocate James Brady
Gun-control advocate James Brady
Gun-control advocate James Brady
Gun-control advocate James Brady
Gun-control advocate James Brady
Gun-control advocate James Brady
Gun-control advocate James Brady
Gun-control advocate James Brady
Gun-control advocate James Brady
Gun-control advocate James Brady