STORY HIGHLIGHTS
Kent Brantly visited with his wife, separated by glass wall, for 45 minutes
Brantly is first known Ebola patient in U.S.
Both Americans infected with Ebola will be treated at Emory University Hospital
Plane will head back to Liberia for the second American patient
Atlanta (CNN) -- A medical plane whisked an American infected with Ebola from Liberia to Georgia on Saturday, the latest leg of a race to save the first known patient with the deadly virus to be treated on U.S. soil.
Shortly after the plane landed, an ambulance rushed Dr. Kent Brantly from Dobbins Air Reserve Base to Atlanta's Emory University Hospital. He's one of two Americans sickened by the deadly viral hemorrhagic fever last month while on the front lines of a major outbreak in West Africa.
Video from Emory showed someone in a white, full-body protective suit helping a similarly clad person emerge from the ambulance and walk into the hospital.
Hospital visitor: 'Oh, my God'
Emory has said it will treat Brantly, 33, and fellow missionary Nancy Writebol in an isolation unit.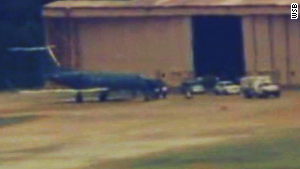 Ebola patient arrives in Georgia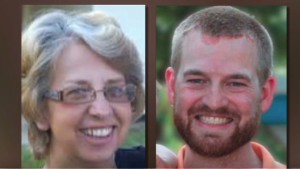 CDC: Ebola is not a huge risk for U.S.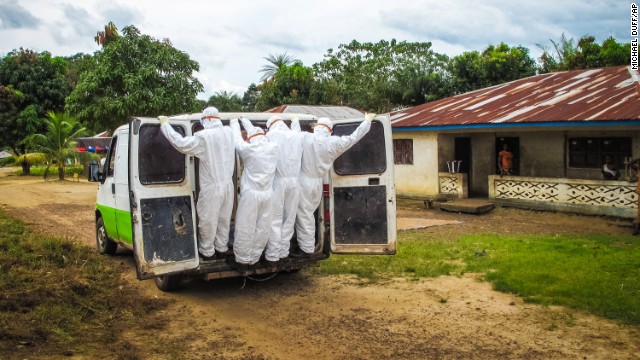 Health workers in Port Loko, Sierra Leone, transport the body of a person who is suspected to have died of Ebola on Tuesday, October 21. Health officials say the Ebola outbreak in West Africa is the deadliest ever. More than 4,800 people have died there, according to the World Health Organization.
RoseAnn DeMoro, executive director of the California Nurses Association and National Nurses United, talks to reporters in Sacramento, California, after meeting with Gov. Jerry Brown to discuss the Ebola crisis on October 21.
Health workers bury a body on the outskirts of Monrovia, Liberia, on Monday, October 20.
Christine Wade, a registered nurse at the University of Texas Medical Branch, greets Carnival Magic passengers disembarking in Galveston, Texas, on Sunday, October 19. Nurses met passengers with Ebola virus fact sheets and were available to answer any questions. A Dallas health care worker was in voluntary isolation aboard the cruise ship because of her potential contact with the Ebola virus. She had shown no signs of the disease, however.
Garteh Korkoryah, center, is comforted during a memorial service for her son, Thomas Eric Duncan, on Saturday, October 18, in Salisbury, North Carolina. Duncan, a 42-year-old Liberian citizen, died October 8 in a Dallas hospital. He was in the country to visit his son and his son's mother, and he was the first person in the United States to be diagnosed with Ebola.
An airplane carrying Nina Pham arrives at an airport in Frederick, Maryland, on Thursday, October 16. Pham is one of the two nurses who were diagnosed with Ebola after treating Duncan. Pham was sent to Maryland to be treated at a National Institutes of Health hospital.
Boys run from blowing dust as a U.S. military aircraft leaves the construction site of an Ebola treatment center in Tubmanburg, Liberia, on Wednesday, October 15.
Aid workers from the Liberian Medical Renaissance League stage an Ebola awareness event October 15 in Monrovia. The group performs street dramas throughout Monrovia to educate the public on Ebola symptoms and how to handle people who are infected with the virus.
U.S. President Barack Obama speaks to the media about Ebola during a meeting in the Cabinet Room of the White House on October 15. Obama said his administration will respond to new Ebola cases "in a much more aggressive way," taking charge of the issue after the second Texas nurse was diagnosed with the disease.
A U.S. Marine looks out from an MV-22 Osprey aircraft before landing at the site of an Ebola treatment center under construction in Tubmanburg on October 15. It is the first of 17 Ebola treatment centers to be built by Liberian army soldiers and American troops as part of the U.S. response to the epidemic.
A man dressed in protective clothing treats the front porch of a Dallas apartment where one of the infected nurses resides on Sunday, October 12.
Ebola survivors prepare to leave a Doctors Without Borders treatment center after recovering from the virus in Paynesville, Liberia, on October 12.
A member of the Liberian army stands near a U.S. aircraft Saturday, October 11, in Tubmanburg.
A woman crawls toward the body of her sister as a burial team takes her away for cremation Friday, October 10, in Monrovia. The sister had died from Ebola earlier in the morning while trying to walk to a treatment center, according to her relatives.
Ebola survivor Joseph Yensy prepares to be discharged from the Doctors Without Borders treatment center in Paynesville, Liberia, on Sunday, October 5.
Sanitized boots dry at the Doctors Without Borders treatment center in Paynesville on October 5.
Residents of an Ebola-affected township take home kits distributed by Doctors Without Borders on Saturday, October 4, in New Kru Town, Liberia. The kits, which include buckets, soap, gloves, anti-contamination gowns, plastic bags, a spray bottle and masks, are meant to give people some level of protection if a family member becomes sick.
A person peeks out from the Dallas apartment where Thomas Eric Duncan, the first person diagnosed with the Ebola virus in the United States, was staying on Friday, October 3.
A girl cries as community activists approach her outside her Monrovia home on Thursday, October 2, a day after her mother was taken to an Ebola ward.
Marie Nyan, whose mother died of Ebola, carries her 2-year-old son, Nathaniel Edward, to an ambulance in the Liberian village of Freeman Reserve on Tuesday, September 30.
A health official uses a thermometer Monday, September 29, to screen a Ukrainian crew member on the deck of a cargo ship at the Apapa port in Lagos, Nigeria.
Children pray during Sunday service at the Bridgeway Baptist Church in Monrovia on Sunday, September 28.
Residents of the St. Paul Bridge neighborhood in Monrovia take a man suspected of having Ebola to a clinic on September 28.
Workers move a building into place as part of a new Ebola treatment center in Monrovia on September 28.
Medical staff members at the Doctors Without Borders facility in Monrovia burn clothes belonging to Ebola patients on Saturday, September 27.
A health worker in Freetown, Sierra Leone, sprays disinfectant around the area where a man sits before loading him into an ambulance on Wednesday, September 24.
Medics load an Ebola patient onto a plane at Sierra Leone's Freetown-Lungi International Airport on Monday, September 22.
A few people are seen in Freetown during a three-day nationwide lockdown on Sunday, September 21. In an attempt to curb the spread of the Ebola virus, people in Sierra Leone were told to stay in their homes.
Supplies wait to be loaded onto an aircraft at New York's John F. Kennedy International Airport on Saturday, September 20. It was the largest single shipment of aid to the Ebola zone to date, and it was coordinated by the Clinton Global Initiative and other U.S. aid organizations.
A child stops on a Monrovia street Friday, September 12, to look at a man who is suspected of suffering from Ebola.
Health workers on Wednesday, September 10, carry the body of a woman who they suspect died from the Ebola virus in Monrovia.
A woman in Monrovia carries the belongings of her husband, who died after he was infected by the Ebola virus.
Health workers in Monrovia place a corpse into a body bag on Thursday, September 4.
After an Ebola case was confirmed in Senegal, people load cars with household items as they prepare to cross into Guinea from the border town of Diaobe, Senegal, on Wednesday, September 3.
Crowds cheer and celebrate in the streets Saturday, August 30, after Liberian authorities reopened the West Point slum in Monrovia. The military had been enforcing a quarantine on West Point, fearing a spread of the Ebola virus.
A health worker wearing a protective suit conducts an Ebola prevention drill at the port in Monrovia on Friday, August 29.
Volunteers working with the bodies of Ebola victims in Kenema, Sierra Leone, sterilize their uniforms on Sunday, August 24.
A guard stands at a checkpoint Saturday, August 23, between the quarantined cities of Kenema and Kailahun in Sierra Leone.
A burial team from the Liberian Ministry of Health unloads bodies of Ebola victims onto a funeral pyre at a crematorium in Marshall, Liberia, on Friday, August 22.
Dr. Kent Brantly leaves Emory University Hospital on Thursday, August 21, after being declared no longer infectious from the Ebola virus. Brantly was one of two American missionaries brought to Emory for treatment of the deadly virus.
Family members of West Point district commissioner Miata Flowers flee the slum in Monrovia while being escorted by the Ebola Task Force on Wednesday, August 20.
An Ebola Task Force soldier beats a local resident while enforcing a quarantine on the West Point slum on August 20.
Local residents gather around a very sick Saah Exco, 10, in a back alley of the West Point slum on Tuesday, August 19. The boy was one of the patients that was pulled out of a holding center for suspected Ebola patients after the facility was overrun and closed by a mob on August 16. A local clinic then refused to treat Saah, according to residents, because of the danger of infection. Although he was never tested for Ebola, Saah's mother and brother died in the holding center.
A burial team wearing protective clothing retrieves the body of a 60-year-old Ebola victim from his home near Monrovia on Sunday, August 17.
lija Siafa, 6, stands in the rain with his 10-year-old sister, Josephine, while waiting outside Doctors Without Borders' Ebola treatment center in Monrovia on August 17. The newly built facility will initially have 120 beds, making it the largest-ever facility for Ebola treatment and isolation.
Brett Adamson, a staff member from Doctors Without Borders, hands out water to sick Liberians hoping to enter the new Ebola treatment center on August 17.
Workers prepare the new Ebola treatment center on August 17.
A body, reportedly a victim of Ebola, lies on a street corner in Monrovia on Saturday, August 16.
Liberian police depart after firing shots in the air while trying to protect an Ebola burial team in the West Point slum of Monrovia on August 16. A crowd of several hundred local residents reportedly drove away the burial team and their police escort. The mob then forced open an Ebola isolation ward and took patients out, saying the Ebola epidemic is a hoax.
A crowd enters the grounds of an Ebola isolation center in the West Point slum on August 16. The mob was reportedly shouting, "No Ebola in West Point."
A health worker disinfects a corpse after a man died in a classroom being used as an Ebola isolation ward Friday, August 15, in Monrovia.
A boy tries to prepare his father before they are taken to an Ebola isolation ward August 15 in Monrovia.
Kenyan health officials take passengers' temperature as they arrive at the Jomo Kenyatta International Airport on Thursday, August 14, in Nairobi, Kenya.
A hearse carries the coffin of Spanish priest Miguel Pajares after he died at a Madrid hospital on Tuesday, August 12. Pajares, 75, contracted Ebola while he was working as a missionary in Liberia.
Health workers in Kenema screen people for the Ebola virus on Saturday, August 9, before they enter the Kenema Government Hospital.
Paramedics in protective suits move Pajares, the infected Spanish priest, at Carlos III Hospital in Madrid on Thursday, August 7. He died five days later.
Nurses carry the body of an Ebola victim from a house outside Monrovia on Wednesday, August 6.
A Nigerian health official wears protective gear August 6 at Murtala Muhammed International Airport in Lagos.
Officials with the Centers for Disease Control and Prevention in Atlanta sit in on a conference call about Ebola with CDC team members deployed in West Africa on Tuesday, August 5.
Aid worker Nancy Writebol, wearing a protective suit, gets wheeled on a gurney into Emory University Hospital in Atlanta on August 5. A medical plane flew Writebol from Liberia to the United States after she and her colleague Dr. Kent Brantly were infected with the Ebola virus in the West African country.
Nigerian health officials are on hand to screen passengers at Murtala Muhammed International Airport on Monday, August 4.
Nurses wearing protective clothing are sprayed with disinfectant Friday, August 1, in Monrovia after they prepared the bodies of Ebola victims for burial.
A nurse disinfects the waiting area at the ELWA Hospital in Monrovia on Monday, July 28.
In this photo provided by Samaritan's Purse, Dr. Kent Brantly, left, treats an Ebola patient in Monrovia. On July 26, the North Carolina-based group said Brantly tested positive for the disease. Days later, Brantly arrived in Georgia to be treated at an Atlanta hospital, becoming the first Ebola patient to knowingly be treated in the United States.
A doctor puts on protective gear at the treatment center in Kailahun on Sunday, July 20.
Members of Doctors Without Borders adjust tents in the isolation area in Kailahun on July 20.
Boots dry in the Ebola treatment center in Kailahun on July 20.
Dr. Jose Rovira of the World Health Organization takes a swab from a suspected Ebola victim in Pendembu, Sierra Leone, on Friday, July 18.
Red Cross volunteers disinfect each other with chlorine after removing the body of an Ebola victim from a house in Pendembu on July 18.
A doctor works in the field laboratory at the Ebola treatment center in Kailahun on Thursday, July 17.
Doctors Without Borders staff prepare to enter the isolation ward at an Ebola treatment center in Kailahun on July 17.
Dr. Mohamed Vandi of the Kenema Government Hospital trains community volunteers who will aim to educate people about Ebola in Sierra Leone.
A woman has her temperature taken at a screening checkpoint on the road out of Kenema on Wednesday, July 9.
A member of Doctors Without Borders puts on protective gear at the isolation ward of the Donka Hospital in Conakry on Saturday, June 28.
Airport employees check passengers in Conakry before they leave the country on Thursday, April 10.
A Guinea-Bissau customs official watches arrivals from Conakry on Tuesday, April 8.
Egidia Almeida, a nurse in Guinea-Bissau, scans a Guinean citizen coming from Conakry on April 8.
A scientist separates blood cells from plasma cells to isolate any Ebola RNA and test for the virus Thursday, April 3, at the European Mobile Laboratory in Gueckedou, Guinea.
Health specialists work Monday, March 31, at an isolation ward for patients at the facility in southern Guinea.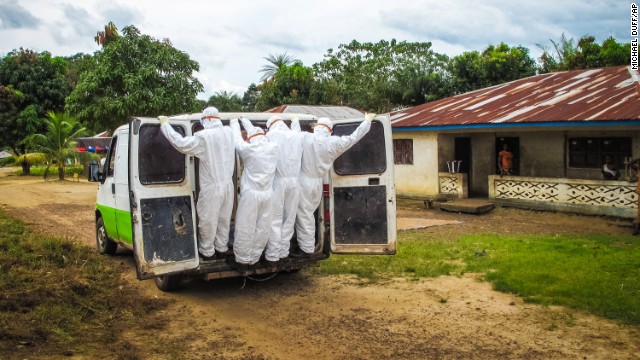 Photos: The Ebola epidemic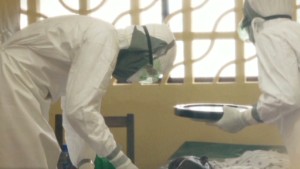 Ebola patients to be treated in the U.S.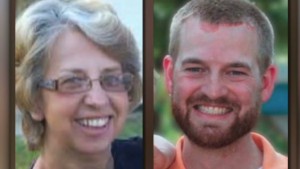 Sick doc. gives Ebola serum to friend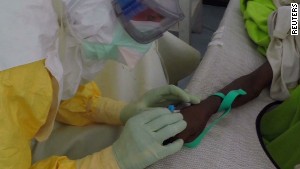 Why no cure or prevention for Ebola?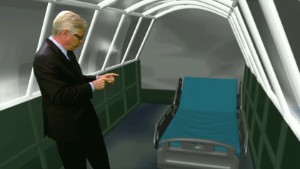 Tracking Ebola patient's journey to U.S.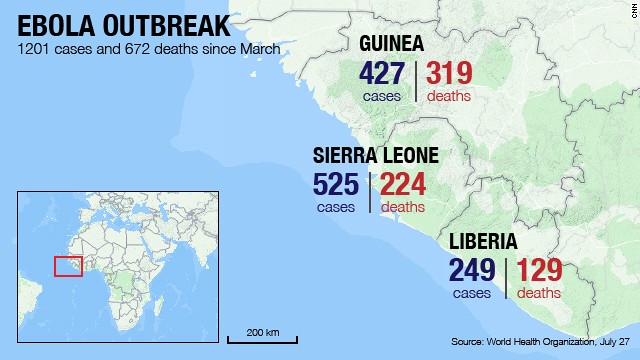 Map: The Ebola outbreak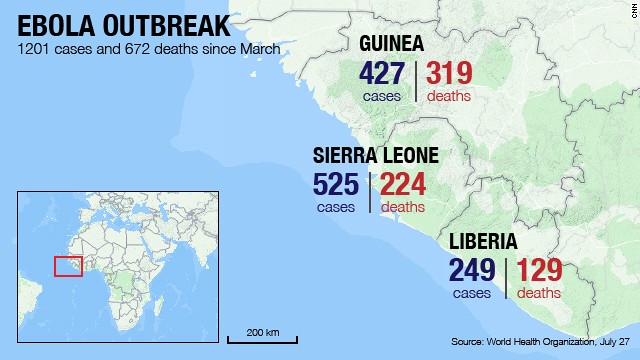 Map: The Ebola outbreak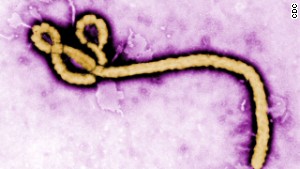 Son of American battling Ebola speaks out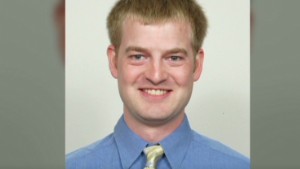 American doctor battling Ebola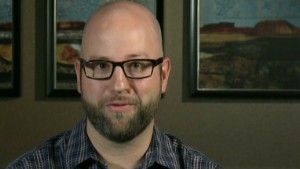 Could Ebola make its way to the U.S.?
The plane equipped with an isolation unit can only transport one patient at a time. It will now pick up Writebol in Liberia and bring her to Georgia early next week, said Todd Shearer, spokesman for Christian charity Samaritan's Purse, with which both Americans were affiliated.
Brantly's wife, parents and sister cried when they saw him on CNN walking from the ambulance into the hospital, another representative of Samaritan's Purse said on condition of anonymity. His wife, Amber, later said she was relieved that her husband was back in the United States.
"I spoke with him, and he is glad to be back in the U.S.," she said in statement. "I am thankful to God for his safe transport and for giving him the strength to walk into the hospital."
Brantly's wife visited with him from behind a glass wall for about 45 minutes, the Samaritan's Purse representative said. Kent Brantly was described as "in great spirits and so grateful."
Tennessee doctor who worked with Ebola patients quarantines self
Brantly, who has ties to Texas and Indiana, and Writebol, of North Carolina, became sick while caring for Ebola patients in Liberia, one of three West African nations hit by an outbreak.
Treatment in isolation
This will be the first human Ebola test for a U.S. medical facility. The patients will be treated at an isolated unit where precautions are in place to keep such deadly diseases from spreading, unit supervisor Dr. Bruce Ribner said.
Everything that comes in and out of the unit will be controlled, Ribner said, and it will have windows and an intercom for staff to interact with patients without being in the room.
Ebola is not airborne or waterborne, and spreads through contact with organs and bodily fluids such as blood, saliva, urine and other secretions of infected people.
There is no FDA-approved treatment for Ebola, and Emory will use what Ribner calls "supportive care." That means carefully tracking a patient's symptoms, vital signs and organ function and taking measures, such as blood transfusions and dialysis, to keep patients stable.
Dr. Sanjay Gupta: Ebola will go global
"We just have to keep the patient alive long enough in order for the body to control this infection," Ribner said.
Writebol was given an experimental serum this week, Samaritan's Purse said, though its purpose and effects weren't immediately publicized.
The Ebola virus causes viral hemorrhagic fever, which refers to a group of viruses that affect multiple organ systems in the body and are often accompanied by bleeding.
Early symptoms include sudden onset of fever, weakness, muscle pain, headaches and a sore throat. They later progress to vomiting, diarrhea, impaired kidney and liver function -- and sometimes internal and external bleeding.
Bruce Johnson, president of SIM USA, a Christian mission organization with which Writebol also is linked, said Saturday that both were seriously ill but stable.
"My last report (on Brantly) was yesterday. ... He was ambulatory, being able to talk, converse, and get up. So that was encouraging," Johnson said Saturday morning.
On Writebol, Johnson said: "She's responsive, and we're encouraged at how she's doing."
Emory's isolation unit was created with the Centers for Disease Control and Prevention, based down the road. It aims to optimize care for those with highly infectious diseases and is one of four U.S. institutions capable of providing such treatment.
The World Health Organization reports that the outbreak in Liberia, Sierra Leone and Guinea is believed to have infected 1,323 people and killed more than 729 this year, as of July 27.
Fear, conspiracy theories
As officials worked to bring the two Americans home, the idea of intentionally bringing Ebola into the United States has rattled many nerves.
"The road to hell was paved with good intentions," wrote one person, using the hashtag #EbolaOutbreak. "What do we say to our kids When they get sick& die?"
On the website of conspiracy talker Alex Jones, who has long purported the CDC could unleash a pandemic and the government would react by instituting authoritarian rule, the news was a feast of fodder.
"Feds would exercise draconian emergency powers if Ebola hits U.S.," a headline read on infowars.com.
Ribner repeatedly downplayed the risk for anyone who will be in contact with Brantly or Writebol.
"We have two individuals who are critically ill, and we feel that we owe them the right to receive the best medical care," Ribner said.
The fight against Ebola
All concerns about the United States pale in comparison to the harsh reality in the hardest-hit areas.
Even in the best-case scenario, it could take three to six months to stem the epidemic in West Africa, said Dr. Thomas Frieden, director of the CDC.
There's no vaccine, though one is in the works.
There's no standardized treatment for the disease, either; the most common approach is to support organ functions and keep up bodily fluids such as blood and water long enough for the body to fight off the infection.
The National Institutes of Health plans to begin testing an experimental Ebola vaccine in people as early as September. Tests on primates have been successful.
So far, the outbreak is confined to West Africa. Although infections are dropping in Guinea, they are on the rise in Liberia and Sierra Leone.
In the 1990s, an Ebola strain tied to monkeys -- Ebola-Reston -- was found in the United States, but no humans got sick from it, according to the CDC.
Experts: U.S. health care system well-prepared for Ebola
CNN's Chelsea J. Carter, Greg Botelho, Deanna Hackney, John Branch, Danielle Dellorto, Barbara Starr, MaryLynn Ryan and Ben Brumfield contributed to this report.